Just imagine that: you are so indulged with a TV drama, but your friend keep sending messages to inform you of something interesting. How will you do? Text it back and then watch the TV drama again or leave aside the messages and then just forget completely when the TV is over?
Actually, you can do these two things on the computer at the same time without any difficulty as long as you use this Android Messaging App, which is a handy tool allowing you to directly send messages from computer to more than one contacts as you wanted and needed. So you are free to chat with your friends and enjoy the TV dramas simultaneously. Kind of pleasant, right? Well, think it is a waste to download the app for this simple purpose? Actually, this powerful messaging app for Android phones offers you more than this. This texting app for Android phones can also be your best data manager, enabling you to organize all different files in good order and delete unwanted files like contacts, apps and etc. in a batch. More importantly, this software is fully compatible with all brands of Android phones. So, issue of compatibility doesn't exist at all! So can't wait to have this powerful messaging app for your Android device?
Below is the free trial versions of Windows and Mac Version:
Instructions on Using Texting App for Android Phones
First of all, open the installed software on the computer and then get Android phone connected to the computer via the USB cord. You will then see the below interface.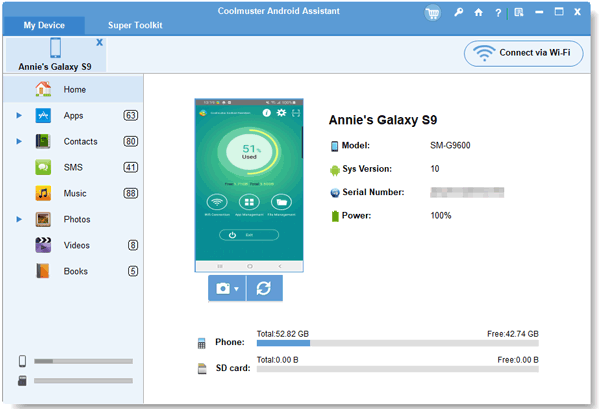 Now, click on SMS tab on the left panel. Then you can see different options are arranged on the top panel, such as New, Export, Delete, Refresh. If you now want to send messages from computer to Android phones, you can then click on the New option and then follow the directions to type in the contacts and message information as you needed. Finally, click on the Send option to freely chat with your friends and families. And if you want to transfer messages from Android phone to computer as a backup or delete them in a batch, just choose the corresponding options.
This software is really powerful, right? So, just choose the right version and begin now! You won't get disappointed!
Related Article:
How to Print Messages from Android Phones
How to Install Apps to Android from Computer