"I'm a big fan of Samsung smart phone, and I particularly like the Samsung Galaxy series. Recently I found something inconvenient when I was playing with my Samsung Galaxy S8, then I tried to manage it on computer. However, I failed to view my contacts and text messages when I connected my mobile phone to computer via USB. Do you know what's wrong with my Samsung device? Can you give me any advice to help manage Samsung Galaxy S9 on PC? Thanks a lot!"
There is no denying that Samsung phone has become one of the most popular smart phones all around the world. As a strong opponent to iPhone, Samsung has released several competitive models, such as Samsung Galaxy S9+/S9. In contrast to iPhone, Samsung mobile phone uses an open-source operating system - Android, so that users are able to transfer media files that are saved on the SD card between Samsung device and computer at will. However, when it comes to the contacts and text messages that are stored on the internal phone memory or SIM card, this is not the case.
Part 1. Samsung Galaxy Manager - Manage Samsung Galaxy S/Note on Computer
In order to successfully control Samsung Galaxy S9 on Mac or Windows PC, I suggest you to try this Samsung Galaxy Manager (Windows/Mac). As a good assistant, this Samsung Galaxy Desktop Manager software - Samsung Galaxy Manager helps remove all the restrictions of accessing Samsung phone data on computer, so that you are able to preview every detail of your phone and completely manage Samsung Galaxy S9 on computer.
With the Samsung Galaxy Manager, you can:
1. Manage (preview, add, edit, delete, import, export, refresh) all files from your Samsung phone directly on PC/Mac, including apps, contacts, text messages (SMS), call logs, music, photos, videos, books.
2. Backup or restore Samsung data with one click.
3. Send (group) messages to your contacts directly on computer.
4. Manage multiple Android phones at the same time.
5. Check your available and used phone storage in real time, including the phone memory and SD card memory.
6. Look over your Android phone's basic information, such as phone model, system version, serial number, surplus battery quantity and etc.
7. Take screenshots of phone screen and save it to computer or clipboard.
...

In addition, with the One-Click Backup & Restore feature of the Samsung Galaxy Manager, you can easily backup the whole contents on Samsung phone to computer with 1 click, and restore backup file from computer to Samsung device with one click without losing any info. And act as a backup and restore assistant, this Samsung Galaxy Manager program also supports to selectively or wholly back up data on Android phone, including Samsung devices as well. And it is fully compatible with almost all Samsung devices, including Samsung Galaxy S9/S9+/S8+/S8/S7/S6/S5/S4, Samsung Galaxy Note 8/7/5/4, Samsung J3/J3 Pro, Samsung Galaxy A9/A8/A7/A5 and so on.
Apart from these, this program has more useful features, you can try it by yourself. There are two free trial versions for Windows and Mac users, you can choose to download the right one according to your computer system.
By the way, if you have kept your Samsung mobile phone for some days, I suggest you to create a backup file of those important data in case of accidental data loss.
You May Also Like:
Backup & Restore Samsung Galaxy with Kies
How to Backup Samsung Galaxy to Cloud?
Part 2. Steps to Manage Samsung Galaxy S9/S8/S7/Note on Computer
Note: As you know, this program has both Windows and Mac versions, and this guide will show you some screen shots of Windows version, if you are a Mac user, you can follow the similar steps to control Samsung Galaxy S9 on Mac.
Step 1. Connect Samsung Galaxy S9 to PC and Operate the Program
First of all, connect Samsung Galaxy S9 to computer via a USB cable. Then install and launch the Samsung Galaxy Desktop Manager program on computer. Soon you will get a menu as following, which is to remind you to enable USB debugging on your phone. Then this program will detect your Samsung device soon.
Step 2. Wait for Scanning Samsung Phone Files
In this step, you just need to wait for a moment patiently, as this program will automatically install USB driver on your computer and scan your Samsung mobile phone data after it recognizes your phone successfully.
Step 3. Preview Files and Freely Manage Samsung Galaxy S9 on PC
Now you can preview and manage any file on your Samsung Galaxy S9. Take the contacts and text messages as examples.
#1. Manage Samsung contacts on computer:
Touch the "Contacts" option, you will get all contacts arranged with name, phone number and message number. Meanwhile, there are some options on the menu available for you. You are able to add, delete, edit, backup contacts by touching the "New", "Edit", "Delete", "Export", "Import" and "Refresh" button accordingly.
New - Click "New" button to create a new contact to save on your Samsung Contacts app.
Delete - Select one or more contacts and click "Delete" button to remove the selected contacts from your Samsung phone.
Export - Mark the contacts that you want and hit "Export" button to backup Samsung contacts to computer. (Supported output formats: *.csv, *.html, *.vcf, *.bak, *.xml)
Import - Hit "Import" button to preview and select the contact files from computer and import into your Samsung phone. *.csv, *.html, *.vcf, *.bak, *.xml)
Edit - Select one contact and click "Edit" button to modify the contact name, phone number, address, email, group name, organization and etc. "Add Field" feature allows you to add more info to this contact.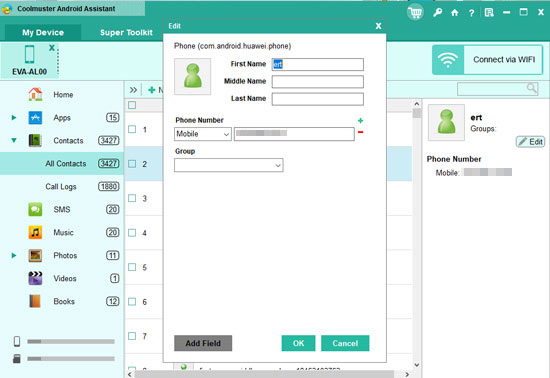 #2. Manage Samsung SMS on computer:
What's more, this program also allows you to directly send text messages to others.
- You can click the "New" button to bring out New Messages dialog box;
- Click "Contacts" to select the recipient from your contact list, or directly type the phone number you need;
- Enter contents you want to say in the blank area;
- Hit "Send" option to send the messages.
How about this Samsung Galaxy Desktop Manager? Just have a try by yourself.
Related Articles:
How to Transfer Contacts from Samsung to Computer
How to Print Out Text Messages from Samsung Galaxy
How to Transfer SMS from Samsung Galaxy S9 to Computer
How to Copy Media from Samsung Galaxy S9 to Computer
How to Transfer Data from Samsung SD Card to Computer?