Summary
An iPhone is a superb gadget with impeccable features and functions and a rich user interface. That's why many Android users are now switching to iPhone devices. However, the most annoying aspect is that transferring some data like WhatsApp backup can be hectic since these devices have different operating systems.
So if you're looking for a solution on how to restore WhatsApp backup from Google Drive to iPhone, you are at the right place. Restoring WhatsApp backup to iPhone is not always easy, but after going through this article, you'll see how easy it can be!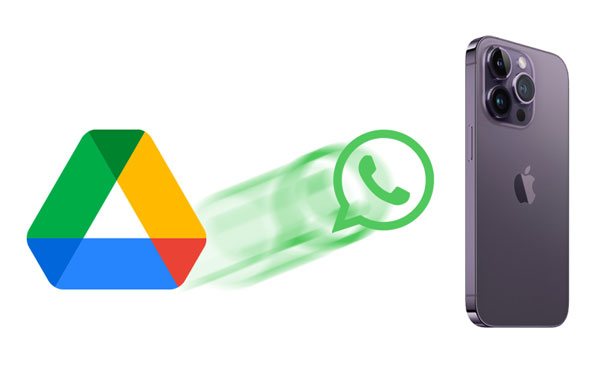 Part 1: Where Are WhatsApp Chats Stored?
Before we start, you must know where WhatsApp chats are stored. As a matter of fact, WhatsApp messages aren't stored in WhatsApp servers, implying that WhatsApp chats can't be synced with the users' accounts.
Typically, for iPhone devices, you can only back up WhatsApp messages to iTunes or iCloud. As for Android phones and tablets, you have Google Drive. Since iPhone and Android devices operate on different platforms, it seems impossible to retrieve WhatsApp backup to an iPhone. Nonetheless, you will find the proven ways to restore WhatsApp chat from google Drive to iPhone in this post.
Part 2: Can I Recover WhatsApp Messages from Google Drive to iPhone?
WhatsApp is one of the most popular messaging apps in the world, with billions of users. Officially, it's impossible to recover WhatsApp chats from Google Drive to an iPhone. But, you may achieve that via other ways and directly recover the chats to your new iPhone.
Google Drive's encryption protocols are incompatible with an iOS system, making it impossible to recover the data directly to your iPhone device. Similarly, moving the backup from Drive directly to iCloud isn't an option. In short, you need to install a third-party program to resolve this problem.
Certainly, you cannot transfer WhatsApp messages from Android to iPhone using Google Drive, either. So, continue reading to know the whole way out of this situation.
Read also: Want to move WhatsApp between iPhones? You can try these 4 easy ways.
Part 3: How to Retrieve WhatsApp Backup from Google Drive to iPhone Recover via WhatsApp Transfer
Many people wonder if transferring WhatsApp chats from an Android backup to an iPhone directly is possible. It's very possible with a powerful device like WhatsApp Transfer. With this amazing tool, you can transfer WhatsApp backup files to the new iPhone with one click. With it, you needn't back up your Android WhatsApp files to Google Drive, since it can directly transfer your WhatsApp messages from Android to iPhone.
WhatsApp Transfer can handle your WhatsApp chats effortlessly. In addition to transferring WhatsApp, you can also back up WhatsApp history from your mobile phone to your computer. Moreover, you can view your backup on the computer before restoring the chats.
Why is this tool so useful?
- Restore WhatsApp backup chats to any Android or iOS device.
- Support the direct transfer between Android and iPhone devices.
- Back up your WhatsApp messages and media files to your computer without effort.
- Secure your data during transfer and restoration.
Download this WhatsApp transfer software below.
So, how to access Google Drive WhatsApp backup on iPhone via this program:
Step 1. Restore WhatsApp Chats to Android
Please reinstall WhatsApp on an Android device, sign in with the your account, and restore your backup from Google Drive to this Android mobile device.
Step 2. Launch the WhatsApp Transfer Software
After launching the program on the computer, choose the "WhatsApp Transfer" option from the menu. From there, navigate to the option for "WhatsApp" on the left panel.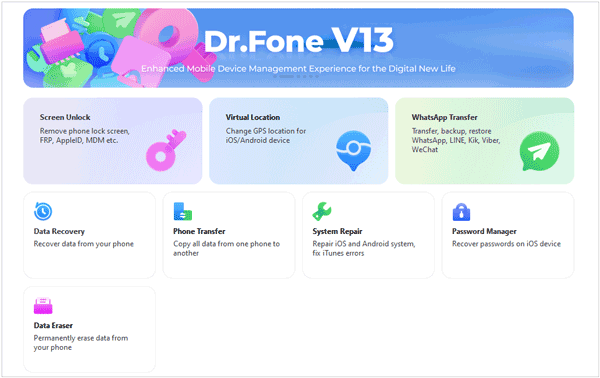 Step 3. Connect both Android and iPhone Devices to Your Computer
- Choose the "Transfer WhatsApp Messages" option to be able to move WhatsApp chats from Android to the iOS device. After that, connect both devices to the PC via data cables, and once the program detects them, you'll get the window showing the "Source" and "Destination" devices.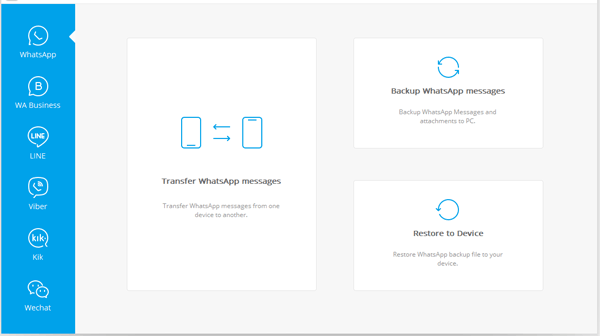 - Ensure the Android device is in the source section and iPhone in the destination section. If not, just flip them.
Step 4. Start the Transfer Process
- Tap on the "Transfer" button to start transferring your WhatsApp messages from Android to iPhone. Then confirm whether to keep your current WhatsApp data on your iPhone, and click "Next" to start the process.
- Once done, you can access the WhatsApp data on your iPhone.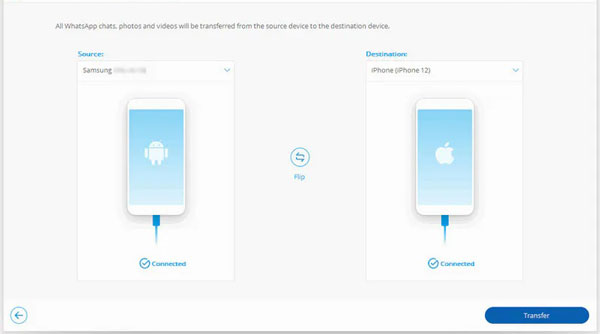 Further reading: Fast Back Up WhatsApp from iPhone to PC with 4 Approaches [Updated]
Part 4: How to Get Google Drive WhatsApp Backup on iPhone Using Email
Another super way to recover your WhatsApp backup messages to an iPhone is to use an email. Of course, it's free but a little bit complicated. There are some limitations, too, when you choose to use Email. For instance, you can transfer only one message each time with only 40,000 latest chats to be exported. Furthermore, you can only see them in text documents via file reader on the phone instead of the WhatsApp application.
Here is how to transfer WhatsApp history from Google Drive to an iPhone using Email:
Step 1. Restore Backup to Android
- To retrieve WhatsApp backup from Google Drive to your iPhone, you're required to restore the backup to your Android phone firstly.
- Thus, please install WhatsApp again on Android, set up WhatsApp, and tap the "RESTORE" icon when you see the "Restore backup" screen.
Step 2. Email Chats on Android
Open a chat, and tap the "Menu" > "More" > "Export chat" option. Then choose your Mail app and compose an email.
Step 3. Send WhatsApp Chats to Your iPhone
Enter your email address, and log in to it on your iPhone. Then you will receive it on the iOS device. However, you cannot import the chat history to the WhatsApp app on your iPhone.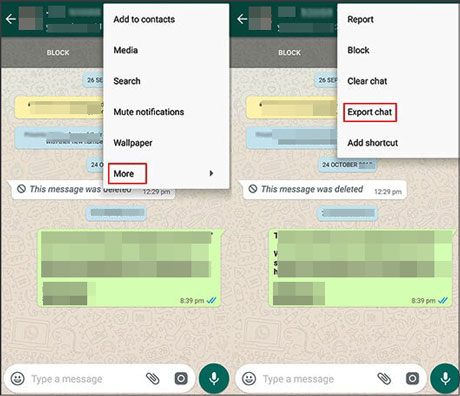 Conclusion
Got a problem with restoring WhatsApp backup from Drive to an iPhone? Just go through the above steps carefully to get a solution. No matter how you wish to recover your chats, we have everything it takes here, so don't hesitate to try these capable methods. WhatsApp Transfer is a great program to restore WhatsApp messages to an iPhone easily and without delay.
Related Articles
Back Up WhatsApp from Android to Mac with 4 Efficient Methods
3 Ways to Quickly Transfer WeChat Backup to PC [Can't Miss]
WhatsApp Backup Extractor: Top 6 Options to Extract WhatsApp Easily
Transfer Files from Android to USB Flash Drive with or without OTG
Transfer Photos from Android to Mac Wirelessly [6 Fabulous Methods]
How to Transfer Files from PC to Android Phone without USB [5 Handy Solutions]