Summary
Recently, iOS has been making a buzz globally with the launch of new smartphones. People around the globe have expressed immense joy and excitement over these amazing smartphones from Apple. The iPhone 14 has taken the world by storm, boasting many remarkable features, including the game-changing auto-focus camera. Video bloggers everywhere praise this must-have device for its ability to help them capture their best shots every time.
While switching from Pixel to iPhone sounds thrilling, copying data can be challenging. This article provides simple techniques to copy essential information effortlessly. It is best to explore all available methods before deciding what works for you.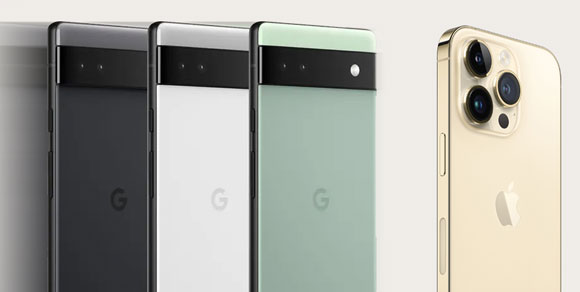 Part 1: What to Do Before Pixel to iPhone Transfer
Before you start copying any data between Google Pixel and iPhone, it is always good to note the following:
You should charge your phone: During the transfer process, your device may become hot, thus draining the battery faster. So, if you have many files to be transferred, it drains your battery completely, thus interrupting the transfer process.
Connect the devices to a network: You require stronger static signals to perform the procedure successfully.
Your iPhone device should have enough storage space: Always ensure the amount of your data is less than the free storage space on the target device. Otherwise, the process of transferring will fail.
Create a backup of your Pixel device in the Google Cloud Service: Google Drive is an excellent cloud storage service where you can create a backup before starting the transfer process.
Part 2: Transfer Data from Pixel to iPhone in 1 Click
The Pixel to iPhone transfer software - Samsung Data Transfer is safe and easy phone transfer tool, working with iOS and Android devices. For example, you can directly copy all your contacts from the Pixel phone to the iPhone. Also, it helps you copy documents simultaneously.
Besides, you can use it to transfer videos, music, and photos from Android to iOS without effort. There is no file will be damaged, so you will get the data with the same quality on your destination device. What's more, it supports not only Google Pixel and iPhone devices but also other phones and tablets, such as Samsung, LG, ZTE, OPPO, Vivo, OnePlus, iPad, etc.
Key features of this transfer program:
- Support transfer of contacts and documents from Pixel to iPhone.
- Allow you to move files from iOS to Android with one stop.
- Easy to copy notes, contacts, calendars, books, and bookmarks between iOS devices.
- Work well with Android 4.0 or later devices and iOS 5 or later versions, including the latest.
Download this transfer software.
Here are the steps for switching from Google Pixel to iPhone with this program:
Step 1: Once you have successfully installed the desktop app, launch it, and go to the "Mobile Transfer" module on the toolbox.
Step 2: Connect both the Pixel and the iPhone to the computer via USB cables. Next, on the Pixel, allow USB debugging, and click "Trust" on the iPhone as requested. Then the connections will be built up.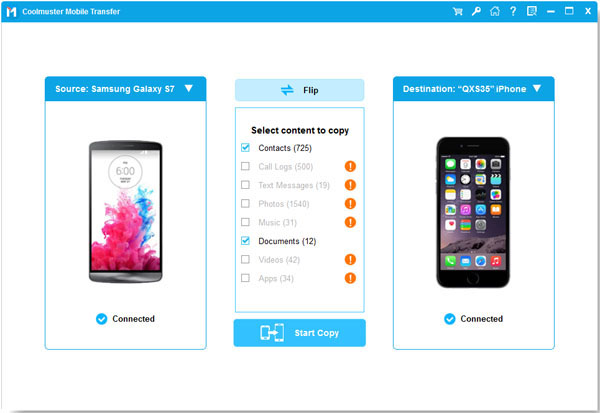 Step 3: Select the data types you wish to copy and click "Start Copy" to start the transfer process. Once finished, you can access the data on your iPhone.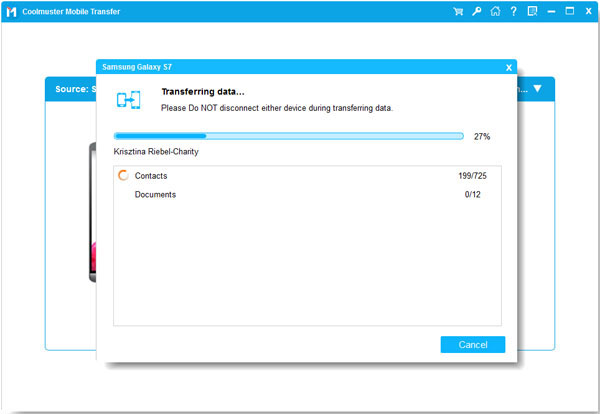 Read also: There are 3 efficient ways to back up and restore your Google Pixel data. Let's check it out.
Part 3: Transfer Pixel to iPhone with Move to iOS
If you've used an iOS device before, you have at least encountered the Move to iOS data transfer application. It is freely available and can export data from your Android phone to a new iPhone. However, you can only use Move to iOS when setting up new iOS devices. The application can only export your mail accounts, bookmarks, calendars, messages, contacts, videos, and photos. Since it wirelessly transfers your data from your Pixel to your new iPhone, these devices should be closer with their Wi-Fi turned on.
Here's how to share your data from the Pixel to an iPhone using Move to iOS:
Step 1. Choose to Set Up iPhone from an Android Device
While setting your iPhone up, you will be offered different options. From there, you need to choose "Move Data from Android" > "Continue". Subsequently, you need to download and install the Move to iOS application from Google Play Store on the Pixel device. Open the app and hit the "Continue" option to switch to the iPhone.
Step 2. Transfer Data from Google Pixel to iPhone
A code will be generated and displayed on the iOS device that you must key in on the Pixel to connect both devices securely. Next, select the content you want to move and then wait for some time. Since the transfer will take place wirelessly, the process will take quite some time.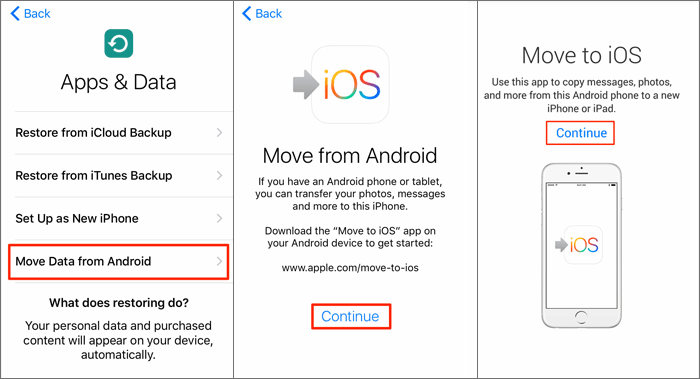 Once the transfer process is completed successfully, you'll be asked to disconnect your phones and access the data on the iPhone.
However, the app has some limitations, such as connectivity issues. Also, it doesn't support all phones and only supports a few types of data only.
Further reading: How to Transfer Files from Samsung to Pixel in Top 7 Ways
Part 4: Transfer Files from Pixel to iPhone via Google Account
It is also possible to transfer your data using your Gmail account through the cloud service. This technique is ideal when you have extra data that hasn't been transferred to your iPhone or when you had previously set up the iPhone and could not use the Move to iOS app.
Step 1. Access the Settings Application
Open the Settings app on your Pixel phone, and click "System" > "Backup". Then enable "Back up to Google Drive", and click "Account" > "Back Up Now". Your data will be backed up to your Google account.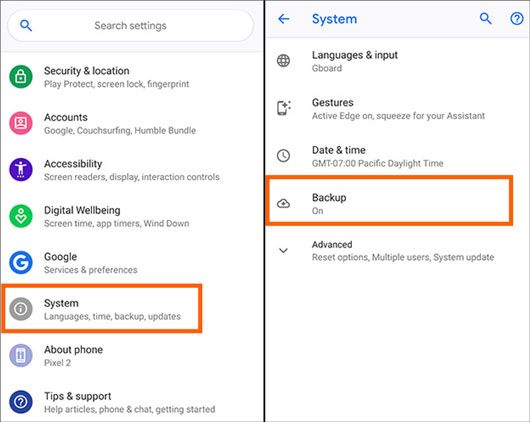 Step 2. Switch to Your iPhone
Now, open the Settings on your iPhone, go to "Mail", select "Accounts" > "Add Account", and key in your Google account credentials. Your data from the Google Account will sync with your iPhone and begin importing automatically.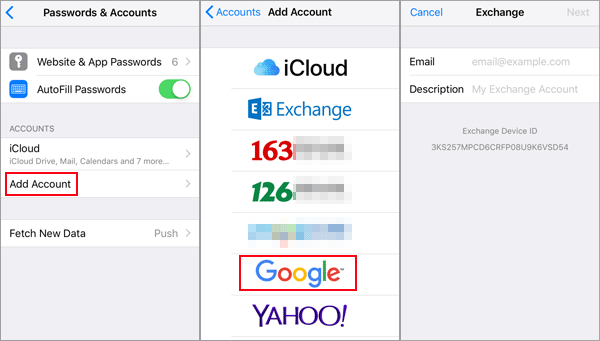 Part 5: Sync Files to iPhone with iTunes
Install the newest iTunes on PC or Mac computers. Note that iTunes will erase your existing data on the iPhone while syncing data.
Step 1. Transfer Files to Your Computer First
Connect the Pixel device to your computer. Copy the Pixel data you wish to move to one folder on the PC. If you use Mac, please install Android File Transfer on your Mac.
Step 2. Connect iPhone to the Same PC
Open iTunes, and connect your iPhone to the computer with a data cable. Click the iPhone icon at the top left, and choose one category that you want to transfer from the left panel.
Step 3. Sync Files to the iPhone
Check "Sync Contacts", "Sync Photos", "Sync Music", or any other file types. Then click the "Apply" icon to sync your Pixel files from the computer to your iPhone.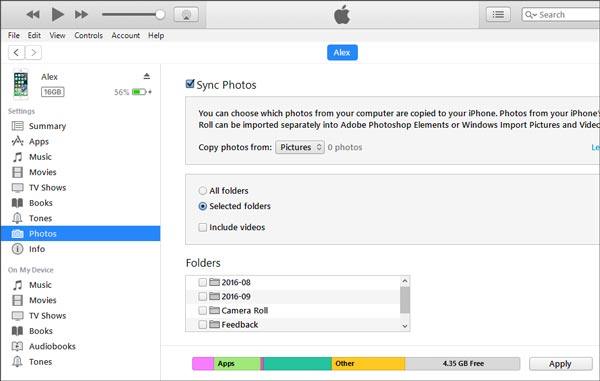 Part 6: Switching from Pixel to iPhone: Is It Worth It?
Cybersecurity - iPhones are more secure than Android devices because of the exclusive iOS App Store, prompt updates, and closed ecosystem. These make iPhones challenging to break into.
User-Friendly interface - iPhones have a very user-friendly and straightforward interface with several pre-installed features. Therefore, you would only take a little bit of time to study the iOS interface.
Functional Cameras - The functional Cameras alone give the iPhone an upper hand in photos. Of course, these iOS devices produce crystal-clear pictures.
Integrated Apple Ecosystems - You can enjoy services like iCloud, FaceTime, Apple Pay, and iMessage across your iOS devices, allowing whole-system integration.
Anyway, it all depends on your. If you like Apple services and iOS, it is worth switching from Pixel to iPhone.
Part 7: FAQs on Pixel to iPhone Transfer
Q1. What files will I lose files when transferring data from Pixel to iPhone?
The main disadvantage of changing to new operating systems is that you cannot move everything. You may lose some of your data in the transfer process, including the apps you purchased, free applications that are not in the Apple App Store, your in-app purchases, display, and accessibility settings. Messages on some messaging applications.
Q2. Can I transfer apps when switching from Google Pixel to iPhone?
Yes, you can use the Move to iOS application to transfer the free applications supported by both iOS and Android. For paid applications and applications that cannot transfer, you will have to visit your App Store to check if they exist on iOS.
Conclusion
While transferring data from your Pixel device to an iPhone may sound intimidating, you don't have to worry because this guide has discussed several ways to simplify the transition so you don't lose your important data. You must go through all the methods and choose the one you prefer most.
We highly recommend the practical transfer tool - Samsung Data Transfer. It can seamlessly transfer all your contacts and documents to your new iPhone. It is easier to use this tool because it doesn't require you to have special skills. You will have all your data on your new device with just a click of a button. More importantly, it works for most Android and iOS devices. Give it a try and see how cool it can be!
Related Articles
Fast Transfer Contacts from iPhone to Pixel? (Step-by-step Tutorial)
Recover Deleted Contacts on Google Pixel without Effort via 4 Methods
How to Add Music to Google Pixel without Effort | 4 Reliable Methods
Sync Apps from iPhone to iPad in 3 Practical Ways [Proven Guide]
How to Transfer Data from iPhone to OnePlus Expeditiously via 4 Methods
Recover Deleted Text Messages on Google Pixel: 4 Must-Know Tips