Summary
"I want my iPhone and iPad to have the same data. But how do I sync my iPhone to my iPad? I have no idea about this. Who can give me some suggestions?"
It is easier to sync data from a computer to an iPhone. But, the case is very different when syncing your iPhone and an iPad. Apple does not offer any direct way to address this problem apart from iCloud.
But, can you backup an iPhone to an iPad? Yes. There are many ways you can achieve that. You can use iCloud, iTunes, or use third-party software. And this guide will show you how to achieve that.
Also, can you use a Bluetooth iPhone to iPad? Absolutely. It is possible, provided the devices are closer to each other. This guide will show you how to sync iPhone to an iPad. So, let's get started!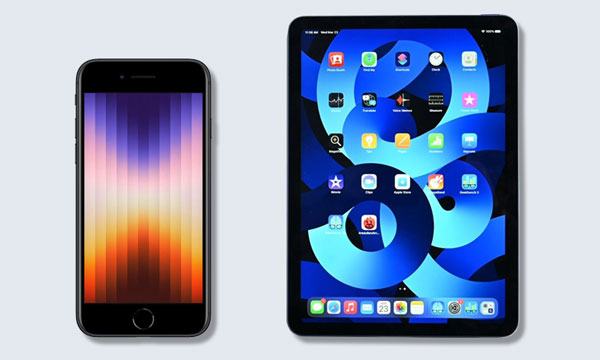 Part 1: How to Transfer Data from iPhone to iPad Using iCloud
iCloud is a great cloud service provided by Apple to assist users in syncing data, files and documents across devices. If you have iCloud, you may easily access your file and work on it without transferring it from one gadget to another. If you wish to move data from an iPhone to an iPad, do the following:
Step 1: Navigate to the Settings application on an iPhone, click your Apple ID, and choose the "iCloud" option.
Step 2: Toggle on the switches found next to the categories of files you want to sync.
Step 3: Go to an iPad and ensure you've signed in using the same Apple ID. Then repeat the similar steps on your iPad. After a while, you will successfully sync your iPhone and iPad wirelessly.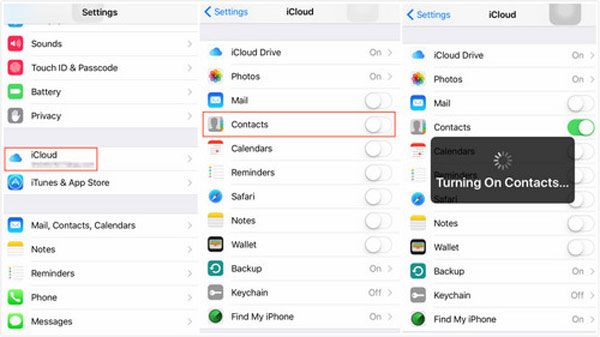 By the way, ensure your devices are connected to a stable Wi-Fi network.
Part 2: How to Transfer Everything from iPhone to iPad with Coolmuster Mobile Transfer
iCloud only syncs your files from an iPhone to an iPad via a network, but it cannot transfer data via USB. In such a case, you would want a tool that can seamlessly transfer all data from an iPhone to an iPad. That's the iOS transfer tool - Samsung Data Transfer.
Since it is a comprehensive tool to transfer data, it can sync iOS files such as contacts, notes, calendars, books, and bookmarks. Besides, it can directly transfer data to your target device without storing data on any cloud server. The best thing is that there is no data loss, which makes it a practical tool to use.
Plus, it not only supports iOS devices, but also works for Android phones and tablets. If you want to transfer music, pictures, videos, and other data from iPhone to Android, it will be simple to complete the migration.
Download this software for free below.
Below are the steps to transfer data from iPhone to iPad with this iOS data transfer software:
Step 1. Install the Software
Install the mobile transfer software on your computer and launch it.
Step 2. Connect Your iPhone and iPad to Your Computer
- Once you have installed the program on the computer, launch it and select the "Mobile Transfer" module. Then connect your iPhone and iPad to your computer using USB cables and click the "Trust" option on both devices.
- Ensure your iPhone is on the "Source" section and your iPad on the "Destination" section. If not, tap the "Flip" icon to change their positions.
Step 3. Transfer Your Data from iPhone to iPad
- After successfully connecting your devices, you will see the data types displayed in the middle panel. Choose the data types by ticking the boxes.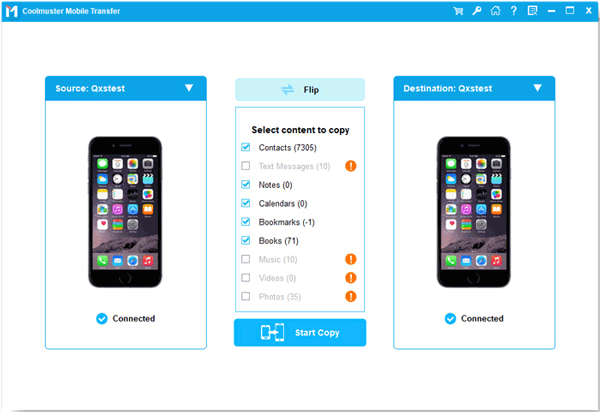 - Next, tap the "Start Copy" button to transfer data. Once done, you will have your data on your iPad.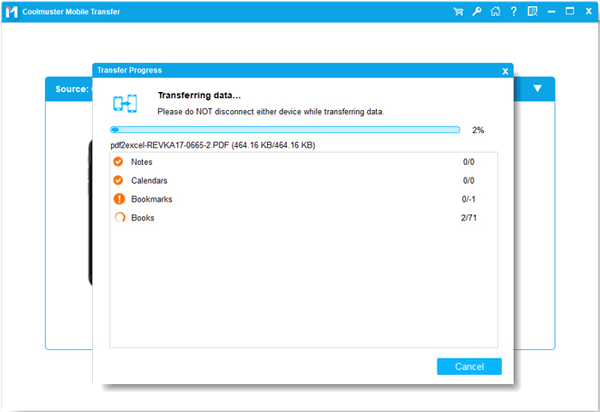 Read also: Want to copy your photos from an iPhone to an iPad? Then please don't miss these 6 approaches.
Part 3: How to Sync iPhone to iPad Wirelessly via AirDrop
It is also easier to successfully sync your data on an iPhone and iPad through AirDrop. But, before you start transferring data, ensure both devices are close to each other and within Wi-Fi and Bluetooth range. Bluetooth must be turned on and have active Wi-Fi. Both phones should have an AirDrop app installed.
Below is a step by step guide on how to use AirDrop to sync iPhone to iPad wirelessly:
Step 1: Open the app that stores the data you want to send, and find your files. Then click the "Share" icon.
Step 2: Click the "AirDrop" button, and click "Profile photo" of the iPad on the screen.
Step 3: You will get an alert with the preview. Click "Accept" to accept the data. Once accepted, you will receive the iPhone data on your iPad.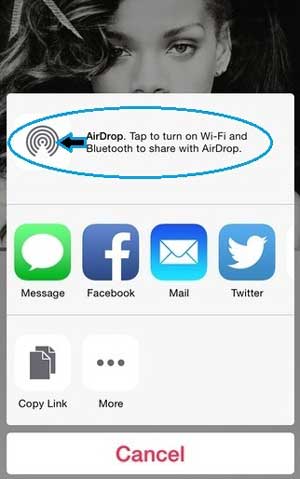 Further reading: How can you transfer data from an old iPad to a new iPad? Don't fret. This post will help you.
Part 4: How to Transfer Information from iPhone to iPad with iTunes
iTunes is also a popular platform you can use to add or sync files to your iOS devices. This platform has evolved significantly after its setup. When it was launched for the first time, it was a great means of downloading and transferring content to MP3 players.
The fact is that it has really evolved into the media player and even mobile device management platform since its setup. iTunes plays a pivotal role in managing mobile devices as it makes it easier to transfer or sync data from an iPhone to an iPad.
This platform has expanded its functions significantly, which allows you to sync iPhone to iPad without a computer hassle-free. As such, if you want to transfer data from iPhone to iPad on iTunes with a computer, follow the below steps:
Step 1: You must transfer all of your information to iTunes. To do this, open iTunes, then connect the iPhone using a USB cable. After connecting the device successfully and it's found on iTunes, an icon will appear, so you have to click on it and navigate to "Summary".
Step 2: Choose the file types you want to sync on the interface, and tap "Apply" to transfer the data to iTunes.
Step 3: Disconnect your iPhone, and link your iPad to the computer via USB, tap your iPad, and go to the same data type. Then you can sync the data to your iPad.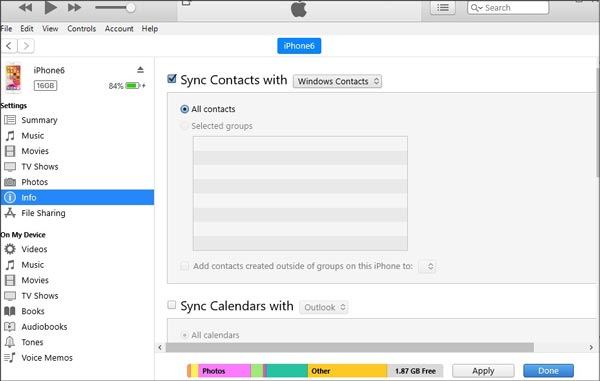 Part 5: How to Sync iPhone to iPad without Computer
It is also possible to sync your iPhone to your iPad without a computer using Quick Start. This feature can sync all content from your iPhone to your iPad. But it only works before you set up your iPad. In other words, you will lose your existing data on your iPad if it is not a new device.
Maybe some people think that they can use Bluetooth to send files. Actually, using Bluetooth between iOS devices means using AirDrop. Thus, Bluetooth cannot be as an option to share data between an iPhone and iPad. But you can select other apps to transfer files, such as AirDroid, SHAREit, or those social apps like WhatsApp, etc.
Let's see how to sync iPhone data to an iPad without a computer via Quick Start:
Step 1: Turn on your iPad, set it up, and place it next to your iPhone. Then the Quick Start screen will appear.
Step 2: Please use your Apple ID to go on. When the animation shows up on the screen, use your iPhone to center it in the viewfinder.
Step 3: On the Transfer Data from iPhone screen, please tap the "Continue" to begin transferring your iPhone data to the iPad. Then wait for the process to end.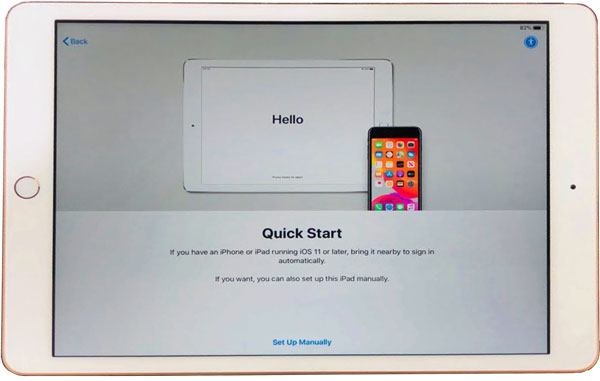 Recap
So, if you wish to sync data from an iPhone to an iPad, you now have sure ways to make that happen. Knowing all of them will lower the inconveniences significantly. For instance, if you don't want the hassle of using cables, wireless options like Bluetooth are still available. As for not wanting to lose your precious data, the Samsung Data Transfer software comes to your aid. So, whichever way you want to handle data transfer, we've covered you with the aforementioned ways.
Related Articles
How to Transfer Contacts from iPad to Android Smoothly | 6 Wise Methods
[Fast Transfer] How to Transfer Your Photos from iPhone to Android Effectively?
[Practical Guide] Transfer Files from Android to iPhone with 8 Tips
How to Transfer Music from Android to Android? 5 Ways to Fix It
How to Transfer Files from iPad to Android Phone [7 Hassle-free Methods]
How to Transfer Contacts from Android to Computer in 2022? [3 Easy Ways]