Summary
Many smartphone users usually back up their data, including photos, in the cloud storage for easier retrieval. Backing up photos to cloud storage also helps manage space in your gadget. Mi phone is a new star with its own flagship smartphone, attracting more and more people. Many people are now shifting to Xiaomi phones these days. And just like the other Android gadgets, Xiaomi devices allow us to back up the data and retrieve it via Mi Cloud afterward.
So, how to restore photos from Mi Cloud? Mi users find the whole process of restoring data somehow complicated, and they can't seem to retrieve the backup. If you are one of those people who find the process tricky, do not worry, as we've got you covered. This guide brings you detailed ways to easily restore photos from the Mi Cloud.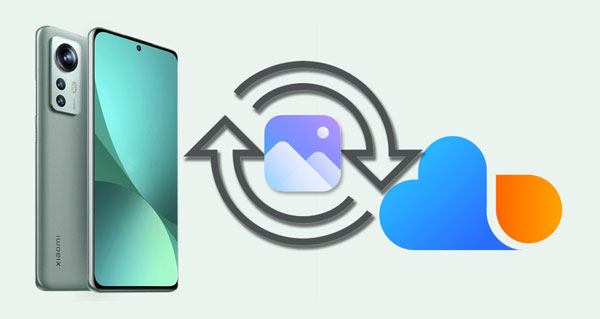 Part 1: How to Restore Photos from Mi Cloud Storage
You can save any data to Mi Cloud storage, including your photos. And if you've enabled the automatic syncing of your Mi phone's files to the Mi Cloud account, it would be very easy to restore it to your phone. Here is how to restore photos from the Mi Cloud storage:
Step 1: If your Xiaomi phone has a lock, unlock it, then click the "Settings" app and choose the "Mi Account" or the "About phone" option.
Step 2: Make sure your gadget is signed in using the same Mi Account details you used for the backup, and tap the "Xiaomi Cloud" button.
Step 3: Tap the "Gallery" option, and turn on the "Sync automatically" icon. Then it will begin the restoring process. Please wait for some time for the procedure to finish.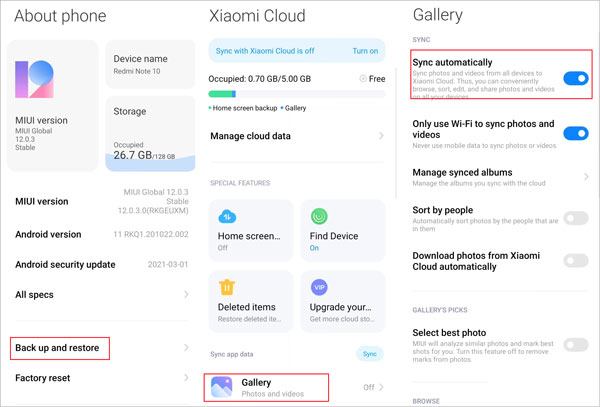 Part 2: How to Download Images from Mi Cloud to Computer
Let's assume you want to keep your Mi Cloud photos on the computer. How will you go about it? It is very easy. You just need to sign in to your Mi account on the computer and download the photos to the PC. Here is how to achieve that:
Step 1: Open the i.mi.com from the browser on your computer and log in with an identical Mi account that you used to back up on your Xiaomi phone.
Step 2: Click the "Gallery" button on the interface and preview the pictures you've uploaded to the Mi account.
Step 3: Download the photos you need to the computer.

Read also: You can select a handy way to transfer photos from your Android device to your Windows PC from this article.
Part 3: How to Restore Data from Mi Cloud to Another Phone
What if you want to restore data from the Mi Cloud to another phone? This is possible and, in fact, simple. It is ideal to learn how to sync your data from Mi Cloud to any gadget. Here is a step by step process to restore data from Mi Cloud to another phone:
Step 1: Look for the Mi Cloud app, download it, and install it on your new phone.
Step 2: After installing successfully, open the application and choose the "Photos" option.
Step 3: You should then click the "Sync now" tap to sync the photos to your new device easily.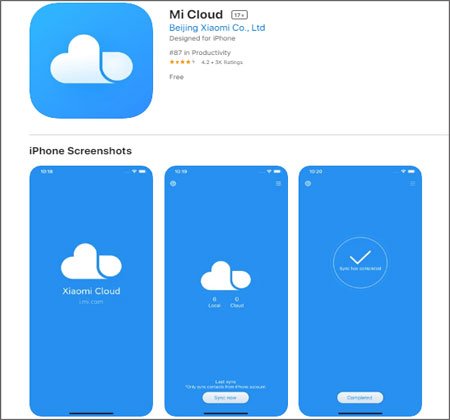 Further reading: How can you effortlessly move all files from one Mi phone to another? Here are 4 practical methods.
Part 4: How to Back Up and Restore Mi Photos with a Mi Cloud Alternative
Mi Cloud only provides 5GB of free storage for every account, which isn't enough to store all of your phone's data. What if you do not want to buy another storage? You can use this alternative to Mi Cloud - Samsung Backup and Restore. This great backup software is made to assist any Android user with data backup and restoration.
Thus, you can swiftly back up various data from your Xiaomi phone or tablet to a computer, containing contacts, SMS, videos, apps, music, call logs, photos, and more. Also, you can restore your photos and other backup data from your computer to your Mi phone and other Android mobile devices. Furthermore, most Android devices are compatible with it, like Xiaomi 12 Pro/12/12X/11 Ultra/11 Pro/11/10/9/8/6/5, Samsung, Sony, Google, HTC, ZTE, OnePlus, etc.
Here is how to use this backup manager to back up photos from a Xiaomi phone to a computer in 1 click:
Step 1: Download and Install the Software on a Computer
To begin with, please download and install this software on your Windows or Mac computer.
Step 2: Connect Your Mi Phone to the Computer
Launch the software, and connect your Xiaomi smartphone to the computer via a USB cable. Then allow USB debugging on the Mi phone, and you will see the interface as below.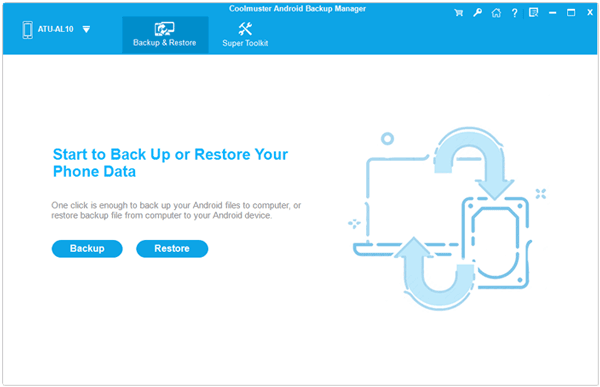 Step 3: Back Up Mi Phone Photos to the Computer
Tap the "Backup" option, and select the "Photos" category. Then hit the "Back Up" button to transfer your pictures from the Xiaomi phone to the computer.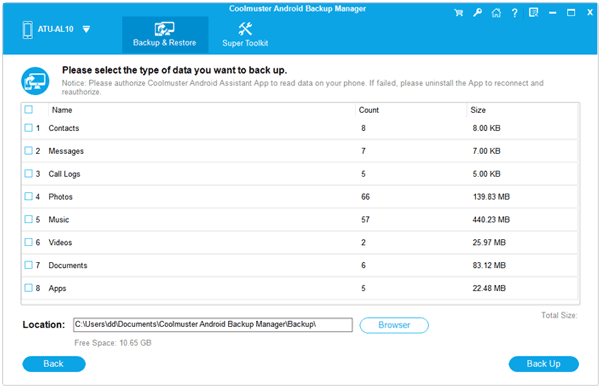 Here's how to restore photos from backup to your Xiaomi smartphone:
Step 1: Launch the Software and Connect Your Phone
Launch the software on the computer and connect the Xiaomi device using a working data cable. After the phone is detected and recognized, choose the "Restore" button.
Step 2: Restore the Photos from the PC to Mi Phone
Choose the backups, tick the "Photos" option, and tap the "Restore" icon to import the backup pictures to your Xiaomi device.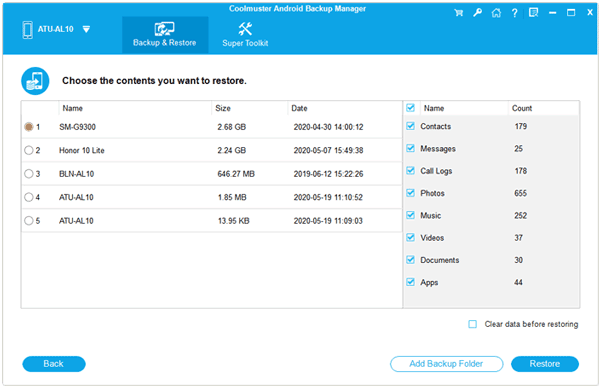 See more: You can get a full guide to back up and restore Mi phone data by clicking this link.
Part 5: How to Recover Deleted Mi Cloud Photos from the Trash
Did you lose your pictures from your Mi device and want to retrieve them? Then no need to worry as it is possible to restore deleted photos from Trash. Whenever you delete any images from your Xiaomi phone, it is removed to the gallery trash bin for about 30 days before it disappears completely.
If you find your pictures missing from your Xiaomi phone, you should check the Trash first, and if you are lucky, you may get them back effortlessly. To restore deleted Mi Cloud photos from Trash, do the following:
Step 1: Open your Mi phone Gallery and click the "Albums" button.
Step 2: Scroll down to the "Trash bin" folder, then open it. Choose the pictures you wish to recover, then tap the "Restore" button. All of your chosen pictures will come back to the Gallery app.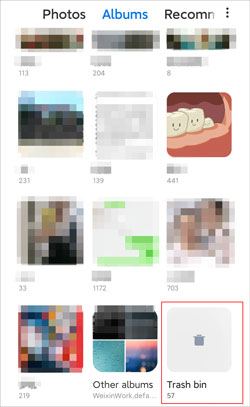 Conclusion
There you go! It's high time you handle your phone's data with utmost care. Hopefully, this guide has enlightened you now know how to restore photos from Mi Cloud. You can now easily sync your Xiaomi data to any gadget without any difficulty. Have a hassle-free transfer experience by following the above highlighted Mi Cloud photo recovery tricks!
Besides, if you like to back up your photos and other data from your Xiaomi mobile device to a computer, the Mi phone backup manager - Samsung Backup and Restore, will be a helpful assistant. It can seamlessly back up and restore your Xiaomi photos and other important data on a computer.
Related Articles
How to Recover Photos from Secure Folder on Samsung | Effective Skills
How to Readily Transfer Data from Huawei to Xiaomi? Check These 6 Handy Ways
Xiaomi File Transfer - How to Transfer Xiaomi Files Effectively? [6 Methods]
[Focus] How to Recover Deleted Photos in Redmi? Please Refer to These 4 Ways
How to Recover Deleted Videos from Mi Phone | 5 Secure and Effective Solutions
[5 New Ways] How to Transfer Photos between Samsung and Computer