Summary
Now we will not surprise at losing photos from the mobile phone because it happens frequently. However, if the deleted photo is memorable, maybe you would like to recover it. If so, you are in the right place. This article will show you how to recover deleted photos in Redmi with 4 handy ways.
It will also explain where the photos are after you deleted them and why we can recover them. Thus, you will get the comprehensive guide here about the Redmi photo recovery.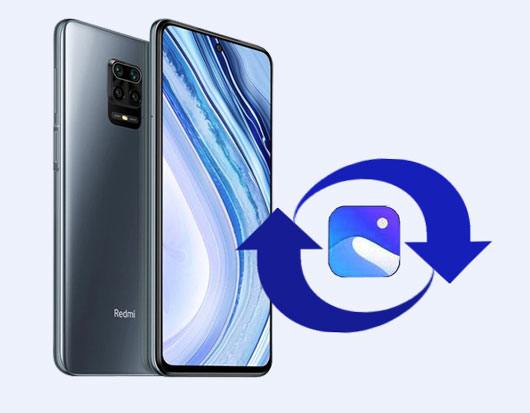 Part 1: Where Are Deleted Photos in Redmi?
Wonder where the deleted photos are in your Redmi phone? Don't fret. This section will tell you the truth. In general, although we can't see the deleted photos, they still stay on the phone until new data take the place of them. However, we can't find them directly.
If you enable Mi Cloud, your deleted photos are in the Mi Cloud Trash folder. So you can find them in the MIUI Gallery app.
Part 2: Can We Recover Deleted Photos from Mi Phone?
Many people are curious whether we can recover deleted photos from the Mi phone. Actually, we have a great chance to recover deleted pictures. First of all, to those who have backed up photos, they can restore them without hassle. You can recover them with professional recovery tools if you haven't backed up your photos before deletion.
Next, we will talk about how to recover deleted photos in Redmi with different approaches.
Read also: The best Mi PC Suite will support you transfer and manage your Xiaomi data without limitation.
Part 3: How to Recover Deleted Photos in Redmi?
In this part, you can get 4 practical ways of Redmi photo recovery. Let's go.
Way 1. Restore Photos from Gallery Trash Bin (with Backup)
If you delete your photos within 30 days, you can try restoring them from the Gallery Trash Bin on Redmi. It is a built-in function in the Mi phone so that you can make it with ease. But only you turn on the Mi Cloud backup feature in advance it will be effective.
Here's how to recover deleted photos in Redmi Note 8 from the Gallery Trash Bin:
Step 1. Enter the Gallery App
Please open the Gallery app on Redmi and tap the "More" icon on the top right.
Step 2. Select Trash Bin Option
Select the "Trash bin" option, and you will see your deleted photos here.
Step 3. Restore Redmi Deleted Photos
Then select the photos you want to retrieve and click the "Recover" button. You will regain the photos soon.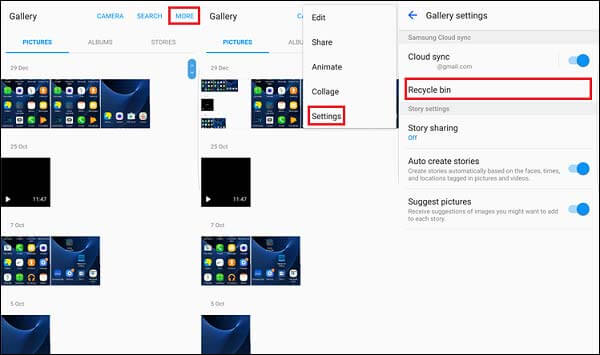 Maybe you need:
Want to back up and restore Mi phone in 1 click? Let's check these 5 popular ways.
It is possible to recover deleted videos from a Xiaomi phone, as long as you follow this guide.
Way 2. Restore Deleted Photos from Mi Cloud (with Backup)
Perhaps you backed up your Redmi data to the Mi Cloud, but you had forgotten. If so, you can check your backup first. The route is easy, and you can follow the guide below to find your backup photos from Mi Cloud without difficulty.
Guide on how to recover deleted photos in Redmi Note7 Pro with Mi Cloud:
Step 1. Go to Settings
For a start, please go to the Settings app and choose the "Mi account" option.
Step 2. Login to Your Account
Sign in with your Mi account that you have backed up your photos and tap the "Mi Cloud" option. Then go back to the Settings page and click the "Additional settings" feature.
Step 3. Recover Photos from Mi Cloud
To find the backup photos, please hit on the "Backup & reset" > "Restore from Mi Cloud" option. Next, you can quickly restore photos.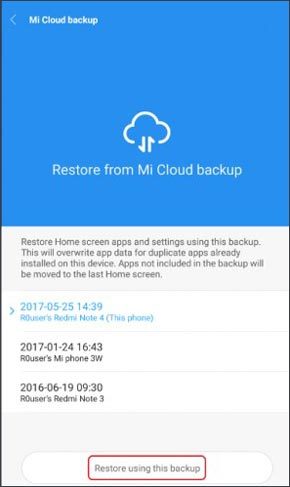 You might like: Is it difficult to transfer iPhone data to Xiaomi? If you know these 5 effective ways, you can handle it breezily.
Way 3. Recover Deleted Photos via Xiaomi Data Recovery (without Backup)
When you can't restore deleted photos from backup, it's time to recover them with Xiaomi data recovery tool - Samsung Data Recovery. It can efficiently find and recover your deleted photos from Redmi. What's more, it is also easy to recover contacts, call logs, videos, and more from Android devices.
In addition to recovering data from internal storage, it is capable of SD card data recovery without root. To let you know it further, here are key features of this recovery software for your inference.
Main characteristics and advantages of the Xiaomi file recovery program:
- Recover multiple data types, including music, videos, documents, text messages, contacts, etc.
- Allow you to preview deleted data on the interface.
- The Quick Scan mode finds deleted pictures fast, and the Deep Scan mode can search for more deleted images.
- Transfer existing data from Redmi to the computer.
- Work with most Mi phones and other Android devices, such as Redmi Note 9/10X/K30/Note 8/Note 7/Note 6/Note 5/Note 4, Redmi 9/8/7/6, Xiaomi Mi 10/9/8, Mi MIX 3/MIX 2S/MIX 2, Xiaomi Mi Note 10/Note 9/Note 8, Samsung Galaxy S20/S10/S9/S8/S7, HTC U20/U12 Life/U12+/U11/U19e, Google, OnePlus, OPPO, ZTE, HTC, LG, and more.
Download the Redmi photo recovery software for free below.
Tutorial on how to recover deleted photos in Redmi Y2 without backup:
Step 1. Download the Recovery Program
Please download this Xiaomi recovery program on the computer. After that, install and run it on the desktop.
Step 2. Connect Mi Phone to Computer
- Use a USB cable to connect your Mi phone and computer. It will recognize your device after you enable the USB debugging mode on the phone.
- Next, tick the checkbox of "Photos" or "Select All" and tap the "Next" icon. Then select a scanning mode on the interface.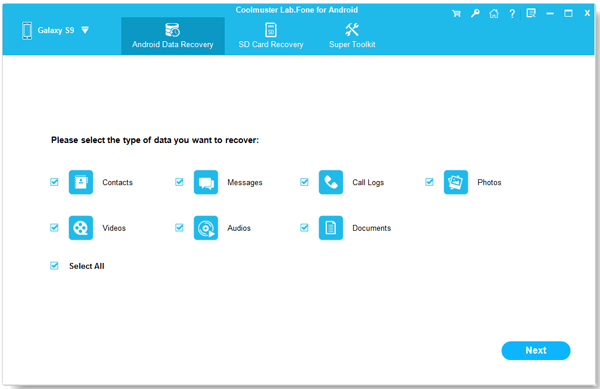 Step 3. Recover Deleted Photos in Redmi Phone
To recover deleted photos in Redmi, please tap the "Photos" category and pick the desired pictures on the right side. Finally, click the "Recover" button to initiate the recovery.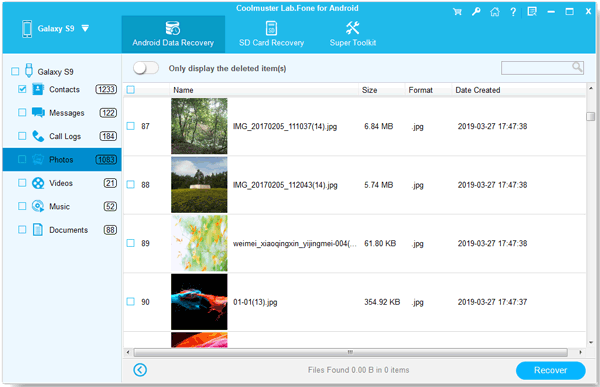 Bonus: Plan to back up Android data on the computer to free up storage? Please don't miss this post, which has 6 useful approaches.
Way 4. Restore Photos Using Google Drive (with Backup)
Many Redmi users are accustomed to using Google Drive for backup, so are we. Powerfully, it offers every user 15 GB of free cloud storage and supports everyone to view files on any mobile phone, tablet, and computer. Likewise, you can restore your deleted photos from Google Drive's backup without a cable.
Here's how to recover deleted photos in Redmi 5A using Google Drive:
Step 1. Download Google Drive
Please download and install Google Drive on your Redmi phone.
Step 2. Launch the App
Launch it and sign in with your Google account. Then click the upper-left "Menu" icon to choose the "Trash" option.
Step 3. Restore Deleted Photos
After entering it, you will see your deleted pictures and other deleted files. Select what you want and click the "Restore" icon. The selected photos will return to your Redmi smartphone.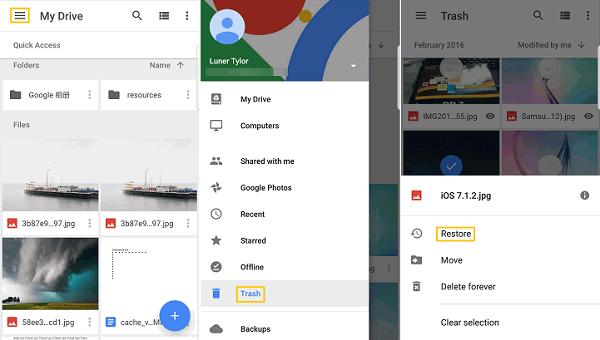 Conclusion
So, that's how to recover deleted photos in Redmi. Easy, isn't it? Even though you don't back up your photos, this Xiaomi recovery tool - Samsung Data Recovery, can swiftly recover deleted images with high quality. So, please implement the recovery with it as soon as possible.
Related Articles
Xiaomi File Transfer - How to Transfer Xiaomi Files Effectively? [6 Methods]
Xiaomi Data Recovery Software - How to Recover Deleted Data from Xiaomi?
Xiaomi Backup to PC: How to Transfer Files from Mi Phone to PC [5 Top Ways]
How to Transfer Data from Mi to Mi Instantly [4 Methods]
Practical Tips about Android Memory Management You Can't Miss
How to Transfer Files from PC to Android Phone without USB [5 Handy Solutions]