Summary
Millions of Xiaomi users store photos, videos, and other files on their phone. If you are also a Xiaomi user and have the same concern, this article which focuses on Xiaomi backup to PC can give you a hand. It will offer you 4 top ways on Mi phone backup, and you can cope with your files on the Xiaomi phone without hassle.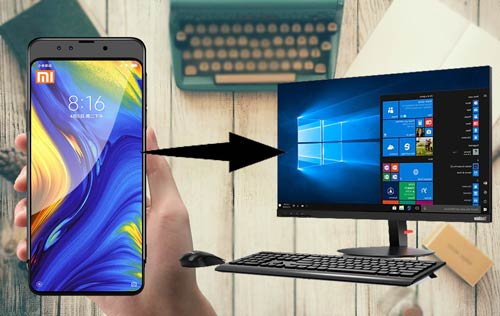 Part 1: Xiaomi Backup to PC with Xiaomi Backup Software (Overall)
When you want to know how to backup Redmi 4 to PC, you'd better make use of a powerful Mi backup software. In this way, it will be easy to handle your files. This Xiaomi Backup software - Samsung Messages Backup is for Xiaomi phone to transfer files in the most rapid rate, so you can backup and restore your files from Mi phone to the PC breezily.
Highlighted features and advantages of the Xiaomi Backup software:
- You can backup Xiaomi files on the PC with 1-click feature.
- In addition, it supports to transfer Android data on computer in 1 click as well.
- Restore from the computer to the Xiaomi phone in seconds.
- Preview the files on the computer with the large screen.
- Add, delete, edit, copy, move, and etc. files on the computer with this app.
- You can share files from the computer to another mobile phone.
- There is no ads on the interface and it will keep your files from danger.
- It has high compatibility with almost all Xiaomi phones and other Android phones, such as Mi 9 /9 Lite/9T Pro/9T/9 SE/8 /8 Lite/8 Pro/ Max 3, Mi MIX 3/MIX 2S/MIX 2, Mi Note 10/Note 9/Note 8, Redmi 8/7/6, Redmi Note 8 Pro/Note 8T/Note 8/Note 7/Note 6, Samsung, Sony, HTC, LG, Google, Huawei, OPPO, ZTE, OnePlus, and so on.
Download this Xiaomi Backup app below.
Guide on how to backup Xiaomi on PC:
Step 1: Download and install
From the outset, you need to download this Xiaomi Backup software on the PC, and then launch the app to click the "Android Assistant" module.
Step 2: Connect Xiaomi Phone to PC
Next, please connect your Xiaomi phone to the PC with a USB cable, and enable USB debugging on the Settings app of Xiaomi Phone. This app will detect your phone quickly.
Step 3: Go to Super Toolkit
- Once connected, please tap on the "Super Toolkit" tab on the top menu. Then tap on the "Backup" option and you will get a new pop-up page. Ticking off the data on the page, you need to tap on the "Back Up" button at the bottom.
- Finally, the files will be transferred from the Xiaomi phone to the computer in seconds.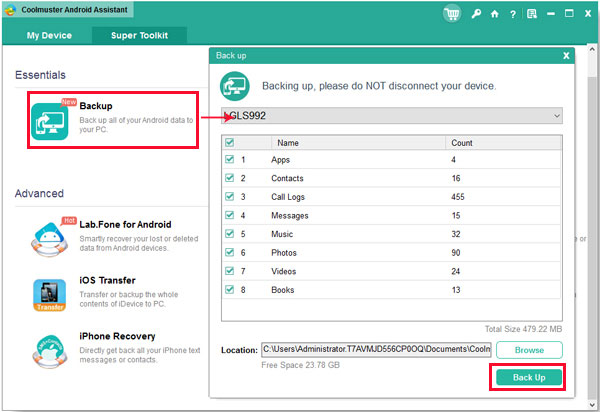 See also: If there is an article would tell you 6 useful tips about Xiaomi file transfer, why not have a read?
Part 2: Mi Phone Backup with Mi PC Suite
As a Xiaomi user, you have a bonus, which you can download Mi PC Suite from the official website and use it to transfer files. With Mi PC Suite, you have no worry about personal information leakage and you can backup and restore all the files conveniently. Thus, you can backup the large size of the videos from your Xiaomi phone to the PC at a fast rate. However, this backup software only provides services for Xiaomi phone, so you can't transfer files on the other Android phone.
Here's how to transfer files from Xiaomi to PC using USB cable:
Step 1: Download Mi PC Suite on the PC
First of all, please download the Mi PC Suite on the PC which is Windows OS (This app doesn't support Mac OS). And then install it by double-clicking.
Step 2: Link Xiaomi Phone to the PC
Second, you need to link your Mi phone to the PC via a USB cable. It will automatically install the required drivers to connect your phone to the PC fast.
Step 3: Backup Files on the PC
Third, on the interface, you can choose the data to manage. And you can tap on the "Backup" icon, the app will backup your files on the PC in no time.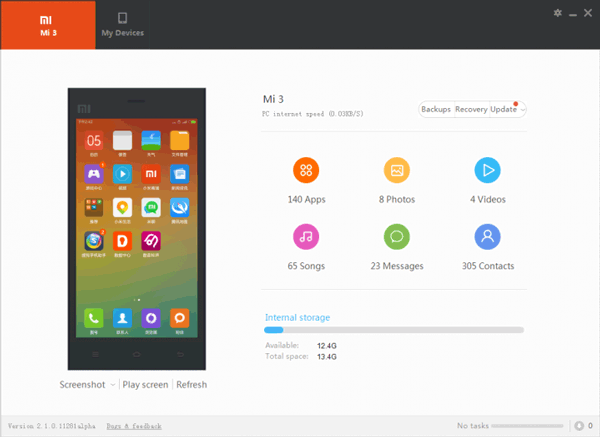 Read also: If you are a Samsung user, please check it out about Samsung backup to PC with 6 helpful ways.
Part 3: Mi Data Backup on Mi Account
Actually, using Mi account to backup data means that you backup the data to the Mi Cloud. In general, every user of Xiaomi has 12 GB free space of Mi Cloud. So, you can make full use of the space to backup your files. And you can download the backup files on the computer easily. Besides, you can upgrade your cloud space by payment.
Steps on how to backup Mi data on Mi account:
Step 1: Sign in with Mi Account
First, go to the "Settings" app on the home page, and then click the "Mi Account" option. Please sign in with your personal Mi account.
Step 2: Enter Mi Cloud
After signed in, you will see the "Mi Cloud" on the interface. And there are sorts of data on it.
Step 3: Backup Files on Mi Account
At an end, you need to turn on the "Backup" features next to the data, and the data will be backed up automatically.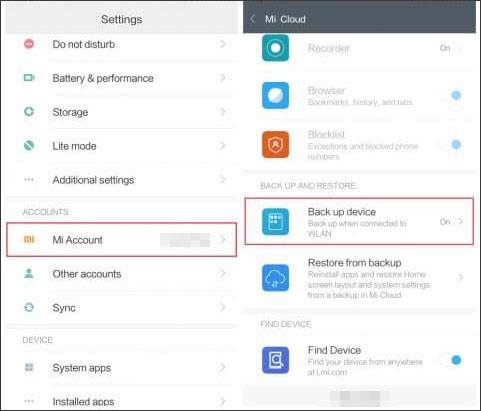 Further reading: As we know, the data on the Android phone is the most important, such as contacts. Thus, the method to protect your contacts is to transfer contacts from Android phone to computer.
Part 4: Mi Backup to PC via Local Backup
The fourth Mi backup method we are going to introduce is local backup. This way is easiest in the world which you needn't download any apps on your Xiaomi mobile phone or the computer. And you need to understand that the local place for backup is depending on yourself. For example, you can choose your SD card as the backup space. Let's see how to do.
Tutorial on how to transfer data from Mi cellphone to PC:
Step 1: Find the Local Backup Feature
- On your Xiaomi phone, please get into the Settings app and find the "Additional settings" option. Then you need to tap on the "Backup & Reset" and the "Backup" buttons. Now, you can see the "Local backups" feature on the screen.
- If prompted, you need to type your password of your Xiaomi phone.
Step 2: Choose the Data for Backup
After that, please click on the "Back up" icon at the bottom. Then you will see two major types which contains the "System" and the "Apps" types.
Step 3: Backup Data via Local Backup
- When entering the "System" type, you will see the "Gallery", "Browser", "Settings", "Contacts", "Weather", and more options on the screen. You need to select them which you want to backup and tap on the "OK" button.
- Once selected, please tap on the "Back up" icon at the bottom. Wait for a while, the backup process will be end.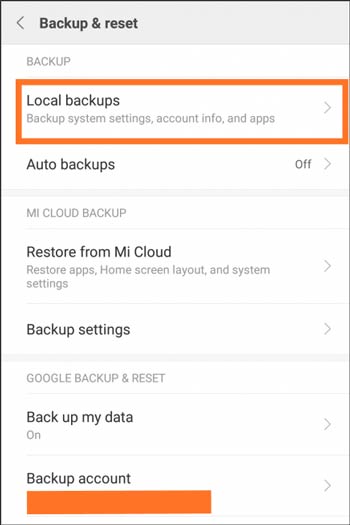 Why Mi phone isn't connecting to my PC?
If your Xiaomi phone can't connect to your PC, you'd better check the USB cable and the USB port at first.
If they are all available, please check whether you enable USB debugging on your mobile phone.
Conclusion
To backup Mi phone's files on the PC is important for per user, and you ought to learn about these 4 efficient solutions to transfer Mi data to the PC or other places, With the 4 ways, you can not only make Xiaomi backup to PC easily, but also you can restore the data without trouble when you are in need. Therefore, you have no reason to reject these tips at all. By the way, this Mi Phone Backup app - Samsung Messages Backup is recommended by the most users. Have a try and you will love to transfer files from Xiaomi to the computer with it.
Related Articles
4 Effective Ways for Backup SD Card on Android [Best Guide]
Android SMS Manager: How to Manage Messages on Android with 3 Practical Methods
6 Methods to Backup Photos on Android Effortlessly [Proven]
Best Transfer - Transfer Files from Android to PC Using USB Cable in 6 Ways
How to Transfer Files from Android to Mac: 7 Amazing Solutions
Transfer Music from Mac to Android -- 5 Simple Ways Enough