Summary
Have you heard of the Secure Folder on Samsung? Even though this folder is named Secure, many users lost their memorable photos from it without warning. So how to recover photos from the Secure Folder on Samsung? Perhaps you have searched for the answer, but there is no useful method.
Actually, you still have possibility to retrieve deleted photos from the Secure Folder. Here are practical skills for your reference. If you want to make good use of Secure Folder, you'd better learn these tips.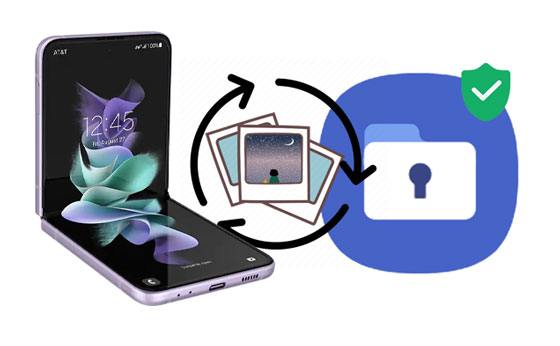 Tip 1: What is the Secure Folder on Samsung?
Secure Folder is a separate area to protect your private files, such as pictures, apps, documents, etc. Even if you forget to lock your device, others cannot access it without your password, PIN, or pattern. Besides, after you enable the Secure Folder, you will see it on the desktop of the device. By the way, this feature is only available on Android 7.0 or higher.
Tip 2: Is it possible to recover deleted photos in a secure folder?
Yes, it is possible to recover deleted photos from Secure Folder on Samsung. First of all, if you have backed up your photos in the folder and the backup exists, you can restore them from the backup undoubtedly.
Part 1: How to Retrieve Deleted Photos from Secure Folder via Samsung Account
You can restore Secure Folder data via your Samsung account, but the premise is that you had backed the data up to Samsung Cloud before they got lost. Additionally, Secure Folder is an independent folder on Samsung, but you can restore the data to another Samsung device with the same account. If you have multiple Samsung accounts, please add the account storing your backup photos to your Secure in advance.
Here's how to restore Secure Folder data on Samsung via a Samsung account:
Step 1. Add Your Samsung Account
Open the Settings app, tap the Samsung account at the top, and enter the corresponding account.
Step 2. Access Your Secure Folder Settings
Tap the "Biometrics and security" > "Secure Folder" option, and enter your password.
Step 3. Restore Photos from Secure Folder
Click the "Backup and restore" > "Restore" icon, and select the "Photos" option. Finally, tap the "Restore now" button to download your backup photos to your Samsung device.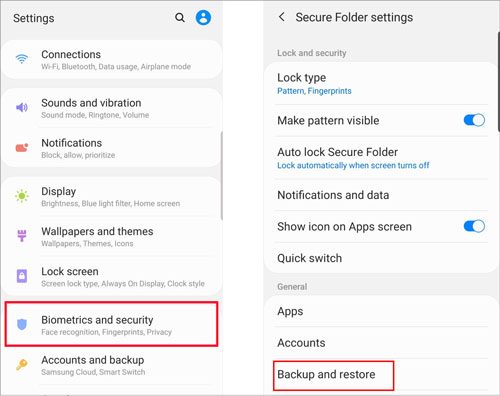 Bonus: With this post, you can seamlessly transfer files from a Samsung tablet to a PC.
Part 2: How to Restore Secure Folder on Samsung via Samsung Smart Switch
In general, you can use Samsung Smart Switch to back up almost all Samsung files to your computer, such as your photos, settings, and so on. In other words, you can also restore the backups from your computer to your smartphone using Smart Switch. However, for information safety, the data in Secure Folder cannot be copied, transmitted, or accessed in other ways.
Although you have performed the backup with Samsung Smart Switch, the backup doesn't contain your photos saved in Secure Folder. Thus, you cannot restore Secure Folder data in this way.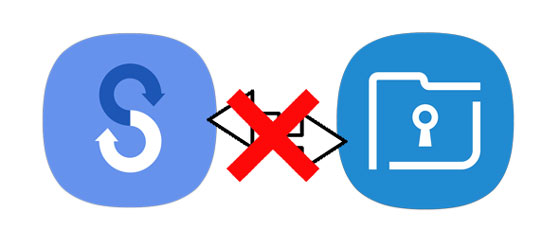 Learn more: How to create a secure folder and add files to it on Samsung? It's easy. Go to Settings, and hit on Lock screen and security > Secure Folder. Then click Start, sign in with your Samsung account, and pick a lock type. Once done, you will see your Secure Folder on the desktop.
You might like: Can you directly restore files from the Android trash bin? Well, here is a relavant guide for your reference.
Extra Bonus: How to Recover Photos from Samsung without Backup?
This Samsung photo recovery tool - Samsung Data Recovery, is suitable for those who lost their photos from Samsung devices without backup. It can deeply scan the internal storage of your Samsung device to find out your deleted files. And you can view your existing and deleted photos on the interface.
Plus, it is capable of Samsung SD card recovery, which helps you recover deleted pictures, videos, music, and documents. However, you cannot recover your deleted photos from Samsung Secure Folder with this software. As stated on Samsung official website, it will lock the Secure Folder automatically if the device is rooted or uses a custom ROM. Hence, all the third-party recovery programs will fail to access or scan the Secure Folder.
Key features and advantages of this Samsung recovery software:
- Recover deleted photos from Secure Folder without backup.
- Restore deleted contacts, text messages, call logs, and more from Samsung and other Android devices.
- Recover Android SD card without root.
- Transfer your existing data to your computer for backup.
- Allow you to preview files before the recovery.
- Make a stable connection between your Samsung device and the computer via USB.
- No information leakage.
Moreover, it supports most Samsung and other Android mobile devices, such as Samsung Galaxy S21/S20/S10/S9/S8, Samsung Galaxy A72/A71/A70/A52/A51/A50, ZTE Axon 30 Ultra/Axon 30 Pro/S30/nubia Z30 Pro, Google Pixel 6/5/4/3/2, Motorola, LG, HTC, OPPO, Vivo, Xiaomi, and more.
Download the recovery program for free below.
Guide on how to recover deleted files from Samsung via this software:
Step 1. Launch the Recovery Software
After downloading it, please install and launch it on your computer.
Step 2. Connect Samsung to Computer
- Tap the "Android Recovery" tab, and connect your Samsung device to the computer via a data cable. Then enable USB debugging on Samsung.
- Once connected, you can choose the "Photos" category on the interface. Next, select a scanning mode, and root your device.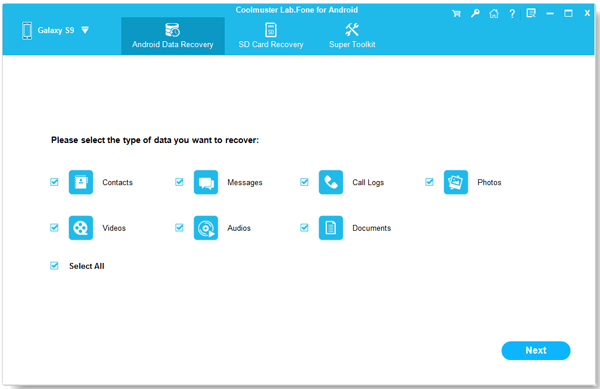 Note: You can click "full guide" to see the detailed steps for rooting. And, rooting is not necessary when you recover deleted data from your Samsung SD card.
Step 3. Recover Photos from Secure Folder
After the program completes the scanning, you can preview your photos. Please select the images you want, and hit on the "Recover" icon to save them to your computer.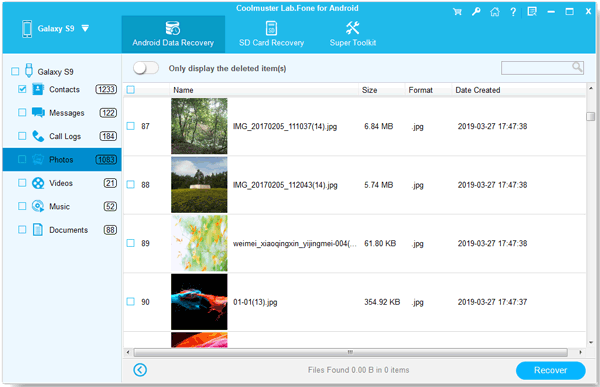 Further reading: How to fast back up photos on your Samsung device? You can use these 6 reliable ways.
Conclusion
Losing photos from the Secure Folder on Samsung is not terrible if you have the backup. But unfortunately, up till now, there is no other effective recovery method that can successfully restore deleted files from the Secure Folder. Anyway, if you want to recover photos from other folders and SD cards on your Samsung device, Samsung Data Recovery can help you. Also, it can recover other files without effort, like contacts, SMS, etc.
Related Articles
Samsung Smart Switch Stuck at 99% Problem: How to Fix? (Proven Tips)
Back Up Galaxy S10 - 6 Methods on Samsung Backup and Restore
3 Ways to Quickly Transfer Messages from iPhone to Samsung (Latest)
Fixed: Why Samsung Cloud Backup Failed? And How to Fix It without Hassle?
How to Transfer Data from Samsung to Lenovo Phone with 4 Fabulous Approaches
Back Up Android to SD Card Swiftly: 4 Easy Approaches Here