Summary: Get the latest on Samsung Galaxy Note 9, set to release on August 9, 2018 in Brooklyn, New York. Discover what to expect, from rumored design, features, specs, and price, to upgraded cameras, a more powerful big screen, and a new Bixby assistant. Find out everything we know so far.
Samsung Galaxy Note 9 - Release Date
The official release data of Samsung Galaxy Note 9 is August 9th, 2018, after Samsung sent an invitation on June 27th. And the unveiling will start at 11am EST (8am Pacific Standard Time, 4pm British Summer Time) in Brooklyn, New York.
This will be the next big announcement for Android smartphones and it will be released next month. We used to announcing the new Galaxy Note tablet at the end of August, but Samsung Galaxy Note 9 will be released in early August - it is two weeks earlier in this year than usual, saying Galaxy Note 8.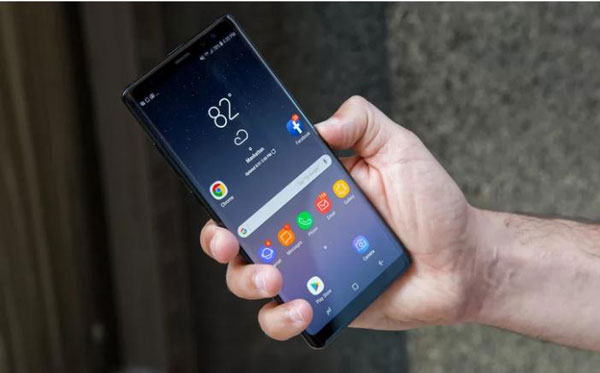 Usually, Samsung Galaxy Note devices will land in stores a few weeks after it is released, which is before or around the time when Apple launches its next iPhones in September. It is believed that it helps Samsung get more confidence from customers, and this year is likely to be the same comparing with previous ones.
Besides, a report at ET News indicates that August 24 will be the global release date and reservations will be open sometime in mid-August. However, we will not know this information for sure until Samsung announces it on August 9.
Samsung Galaxy Note 9 - Price
According to a WinFuture report, the Galaxy Note 9 will be priced starting at €1,050 (£935), which will give you a 128GB variant. According to reports, the highest specification of the 512GB model is priced at 1,250 euros (1,115 pounds). And Samsung might not release its 64GB model in Europe.
Samsung Galaxy Note 9 - Color
From Evan Blass's Twitter, it can be predictable that Samsung Galaxy Note 9 has 3 colors: black, blue and brown. The the proposed lilac model can't be seen, so it's unclear whether this version will be available at the time of release.
This seemingly legitimate leak, although not providing much new information, seems to confirm that the blue model will be equipped with a contrasting yellow S-Pen, while the black and brown models will be equipped with a matching stylus.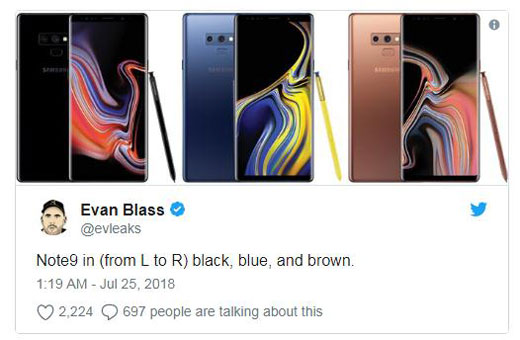 Samsung Galaxy Note 9 - Battery
Samsung has released a new trailer video as below, which seems to confirm the rumors that Galaxy Note 9 will be equipped with a souped-up battery. This clip contains clearly a shot from rival Apple, showing how frustrating it is when your battery runs out and promising that Samsung's upcoming flagship product will save the day.
If the online noise can be believed, the Galaxy Note 9 will be equipped with a 4,000mAh battery, which is 20% higher than the Galaxy Note 8's 3,300mAh. It is the largest one in the history of Samsung smartphones.
Updated video: iPhone XS Max vs. Samsung Galaxy Note 9 Battery Test
Samsung Galaxy Note 9 - Features & Specifications
* Display: A slightly larger 6.4-inch Quad-HD Super AMOLED Infinity display (up from 6.3 inches) with slimmer screen bezels.
* Processor: Faster Snapdragon 845/Exynos 9810 process.
* Camera: An enhanced dual-camera with ISOCELL Plus technology.
* Bixby Assistant: Upgraded Bixby 2.0 with enhanced natural language capabilities, improved noise resistance and faster response time.
* S Pen: Upgraded S Pen supports Bluetooth.
* Battery: A higher-capacity 4000mAh battery (up from 3300mAh).
* Charging: Faster wireless charging with 12V 2.1A (up from 9V 1.67A).
* Fingerprint Scanner: Rear-facing and below camera.
* Security: Fingerprint sensor, Iris scanning, Face unlock.
* Waterproofing: IP68
* Operating System: Android Oreo 8.1
* RAM: 6GB/8GB
* Storage: 128GB/256GB/512GB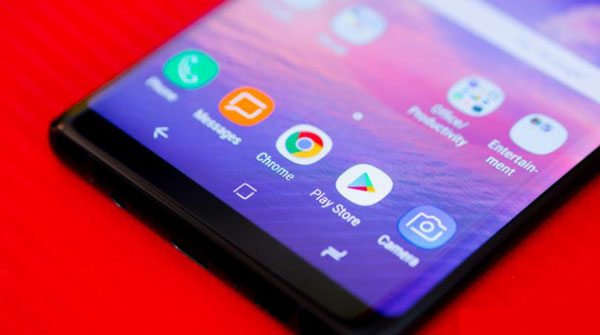 Samsung Galaxy Note 9 - Design
Actually, there is nothing major change in design. Although there are reports showing that the screen glass is relatively thin, it is expected that the chassis will increase slightly. It is 0.2 mm thicker than Note 8 and 1.3 mm wide, which can accommodate larger screens and higher capacity batteries, which also makes it a bit heavier, as confirmed by the first Note 9 actual review. The height reduction of 1.1 mm means that the top and bottom borders are further reduced, but both will remain (don't believe that Samsung will give up the bottom bezel).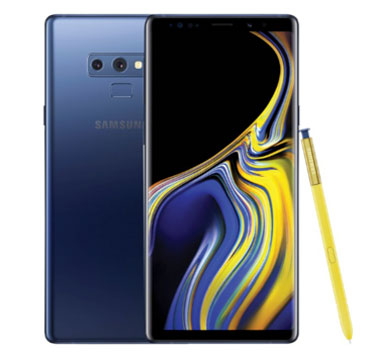 In conclusion, Samsung Galaxy Note 9 is one of the most anticipated smartphones of 2018 and it is expected to live up to the hype. With an earlier than usual release date and a powerful set of features and specifications, the Note 9 is set to make a big impact in the smartphone market. From a more powerful big screen, upgraded cameras, a new Bixby assistant, to a larger battery and improved S Pen, there are many reasons to be excited about the Note 9. The release date, price, and specifications have been confirmed, and we can expect to see it in stores in the coming weeks.
More Articles:
How to Transfer Files from Samsung Galaxy S9/S8 to Note 8/7
Transfer Data from Samsung Galaxy S8/S7 to S9/S9 Plus
Samsung Galaxy S9 vs iPhone X: Which is Better?
How to Transfer Data from One Phone to Another [Safe & Quick]
How to Transfer iCloud Photos to Android [2 Methods]
Switch to Galaxy S9/S9+: Transfer Data to Switch from Android to S9/S9+