Summary
Whether to backup for security or for more casual reasons, you might find yourself in need to transfer photos from your LG phone to a computer. There are many ways and some are more efficient than others. This article deals with this issue, which you can resolve using on the following methods:
Method 1. How to Transfer Pictures from LG to Computer Utilizing MTP
MTP stands for Media Transfer Protocol and is an extension of PTP (Picture Transfer Protocol). It's a built-in feature of Windows Media and the standard choice for most smartphones when a USB cable is used to transfer files. MTP keeps your LG phone in total control of the process instead of your computer.
To transfer LG photos to PC, you have to:
Connect your LG phone to the computer using the USB cable that came with your device.
From the USB computer connection select "Media device" (MTP).
Open Windows Explorer and find the name of your device under "Portable Devices"/"Removable Storage".
Open your storage and find the "DCIM" folder. Either copy the whole thing or select the intended photos individually and copy them.
Paste your photos to the desired location on your computer.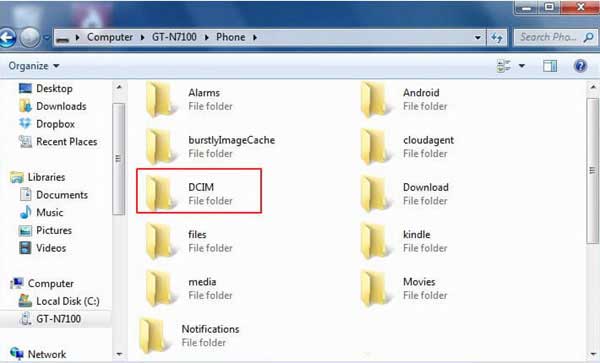 When using the MTP mode, you can find photos from these folders - DCIM/Camera/Download/Pictures. Try it and you can easily transfer photos from your LG W41 Pro/W41/W31/W11 to a PC.
Actually, the MTP mode can be used to transfer photos from other Android devices to PC. But the speed of data transferring is always disappointing. Thankfully, there are many effective ways to resolve this problem. You can learn them in the following.
Method 2. How to Transfer Photos From LG Phone To Computer/Laptop Using The Best LG Transfer Tool
There are 1-click tools available, like this LG file transfer tool, that lets you copy photos from your LG phone to a computer/laptop in just one click or selectively. One of the best LG file transfer tools we recommend in this method is Samsung Messages Backup, an all-around Android file management software.
The Key Features of Samsung Messages Backup:
1. Transfer contacts, SMS, call logs, photos, music, videos, etc. between Samsung and the computer/laptop without data loss.
2. Back up and restore a whole Android phone to the computer with one click.
3. Manage (add/delete/modify) LG files on your computer directly.
4. Compatible with almost all the LG phones on the market, such as LG LG W41 Pro/W41/W31/W11, LG V60/V50/V40/V35/V30, LG Stylo 4/3/2/1, etc. Apart from the LG phones, it supports Samsung Galaxy, HTC, Huawei, Xiaomi, Sony, and more.
5. 100% clean and safe.
To transfer photos from LG to computer/laptop, you can do like this:
Step 1: Download and install the software on your computer.
Step 2: Launch Samsung Messages Backup and connect your LG phone to the PC/Mac via a USB cable.
Step 3: Turn on USB debugging as the prompts, you can go to this page to learn how to enable USB debugging on your LG phone.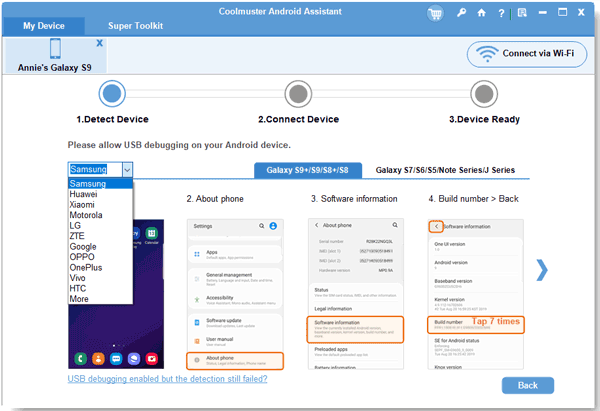 Step 4: Go with the on-screen prompts to make the program recognize your LG phone. Once done, you will be brought into the primary interface as below.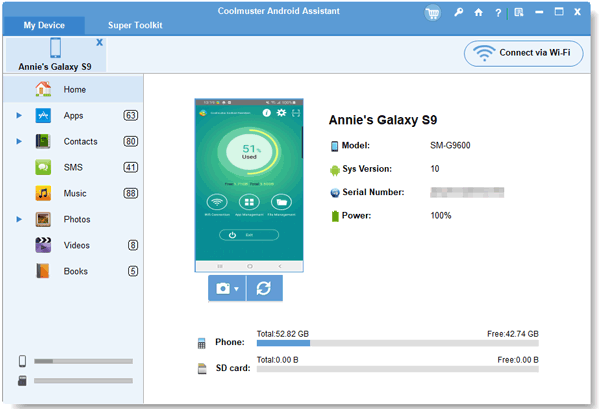 Step 5: On the left panel, open the "Photos" folder and tap on "Phone Gallery", you can preview all of your LG photos on the computer screen. Tick on the photos that you want to transfer to the computer/laptop.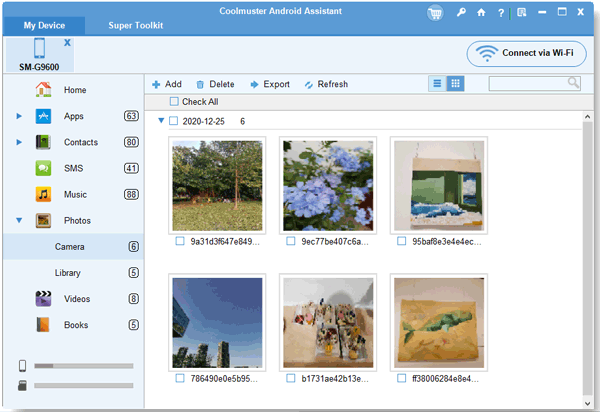 Step 6: Click "Export" and then Export to PC and select a destination folder to save the photos. Close the application to finish the process.
Alternatively, you can transfer all of the photos from LG to computer/laptop by 1 click.
On the primary interface, please choose "Super Toolkit" from the top menu bar, click the "Backup" or "Restore" button. Go with the on-screen prompts and tap on the "Back Up"/"Restore" button to start the process.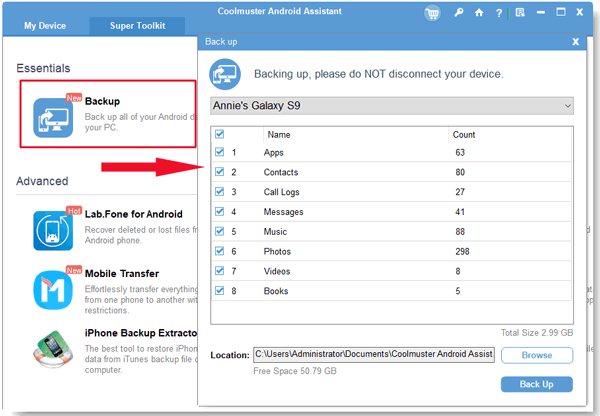 If you need to transfer photos and other files from one phone to another phone, you can read:
How to Transfer Photos from Samsung to Samsung
How to Transfer Contacts from Samsung to Samsung
How to Transfer from Huawei to Samsung Galaxy
Method 3. How to Move Pictures From LG To Computer With Google Drive
You can also use an intermediary like Google Drive that lets you store all your media files, albeit for a limited time. However, the allowed period and storage amount are more than enough for you to transfer photos from your LG phone to your computer without haste.
Here are the steps to transfer photos with Google Drive.
Log in Google Drive on LG:
Download Google Drive on your LG phone.
Open Google Drive from your LG phone's app menu.
Log in the app with your Google account.
Upload photos to My Drive:
Tap on the add button "+".
Tap "Upload".
Go to your "Photos" app and select the files you want to upload. Check their status from "My Drive".
Download photos to your computer:
Go to Google Drive from your computer's browser and sign in to your account.
Click on a file to select. To select multiple files, press down "Shift" or "Ctrl" key. To select all the files available files, press "Ctrl"+"A".
Right-click and from the dropdown menu, select "Download".
Notice: The files will be downloaded as a single zipped file. You'll have to extract them before you can have access.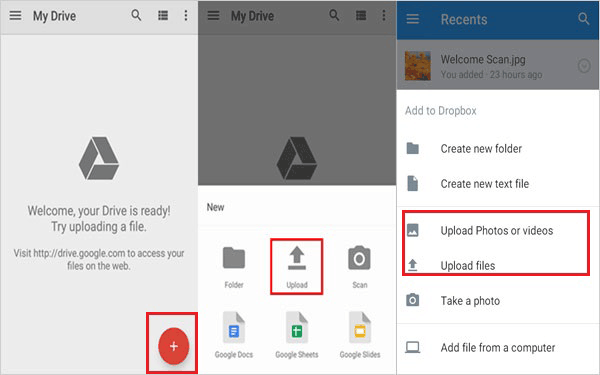 Method 4. Sync Photos From LG to Computer via LG Bridge
LG Bridge works as a connective platform for all LG devices and can work fluently to sync your LG phone with your computer. It works as a juncture for all kinds of device management; from software update to device backup. However, it's usable only in newer models.
Follow the steps detailed below to transfer photos from phone to computer using LG Bridge.
Connect your LG phone to computer:
Download and install LG Bridge on your computer.
Connect your phone to your computer using a USB cable (use MTP mode) and run LG Bridge.
Select photos:
Click on the "LG Backup" tab and from the subsequent window, select "Back Up". Wait a bit for the devices to sync.
Once syncing is finished, you'll see a list of data that you can back-up on your computer.
Check the box beside "Media data" and click on the downward pointing arrow on its right.
Select "Photos" from the dropdown menu.
Start to transfer photos from LG to a computer:
Click "Start", and on the popup box, click "OK". This will initiate the transfer process, which will take some time.
Once done, Bridge will prompt "Backup Complete".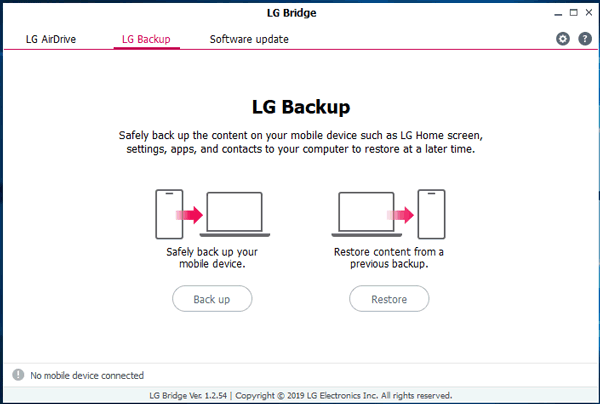 Method 5. Upload Photos From LG Phone to Computer with LG PC Suite
LG PC Suite performs fewer functions than LG Bridge but works on phones of older designs. To upload photos from your LG phone to computer:
Download and install LG PC Suite on your computer.
Connect your phone and computer with a USB cable and run PC Suite.
From the left panel, select "Photos".
From the right panel, select "Add files to PC library" to upload individually selected photos to your computer.
Alternatively, to upload an entire folder, select "Add folders to PC library".
You can also drag and drop photos on the right panel.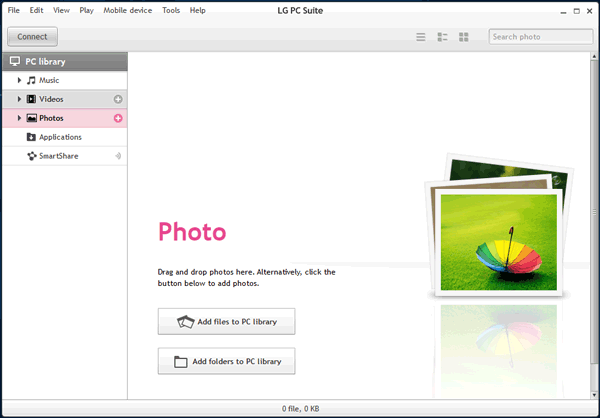 Read Also:
Best LG PC Suite Alternative Software
TOP 5 Samsung PC Suites: What's Not to Miss in 2023
The Bottom Line:
Now you know about the 5 different methods of transferring photos from your LG phone to your computer. Select any one of these based on the number of photos you need to back-up and the availability of connective networks. What do you think about these ways? Leave your comments below!
Related Articles:
[2 Solutions] How to Access iCloud Photos from Android Device
How to Print Out Text Messages from Android Phone? [4 Methods]
Guide to View Call Logs on Android Phone in All Situations
How to Delete Apps from LG W41/W31/W11?
How to Recover Lost Data on Broken or Dead Android Phone