Summary: This post will show what you need to know to print out text messages from LG phones, including the way to export LG messages to computer and the way to print the exported LG text messages on computer as well. Just read on to learn more information.
Do you know how to print out text messages from LG phones? As far as I know, plenty of LG users have asked this question online, because they have such need in many cases. Generally speaking, there are two main reasons why people choose to print LG SMS messages.
Reason #1. As we usually store our text messages on limited phone memory, when the upper limit is reached, we can't receive any new message unless we delete those old texts or transfer them or other storage. In this situation, many people decide to print out text messages from LG, which can not only help us save SMS completely, but also allow us to read them whenever we want.
Reason #2. Some people need to print LG SMS messages for other uses. For example, someone has received some insulting messages from other people, he or she decides to send them to the court for protecting his or her own rights, then it is a good choice to print them from LG phones.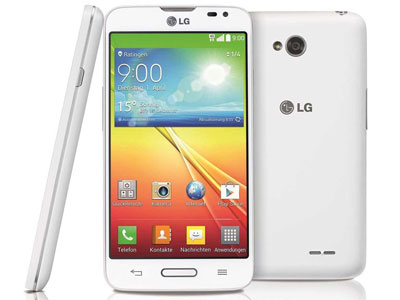 As you can see, we need to print out text messages from LG for freeing more phone memory, keeping an evidence, better reading or many more usages. However, we are not able to achieve this before operating a third-party program. As you know, in order to print out text messages successfully, we should transfer them to computer at first. According to the information mentioned above, we often save our SMS on phone memory, where we have no access on computer. Then we should turn to an assistant program for help.
You May Also Like:
Transfer Files Between LG Mobile Phone and Computer
How to Restore Deleted Text Messages from LG Phone
The Best Tool to Help Print LG Messages on PC/Mac:
Today, many softwares are available on the market, but we'd better choose the best one. Now I'd like to recommend you this Coolmuster LG Messages Backup (Windows/Mac) for LG G7/G6+/G6/G5/G4/V30+/V20/V10/Google/X Power and etc., with which we can selectively export text messages from LG phones to computer with one click, and then you might print out SMS from LG phones on computer without any loss.
To export LG SMS to computer, you can choose different output format for text messages, including HTML, TEXT, CSV, BAK, XML files. For printing, you can choose CSV format to open SMS .csv files in Microsoft Excel and print out LG text messages with a printer. Apart from export text messages from LG to computer, this program also allows you add new text messages to send to your contacts, delete unwanted text messages and import SMS from computer to LG phone.
There is a free trial version for you, you can download it and have a try on your computer. Please download the right version on your Windows PC or Mac with the following download link. And the following part is the step-by-step guide to perform the program to export SMS from LG phone for printing.
Part 1. How to Export Text Messages from LG Phones to Computer via LG Messages Backup
Before you can print the conversations of your LG phones, you need to transfer them from LG phone to computer at first. In this part, let's transfer messages from LG to computer together. This user guide take Windows version for example, but the steps of Mac version are the same with it. So both of PC and Mac users can refer to the instructions as below.
Here's how:
Step 1. Download & Install the Program on PC, Connect LG to PC
First of all, download and install this program on your computer correctly. Then launch it with double click. Connect your LG phone to computer via a USB cable, you will get an interface as following. Then you should enable USB debugging on your mobile phone, so that this program will be able to detect your device successfully.
By the way, you just need to finish this process for once, next time when you open the software on PC, it will automatically recognize your LG phone.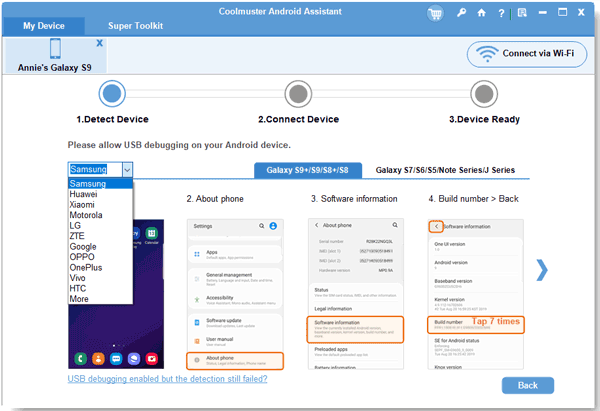 Step 2. Install USB Driver on PC and Scan LG Phone
After detecting your mobile phone, this assistant program will install USB driver on your computer. A few minutes later, it will scan your phone data, and you can get a menu as shown soon.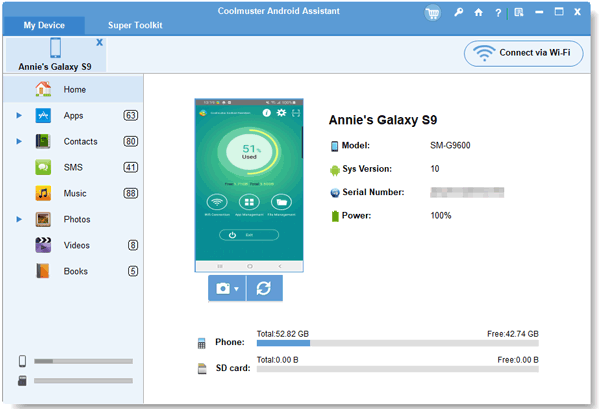 Step 3. Transmit SMS Messages from LG to computer
As you can see, all files are listed on the left of the panel. Click "SMS" tab, you will preview the whole text message conversations on the right panel with detailed time, date, name, contents, etc. Choose your needed text messages and hit "Export" button, and choose "Export to CSV" option for printing, then you will finish exporting SMS from LG to computer after a while.
To transfer all text messages from LG to computer, please check the box next to "Content" on the top to select all SMS, choose the file location you need on computer and click "Export" > "Export to CSV" button to start transferring text messages from LG phone to computer at once.
When you have finished the LG messages transferring process, you might move on to the next part to print out LG messages now.
Can't Miss:
How to Manage LG Contacts, SMS, Photos on Computer/PC
How to Backup LG Videos to Computer (Windows/Mac)
Part 2. How to Print Exported LG Messages on Computer with Printer
Now with the LG messages backup file on your computer, you can freely print them out with the local printer as you want. If your computer can't connect with a printer, you can copy the LG message CSV file to another computer that is connected with a printer to print them out. Now. let's start.
Here's how:
Step 1. Locate your LG message backup on your computer, and double-click to open the SMS .csv file with Microsoft Excel.
Note: Your computer should have installed the Microsoft Excel by default, if not, please install it manually or use the other tools to view CSV files instead.
Step 2. On Excel interface, you can adjust the cells of the spreadsheet to fit the contents length according to your demand.
Step 3. After that, please click "File" option on the left top, and then click "Print" button on the left panel from the opened window.
Step 4. Now, on the middle panel of Print page, please set up the numbers of copies that you want to print. If needed, you can continue to select the printer you want and set up the detailed settings on this window.
Step 5. When all settings are complete, please click "Print" button on the top to start printing text messages from LG phone immediately.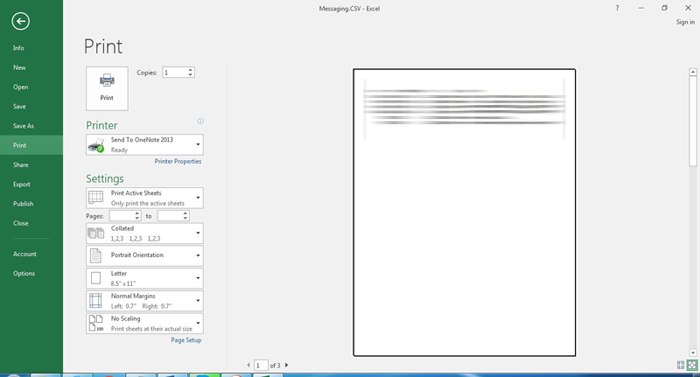 All done. It is so easy, right?
In addition, with backups on PC, you will be able to take them for other uses whenever you need. It's indeed helpful for all LG phone users, you can't miss it.
Related Articles:
How to Transfer Text Messages from LG to Computer
LG Bridge Cannot Connect Correctly | Find Out Reasons and Fix It with Ease
How to Transfer Contacts from LG to Computer
Best Tool to Recover Deleted Files from LG Phone
Transfer Music Between LG Mobile Phone and Computer
LG to iPhone Transfer Guide: Swiftly Transfer Content from LG Phone to iPhone