Summary
Vivo is one of the leading technology companies that designs and develops smartphones and software. It is not only known for manufacturing smartphones but also for offering storage facilities through Vivo cloud services. These services are only available when you sign in with a Vivo account. Users can back up their files to the cloud, with 5 to 50 GB storage. Would you like to learn how to do Vivo cloud backup and restoration to keep your data secure? This post provides a comprehensive, step-by-step guide to help you achieve just that. Continue reading to learn.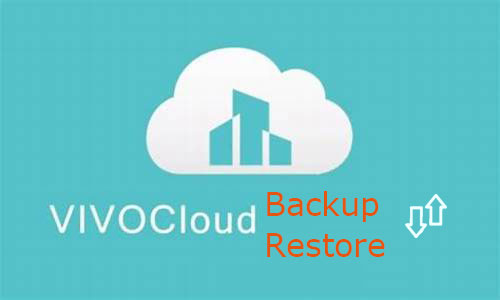 Part 1. Overview of Vivo Cloud
Here's a little info about Vivo Cloud that Vivo phone users should know to have a seamless user experience.
ViVo Cloud Brief Introduction
Vivo Cloud is a storage and backup service offered by Vivo company. It allows Vivo users to keep and easily access their files, such as contacts, and media files, across different devices such as tablets, PCs, and tablets via the internet.
In addition, it has an automatic backup, data encryption, and sharing functionalities. Vivo users can back up their files to the cloud with the free allocated space of 5GB, which you can add if you want to.
If your phone gets damaged or lost, you will never get worried about losing phone data. Vivo Cloud has incredible features, and you can easily restore your important data in no time. Its operation is very simple. Click the Vivo Cloud app on your smartphone and process with the following to log in:
Step 1: Click on the Login button.
Step 2: Enter your email and password.
Step 3: Hit the "sign in" button.
Vivo Cloud's Key Features
- Stores a wide range of data, including SMS messages, files, contacts, images, and videos
- Backup data automatically to the cloud.
- Encryption technology protects your data from access by unauthorized people.
- Syncs files across different devices.
- Allows sharing of data across social media platforms.
- Reasonably priced.
Pros & Cons of Vivo Cloud
Vivo Cloud has several benefits since it is backup cloud storage. It helps Vivo users keep their files safe. This way, you can easily restore your files when you want to.
But they have downsides as well. For instance, it only provides 5GB of free storage space, which isn't enough if you have many files of huge sizes, even though you can pay for more storage. Besides, only those with Vivo devices can use this cloud service, meaning if you have another Android brand, you can't use it to back up your files.
Additionally, Vivo Cloud doesn't have advanced features like collaboration tools and file versioning.
Read More:
Solved: How to Unlock Vivo Phone If Forgot Password - 5 Solutions
Vivo V9 Contacts Backup: How Do I Back Up My Contacts on Vivo
Part 2: How to Back up Vivo to Vivo Cloud
Vivo cloud offers a better way to save and access files across various devices, which makes the data backup process smarter. All it takes is to register a user account, link your device, and start the backup process. Here are steps that you can follow to do Vivo photo backup and other data such as contacts, documents, or even contacts.
Step 1: Download and install the Vivo Cloud application from Play Store. Launch the app and create an account.
Step 2: On the app, click "Settings". And then tap "Accounts and Sync". This will enable you to find the sync interface of your account. Select the data that you want to back up.
Step 3: For vivo photo backup, open "Google Photos" or "Photos". Then go to settings and switch on Back Up and Sync to allow your photos to back up automatically.
Step 4: For other data backup, click "Settings", then "More Settings". After that, click "Backup and reset" and hit "Google Server". Lastly, select "Back up My Data". (How to transfer data from vivo to vivo?)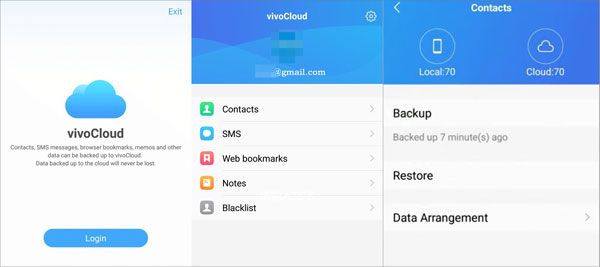 Part 3: How to Restore Data from Vivo Cloud
Vivo Cloud restores data, such as text messages, contacts, notes, etc., from your backup. It allows you to restore your data if you have lost or acquired a new Vivo device. Before restoration, you need to ensure enough space to hold the backup and a good internet connection. Here is a step-by-step process to do vivo cloud restore:
Step 1: Open the Vivo Cloud application on your phone. Choose the data you want to restore. For instance, "Notes" and "SMS".
Step 2: After selecting your data, click "Restore" for the restoration process to start.
Learn More:
iPhone to Vivo Data Transfer Guide: Swiftly Transfer Data from iPhone to Vivo
How to Transfer Data from Samsung to Vivo Seamlessly [5 Detailed Solutions]
Part 4: Vivo Cloud Alternative: Backup & Restore Vivo Data on a PC
Vivo Cloud doesn't work as expected all the time. Besides, it comes with limitations. So, a better way is to look for an alternative tool to help backup and restore your Vivo data. A software that can seamlessly allow you to back up and restore your Vivo files in just a click is Samsung Messages Backup. Many users love using it because it covers numerous data types, including documents, messages, pictures, apps, videos, music, and more. Besides, it works with all major Android brands, including Vivo, Samsung, Huawei, Sony, and more.
Hot Features that Make Samsung Messages Backup a better alternative to Vivo Cloud:
- Backup & Restore data on your Android in a click.
- Selectively export/import SMS, contacts, music, call logs, photos, videos, etc.
- Transfer, edit, or delete files on a computer.
- Manages video files and music on an Android and installs/uninstalls applications.
Here is a guide on how to use Samsung Messages Backup to back up and restore Vivo data.
Step 1. Launch the software
Download the right version of Coolmuster Android Assistant on the computer. Then launch it on your computer. From the options on the software interface, choose "Android Assistant".
Step 2. Connect Android Device to PC
Using a USB cable, connect your Vivo phone to the PC. Turn on the debugging mode on your phone.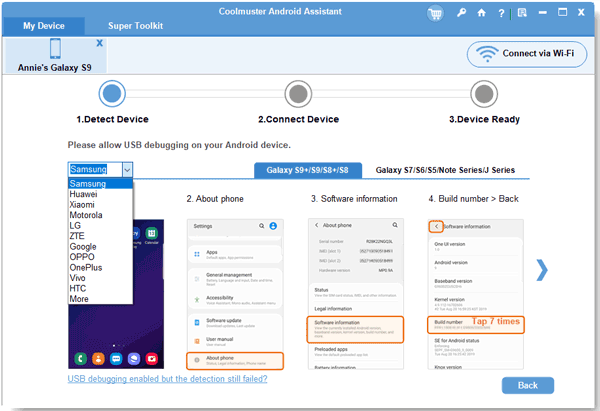 Step 3. Backup Vivo data to PC
Click on "Super Toolkit". Choose all files to backup, then decide the output location on a PC. Tap the "Backup" tab to save the files on the computer.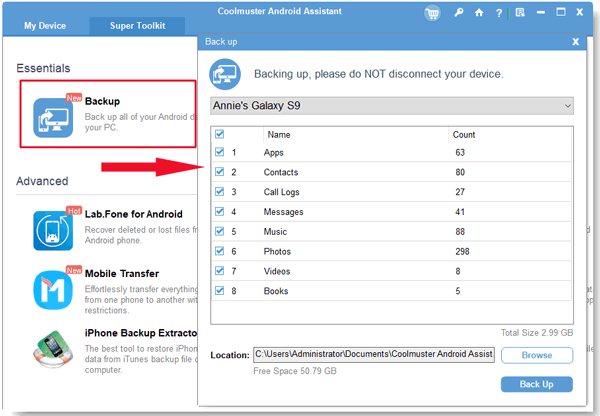 Step 4. Restore data to the Vivo device
Select the backup and the files you want to restore. Hit the "Restore" icon to begin restoring them to the device.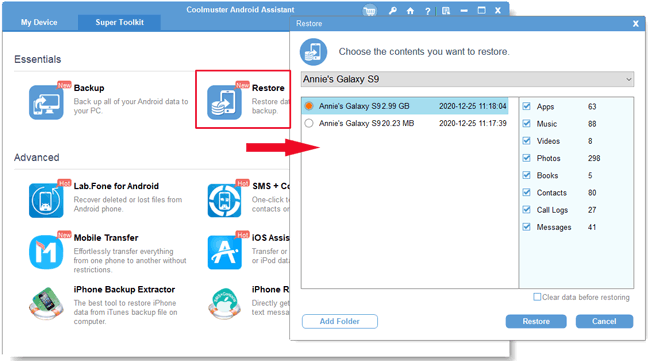 Conclusion
That is all on how to do Vivo backup and restore. Vivo Cloud provides an affordable and convenient way for users to store and restore their phone data. However, it has some limitations. It is not ideal for users with large amounts of data; besides, if you have a different Android, you can't use it. That is why we recommend alternative ways, such as Samsung Messages Backup. This software is safe, fast, and easy to use. You can also use it to backup and restore your phone's data to and from your computer.
Related Articles
[Fast Transfer] How to Transfer Your Photos from iPhone to Android Effectively?
Export/Save Android Phone Contacts to Excel (CSV & XLS)
How to Completely Remove Contacts from Android SIM Card
Guide to View Call Logs on Android Phone in All Situations
How to Recover Deleted Call Log in 3 Simple Solutions
How Can I Move Data from Android?