Nowadays, people pay more and more attention to privacy information security. Have many important contacts saved in SIM card, sometimes you need to remove contacts from android SIM card completely to protect the private information.
A SIM card can even save thousands of contact items, contains many pieces of information such as name, firm, telephone number, Email address and so on, which are totally sensitive.
You can hardly imagine what would happen if you lose a phone with all client contacts stored in SIM card! Another case, you have a brand-new cell phone and would like to trade your old Android phone. Or you just like to wipe some useless contacts for more storage space of SIM card.
No matter what reasons you would like to delete contacts from Android SIM card, privacy security is the top priority. Today we will give several effective methods on how to achieve it.
Method 1. Erase Contacts from Android SIM Card by Samsung Eraser
Android Data Eraser - Samsung Eraser is a professional software to delete contacts from Android SIM card permanently, that is to say, the data erased by that will never retrieve again. Not only Contacts, all the private information on Android, like text messages, call logs, pictures, videos, music, account info, password and more, will be removed completely.
Please don not worry about the security, your sensitive information will never get leaked because of the permanent deletion.
Importantly for you, please backup important files before erasing because the deleted data can never be restored!
Five steps to navigate:
Step 1. Download and install the correct version of Samsung Eraser on your computer, here are two free trials for Windows/ Mac.
Step 2. Launch the program, connect your Android phone to computer via a USB cable. Please enable USB debugging. Once your Android device was detected successfully, the Android application will install on your phone automatically.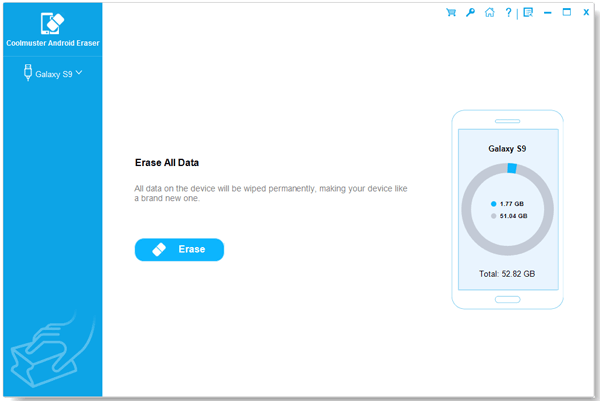 Step 3. Currently, this program only support erasing everything from your Android phone, click the button "Erase " > choose "Security Level" > tap on "OK", then type "delete" into the blank to confirm that and the deletion starts.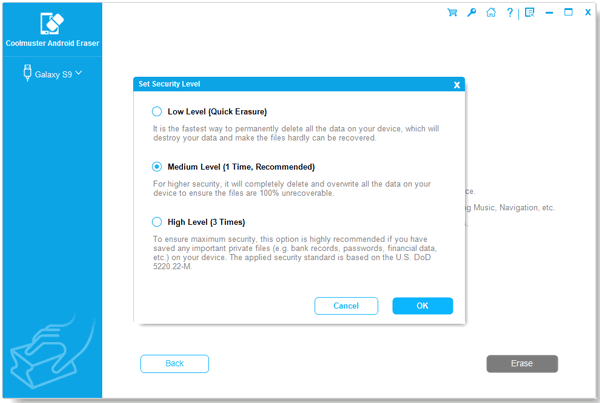 Step 4. Then the program will scan your phone, erasing data permanently from your Android device, please wait for a while. Please do not disconnect the phone or open any other Android management software during the whole process.
Step 5. And at the end, follow the prompts on Samsung Eraser to perform factory settings on your phone.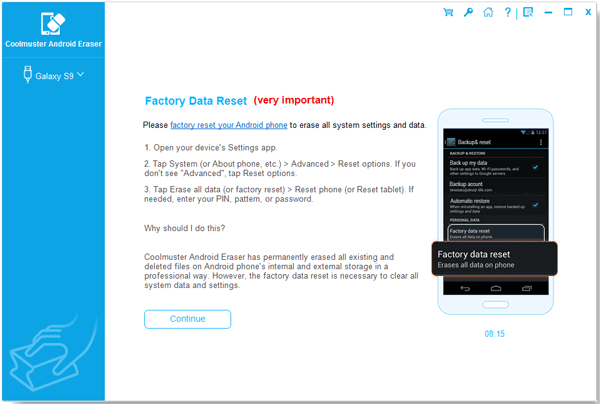 This program supports all Android phones on the market, including Samsung Galaxy S9+/ S9/ Galaxy Note9/ Note8, HTC U12+/ U11 EYEs, Motorola z3/ z2 play/ e5 plus, LG Q7+/ Q6, SONY Xperia XZ2 Premium/ Xperia XZ2 and so on.
You may need:
How to Permanently Erase Android Files
Method 2. Remove Contacts from Android SIM Card Manually
A method you can generally use to remove contacts from Android SIM card, is to delete contact items on your Android device directly. However, it is important for you that the contact files you delete by this way can be wholly restored back. There will be a risk of leaking private information.
Steps to remove contacts on your Android device directly:
Delete Individual Contact
Step 1. Go to "Contact "/ "People" app, select the contacts you want to delete from the display, this will go on to the contact's details.
Step 2. Click the three-point button and tap on "Delete" > "OK" to remove this contact.
Delete Multiple Contacts
If you like to delete multiple contact in batch, you can do as below or go to Method 3.
Step 1. Go to "Contact "/ "People" app, tap on "Edit"/ "Management" on the top right of the screen, or long press a piece of contact.
Step 2. Select all the contacts you want to delete, click "Delete" on the bottom and go on as the prompts said.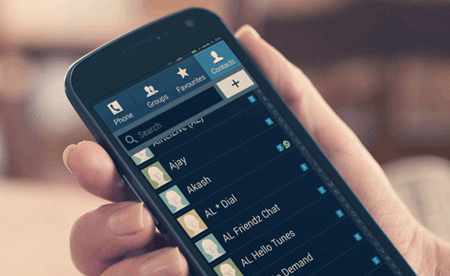 Method 3. Delete Contacts from Android SIM Card with One Click
Another professional software to recommend in this page is one of the best Android Assistants - Samsung Messages Backup. With it, you can easily remove contacts in batch from Android SIM card selectively or completely. What's more, you can manage your Android phone on computer effectively.
Key Features of Samsung Messages Backup:
1. Backup your Android files to computer easily, including contacts, text messages, call logs, apps, photos, videos and music.
2. Edit and send text messages on computer, delete/ export messages in batches.
3. Delete/ import contacts in batches and edit contacts on computer.
4. Delete/ import music, videos and pictures in batches on computer.
5. Backup/ restore your whole Android phone with simply click once.
Using Samsung Messages Backup to Delete Contacts from Android SIM Card:
Step 1. Download and install Samsung Messages Backup onto your computer, please choose the correct version according to your computer system. Here are free trials versions for Windows/ Mac:
Step 2. Run the program and connect your phone to computer. A screen shown below will appear on your computer to let you enable USB debugging. Just follow the prompts to go on. Or you can connect Android devices to computer via wifi.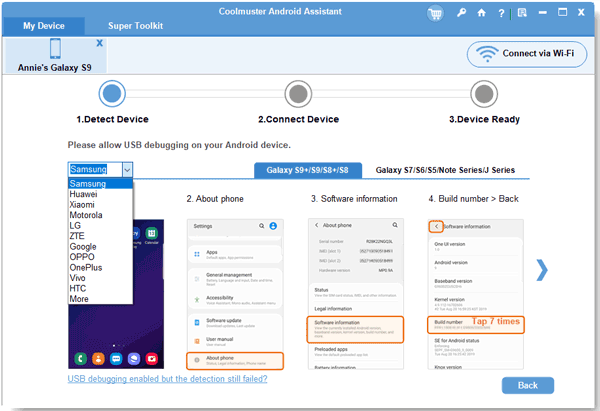 Once your Android phone was detected successfully, you can see an interface as following. The entire files of your Android phone are listing on the left.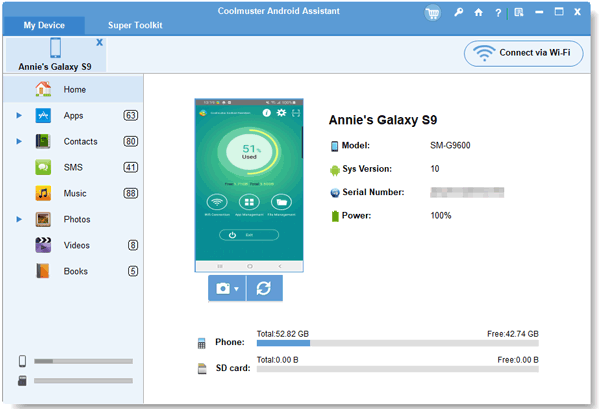 Step 3. Please go to the file category and select the contact items to delete them from your Android device. Besides, you can print your exported contacts and messages if needed.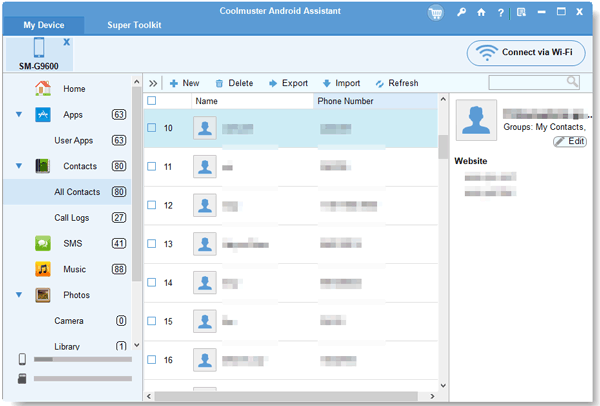 The program supports almost all Android brand with Android version 4.0 to Android 9.0, such as Samsung Galaxy S23/S22/S21/S20/S10, HTC Desire 22 Pro/Desire 21/Desire 20 Pro/Desire 19s, Motorola Moto G Stylus/Moto G 5G/Moto G Power 5G/Moto G73, LG Q7+/ Q6, Sony Xperia 1 IV/Xperia 5 IV/Xperia 10 IV, and so on.
Another Tip: Backup Contacts Before Removing
In order to keep the important contacts in a safe way, you need to backup them before permanent deletion. Samsung Messages Backup, an useful tool mentioned in Method 3, can backup contacts in batch. Two ways to achieve it, navigating under the menu of "My Device" or "Super Toolkit".
You can go Method 3 for more details about delete contacts in batch and device connection. Here is the simple guide on backup contacts.
Navigate under the menu of "My Device":
Step 1. Connect your Android device to computer, and you will get an interface as below, please click the "Contacts" file on the left.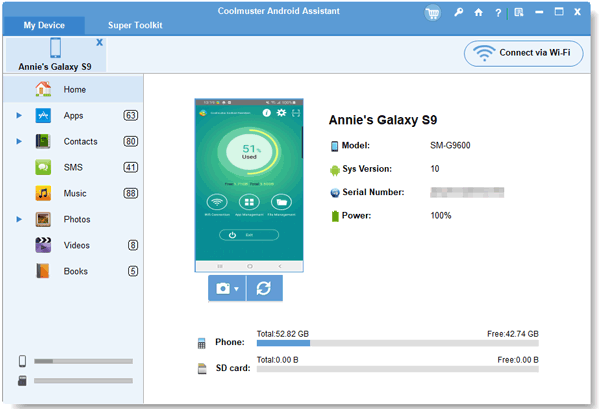 Step 2. Select the items you want to backup and tap on "Export". The program will let you select a folder on your computer to store the data you are exporting. After that, you can check them on your computer.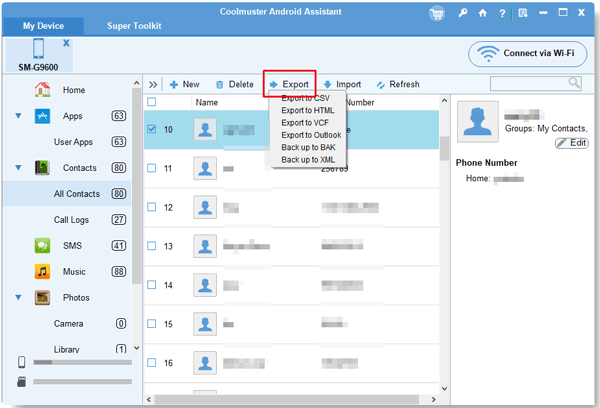 Navigate under the menu of "Super Toolkit":
Please go to "Super Toolkit" > "Backup", you can select contacts and other files you want to backup or backup the whole Android phone, choose a location on your computer and tap on " Back up" to transfer the data to computer.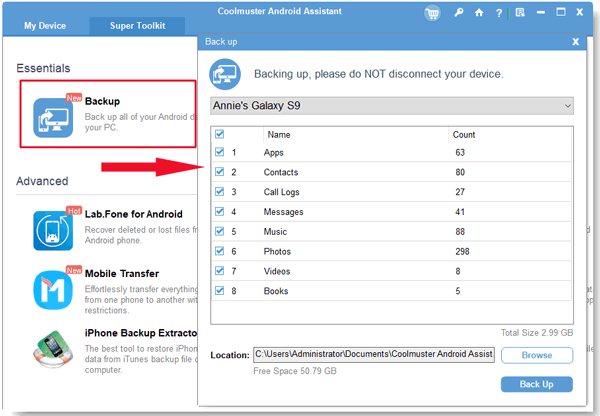 Related Articles:
One Click to Delete Contacts on Android
How to Delete Contacts from Google Nexus Permanently
Transfer Contacts from SIM Card to Computer
How to Transfer Contacts from Android to iPhone in 2023?
How to Retrieve Contacts from SIM Card with 3 Useful Methods