Summary
If you buy a new Vivo phone or want to share a file with your friend whose mobile phone is also Vivo, you will face Vivo to Vivo data transfer. But you needn't fret about it. When both mobile devices are Vivo, it is easy to transfer data between them.
You can learn about 4 reliable approaches to transfer data from Vivo to Vivo. Of course, these methods are different, and you can select one to complete the data migration without any trouble.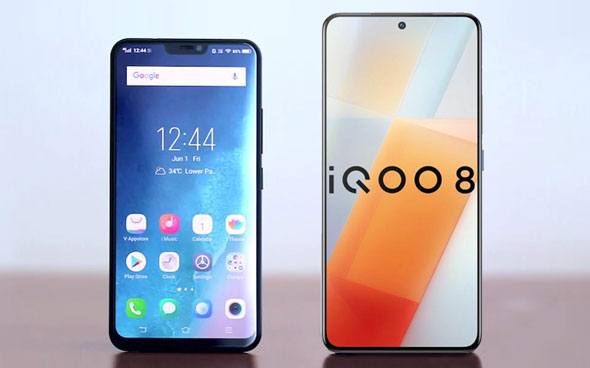 Part 1: How to Achieve Vivo to Vivo Data Transfer without Hassle?
How do I transfer apps from Vivo to Vivo? Maybe you want to ask a similar question like this? In this case, you can use this Vivo transfer app - Samsung Data Transfer. This software is a comprehensive tool to copy various among most Vivo devices, other brands of Android devices, and iOS devices. It can copy all user apps and other files to a new Vivo phone without hassle.
Main characteristics of this Vivo to Vivo transfer software:
- One-click to transfer contacts, SMS, call logs, photos, applications, videos, music, and more from Vivo to Vivo.
- Allow you to select file types before transferring data.
- No data loss or ads during the transfer process.
- Support USB and Wi-Fi connections between Vivo phones.
- Quickly transfer data from iOS to Android and vice versa.
- Support you to transfer bookmarks, calendars, contacts, books, notes, etc., between iOS devices.
Besides, this software supports Android 4.0 or upper, and iOS 5.0 or higher, including Android 12 and iOS 15. Thus, most Vivo devices are compatible with it, like Vivo iQOO 8 Pro/8/7/Z5/Z5x/Z3, Vivo X70 Pro+/X70 Pro/X70/X60 Pro/X60/X50, etc. Also, other Android and iOS mobile devices are supported, like Xiaomi, Google, OnePlus, Samsung, Honor, ZTE, Motorola, iPhone, iPad, and more.
Download the Vivo data transfer software for free below.
Guide on how to transfer data from Vivo to Vivo in 1 click:
Step 1. Install the Program
Please download and install the data transfer software on your computer.
Step 2. Connect Vivo Phones to the Computer
Launch the software, and choose the "Mobile Transfer" tab. Then connect both your Vivo phones to the computer via USB cables, and enable the USB debugging feature on the mobile phones.
Step 3. Select and Transfer Data from Vivo to Vivo
- Once connected, please select the file types you want on the interface, and click the "Start Copy" icon to move data from the Source Vivo phone to another.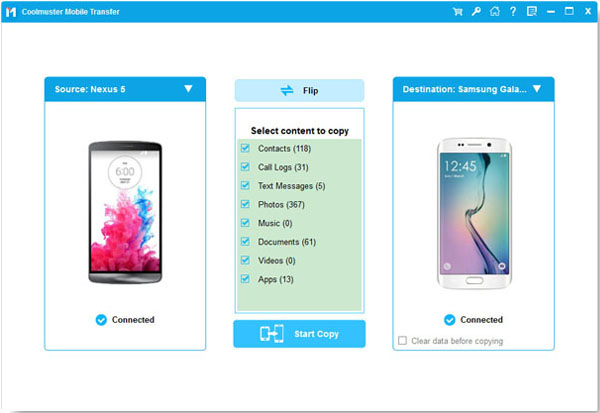 - It will transfer the data to the corresponding apps of your destination Vivo phone.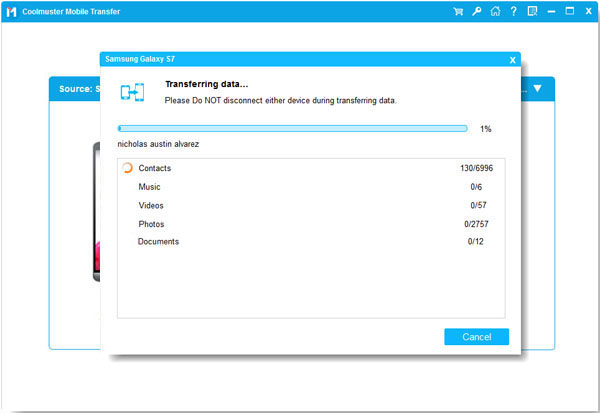 Bonus: How to transfer iPhone data to Vivo easily? Take a look at this guide, and you will know the answer.
Part 2: How Do I Transfer Apps from Vivo to Vivo with EasyShare?
EasyShare is another safe app to transfer files from Vivo to Vivo. There are no ads on this app, so that you can use it without worry. It is suitable to move your images, contacts, movies, songs, system settings data, and the like between Vivo devices with this app. However, you will fail to transfer data if the receiver isn't a Vivo device.
Here's how to send data from Vivo to another via EasyShare:
Step 1. Install the App
Please install this app on your Vivo devices, run it, and click the "Replacement" icon at the bottom.
Step 2. Make a Connection
Choose the "Old phone" option on the old Vivo device, and the "New phone" option on the other Vivo phone. Then scan the QR code for connection.
Step 3. Transfer Content to the New Vivo Device
Pick the data you want to send on the old Vivo phone, then click the "Start device switch" icon. The app will copy the selected files to your new Vivo. After the end of the transmission, please tap the "Done" icon.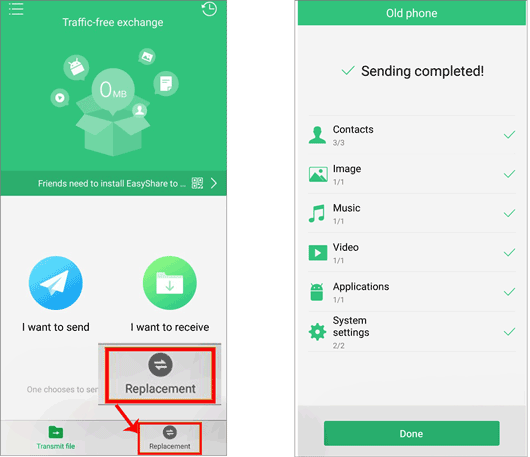 Read also: It is convenient to move Samsung data to Vivo. Here are 5 proven solutions for your reference.
Part 3: How to Transfer Data from Vivo to Vivo Using Vivo Cloud Services?
Vivo Cloud services are available on most Vivo phones. Therefore, you can move data from Vivo to Vivo with the vivoCloud feature. As long as you log in with the same account, you can easily restore data to another Vivo phone from the cloud backup. Unfortunately, it can only back up contacts, web bookmarks, SMS, notes, and blacklist.
Here's how to sync Vivo data to the new Vivo phone via vivoCloud:
Step 1. Back Up Data to vivoCloud
Please open the vivoCloud app on the old phone, and sign in with your Vivo account. Then choose a category, and tap the "Backup" icon to upload data to the Vivo Cloud server.
Step 2. Restore Backups to New Vivo
Log in to the same account, and select the file type you want. Finally, hit the "Restore" icon to transfer the backup data to the Vivo device.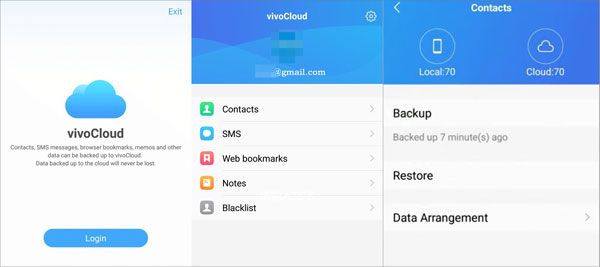 Further reading: You can adroitly transfer Android files to an iPhone after setup via these 6 methods.
Part 4: How Do I Transfer Files from Vivo to Vivo via Bluetooth?
If you don't mind manually sending files from Vivo to Vivo, you can use Bluetooth. With it, you can send data without a network, but the data can only be transmitted successfully when both devices are within 10 meters.
Tutorial on how to send files between Vivo phones via Bluetooth:
Step 1. Enable Bluetooth
Swipe down the screen and highlight the Bluetooth icon on both Vivo phones. If you cannot find it, please go to the Settings app to enable Bluetooth.
Step 2. Choose Your Vivo Device
Choose your Vivo device on the Bluetooth list, and follow the prompt to perform Bluetooth pairing.
Step 3. Select Files to Send via Bluetooth
- On your old Vivo phone, please navigate to the File Manager, and find the files you want to send. Then tap the "Share" icon, and select Bluetooth and your Vivo phone.
- Tap the "Accept" option on the new Vivo phone, and wait for the transfer. Once done, you can check the files on the new phone.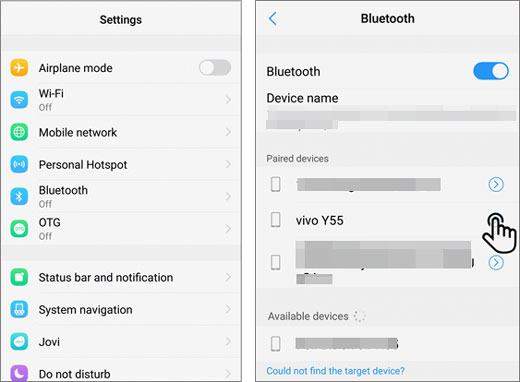 Bonus: How to back up my Vivo contacts to PC seamlessly? Luckily, this guide has listed 4 useful methods for Vivo contacts backup. Let's check it out.
Conclusion
Vivo to Vivo data transfer is a piece of cake! No matter which way you choose from this post, you can transfer your data to another Vivo phone without damage. But if you have requirements for efficiency, you can choose this Vivo transfer software - Samsung Data Transfer. It can copy most Vivo data at high speed and with no information leakage. Furthermore, if you switch to other brands of Android phones, it can be equally effective.
Related Articles
How to Back Up Android Phone before Rooting With Ease | Check the Full Guide
[Solved] Seamlessly Transfer Files from Android to iPad with 9 Methods
How to Transfer Contacts from Android to Outlook via 3 Essential Ways
Android Storage Manager: 6 Useful Storage Managers to Free Up Android Space
[4 Ways] How to Install APK on Android from PC Effortlessly
Transfer Photos from Android to Mac Wirelessly [6 Fabulous Methods]