Summary
Have you ever been overwhelmed by the fear of accidentally misplacing or damaging your mobile phone? Nowadays, smartphones are essential for daily personal and professional tasks. Major smartphone companies, such as Vivo, have improved their phones technologically, providing users with various functions such as downloading/uploading media files, storing confidential information, sending emails, and even closing business deals.
Therefore, you must understand how to carry out Vivo backup and restore procedures. Not only will this ensure that all your data remains protected in case of any loss, but it will also provide peace of mind. Compared to its competitors, Vivo offers a cloud-based service that is both free and helpful.
Using their backup and restore services, you can easily retain or move your data between various devices. In this article, we will provide a guide on how to utilize the Vivo backup and restore service as well as an excellent alternative for optimal results.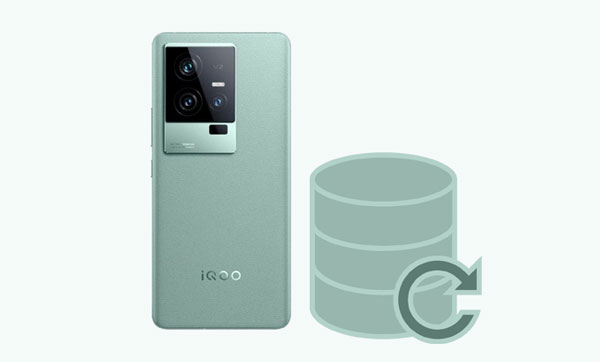 Part 1: Why Carry Out Vivo Backup?
While backing up your device might take some time, not doing so can have serious consequences. Below are some of the risks associated with failing to back up the Vivo smartphone:
1. Accidental Data Loss
No matter how careful we are, human error is inevitable when it comes to technology. Have you ever spent countless hours progressing with your character in a video game only to forget to save a file? Or have you accidentally deleted important photos or documents from your phone? We all make mistakes, but thankfully there are ways to prevent such errors in the future.
If you are in this unfortunate predicament, backing up your data will be the key to restoring your lost files. Go into the settings on your device and see when your device was last backed up. After that, revert to that previously saved file. However, remember that any documents or photos added after this saved point won't reload onto the phone.
2. Your Phone Can be Stolen
Even if someone steals your precious phone, you don't have to kiss all of your data goodbye. As long as you replace the stolen device with a similar one, it's easy to restore the new phone in no time through an up-to-date backup. That way, you won't have to start everything over again from scratch.
3. Attack by Viruses and Malware
All smartphone models, no matter who designed them, are susceptible to dangerous malware and virus threats. Even if you own a Vivo smartphone, it is still at risk of infection if care isn't taken when clicking on suspicious links or sites. It would help to have a backup plan to protect yourself from data loss in case of a virus attack. Eliminate the infection from your phone, then restore the settings with your recent backup to get back up and running quickly.
4. Device Upgrade
Upgrading your device is a sensible decision, but remember that it could result in losing all personal data. This can be especially common when performing an Operating System update on Android devices. However, even Vivo users should back up their information before upgrading their devices.
5. Hardware Failure
Phone malfunctions are all too common in today's world, and no matter how careful we may be with our devices, they eventually reach the end of their life cycle without warning. For those who store sensitive data or important contacts on their phones, this can lead to an unfortunate loss if unprepared. Therefore, Vivo phone users must ensure their valuable information remains secure even when a device fails.
See more: How to Unlock Vivo Phone If Forgot Password - 5 Solutions
Part 2: How Do I Back Up and Restore My Vivo Phone?
How do I Back up and restore my Vivo phone? Securing your Vivo Smartphone by backing up your data in multiple locations is essential. This will provide you with the peace of mind that all of your photos, crucial files, and contacts are safeguarded, making restoring them easy. The price paid for losing this valuable information outweighs that of investing in an efficient backup service.
Several methods for backing up and restoring data on your Vivo phone can be applied depending on individual preferences. When making the crucial decision of which data backup option to choose, it is essential to consider the following factors:
Cost.
Ease of use.
Security of your data.
Storage size.
Ability to store and restore.
Below are some popular ways to back up and restore data on Vivo phones.
Method 1. Back Up and Restore My Vivo Phone via VivoCloud
Vivo has created a cloud-based service to make it simpler for its users to back up and restore their data. Those who use a Vivo mobile can access the convenient VivoCloud service free of charge. Each account is granted only 5GB of space at no cost. However, you always have the option to acquire more storage as needed.
After you have completed the VivoCloud setup on your mobile phone, taking a backup of all essential data, such as messages, contacts, blocklists, notes, and bookmarks, is effortless. Moreover, logging in to your VivoCloud account anytime gives you access to restore this valuable information onto the same or another compatible device. Here's how you can make use of this helpful feature.
Backing Up Your Vivo Data
Follow the steps below to back up your Vivo data:
Step 1: Launch the VivoCloud application. Then log into your VivoCloud account if you already have one. Alternatively, you can easily create a VivoCloud account by inputting your email address, creating a password, and verifying the one-time code generated.
Step 2: After signing in to your VivoCloud account, open the application and explore your saved data. You can then effortlessly tap on any given data (for instance, contacts or messages), which will sync with your personalized VivoCloud profile.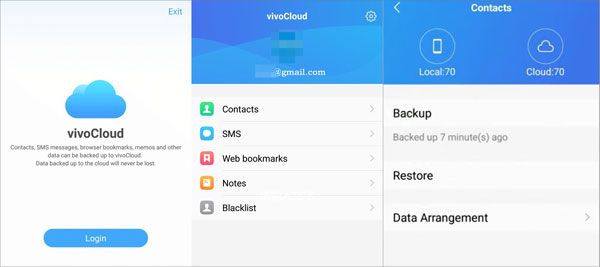 Restoring Your VivoCloud Data
You can easily restore your VivoCloud backup if you have lost or acquired a new Vivo device. Follow the below steps to restore your Vivo data from your VivoCloud backup:
Step 1: Launch the VivoCloud application on your mobile phone and sign in to your account using your username and password credentials.
Step 2: After signing in to your VivoCloud account, you can leisurely browse and select any data that need syncing. It's now effortless to transfer this information from your VivoCloud account onto your device and restore it without hassle.
Learn more: Open this guide to get useful ways to transfer data from OPPO to Vivo. Let's check it out.
Method 2. Back Up and Restore Vivo Using Google Account
Another simple way to back up and restore Vivo data is through your Google account. This convenient choice lets you easily sync essential information such as bookmarks, contacts, and calendar events from your device onto your personal Google profile.
Furthermore, in case of any misfortune that leads to a lost or damaged phone device, all the backed-up data can be restored to the same or any compatible device. Below are the two ways of backing up and restoring Vivo data using a Google Account.
Backing Up and Restoring Apps and App Data via Google Account
You can conveniently back up and restore all your applications and their data using the following steps:
Step 1: Launch the "Settings" application on your Vivo smartphone. Scroll down and tap on the "More settings" button.
Step 2: Tap on the "Backup and restore" option, and turn on "Back up my data" and "Automatic restore". Enjoy the convenience of automatically backing up your Apps and app data to your Google account. If you ever need to delete an App, there's no worry. When you reinstall it later, all its stored data will be seamlessly restored.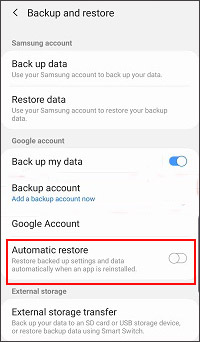 Backing Up and Restoring Vivo Data Using Google Drive Feature
You can back up all your important files, photos, and videos on Vivo smartphones with the help of Google Drive. Follow the below instructions to quickly back up and restore Vivo data:
Step 1: Open "File Manager", and go to a file type you want to back up, like "Documents". Then select the documents you wish to backup to your Drive.
Step 2: Once you choose the files to back up, click "Send", and many options appear. From those available, select "Save to Drive". Then the files will be backed up to Google Drive.
Step 3: If you want to restore your backup files, you can launch Google Drive and download the data to your Vivo phone.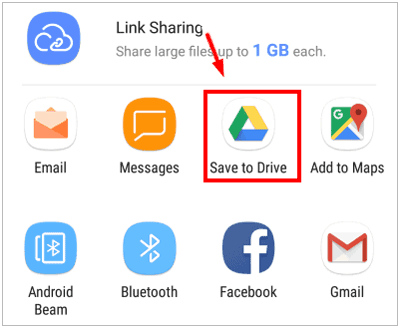 Read also: Vivo V9 Contacts Backup: How Do I Back Up My Contacts on Vivo?
Method 3. Back Up and Restore Vivo Phone on PC
Are you looking for a way on how to back up a Vivo phone to a pc? If so, you are in luck. Backing up your Vivo phone on PC is a great way to safeguard all of your data, including photos, videos, and other files. This Vivo backup software - Samsung Backup and Restore will make this process simpler.
This reliable and easy-to-use desktop application allows you to back up and restore contacts, SMS, photos, apps, videos, and more with just a few simple clicks. Furthermore, it works for most Android phones and tablets, like Vivo iQOO Z7/Z7x/Z7i/Neo 7/11 Pro/11/Z6 Lite/Z6, Vivo X90 Pro/X90/X80 Pro/X80/X70 Pro/X70, OPPO, Google, ZTE, Motorola, Honor, Xiaomi, Samsung, etc.
Below are the main features of this backup software:
- Allow users to back up Android data to a computer easily.
- Fast restore Android devices from backup files on the PC.
- Support text messages, music, call logs, apps, books, contacts, videos, and apps.
- Support multiple devices with USB and Wi-Fi connections.
Download this software for Vivo backup and restoration.
Follow the below steps to learn how you can back up Vivo data on a computer:

Step 1. Open Backup Manager on Your Computer
Launch the application after you have downloaded and installed it on your computer. After that, click on the "Android Backup and Restore" button.
Step 2. Connect Your Vivo Smartphone to the Computer
Connect the phone to a computer with a USB cable to back up your Vivo data and enable USB debugging. Once detected, grant all permissions as prompted. You will then be presented with another interface. Select the "Backup" option.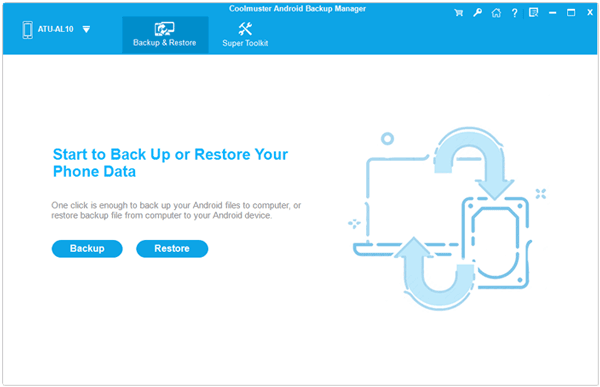 Step 3. Back Up Your Vivo Data
Choose the desired data types by checking on the interface. You can personalize and adjust your stored data location on your PC by clicking on "Browser". Once finished in the selection, click "Back Up" to start the Vivo backups.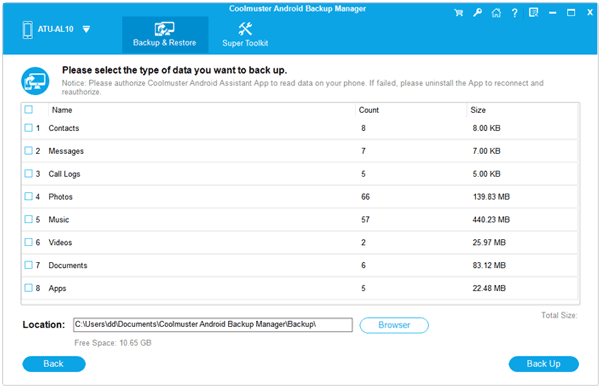 Here's how to restore Vivo Smartphone Data from the backup on the PC:
Step 1. Choose the Restore Feature
After launching the software and connecting your phone/tablet to the PC, click "Restore".
Step 2. Select the Data to Restore
Select a backup file, and tick off the backup types on the right panel. Then tap "Restore" to import the files to your Vivo device.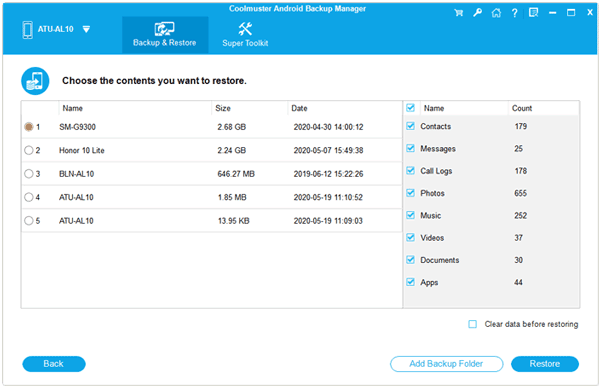 Conclusion
Now you know how to back up and restore Vivo data with different methods. You can use any of the above methods to ensure that all your data is safely backed up and can be restored when needed. Samsung Backup and Restore is a cutting-edge technology that makes backing up and restoring data easier. With this backup software, you can back up various data types from Vivo to a computer at once with original quality.
Remember, backing up your device regularly will save you a lot of headaches in the future. So, create regular backups on both PC and cloud storage platforms.
Related Articles
Vivo to Vivo Data Transfer - Fast Transfer Data to Another Vivo Phone
HTC Backup and Restore: Back Up and Restore HTC Data in 4 Reliable Ways
Samsung Manager - How to Manage Samsung Easily in 4 Top Methods
Select Best File Manager for Android from A Full List [Reliable]
How to Move Files to SD Card on Android Rapidly (Latest Tutorial)
Android File Transfer on Windows Computer: Transfer Files Easily