Summary
Almost everyone uses a smartphone in their life and work, and Vivo has become a mainstream Android phone brand in the market recently. But lately, many Vivo users have asked how to unlock Vivo phone if forgot password. Then are you also worried about this problem?
Anyway, it is not tough to solve this problem, because there are more and more unlocking solutions for Android devices, of course, including Vivo. For your convenience, we have summed up 5 dependable methods in the following, so you can easily open your Vivo phone's lock.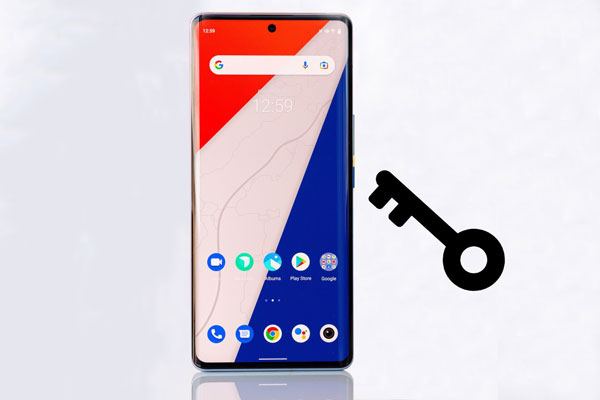 Part 1: How to Unlock Vivo Phone If Forgot Password with Android Unlock
If you want to unlock a Vivo phone if you forgot pattern the without any skill, you can use this Android Unlock software. It is a simple and safe program for Android unlocking, and it can remove multiple types of locks, such as pattern, PIN, fingerprint, and password. Even if you cannot find your Vivo model from the given list, you can use the advanced mode to erase the lock settings.
Undoubtedly, you can remove the lock and access your Vivo device in minutes, but please note that this software will wipe your data from the Vivo phone. So, we wish that you have backed up your important data on your phone before locking it.
Main features and highlights of the Android unlocking software:
- Support most Android phones, including Vivo, Samsung, ZTE, LG, OnePlus, OPPO, Sony, etc.
- Fast unlock Vivo phones without a password.
- Help you connect your locked Vivo phone to a computer with a USB cable for unlocking.
Download the Android Messages Manager for free below.

Here's how to unlock pattern lock in Vivo with this software:
Step 1. Launch the Android Unlock Program
After downloading and installing the program, please click the "Screen Unlock" tab on the interface.
Step 2. Make a Connection
- Connect your Vivo smartphone to the computer with a data cable, and select the "Unlock Android Screen" option.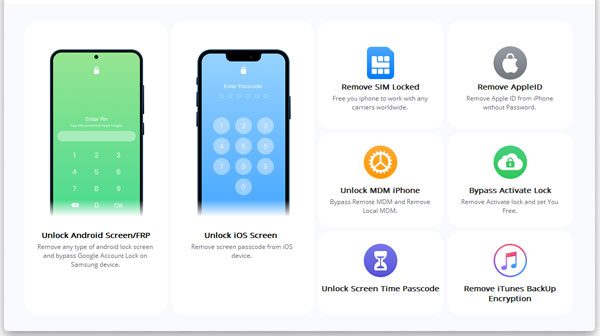 - Then find your Vivo model from the list, and tap the "Next" icon.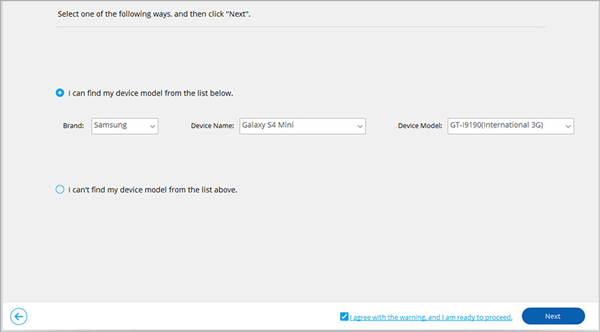 Step 3. Remove Vivo Phone Lock
- Follow the guide to make your Vivo phone enter Download Mode.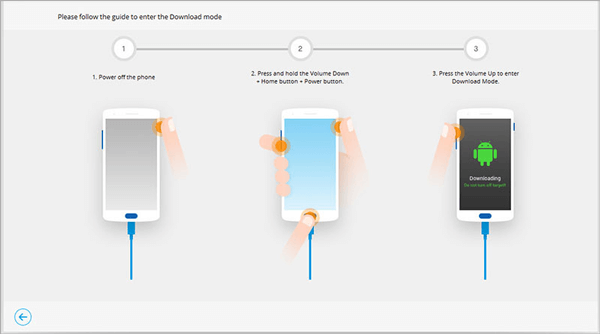 - Tap the "Remove Now" button to start the unlocking procedure.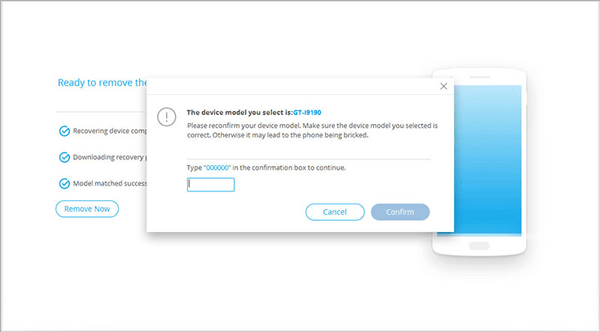 Bonus: Want to select an excellent Android data recovery tool? Then don't miss this list, since it will show you 9 useful recovery tools.
Part 2: How to Unlock Vivo Phone If Forgot Pattern via Gmail Account
If you have logged in to your Gmail account on your locked Vivo phone, you can make use of it to unlock your phone without losing data. But make sure the OS is Android 4.4 or lower, and connect your phone to an available network. More importantly, you need to use your Google account's password.
Guide on how to unlock Vivo phone password without losing data via your Gmail account:
Step 1: Power on your locked Vivo device, and randomly type a PIN or pattern into the device multiple times.
Step 2: Tap the "Forgot pattern/password" icon, and enter your Gmail address and password on the screen.
Step 3: You will receive an email, and you can reset your lock. Once done, you can unlock your device with a new password.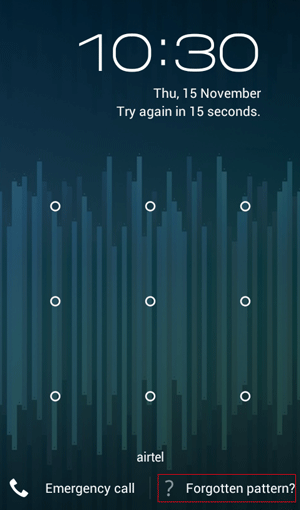 Read also: It is easy to back up Vivo contacts, but if you want a full guide, click it.
Part 3: How to Unlock Vivo Pattern Lock via Hard Reset
Can you hard reset your Vivo phone without a password? Certainly, you can make it. As long as you get your Vivo phone into recovery mode, you can easily wipe all the data and settings. Then you set up your phone and access it effortlessly.
Steps on how to reset a Vivo phone if forgot pattern:
Step 1: Charge your Vivo cell phone at least 50%, and turn it off.
Step 2: Press the "Volume Up" and "Power" buttons until you see your Vivo logo shows up on the screen.
Step 3: Select the "Wipe data/factory reset" option with the volume keys, and tap the "Power" button to confirm your operation. Then wait for the resetting process to finish, and reboot your Vivo phone.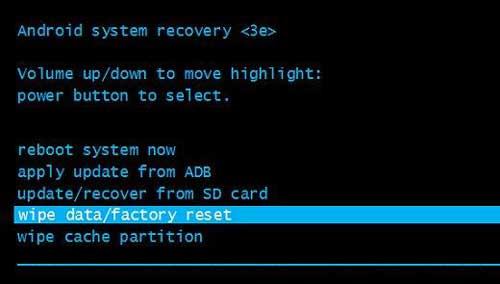 Further reading: With these methods, you can deftly transfer OPPO data to Vivo. Let's check it out.
Part 4: How to Open Vivo Phone Lock by Answering Security Questions
If you still remember the answers of your Google security questions, you can remove the PIN lock on Vivo with them. And you will not lose your data from the phone.
Here's how to open a Vivo phone lock by answering Security Questions:
Step 1: Enter a random PIN code 3 or 5 times on your Vivo phone, and tap the "Forgot password" icon at the bottom.
Step 2: Choose the "Answer question" option, and you can start entering your correct answers.
Step 3: After that, you can unlock your Vivo mobile device.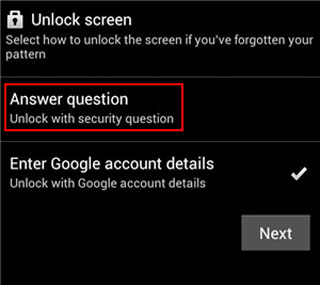 Tips: How to change the security questions of the Vivo lock screen?
If your Vivo phone's OS is Funtouch OS 3.0 and higher, you can change your security or verification questions with the built-in settings app. Open Settings, and choose "Fingerprint, face and password" > "Screen lock" option. Then enter the current PIN, and choose the "None" option. Next, disable the "Privacy and app encryption" feature. Finally, return to the "Screen lock" screen and choose the "4-digit password" option. Then you can set your new security questions.
Part 5: How to Unlock Pattern Lock in Vivo Using Find My Device
Using Google Find My Device is also a useful way to remove the pattern or PIN lock from Vivo so long as you have enabled the Find My Device and Location features. But it will erase All Vivo data.
Here's how to unlock Vivo phone PIN lock via Find My Device:
Step 1: Visit Google Find My Device on your computer, and sign in with your Google Account.
Step 2: Choose your Vivo phone, tap the "ERASE DEVICE" icon, and type your account again.
Step 3: Click the "Erase" button to start the process. Once done, the PIN lock will be eliminated from your Vivo phone.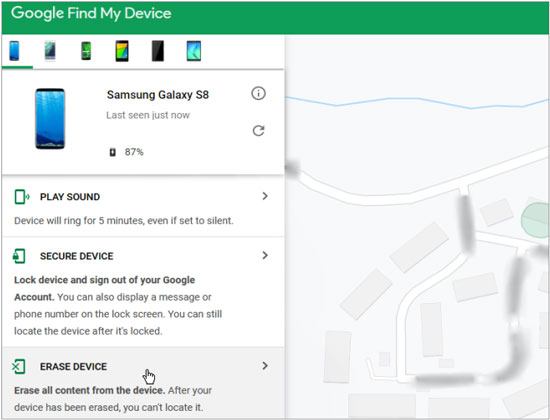 Conclusion
With the methods above, you can surely unlock your Vivo phone even if you forget the password, and the Android Unlock software can remove the lock without any restrictions. However, you will still lose your data. Thus, we recommend you to back up your data regularly, and then you can restore your data after unlocking the device.
Related Articles
How to Transfer Data from Vivo to Samsung Seamlessly: Try 4 Solutions
iPhone to Vivo Data Transfer Guide: Swiftly Transfer Data from iPhone to Vivo
How to Transfer Data from Samsung to Vivo Seamlessly [5 Detailed Solutions]
Fast Unlock Sony Xperia: Remove PIN/Password/Pattern Lock [Updated]
Safely Transfer Files from Android SD Card to PC without Trouble [5 Ways]
How to Unbrick Android Tablet and Phone without Trouble [Reliable Tutorial]