Summary
When replacing your old LG phone with an iPhone, you can experience the fluency of iOS and the powerful features of the iPhone. But you cannot discard the data on your LG phone because it is related to your life and work. At this moment, you will need a guide about LG to iPhone transfer to move your important data to your new iPhone.
Actually, it is easy to transfer an LG phone to an iPhone, and you can make it without any skill. This guide will teach you to complete the transfer step by step. Without further ado, let's get started.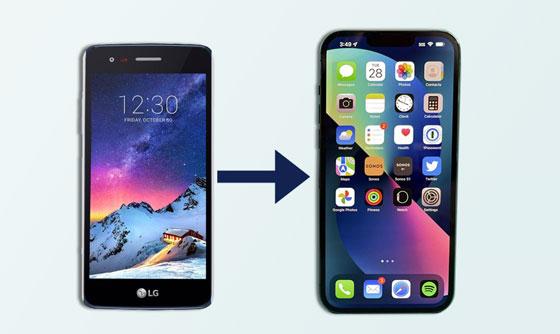 Part 1: How to Transfer Data from LG to iPhone via Move to iOS
Have you heard of Move to iOS? If you are new to this app, you can learn about it in this part. Move to iOS is an app to copy content from a mobile device to an iOS device. It can connect your LG phone and iPhone without a data cable, and transfer multiple files types. But it will require you to erase your iPhone if you have finished the setup.
Guide on switching from LG to iPhone via Move to iOS:
Step 1. Download and Install the App
Please install Move to iOS on your LG phone, and start to set up your iPhone.
Step 2. Enter the Code for Connection
- When you see the "Apps & Data" screen on your iPhone, please choose the "Move Data from Android" option, and click the "Continue" icon to get a code.
- Then, open the app on your LG mobile phone, and agree to the Terms and Conditions. Then enter the code to the LG phone, and click the "Connect" icon to join the network temporarily created by your iPhone.
Step 3. Select and Transfer Content from LG to iPhone
Select the files you want to transfer on your LG cellphone, and tap the "Continue" icon to begin moving data. Then please wait for the process to complete.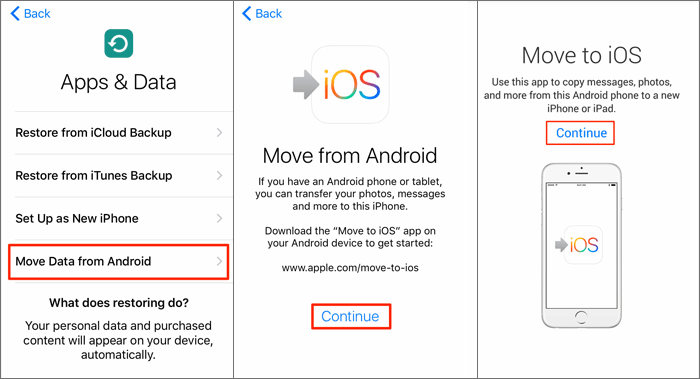 Tips: How to transfer Android to iPhone after setup? That's easy. Let's check it out.
Part 2: How to Transfer LG Phone to iPhone via LG to iPhone Transfer
This LG to iPhone transfer software - Samsung Data Transfer, is a one-stop transfer tool for Android and iOS devices. You can transfer contacts and documents from LG to an iPhone simultaneously. Besides, it can help you transfer photos, videos, music, text messages, and more from an iPhone to an LG phone.
What's more, it supports most Android and iOS phones and tablets that run Android 4.0 or upper and iOS 5.0 or higher. Thus, you can copy data on LG Q92 5G/Q52/Q31/Q61, LG G8/G7/G6/G5, LG K92/K71/K62/K52, iPhone 13 Pro/13/12 Pro/12/11 Pro/11/XS/X/XR/8/7/6, iPad, iPod touch, Xiaomi, Huawei, OnePlus, ZTE, Google, Motorola, OPPO, etc.
With this LG to iPhone data transfer tool, you can:
- Seamlessly transfer data from LG to iPhone and vice versa.
- Select the files you want by category before transferring them.
- Move various file types from Android to Android, including contacts, SMS, songs, applications, videos, call logs, pictures, and so on.
- Copy notes, bookmarks, calendars, books, and contacts between iOS devices.
- Get the files on your destination phone with original quality and file formats.
Download data transfer software for free below.
Here's how to copy data from LG to iPhone with this software:
Step 1. Run the Software on Desktop
Install the program on your Windows or Mac computer, and click the "Mobile Transfer" tab to run it.
Step 2. Connect Your Phones to the Computer
Use data cables to link your smartphones to your computer. Then allow USB debugging on LG, and tap the "Trust" option on the iPhone. The connection will be established.
Step 3. Copy Files from LG to iPhone
- Check if your iPhone is in the "Destination" position. If not, click the "Flip" icon. Then tick the desired file types on the interface, and click the "Start Copy" icon to move the data.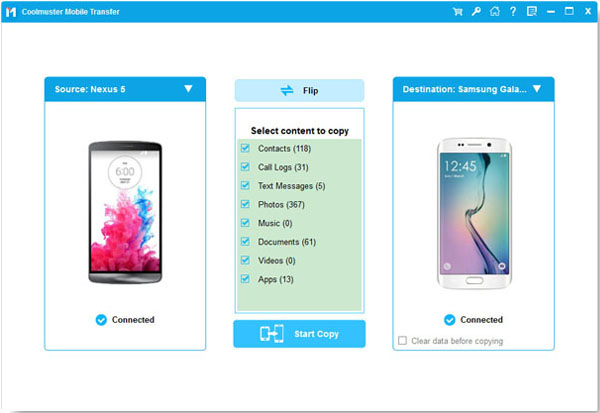 - The software will automatically transfer the selected files to the iPhone.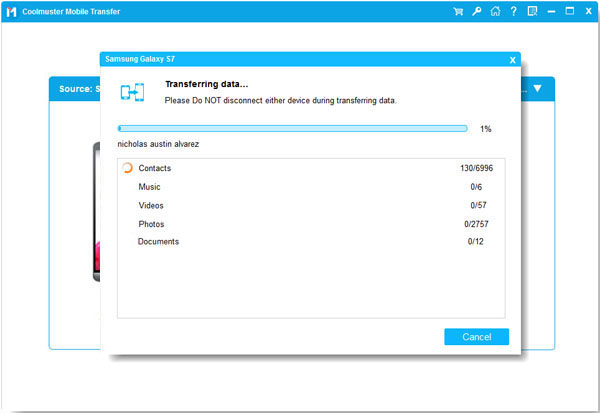 Read also:
Wonder how to transfer contacts from LG to a computer? Here are 6 reliable ways for your reference.
Click here to get multiple solutions on data migration between LG and Motorola.
Part 3: How to Sync Data from LG to iPhone via OneDrive
Microsoft OneDrive is good at synchronizing data between LG and iPhone. As long as you upload your files to OneDrive, you can access and view them on any device using a network. If you run out of free cloud storage, you can upgrade it to 1TB by subscription.
Steps on how to sync LG files to an iPhone via OneDrive:
Step 1. Upload Files from LG
Please download and install OneDrive on both mobile phones. Next, open it on LG, sign in with your Microsoft account, and click the "Plus" > "Upload" option to select the files you want from your LG phone.
Step 2. Sync Files to the iPhone
Open the app, and log in with the identical account on the iPhone. Then you will see the LG files that you uploaded just now. If needed, you can save them to the local storage on your iPhone.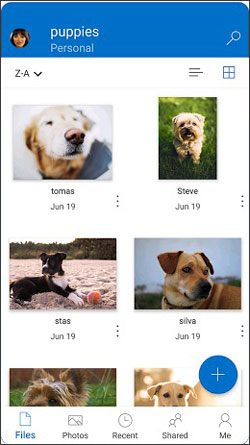 Further reading: Follow this guide, and you can transfer files from LG to a PC and vice versa like a pro.
Part 4: How to Transfer Pictures from LG to iPhone via SHAREit
Using SHAREit is a helpful way to transfer pictures from LG to iPhone. You can send your images and other media files without limitation. Plus, with this app, you can clean up your junk data to boost your mobile phone, listen to elegant music, and watch online videos. But there are a few ads on the app.
Here's how to transfer pictures from LG to iPhone via SHAREit:
Step 1. Install SHAREit
Install this app on your cellphones first, open it, and tap the "Send" icon on LG. Then pick the data you plan to send, and hit the "SEND" icon.
Step 2. Connect LG to Your iPhone
If prompted, please enable Bluetooth. Next, click the "Receive" icon on the iPhone, and your iPhone will search for other available devices.
Step 3. Receive LG Files on the iPhone
Once the avatar of your device appears on the screen, please tap on it for connection, Then the app will directly send the files from LG to the iOS device.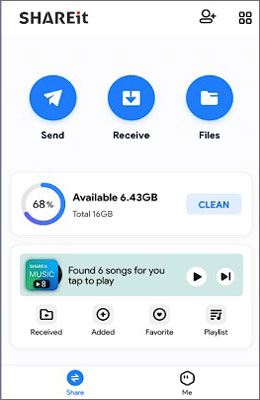 Maybe you need: Sometimes, you might need to print out your text messages from your LG phone. In this case, these 2 ways will give you a hand.
Part 5: How to Transfer Contacts from LG to iPhone via Gmail Account
You can add your Gmail account to your iPhone. So, why not transfer your LG contacts to the iPhone with your Gmail account? Furthermore, you can sync calendars, notes, and your emails to the iPhone. By the way, please connect your mobile phones to a stable network in advance.
Tutorial on how to sync contacts from LG to iPhone via a Gmail account:
Step 1. Back Up LG Phone to Google Drive
- Open Settings on LG, and choose the "System" > "Backup" > "Google Backup" option. Then toggle on the "Back up to Google Drive" feature, and click the "Account" icon to input your Gmail account.
- Once done, your LG data will be automatically backed up to your Gmail account.
Step 2. Type the Gmail Account on Your iPhone
Go to Settings on the iPhone, and tap the "Mail" > "Accounts" > "Gmail" > "Add account" icon to enter the same Gmail account.
Step 3. Sync Your LG Contacts to the iPhone
Tap your account on the iPhone, and turn on the "Contacts" option. Then it will start to sync the backup contacts to your iOS device.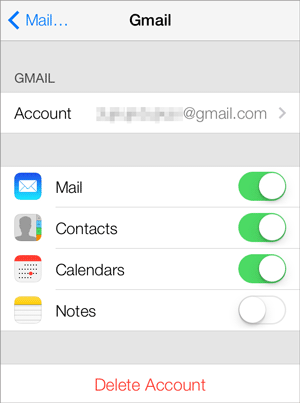 You might like: You can breezily download music to an LG phone via these 4 approaches.
Part 6: How to Transfer Music from LG to iPhone via iTunes
Want to transfer music from your LG phone to your iPhone? This part will recommend iTunes to assist you. As you know, iTunes can back up and restore data for iOS devices, and sync kinds of files without effort. If you use a Mac computer, you will need to install Android File Transfer as well.
Here's how to transfer music from LG to iPhone using iTunes:
Step 1. Move Music from LG to a Computer
- Link your LG phone to a computer via a USB cable, and choose the "MTP" option on the phone. Then access This PC and the drive of the LG phone.
- Find your music folder, and move the music files to your computer. Next, safely remove the connection between the LG device and the computer.
Step 2. Connect the iPhone to the Computer
Install iTunes to the computer, and link the iPhone to the computer via USB.
Step 3. Sync the Music to the iPhone
Click the iPhone icon on iTunes, and choose the "Music" category on the left panel. Next, check the "Sync Music" icon and pick the songs you want. At last, click the "Apply" button to import the songs to your iPhone.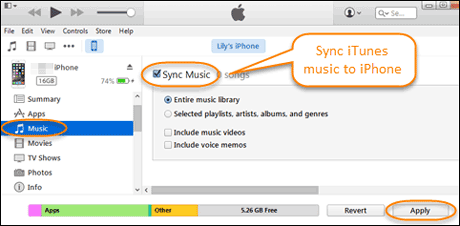 Bonus: Does LG Mobile Switch work on iPhone? Yes, you can use LG Mobile Switch to move data from an Android or iOS device to an LG phone. It can transfer messages, images, call history, etc.
Final Thoughts
You have learned 6 excellent approaches for LG to iPhone transfer. Undoubtedly, you can transfer your LG data to your iPhone without a hitch. And this data transfer tool - Samsung Data Transfer, can copy files to your target phone at once. More importantly, it works for most iOS and Android mobile devices. That is, it will not be absent whenever you switch to a new smartphone/tablet.
Related Articles
Fix It: LG Bridge Cannot Connect Correctly
How to Transfer Music from Android to Android? 5 Ways to Fix It
How to Transfer Contacts from iPad to Android Smoothly | 6 Wise Methods
[4 Ways] How to Install APK on Android from PC Effortlessly
How to Clone an iPhone without Effort [Ultimate Guide with 5 Methods]
iPhone to Vivo Data Transfer Guide: Swiftly Transfer Data from iPhone to Vivo