Summary
OnePlus has been popular for a long time because of its high refresh rate, distinctive Oxygen OS, powerful UFS 3.1, and other attractive details. Undoubtedly, OnePlus phones are fantastic, but if you delete your files carefully from the phone, you cannot restore them from the recycle bin like you can on a PC. Therefore, you will need a guide's help - OnePlus Data Recovery.
This guide has offered 4 solutions to recover deleted files from OnePlus, with step-by-step explanation. Thus, you can easily get your files back as long as they have not been overwritten.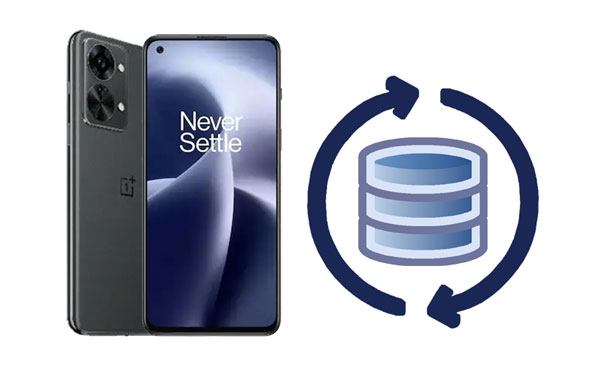 Part 1: How to Recover Deleted Files from OnePlus via OnePlus Data Recovery?
This OnePlus data recovery software - Samsung Data Recovery, is always effective in recovering deleted files from an Android phone. It can deeply dig out the deleted data from a OnePlus phone, and display them on the interface, so you can directly select what you want before recovering them.
So, which data types can the program recover? Powerfully, it can recover deleted contacts, photos, text messages, music, videos, documents, and call logs. What's more, it supports not only OnePlus 10 Pro/10/9 Pro/9/8 Pro/8/7/6 but also other Android devices, such as Samsung, ZTE, LG, Xiaomi, OPPO, Vivo, etc.
Key features of this OnePlus file recovery program:
- Easily recover deleted files from OnePlus internal memory without backup.
- Support multiple file types, like music, call history, contacts, pictures, and so on.
- Enable you to selectively recover the files you want.
- Support Android SD card recovery without root.
Download this recovery software below.
Here's the OnePlus 6 data recovery guide below:
Step 1. Launch the Recovery Software
Please install the program after downloading it on a computer by double-clicking the package. Once installed, it will be opened on the desktop.
Step 2. Connect OnePlus to the Computer
- Connect your OnePlus 6 to the computer via its USB cable, and enable the USB debugging feature on the phone. Then please select the categories of the data you would like to recover on the interface, and tap "Next".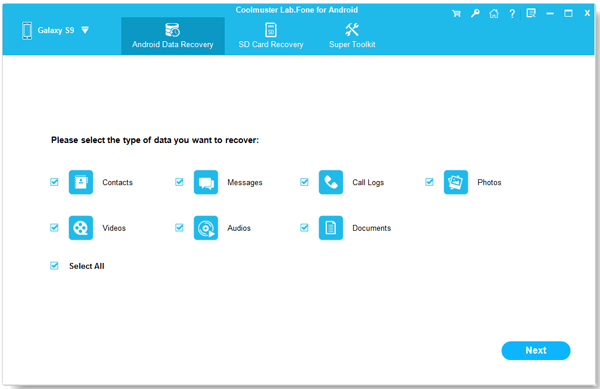 - Tick a scanning mode to continue.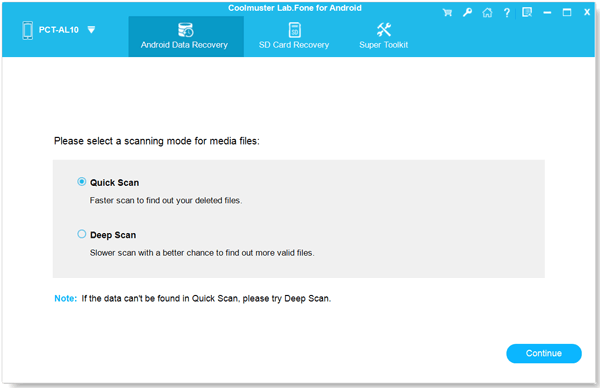 Step 3. Recover Deleted Files from OnePlus
- To recover your deleted files from the internal storage, the program will remind you to root your cellphone. You can skip it, but the scanning will not be complete.
- After that, your data will appear on the interface. Please click one category, and check the deleted files you want. At last, tap the "Recover" icon to save them to your computer.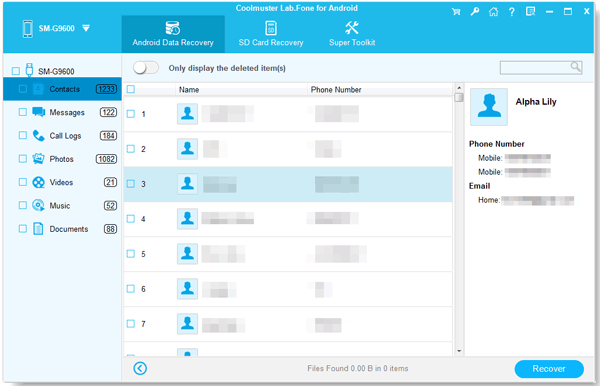 Bonus: How to enable USB debugging on OnePlus? It's easy. Please go to Settings, tap "About phone", and click the "Build number" 7 times. Next, go back to the last page, and click "System" > "Developer options" to find and enable the USB debugging mode.
Maybe you like:
You can effortlessly transfer files from OnePlus to Mac with different methods. Let's check it out.
With the help of a professional PDF recovery tool for Android, you can easily get your deleted PDF files back.
Part 2: How Do I Recover Lost Data from OnePlus One Using OnePlus Switch?
OnePlus Switch, renamed Clone Phone, is a convenient app for backup and restoration. If you back up your data with it, you can certainly restore your lost data from the backup. You needn't root your OnePlus phone, but if you remove the backup data, you will fail to get the data back.
Here's how to recover lost data from OnePlus One via OnePlus Switch:
Step 1. Open OnePlus Switch
Please open the Settings app, and go to "Advanced" to launch the OnePlus Switch app.
Step 2. Restore the Lost Data from the Backup
Tap the "Backup and Restore" at the bottom, and hit the "Restore Backup" option to select the backup file you want. Then tick the data types, and tap the "RESTORE NOW" icon to start the process.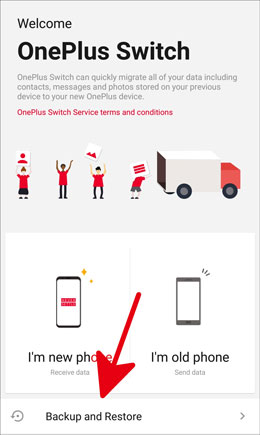 Read also: If OnePlus Switch is not working, you can go to this guide to fix it without hassle.
Part 3: How to Restore Data on OnePlus via Google Drive?
If you have uploaded your important data to Google Drive, you can download it to your OnePlus anytime. However, you cannot directly restore the backup file to your OnePlus phone. It will ask you to reset your mobile device first. Then you can restore the Google Drive backup during the setup.
Steps on how to restore data on OnePlus via Google Drive:
Step 1. Reset Your OnePlus Phone
To restore the Google backup data on your OnePlus phone, you need to reset it in advance: go to Settings, choose the "System" > "Backup and reset" > "Reset phone" > "Erase all data" option, and confirm the resetting.
Step 2. Restore the Backup File to OnePlus
- Once reset, please set up the phone. When seeing the "Copy apps & data" screen, tap the "OK" and "A backup from cloud" icons.
- Select the desired backup file on the "Choose a backup to restore" screen. Then you can select the data types, and click the "Restore" icon to import the data to the OnePlus device.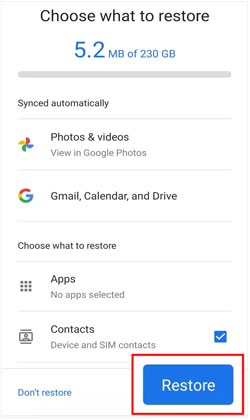 Tips: How do I recover deleted pictures from OnePlus with Google Photos? If you delete pictures on Google Photos within 30 days, you can find and restore them from the Trash folder of Google Photos. Besides, you can save the uploaded pictures to the local folder on your OnePlus phone, so long as your phone is connected to an available network.
Part 4: Can We Recover Data After Factory Reset on OnePlus?
What if you have performed the factory reset on your OnePlus phone without backing up data? If so, you can try this Android data recovery tool. It is capable of retrieving lost data after the factory reset, including contacts, SMS, media files, WhatsApp files, and more.
Download this recovery tool here.

Here's how to recover data after the factory reset on OnePlus:
Step 1. Make a Connection
After installing and launching this software on your PC, please choose the "Android Data Recovery" tab, and link your OnePlus device to the PC via USB.
Step 2. Choose Files Types
After connecting, please opt for the file types you intend to recover, and tap "Next". Then the program will require you to install a rooting tool. Please follow the prompts to go on.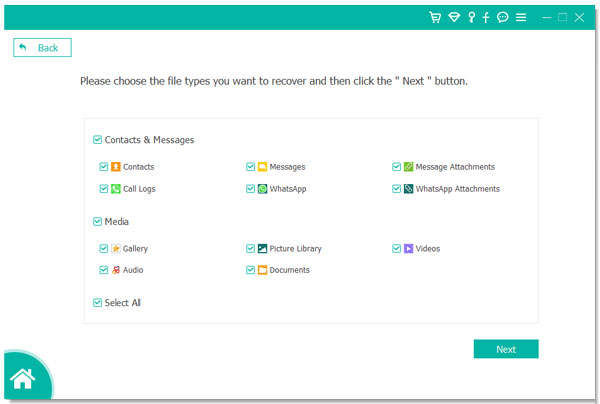 Step 3. Recover OnePlus Data After Factory Reset
- Wait for the software to scan your OnePlus data, and then select the files you want on the interface. Next, tap the "Recover" icon to finish the recovery.
- If needed, tap the "Deep Scan" icon to find more lost files.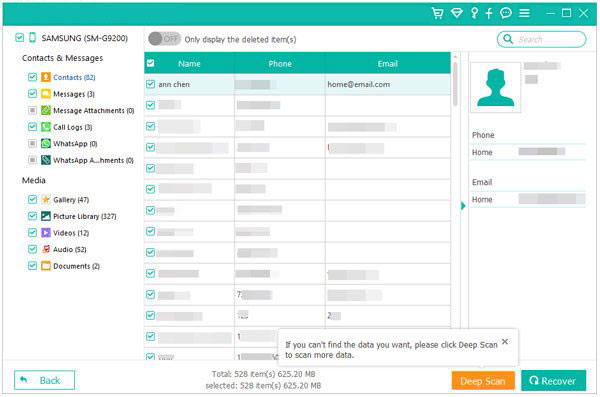 Conclusion
OnePlus Data Recovery is feasible because you can utilize a reliable recovery program, such as Samsung Data Recovery, which is good at recovering deleted files on Android. You can also use the Android Data Recovery software when planning to get files back after the factory reset.
Anyway, the best thing is to use your backup. If you have backed up the files on your OnePlus phone, the recovery will be easier to complete.
Related Articles
How to Transfer Data from Samsung to OnePlus? Gain 5 Clever Methods Here
OnePlus Transfer Guide: 5 Ways to Transfer Data from One OnePlus to Another
OnePlus Backup to PC: Back Up OnePlus with 4 Ultra Approaches
OnePlus File Transfer: Transfer Files from OnePlus to Computer Efficiently [4 Ways]
How to Retrieve Deleted Messages on OnePlus Using 4 Handy Approaches
[Incredibly Easy] Recover Deleted Photos on Android with 3 Effective Methods