Summary
Nowadays, it is easy to view PDF documents on an Android phone or tablet because of those advanced office apps. However, these apps cannot help you recover your files when you mistakenly delete your PDF files from your Android gadget.
So, when the accidental deletion occurs, do you know how to recover deleted PDF files on Android devices? Are there any effective approaches to achieving recovery? If you are interested in this topic, welcome to go on reading this article.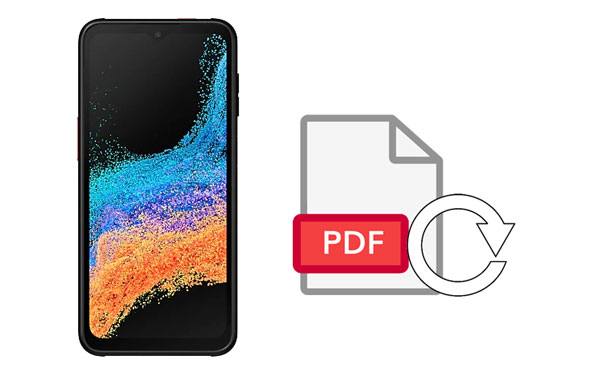 Part 1: How to Recover Deleted PDF Files on Android via Android Recovery
No backup is needed to recover your deleted PDF files on Android, since you can use this Android recovery tool - Samsung Data Recovery. This is a professional desktop app for data recovery on Android devices. In addition to deleted PDFs, it can recover deleted contacts, photos, call logs, music, and more. As long as you root your device, it can scan many deleted data from the internal storage space.
Key features and highlights of this recovery software:
- Effectively recover deleted PDF files and other formats' documents on Android.
- Display your deleted files on the interface and allow you to directly select what you want.
- Enable you to transfer your PDF files from Android to your computer for backup, including deleted and existing files.
- Support multiple file types so that you can also recover deleted text messages, music, images, and more.
- Recover deleted data from your SD card without root.
- Highly compatible with most Android OSes, from Android OS4.0 to the latest.
Of course, it works smoothly on many Android mobile devices, such as Samsung Galaxy S22/S21/S20/S10/S9/S8/S7, Xiaomi 12/11/10/9/8/6, Google Pixel 6/5/4/3/2, ZTE, OnePlus, OPPO, Vivo, etc.
Download the Android PDF recovery program below.
Here's how to recover deleted PDF files in Android via this software:
Step 1. Run the Recovery Software
After installing the software successfully, please run it on the desktop, and connect your Android gadget to the computer via a USB cable.
Step 2. Select Documents
- Enable the USB debugging feature on your phone to build up the connection, and check the "Documents" option on the interface.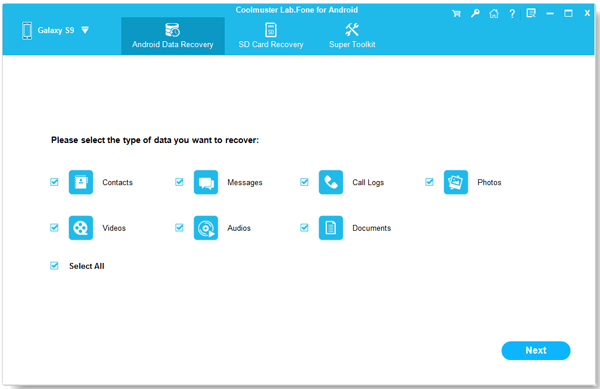 - Tap "Next" to select a mode for scanning data, and click the "Continue" button.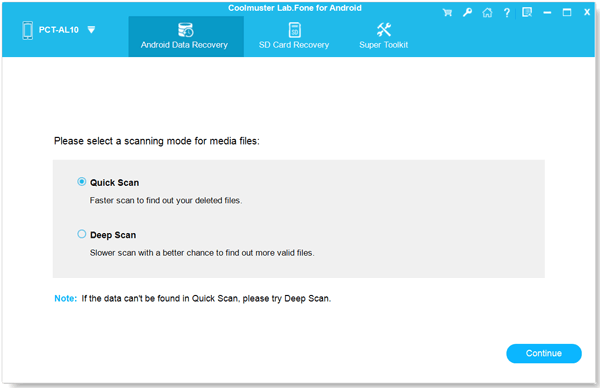 Step 3. Recover the Deleted PDF Files on Android
The program will scan and list your PDF files on the interface, and the deleted ones are in red. Please tick the files you want to recover, and tap the "Recover" icon to save them to your computer. Then you can move them to your Android phone.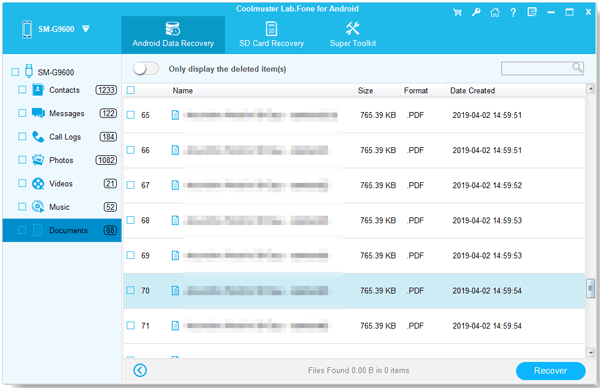 Tips: How to recover deleted PDF files from a micro SD card? It's extremely easy. You can choose the "SD Card Recovery" tab, and insert your card into the computer via a reader. Then choose the "Documents" option to select your desired PDF files, and save them to your computer by tapping the "Recover" icon.
Read more: You can transfer your Android files to your PC via Wi-Fi if you don't have a data cable.
Part 2: How to Restore Deleted PDF Files in Mobile Device Using Google Drive
Google Drive is a nice place to store various documents, including PDFs, because you can access your files and manage them with Google Drive. In a nutshell, Google Drive is not only a backup app but also a manager for documents. If you have uploaded your PDF to Google Drive, you can certainly find the files and download them again.
Guide on restoring deleted PDF files in a mobile device via Google Drive:
Step 1. Go to Google Drive
Please log in to your Google account on the Drive app on your Android phone.
Step 2. Search for the PDF Document
You can locate the file by entering their name into the search bar, or searching by date. After finding it, download it to your phone.
Step 3. Restore Your PDF Files
You can also go to the "Trash" option to restore your deleted documents within 30 days. Then select it and tap "Restore".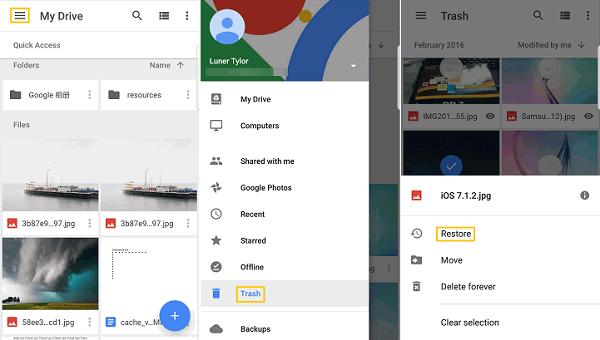 Read also: What if you intend to copy your files from an Android SD card to a computer? Then you can browse these 5 fabulous ways.
Part 3: How to Recover PDF Files in Android Mobile Phone with Dropbox
Dropbox is another useful app to sync PDF files and other data on mobile devices, and you can access your uploaded files online. Additionally, if you want to share several PDF files with your friends, you can send the files via a link, and your friends can download the files after opening the link. However, if you have not uploaded your documents to Dropbox, you cannot recover them via Dropbox.
Steps on how to recover PDF files on an Android Mobile phone with Dropbox:
Step 1. Sign in to Your Account
Open Dropbox and sign in with your account. Then navigate to your PDF documents.
Step 2. Save the Documents to Your Android Mobile Phone
Select the PDF files you want, and save them to a folder on your cellphone by tapping the "Download" option.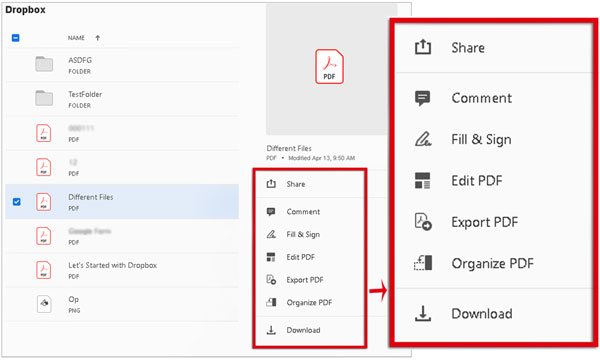 Further reading: Want to save your WhatsApp chats to a PDF file? Actually, it's easy. You can open this link to get detailed steps if needed.
Extra Bonus: Common Reasons for deleting PDF Files on Android
Besides your own careless deletion of PDF files, there are multiple normal reasons for removing your PDF files on your Android device.
- The malicious apps on your Android phone: Please check the apps you install on your Android phone. If you install those insecure apps with viruses, they may access your phone and mess with your data. Thus, your PDF files will be lost.
- Deleted by the Antivirus app: In general, you use the built-in Antivirus app on your phone to protect it from malware. However, this app possibly deletes those unsafe files it deems unsafe.
- Incorrect disconnection: When you remove your Android phone from a computer by unplugging the USB cable, you'd better remove the drive securely. If not, it is easy to cause data loss on your mobile phone.
- System errors: Maybe your Android OS is too old to work well, or there are system errors after updating the software. Then your device might erroneously remove your documents.
Conclusion
You can recover your deleted PDF files on your Android device with or without backup. With backup, there is no doubt that you can easily download them again. But you can also regain your deleted files without backup by using this recovery program - Samsung Data Recovery. This software does well in scanning and searching deleted data from Android internal and external storage.
Related Articles
Export Text Messages from Android to PDF Handily (Advanced Tutorial)
How to Recover Deleted PDF Files from WhatsApp on Android and iOS Devices
Recover Deleted Documents on Android: Vital Tips and 4 Recovery Tools
Handily Transfer iBook from iPad to Another iPad | 6 Fantastic Methods
Clean Junk Files on Android with 5 Hassle-free Methods [Newest Guide]
How to Speed Up Android Phone with 11 Tips | Make Your Phone Faster