Summary
Like OnePlus phone but feel annoyed with OnePlus Switch not working? Some OnePlus users have encounter OnePlus Switch stuck at 0% or even 99%, and other glitches in the transfer, which makes them in a fret. Thus, we intend to solve the trouble completely.
If you are facing this case, please stop to have a read. We hope this post will give you a hand about OnePlus Switch not working.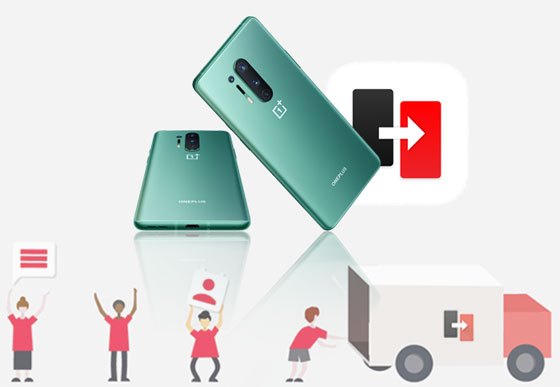 Part 1: About OnePlus Switch
Besides OnePlus users, many people don't know about OnePlus Switch clearly. To help you know it further, we display 5 FAQs about the OnePlus Switch below.
1.1 What Is OnePlus Switch?
Simply put, OnePlus Switch is a transfer application created by OnePlus and serves OnePlus users. It can transfer different kinds of data from one phone to a OnePlus phone without the network, including contacts, photos, calendars, text messages, and more. It can also back up and restore your data safely, and you can download it from Google Play.
1.2 Is OnePlus Switch Safe?
OnePlus Switch, like other apps, can't read the data from your phone until you grant it permission. And it can protect your data with the data encryption technology without leakage. Through the SELinux, it is effective to defend against the malware and other apps to modify your phone's settings. So, OnePlus Switch is safe.
1.3 How Long Does OnePlus Switch Take?
In general, how long it will take depends on how much data you need to transfer. And it will take 8-9 minutes to transfer 1 GB of files according to the tests. But if your phone's memory is not enough, it might be slower.
1.4 Does OnePlus Switch Work with iPhone?
Before the middle of 2019, OnePlus Switch can work with iPhone well. But Apple company has revised the rules about apps, so this app can't support transferring files of the iPhone currently. Additionally, it is reported that OnePlus is discussing with Apple to solve this problem.
1.5 How to Use OnePlus Switch
This section is going to tell you how to use the OnePlus Switch. And you will find it easy to operate with this tutorial:
Step 1. Download and Install OnePlus Switch on both smartphones.
Step 2. Open the app and click the "I'm a new phone" and set it up on the new OnePlus phone. Then make your old phone scanned the QR code on the new phone for connection.
Step 3. Then select the data you would like to transfer on your old phone and click the "START" icon. After some minutes, your files will be sent to your new device.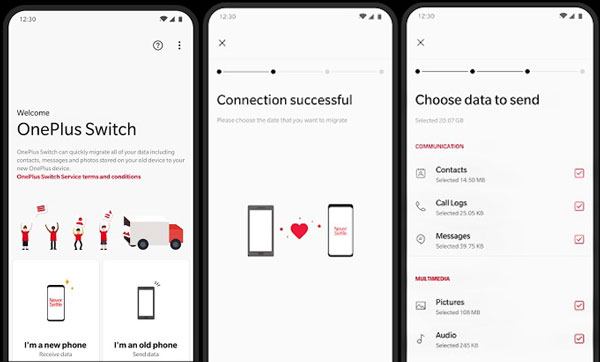 Bonus:
Quickly back up your OnePlus to the PC with these 4 approaches.
At&T Mobile Transfer isn't working? You can fix it with this guide.
Part 2: How to Solve the Problem of OnePlus Switch Not Working?
The following cases are 5 questions asked frequently by OnePlus users. Now we prepare to resolve OnePlus Switch not working once and for all. Let's check it out.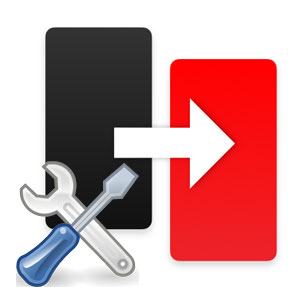 2.1 Can't Launch OnePlus Switch
Sometimes, you might encounter that you can't launch the app after installing it successfully. If your phone is OnePlus, this app is a pre-installed utility on the phone. Please uninstall the app you installed from the app store and launch it from the Settings app. You will open it without hassle.
2.2 Can't Get to the Data Selection Page
Sometimes it can't work because you don't have a SIM card on the phone. so please plug your SIM card into the device and turn off the mobile data. If you can't still see the data selection prompt, please reboot your phone.
2.3 Can't Transfer Data after Selected
If you find that you can't transfer data after selected via OnePlus Switch, maybe the point is that you selected too many files. Generally, please do not transfer files over 5 GB, and make sure to disable Wi-Fi and cellular data. Then close the apps that you run in the background.
2.4 Can't Finish the Transfer Process
OnePlus Switch stuck at 0%? You are lucky because someone has met it stuck at 99%. In this case, you have to close the app, restart your phone and reinstall the app. Then do it again. To avoid this situation, you'd better not send many files in a time.
2.5 Can't Restore the Copied Files from the OPbackup Folder
If the files are backed up by OnePlus Switch, you can restore them easily. But if you want to restore the files that you move to the OPbackup folder because OnePlus Switch is not compatible with them. If you do desire to make it, please move the files to your computer in advance and install Oxygen OS on your phone. Then transfer the files to the OPbackup folder. They will be recognized.
Read also: Wonder how to transfer data from the OnePlus phone to the Samsung phone? Here are 4 helpful methods you can select.
Part 3: A Useful OnePlus Switch Alternative – Samsung Data Transfer
The easiest way to fix OnePlus Switch not working is to use a OnePlus Switch alternative - Samsung Data Transfer. It can efficiently transfer contacts, call logs, photos, videos, apps, etc. from one Android phone to your OnePlus phone. Furthermore, it is capable of sending data from iOS to OnePlus as well.
Key features of this OnePlus Switch alternative:
- Support to transfer almost all data types from the Android phone/tablet to the OnePlus device, such as music, documents, applications, photos, text messages, contacts, and more.
- Also allow you to transfer music and other data from iPhone to Android and vice versa, so you can transfer iPhone data to OnePlus with ease.
- Copy your data from phone to phone in 1 click.
- Widely compatible with most mainstream mobile phones, like OnePlus Nord/8 Pro/8T/8/7T Pro/7T/7 Pro/7/6T, Samsung Galaxy S20/S10/S9/S8/S7, HTC U20/U12 Life/U12+/U11/U19e, Google, ZTE, Sony, Huawei, Motorola, LG, iPhone, iPad, and more.
How to transfer data with this OnePlus to OnePlus file transfer software in 1 click:
Step 1. Download and install the correct version of the software on your computer.
Step 2. Connect the mobile phones to the computer with USB cables. Enable USB debugging features on both phones. It will recognize and scan the data from the devices.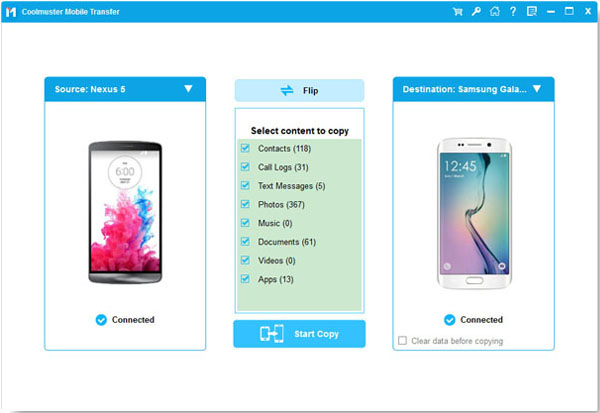 Step 3. Now, select the data types on the panel and tap the "Start Copy" button to begin transferring data to OnePlus.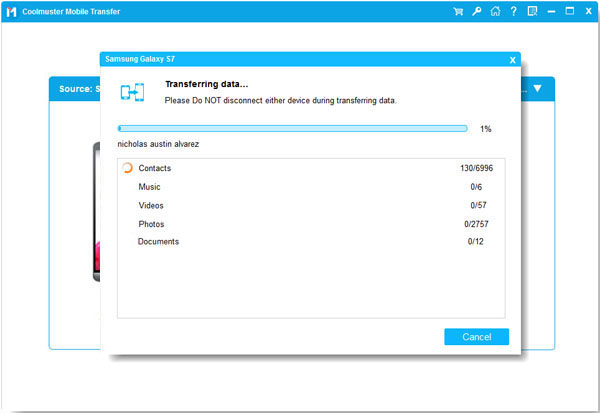 See also: Your Samsung Cloud fails to back up data? Please click this link.
Final Words
It's believed that these useful tips will help you fix the OnePlus Switch not working problem. And this OnePlus Switch alternative - Samsung Data Transfer, also can assist you to transfer data to OnePlus without effort. Last but not least, welcome to leave your queries in the comments part and we will answer you soon.
Related Articles
OnePlus File Transfer: Transfer Files from OnePlus to Computer Efficiently [4 Ways]
How to Transfer Photos from OnePlus to Laptop | 4 Tips to Fast Transfer Your Photos
[Fast Transfer] How to Transfer Your Photos from iPhone to Android Effectively?
6 Ways on How to Send Video from iPhone to Android Phone in Minutes
How to Recover Deleted Photos from SD Card on Android Phone with or without Backup? (2020 Updated)
How to Transfer Messages from Android to Mac Easily? 4 Helpful Tips Here