Summary
Contacts can be one of the most important types of files on Android phones. However, it is so easy to have them deleted by tapping the screen incautiously. Besides operating mistakenly, phone loss, Android update, factory reset, and virus attack can also cause contacts loss, which is a nightmare for many people. Does this problem trouble you too? If it does, don't fret. We have listed several effective methods below and they can help recover deleted contacts from Android phone for you.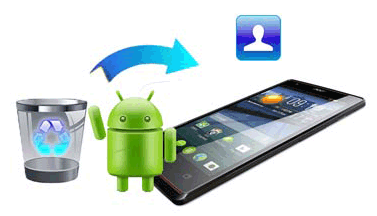 Check Whether Your Contacts Are Really Lost
It is suspenseful when people accidentally delete phone numbers, especially for those who often make phone calls, like businessmen. Losing contacts of important clients may result in business failures. But sometimes your anxiety might be redundant because your contacts haven't been deleted at all. They're just not present before you. You'd better check the existence of your contacts before you decide to retrieve them from your Android phone.
Here is the way to see whether they are safe on your phone.
Open the Contacts app.
Tap on the "menu" button on the top right corner and choose "Settings" > "Contacts to Display".
Make sure "All Contacts" is checked.
Now, you can check whether your "deleted" contacts come back or not. If they are back, that means your contacts are not deleted but disappeared. But if they are not back, that means they are removed and you should keep your phone intact until you try the following methods to recover your contacts. That's because when you continue to use your Android phone, your deleted contacts may be overwritten by new data, and you will lose them forever.
Click it if you need:
Are you curious whether there is a trash bin on Android phones or not? If yes, please don't miss this post.
If you want a practical tool to mirror your Android phone to a Windows 10 PC, you can browse this article.
Method 1: How to Recover Deleted Contacts from Android Phone Memory? - High Success Rate
To help restore your deleted contacts from Android phone memory with high security, we recommend this Android data recovery tool - Samsung Data Recovery to you. Using it, you can scan out all your contacts including the deleted and existing ones and preview them before choosing which to recover from Android phone. This software supports to entirely recover your lost data.
Quick Look: Key Features of Android Data Recovery
Retrieve deleted contacts, call logs and text messages from Android internal memory/SIM card.
Preview detailed info before you transfer it.
Support all most all of the Android phones, including Samsung, Huawei, Sony, HTC, LG, Motorola, ZTE, Xiaomi, etc.
Choose a suitable version to download and use it on your computer right now.
Here is how to retrieve deleted phone numbers on Android phone using this professional Android Data Recovery.
To start with, you need to root your Android phone to make sure that the program can access the Android internal memory.
Step 1: Launch the software on your computer.
After downloading and installing the software on your computer, launch it and connect your Android phone to the computer using a USB cable. Enable USB debugging on your Android phone.
Step 2: Scan out all your contacts on Android phone.
Authorize the computer to access your Android data. Then, you will get the interface which contains all types of files on your Android. Choose "Contacts" and click "Next" to scan out all your phone numbers including deleted and existing ones on Android phone.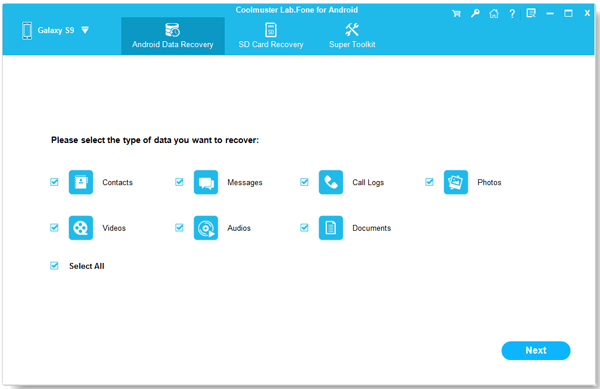 Step 3: Checkmark the required contacts to recover from your Android phone.
Now your contacts will be displayed on the interface. Check the items you want to recover from Android, and then click on the "Recover" button to restore them to your computer.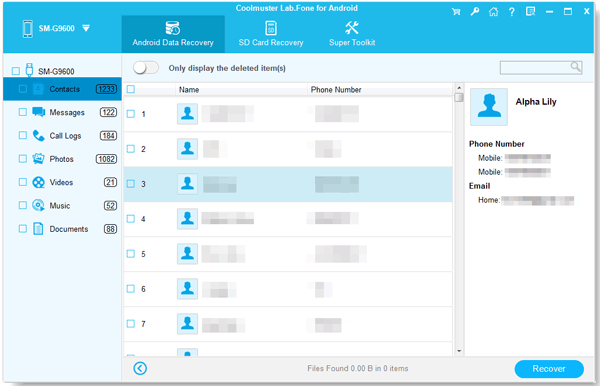 Read Also:
How to Retrieve Deleted Texts on Samsung? - 4 Easy Ways in 2023
Data Recovery on Samsung Galaxy with Broken Screen
Method 2: How to Retrieve Deleted Phone Numbers on Android from Gmail?
If you are used to syncing your contacts with Google account, it's likely to restore your deleted phone numbers on Android from Gmail. But it only enables you to restore any contact that you've deleted in the past 30 days.
Here is the guide for recovering deleted contacts from Gmail.
Go to Google Contacts and log in your Google account.
Click the "More" option on the left panel.
Choose "Undo changes" and then a pop-up window would appear to let you choose a time. After selection, choose "Confirm".
Tap "Google" and then click "Restore contacts" to get them back.
Note: When you choose the time for reverting contacts, those saved after the time you choose will be gone. For your data's safety, you'd better backup those contacts.
Read also:
Bypass Android Lock Screen with Detailed Tutorial [Crack the Lock Safely]
[Ultimate Recovery] How to Recover Deleted Files from Android via 3 Methods
Method 3: How to Restore Contacts on Android from SD Card Directly? - without Root
If you have foreseen the data loss and create a backup of your contacts on the external storage, then good to you, you can retrieve your deleted contacts on Android without root. All you need to do is to insert your memory card which contains your contacts backup to your Android phone and import the ".vcf" or ".csv" file. You can also import contacts from your SIM card similarly.
Here is how to restore contacts on Android from SD card directly.
Insert your SD card to your Android phone.
Open your Contacts app and tap the "menu" button.
Choose "Settings" and then click the "Import/Export" option.
Choose "Import" and choose to import contacts from the MicroSD card.
Select the stored VCF/CSV file and import it to your Android device.
See Also:
How to Transfer vCard (.vcf) to Android Phone?
Your Contacts Cannot Transfer to New iPhone? Fix It Easily
Extra Tips: How to Prevent Data Loss by Backing up Contacts from Android to Computer?
Although there are some ways to recover your deleted contacts from Android phone, what if things go unexpectedly? For example, the recovered contacts are not complete, or they are overwritten before you could get them back. These situations could happen. The safest way to prevent contacts loss is to back them up to your computer, as risks of data loss or information leakage still exist if you only back them up locally or back them up to the cloud.
Therefore, we recommend the Samsung Messages Backup software to you, the professional software to transfer your data including contacts between Android phones and computer. With it, you can back up your contacts to the computer easily. When you need your backup, it is convenient to get them back to your Android phone from the computer.
Final Thoughts
We have listed 3 ways to restore your deleted contacts in this tutorial, all of which are quite useful. If you are facing the problem of retrieving your contacts from Android, you may choose any one of them and try it on your device. If you have any problem, you can leave your questions in the comment area. We will try our best to give you a satisfying response.
Related Articles:
[Solved] How to Recover Deleted Data from Android Phone
Best Samsung Data Recovery Apps in 2023
LG Backup & Restore - How to Backup & Restore My LG Device?
How to Completely Remove Contacts from Android SIM Card
How to Connect Samsung Phone to PC in 2023? - 5 Easy Ways
Where Are Contacts Stored on Android? Find and Export Contacts Easily