Summary
As some Android devices support expanded SD card storage, many people may store important data to micro SD card to release the limited storage of the internal memory card. However, due to system error or various other reasons, we may lose important data from Android SD card, which is really a disaster for us. If you are not a professional, SD card recovery for Android is extremely hard to realize. Luckily, this article you are reading will discuss in-depth why you lose data from SD card and how to recover deleted files from memory card in Android. Read more to learn useful techniques of SD card recovery for Android mobile.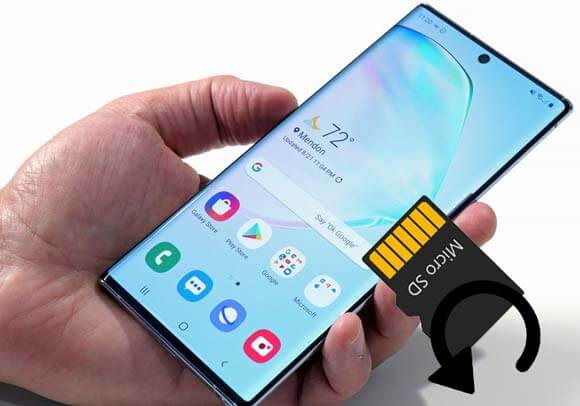 Part 1 Common Situation for SD Card Data Loss And Possibility of SD Card Recovery for Android
Generally, SD card data loss may be caused by the following situations:
• Accidental deletion
• Virus infection
• Formatted SD card
• Damaged or corrupted SD card
• Power failure
• Micro SD card has the raw or unsupported file system
• Other reasons
Once data loss on SD card happens, can SD card data recovery for Android be possible? Yes. That is because when you accidentally or intentionally delete something from Android SD card, the deleted data is not permanently erased from Android device, but marked as replaceable or coverable by new data in the system. In other words, phone SD card recovery is only possible before new data generates. And I do advise you to switch off Wi-Fi/mobile data after you delete something important and recover deleted files from SD card via Android app mentioned below.
Let's see how to recover files on SD card of Android.
Part 2 How to Recover Deleted Files from SD Card of Android via Samsung Data Recovery
How to recover data from SD card using Android phone? Well, unlike data transfer, data recovery from SD card in mobile must use a professional micro SD card recovery software for Android, not only your Android phone. And the best micro SD card recovery software for Android I highly recommend to you is Samsung Data Recovery, which can retrieve lost Android data from both internal memory and external SD card.
Under SD Card Recovery mode, you can recover lost photos, music, videos, and documents from Android SD card in the original format without quality loss. Under Android Data Recovery mode, you can retrieve deleted call logs, contacts, text messages, photos, and documents from Android internal memory card & SIM card. And you can preview most existing or deleted contents, like messages, contacts, call logs, thumbnailed photos and more before recovery and select what to recover. Besides, you can also backup text messages, call logs, and contacts info. to computer as HTML or XML format for easy reading and printing.
As for compatibility, Samsung Data Recovery is widely compatible with all Android phones and tablets with Android 4.0 and later, including Samsung, Motorola, LG, Sony, HTC, ZTE, Xiaomi, Huawei, Google, etc., such as Samsung Galaxy S21/S20 Ultra/Z Flip/Z Flip Thom Browne/S10+/S10/S10e/S/S9+/S9/S8+/S8, Galaxy Note 10+/10/9/8, Galaxy A70s/A70/A50s/A90/A20s/A80/A60/A40s/A8s/A9s/A6s/A9 Star/A9 Star Lite, Samsung Galaxy M30s/Fold/S20+/S20, Samsung W20, Galaxy Tab S6/S5e/S4/S3/S2/A 2019/A/A2017/A2016/E, etc.
How to recover deleted photos from SD card in Android phone?
1. Install and launch Samsung Data Recovery on your computer, and enter in Android Recovery module from the toolbox.
2. Choose SD Card Recovery mode on the top menu, take out SD card from Android phone and insert it to the computer via an SD card reader. Then click Next on this program, tick the disk drive you wish to scan and tap Next below to start scanning.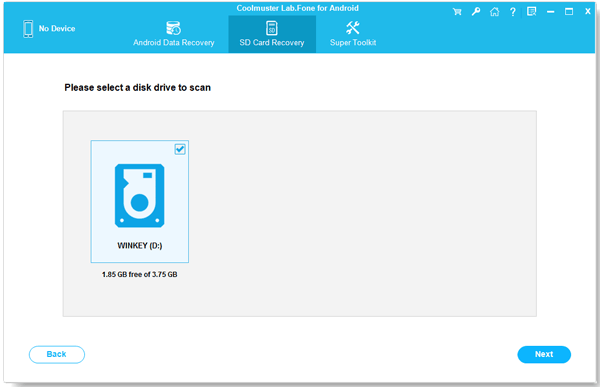 3. Recover deleted photos from Android external storage. After scanning process, select Photos folder from left window, check wanted photos from right window and hit Recover below to finish SD card recovery for Android.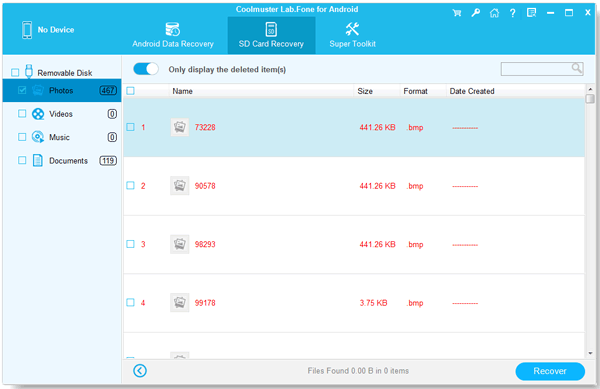 Also read: How to find the recycle bin on an Android device to restore deleted files directly? All you want to know is in this article.
Bonus: How to Prevent Android SD Card Data from Losing Again?
So you have known how to recover deleted files from memory card in mobile, in order to prevent Android SD card data from losing again, there are a few useful tips for you: First, format a new SD card when you store nothing in it and after you have saved data to it, try not to format it. Second, safely eject SD card from the device before removing it. Third, turn off the device before you remove SD card to avoid sudden corruption. Forth, avoid running SD card when your device is in low battery.
However, the above suggestions only tell you how to use SD card correctly to avoid sudden data loss wherever possible. To completely avoid losing important data from SD card, you'd better make a backup of all important data. And here the recommended SD card backup app is Samsung Messages Backup, with which you can backup and restore overall Android phone data selectively or in one click.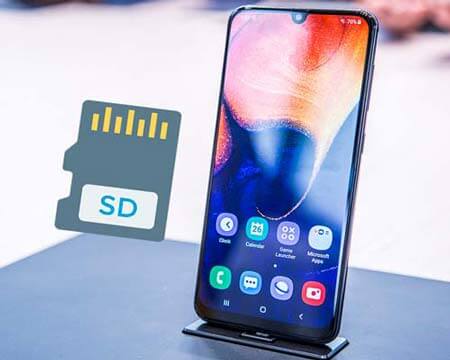 Wrapping Up
The above is all about how to conduct memory card recovery in mobile. To successfully recover deleted files from SD card of Android, only using your mobile phone is not enough, you need a professional micro SD card recovery software for Android. Looking through the whole Android app market, you will find only Samsung Data Recovery is the best tool for SD card recovery for Android, since it is absolutely secure, green, ads free, easy to operate and widely compatible with most Android devices and file formats.
Besides, if you wish to backup your Android SD card, you can also select Samsung Messages Backup. Well, if you encounter any difficulty during use, feel free to leave a comment below.
Related Articles:
How to Recover Deleted Photos from SD Card?
How to Recover Android Data without Root?
How to Retrieve Contacts from SIM Card with 3 Useful Methods
[Incredibly Easy] Recover Deleted Photos on Android with 3 Effective Methods
Samsung Galaxy Recovery - How to Recover Deleted Files from Samsung Galaxy in 2023?
[Great Recovery] How to Recover Deleted Files from Android? 3 Wonderful Ways