Summary
Want to transfer data from one OnePlus to another? Are there lots of images, songs, documents and more on your OnePlus phone? It was a pain to transfer data on OnePlus devices in the past, but from here on out, you will get 5 ways on OnePlus transfer. It's believed that you can make it without hassle.
Part 1: How Do I Transfer Data from One OnePlus to Another with OnePlus Transfer Software?
To quickly achieve OnePlus to OnePlus file transfer, you can make use of this OnePlus file transfer, Samsung Data Transfer. It is capable of copying what you want from one phone to another in 1 click. A truly time-saving tool, right? And what's more amazing, it supports almost all the data types and mobile handsets. Please check its features out in details below.
Main features and highlights of this OnePlus data transfer software:
- 1 Click to transfer contacts, call logs, text messages, photos, videos, music, documents, and apps from OnePlus to OnePlus.
- Support USB and Wi-Fi connections on OnePlus to OnePlus transfer.
- Not only support Android to Android transfer, but also iPhone to iPhone, iPhone to Android, and vice versa.
- Brief and user-friendly interface helps you operate without trouble.
- Support many file formats, such as PDF, EPUB, JPG, PNG, TXT, XML, and so on.
What's more, it works with most mobile phones/tablets, such as OnePlus 8 Pro/8/7T Pro/7T/7 Pro/7/6T/6/5T/5, Samsung Galaxy S23/S21/S20/S10/S9/S8, Sony Xperia 5 II/Xperia 5/Xperia 1 II/ Xperia 1/Xperia 10 II/, HTC U20/U12 Life/U12+/U11, Xiaomi, OPPO, Vivo, Huawei, ZTE, Google, etc.
Download the OnePlus data transfer program for free below.
How do I transfer data from OnePlus 5 to OnePlus 7T in 1 tap:
Step 1: Install the Program
When downloading the transfer software on the computer, please install and launch it directly.
Step 2: Connect OnePlus Phones to Computer
Next, please connect both OnePlus devices to the computer with USB cables, and enable USB debugging mode on them. The program will recognize them in no time.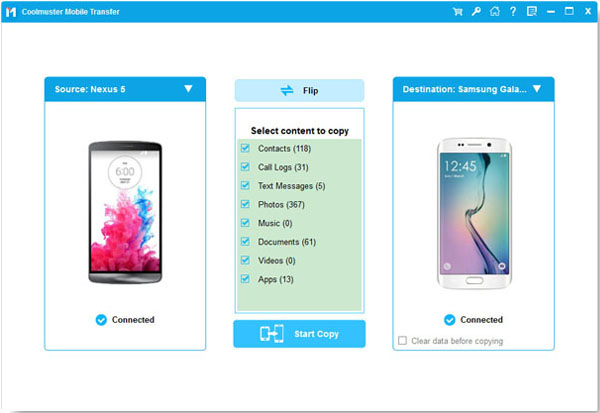 Step 3: Transfer Data from OnePlus to Another
Now, please select the data types you want on the central panel, and tap on the "Start Copy" icon to initiate the transfer process.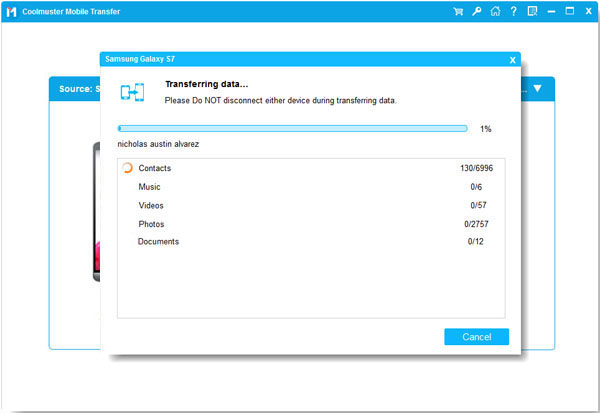 Bonus: How to transfer data from OnePlus to Samsung? With these 4 excellent ways, you can do it without trouble.
Part 2: How Do I Transfer Data from OnePlus to OnePlus Using OnePlus Switch?
OnePlus Switch is another quick transfer tool you can choose. It can also migrate multiple file types from the old OnePlus phone to the new one. However, it can't move data to the target device if it's not OnePlus. And if the memory is too full on your phones, it will fail to transfer files, so please confirm there is sufficient storage space on the cell phones.
How to use the OnePlus Switch app to transfer data:
Step 1: Open OnePlus Switch on Two Phones
Please enter the application on both mobile phones. If needed, you can download it from Google Play.
Step 2: Set the App Up and Connect Phones
- Click the "START" icon to allow it to scan your data out on the sending device. Then click the "I'm a new phone" option and select the "OnePlus" on the receiving device.
- Next, scan the QR code for a connection between two OnePlus phones.
Step 3. Choose Data to Transfer
Please the data you would like to transfer and tap the "START" button to begin sending data to the receiver. After a while, you will get the data on the new OnePlus phone.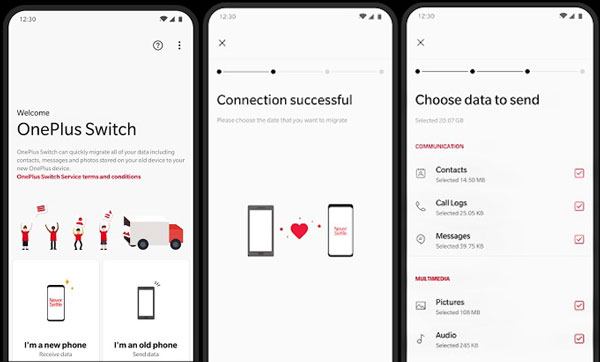 Read also:
Stored many photos on your OnePlus phone and want to transfer them to the laptop? Maybe these 4 fast tips will give you a hand.
Of course, you can get help with these approaches to smoothly move data from OnePlus to an iPhone.
Part 3: How to Transfer OnePlus Files to Another Using Google Account?
Different from the previous ways, using Google account to transfer OnePlus files needn't use any app, but your Google account and adequate cloud space. Thus, please make sure there is enough memory on your Google account to sync your files from OnePlus to OnePlus.
How to transfer OnePlus to a new phone via Google account:
Step 1: Back Up Data to Google
To sync your files to Google, please open the Settings app. Then tap the "System" > "Backup" option, and enable the "Back up to Google Drive" icon. And click the "Account" icon to add your Google account here.
Step 2: Add Google Account on the New OnePlus Phone
Next, please add the same Google account on the new OnePlus phone: enter the Settings app and click the "Accounts" > "Add account" > "Google".
Step 3: Restore Data to the New Phone
Go back to the page of "Accounts", and click the "Google" option. Then tap the "Menu" icon on the upper right, and choose the "Sync now" icon. The data will be synchronized on your new OnePlus device.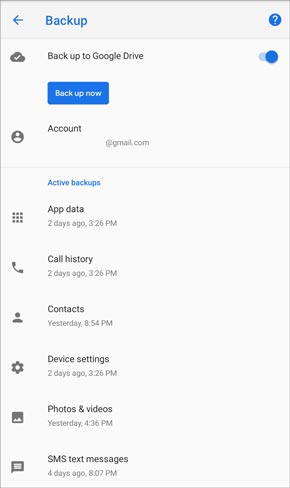 Further reading:
As long as you recover the deleted files from your Android phone in time, you will regain them possibly.
Check this guide for OnePlus to Mac file transfer. It will help you move files without any trouble.
Part 4: How Do I Transfer Data from OnePlus One to Another via AirMore?
To finish OnePlus data transfer, you can choose AirMore as well. It has a phone transfer function that can assist you to move files from one OnePlus to another without effort. Furthermore, there is no need to connect your devices via a USB cable, so it is really convenient.
How do I transfer data from OnePlus One to OnePlus using AirMore:
Step 1: Install AirMore
Please install and run the app on both smartphones. Don't forget to ensure your phones are connected to the same network.
Step 2: Connect Two Phones
Click the "More" option at the bottom and select the "Phone Transfer" feature. The app will begin to search for nearby devices. Once your device's avatar shows up on the screen, please click it for connecting.
Step 3: Select Files to Transfer
After connecting, please select the desired files on the old OnePlus phone, and hit on the "Send" icon. AirMore will send the selected files to your OnePlus phone immediately.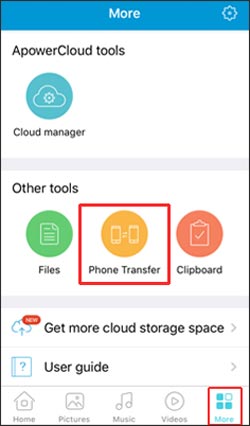 Maybe you need: Wish to manage your Android music on the computer? Please try the Android music manager here, and you will make it soon.
Part 5: How to Transfer OnePlus Data to PC in 1 Click?
The last approach is to transfer OnePlus data via your computer in 1 click. Using this OnePlus backup software - Samsung Messages Backup, you can not only transfer files from OnePlus to the computer, but also restore the backups at any time. Also, you can use it to move data from OnePlus to OnePlus. In a nutshell, you can kill two birds with one stone.
How to transfer OnePlus data to PC with OnePlus backup software:
Step 1: Download the Software
From the beginning, please download the backup program on your computer, and then double-click to install it on the desktop.
Step 2: Link Your OnePlus Phone to the PC
Next, please link your phone to the computer with a USB cable, and enable the USB debugging feature on the phone. It will recognize your phone at once.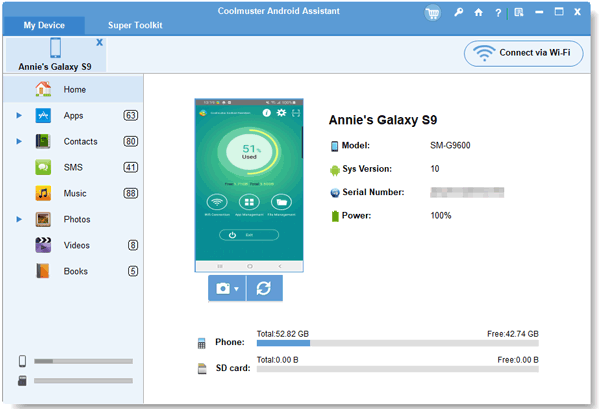 Step 3: Transfer OnePlus to PC in 1 Tap
Then click the "Super Toolkit" tab on the interface, and choose the "Backup" option. You can select data by category on the pop-up page and click the "Back Up" button to start the transfer procedure.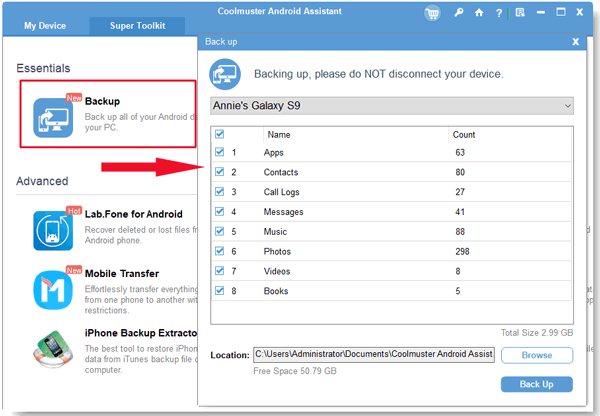 You might like:
If you want to transfer data to the new OnePlus phone, please choose the "Restore" option on the "Super Toolkit" interface. It can transfer the backup data to your phone.
By the way, this post has offered 4 effective ways to send data from an iPhone to OnePlus. If needed, you can take a look.
Final Thoughts
With the detailed steps described above, OnePlus transfer becomes easy, doesn't it? There is no doubt that all of them can achieve the transfer, but if you want the fastest one, please select this OnePlus transfer software - Samsung Data Transfer. It is a veritably efficient migration tool that you can copy data in a short time. Let's give it a try.
Related Articles
OnePlus Backup to PC: Back Up OnePlus with 4 Ultra Approaches
[Incredibly Easy] Recover Deleted Photos on Android with 3 Effective Methods
How to Back Up and Restore Android Phone/Tablet on Computer? (5 Ways)
How to Transfer Text Messages from Android to Computer in 7 Powerful Methods?
[Best Guide]How to Delete Photos from Android Phone Permanently in 4 Ways
[5 Best Ways] How to Transfer Music from iPhone to Android in Ease