Summary
Struggling to organize your files and folders on your Android device? It can indeed be a tiresome task. But it shouldn't be. With the best file manager for Android, decluttering your device and keeping all your files in check is as easy as pie. Thanks to a user-friendly interface, file managers give users an easier way of creating, copying, renaming, moving, and deleting files and folders.
Managing your device's storage is vital, especially if you have a lot of data to keep track of. File managers make it possible since they keep everything tidy and organized on your device. When choosing an Android manager, you must consider your needs and preferences. Choose an app that offers cutting-edge features, like identifying big files eating up storage space with built-in cleaning functions, or go for that one that can easily connect to cloud services and other computers.
As you evaluate the best file manager apps, consider how user-friendly they are and if they will work on your device. Choosing a suitable app for your needs will let you enjoy a streamlined experience. We have compiled a list of the top-rated apps, complete with all their pros and cons, so you can make an informed decision. So go ahead and take a look. With the right file manager app, maintaining and organizing your files will be simple.
Part 1: Importance of File Manager for Android
A file manager on Android assists users in managing all their files. It can allow users to edit, copy, view, or delete their files on their devices. As such, it's a must-have program for any smartphone owner. Previously, it was known as Windows Explorer on PCs and Finder on Mac computers.
With a File Manager, you have total control over your data, from creating new items to renaming existing ones, copying them or moving them around. Even deleting unwanted files or searching through countless documents can be easily done.
File manager apps allow you to customize file attributes and properties. Current file managers don't just manage local files; they can also be connected to multiple cloud storage services like Google Drive or Dropbox, allowing you to monitor your folders from various resources.
Part 2: Best File Manager for Android [Top 10 Options]
Many file manager apps are available and finding the right one that suits you can be hard. We're here to simplify your search by providing you with the top 10 file managers for Android. You can decide on the app you can use after analyzing its features, strengths and weaknesses. All of them can do the basic task without a problem, so consider every detail highlighted.
1. Practical File Manager for Android - Samsung Messages Backup
This Android manager - Samsung Messages Backup, tops as the best file manager for Android. It's designed specifically to assist you in managing your Android files on the computer. The app lets users back up and transfer files, and delete and organize data in one place.
The File explorer for Android is certainly easy to use. You can back up and restore text messages, contacts, videos, photos, apps, and more between your Android device and computer. Besides, it can display all your Android files by category on the interface. And you can directly edit your contacts' info, song playlists, photo albums, and more.
Moreover, it supports almost all Android devices, so in terms of compatibility, you are well covered. If you want a tool that does more than file management, never miss the best Android file manager.
Key features of this Android file manager:
- Manage all Android data, including music, pictures, SMS, contacts, videos, books, etc.
- Selectively export and import the files you want from and to an Android device.
- Supports SMS forwarding, sending, and deleting directly on the computer.
- Back up and restore data on Android without any hassle.
- Support many Android devices such as HTC, LG, Huawei, Samsung, Xiaomi etc.
- Work on both Mac and Windows computers.
Pros:
- Support connecting your Android to your computer with a USB cable or Wi-Fi.
- Enable you to try some of the features for free.
- Have Windows and Mac versions.
- Don't contain ads.
- Support various data types.
Cons:
It requires you to pay for the license to get the full function.
Price:
- Startat $29.95.
Download the file manager for Android on your computer.
Here's how to use this file organizer for Android on a PC:
Step 1: Install the Android file manager on your computer, and then launch it. Afterwards, choose the "Android Assistant" module. Now connect the Android to the PC with a USB cable.
Step 2: Turn on USB debugging if it's not turned on. Once the device and computer connect successfully, your device will show on the main interface.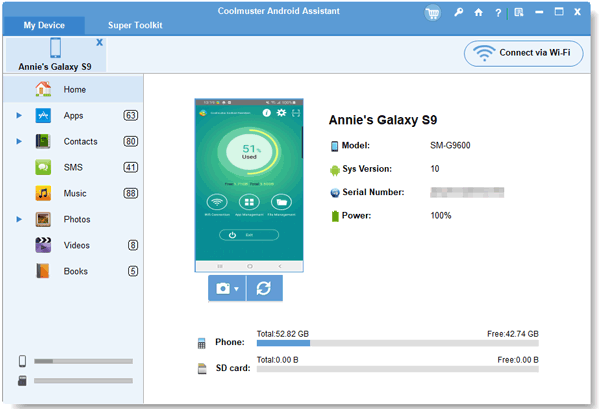 Step 3: Start managing your files after previewing and selecting a file type you want from the left panel. Then they will be listed on the interface. You can delete, edit, export/import your files with the top menu. Besides, if you want to back up your Android files in 1 click, please tap the "Super Toolkit" tab.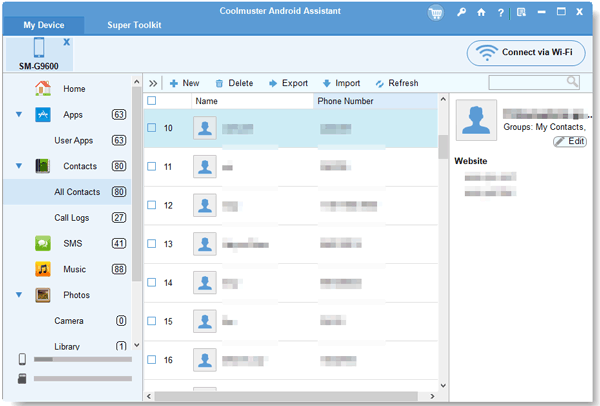 Read also: Android Manager for PC: Manage Your Android Phone on the PC Easily
2. Files by Google
Google's Files app has risen to higher levels since its debut in 2017. Now it's a comprehensive file manager app for Android with extraordinary features which comes in a beautiful design with convenient accessibility, making it easier to manage your files.
Importantly, Files by Google brings an effortless and enjoyable experience while browsing your phone's storage to locate, share or organize any content that has been downloaded to the device. The app lets you peruse folders, categorizing items into documents, videos, images, and more. To ensure the utmost security of your data, it also enables you to store sensitive materials in a Safe Folder that is fully encrypted with a password.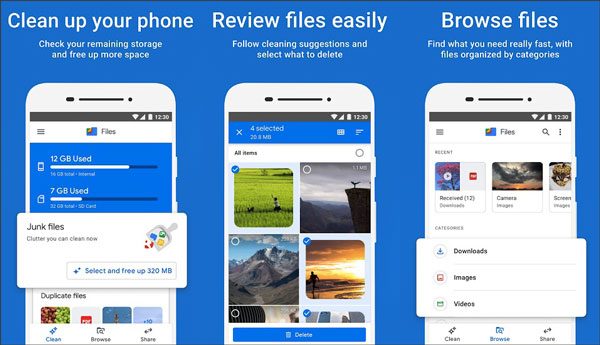 Key features:
- Frees up space.
- Offline file sharing.
- Files backup.
- Built-in file sharing
- Google Photos integrated.
- Safe Folder to keep files.
Pros:
- Very clean user-interface.
- Let you back up files to the cloud.
- Suggest various ways to free up storage.
- You can share files with devices nearby.
Cons:
- Cannot create shortcuts on your Home screen.
- Cannot resume when a file fails to share.
Price:
- Free.
Learn more: If you want a manager for your Samsung phone and tablet, please open this guide to refer to the given 8 apps.
3. FX File Explorer
Having been around since the early days of Android, FX File Explorer is one of the best file explorer for Android that's jam-packed with features and continues to be one of the most sought-after file explorers on Play Store. The app is about maintaining your privacy; it has no ads, analytics or trackers. Plus, its design follows the renowned Material Design guidelines.
This file explorer Android app has many features, from all the major file management tools to a dual-pane view. With its text editor, encryption support, and shell script executor, it is an ideal choice for anyone looking for a comprehensive file manager.
Web Access is an exciting new feature that makes it easier to move files between your phone and computer. With the simple drag and drop of folders, you can swiftly transfer items from one device to another. Plus, with streaming capabilities for music playlists, experiencing entertainment on your devices is possible.
Upgrade to FX+ and unlock a full set of features to take your data transfers to the next level. Enjoy support for the major cloud storage services, network access with FTP, WebDAV, SFTP, and SMB protocols and file transfer capabilities between devices using Wi-Fi Direct or web access.
Key features:
- Support Web Access and dual-pane view.
- Text editor and shell script executor.
- Encryption is supported.
- Support encryption and cloud storage services.
Pros:
- UI is easier to use.
- Many customization options.
- Very easy to switch from one window to another.
- Privacy focused.
- No ads and analytics.
Cons:
- Sometimes it can copy files slowly.
- It's challenging to choose multiple files.
Price:
- Free.
You might need: 8 Fabulous Moborobo Alternatives to Transfer and Manager Android Files
4. File Commander
Keep your files organized with File Commander. This handy program offers a range of management tools and access to cloud storage accounts, local networks, and FTP servers. With just one look at the customizable home screen, you can immediately see all the places where your files are located - and easily add or remove locations at any time.
This Android file manager for PC makes it even simpler to keep up with files on Android phones and tablets. With the PC File Transfer tool, users can see their Android file system from the web browser on a computer. Still, you can do everything from deleting files to creating folders.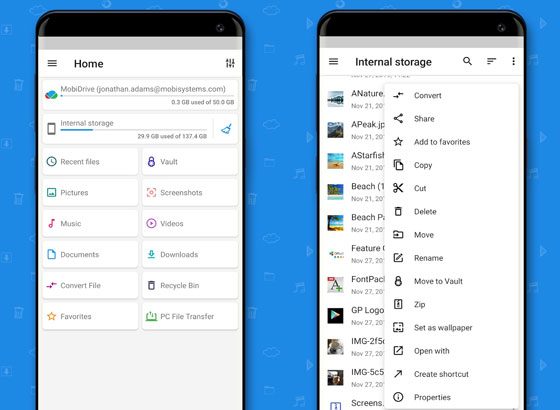 Key features:
- Help you hide your important files in the vault.
- It is also a storage analyzer.
- There is a recycle bin.
- Support file convertion.
- 5GB Free storage on MobiDrive.
Pros:
- You can access tiles from the home screen.
- You can access your files from your PC.
Cons:
- It might be challenging to move multiple files.
- Require a premium version for file format conversion.
- Annoying ads to upgrade to Premium.
Price:
- Free to start but not the premium version.
See more: Want to import your songs to your Android device? Then you can use these 5 easy approaches.
5. Cx File Explorer
Cx File Explorer has a simple and intuitive interface that makes it easy to browse and manage files stored on the device or in the cloud. In addition to being a file manager, Cx File Explorer displays a visual storage analysis of the device and is also an app manager.
This file manager for Android phones also analyzes the storage space on the device and lists the amount of storage used by file type, the largest files stored on the devices, and cache files. The storage analysis also contains tools to delete and move these files.
For anyone seeking a free file manager for Android with an uncomplicated yet modern UI, Cx File Explorer is the option. It offers basic features and supports many cloud storage services and shared storage servers like FTP or SMB.
Users like this app's dashboard, which allows quick location of files. With an app manager included in this free file browser with no ads or additional purchases, it is surely one of the best options out there. Although it may not be a powerhouse compared to other available browsers, its robustness and lack of extra costs make up for any shortcomings.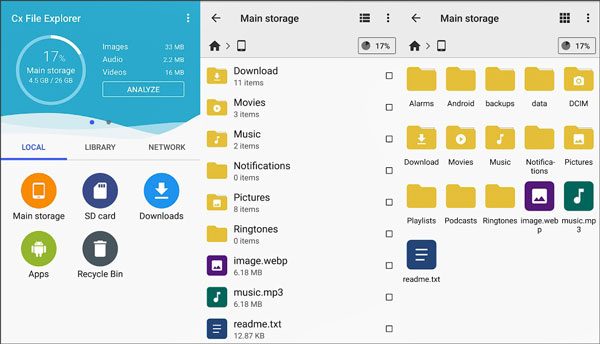 Key features:
- Organize files & folders.
- Analyze and manage Android storage with ease.
- Material design UI.
- Manage apps as well.
- Cloud storage file access.
Pros:
- Come with useful features.
- You can compress your files into ZIP format.
- Support connecting to cloud storage, local networks, etc.
Cons:
- Don't show the hidden files.
- Can't favorite the files and folders.
- Moving files from your phone to your PC is slower.
Price:
- Free.
6. ASTRO File Manager
Boasting a smooth, user-friendly interface that brings back fond memories of Windows Explorer, Astro file manager for Android is an app that has stood the test of time. With its powerful capabilities to manage cloud storage systems and external and internal files with easy shuffling, moving and deleting features, it's no surprise why this classic app remains popular amongst users today.
You can seamlessly sync and share your files across multiple cloud storages like Google Drive. Plus, all your data is conveniently compressed into ZIP format for easier storage. Additionally, restoring your files with Astro is a breeze if you ever have to reset your device. The best part? Not only does it come ad-free, but it also is completely free.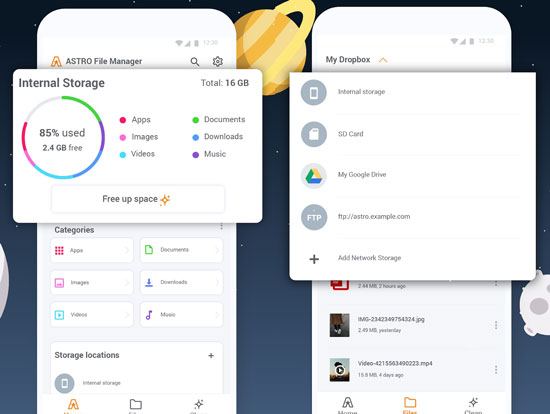 Key features:
- Integrated cloud storage systems.
- Supports file sharing to the cloud.
- SD card and app management are supported.
- Allow archive extraction.
Pros:
- You can back up applications to an SD card.
- Allow connecting to cloud storage services.
- You can favorite files and folders.
- No ads, and it's free.
Cons:
- No LAN file access.
- Invasive usage tracking.
Price:
- Free.
Perhaps you need: Manage Android Phone with ASTRO File Manager Alternative
7. Amaze File Manager
Amaze File Manager is a modern, open-source application that ensures an efficient file browsing experience for users who only need to perform basic tasks. It offers countless features while still keeping the interface light and user-friendly. Amaze features Material Design, an app manager for easy uninstallation of apps, SMB file sharing, a root explorer option and more. With only the essential features, this application is lightweight and uncluttered. Not to mention it's free, with in-app purchases available.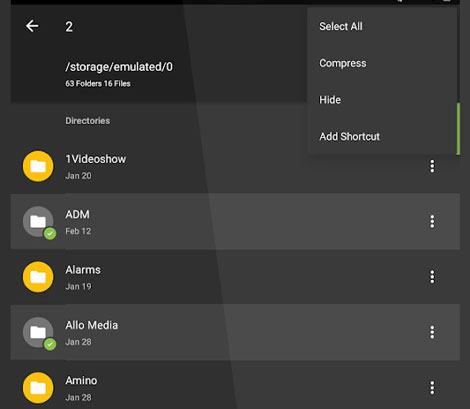 Key features:
- Support SMB file sharing.
- Have Option for root explorer.
- Open source and material design.
- Support drag-and-drop gestures.
- Many themes with icons.
- Nice basic features like cut, delete, copy, compress, etc.
Pros:
- Very easy to use and reliable.
- It's free with in-app purchases.
- Lightweight.
- easy to uninstall apps.
Cons:
- It's reported to sometimes crash when using it.
- Bring pop-ups to use its new features.
Price:
-Free with in-app purchases.
8. Solid Explorer
The Solid Explorer application has a huge fan base, which makes it one of the best free file manager for Android. Not only is its material design aesthetically pleasing, but you can also personalize and customize this interface to ensure it fits your style perfectly. In addition to being efficient and dependable, it provides tons of theming options.
If you're looking for an efficient and reliable file manager, Solid Explorer is a perfect choice. Its dual-pane layout will help you organize your files in no time. Plus, it keeps your data secure thanks to its strong AES encryption, which will keep your sensitive information in a protected folder.
For more efficient storage usage, you can use the storage analyzer, which identifies your largest files and folders. The basic functions such as copy/paste, cut, compress/decompress, batch rename, and the extract is all supported by the system. Besides, the in-built trash bin allows for easy recovery of deleted items.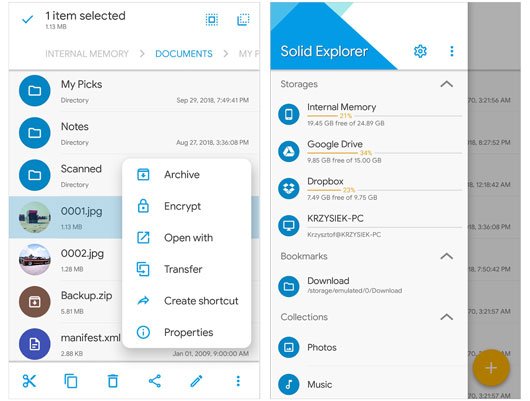 Key features:
- Have customization features.
- Theming features are available.
- AES encryption.
- Storage Analyzer.
- In-built trash bin.
Pros:
- A trash bin to recover deleted files.
- Secure with its strong AES encryption.
Cons:
- SMB connections are slow.
- Have no native Office document viewer.
Price:
- Free.
9. Autosync
Do you want to effortlessly keep your phone's files and folders in sync with the cloud? Autosync is exactly what you need. It's a hassle-free way of ensuring that all the data on each device is the same. Autosync is available separately for Dropbox, Google Drive and OneDrive. It allows you to pair folders on your device with those in the cloud storage account.
Just like cloud storage services do for desktop computers, this app will provide you with background syncing. All you need to do is set up a folder pair, and the rest happens automatically. Any new files saved into your phone's folder will be uploaded directly to the cloud, and any files added in associated folders online will be downloaded onto your device. Alternatively, you can also set up one-way synchronization in either direction and create the wildcard filters if you want to limit the file types that are being synced.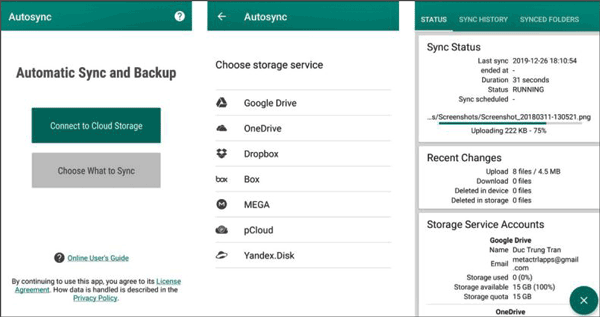 Key features:
- Configurable autosync interval and background syncing are accessible.
- Support one-way synchronization.
- Have wildcard filters.
Pros:
- Faster to set up.
- Two-way syncing of files.
Cons:
- May prevent users from using it for some time in certain networks.
Price:
- Free with in-app purchases.
10. MiXplorer
MiXplorer Silver is a wonderful Android file manager apk that comes with lots of customization features, including the power to tweak the themes. The application allows users to enable/disable the menu options or call buttons. Moreover, it supports tabbed browsing and a dual panel in landscape mode.
MiXplorer has a search function that's quite powerful for locating files quickly. The custom USB OTG driver to read external drives. Also, you get to use various cloud storage providers such as Google Drive, Yandex, Dropbox, and more.
Other features worth mentioning are; support for file management, root access, file encryption, compress tool etc. Clearly, it is one of the best file manager Android with rich features.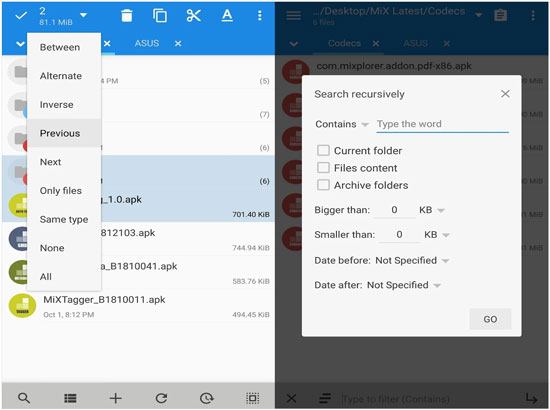 Key features:
- Support Tabbed browsing and dual panel.
- Have some customizable features.
- Provide an HTML and font viewer.
Pros:
- Offer many customizable theme options.
- Have a very powerful search function.
- Support many cloud providers.
Cons:
- Lack of root support.
- Don't have the basic features.
Price:
- Free.
Conclusion
Hopefully, you can now make the right choice on the file organizer for Android to use. A good file manager is one that meets your specific needs and is easier to use. Samsung Messages Backup will give you a more stable and convenient user experience when managing all your Android files on your computer. Make sure you check it out.
Related Articles
Quick Guide: How to Back Up Android Phone in Different Ways [Easy]
How to Recover Deleted Screen Recording Video on Android via 3 Easy Methods
How to Add Contacts on Android Phone with Easy Clicks [5 Ways]
How to Move Files to SD Card on Android Rapidly (Latest Tutorial)
How to Transfer Files Between Android Devices via Wi-Fi | 4 Easy Ways
Easily Clear Temp Files on Android Devices [Step-by-step Tutorial]