Summary
Is your Android device running out of space? Android devices typically come with more internal storage, but later, it runs out of space. You start having problems like your favorite song missing or your latest game suddenly crashing. At this point, you have an option that needn't delete your data - to move files to an SD card on Android.
An SD card is a small, solid-state memory card inserted into your device to store media and files. It's about the size of a fingernail but has a lot of storage. You can get an SD card with 128 GB storage space, enough for thousands of photos, videos, and songs. To put it simply, an SD card is an excellent data storage device that can store all of your files safely. As such, you should know how to move files to an SD card Android and maximize your storage.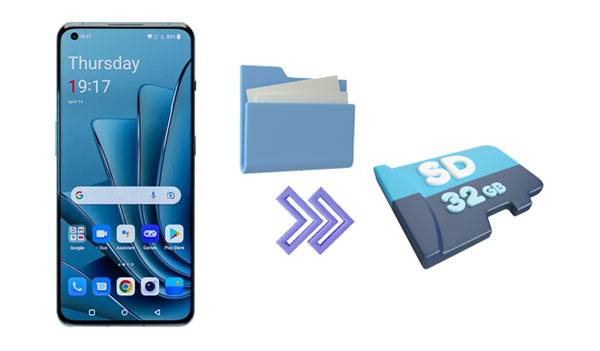 Method 1. How to Move Files to SD Card on Android via SD Transfer Software [1 Click]
To help you transfer files to an SD card on Android, you will need an SD transfer tool - Samsung Messages Backup. This is a comprehensive program to transfer Android files. With it, you can transfer media files to your micro SD card in 1 click. It will not alter the quality and file formats.
So, what can it transfer? Powerfully, you can transfer your photos, contacts, messages, music, videos, and more to your SD card at one time. Also, you can preview and select the files you want to move before transferring them. If you want to back up and restore your Android files on a computer, this software can always help you. What's more, this software is widely compatible with Android phones, such as HTC. Motorola, Huawei, Samsung, etc.
Here are the excellent features of this transfer software:
- Transfer files from Android to an SD card with one click.
- Move photos from your Android SD card to a computer with ease.
- Support diverse file types, including call history, SMS, apps, documents, videos, pictures, etc.
- Selectively export or import files between your Android device and computer.
- Support USB and Wi-Fi connections so that you can transfer your files via a cable or wirelessly.
Download this Android to SD card transfer tool.
Here's the guide of file transfer to an SD card via this software:
Step 1: Install the software on the computer, then enter the "Android Assistant". Connect the Android phone installed on your SD card to the computer with a working USB cable. After that, enable USB debugging, then click "Allow".
Tips: If your SD card cannot be installed on your Android phone, you need to use a card reader to connect the card to your computer.
Step 2: Choose a category after the data has been scanned, and select the files you plan to move to your SD card.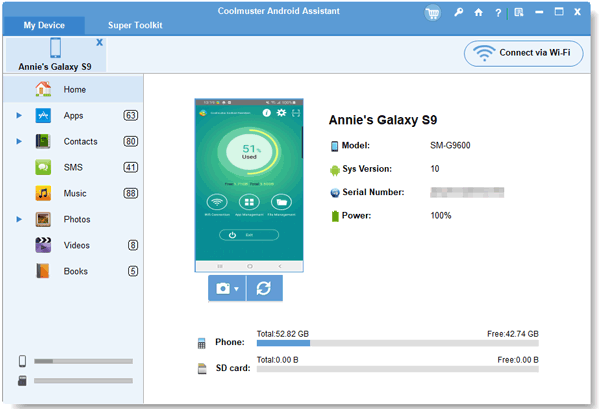 Step 3: Tap the "Export" icon, and choose the destination location to be the SD card. Then start the transfer. Once done, you can view your files by accessing your SD card.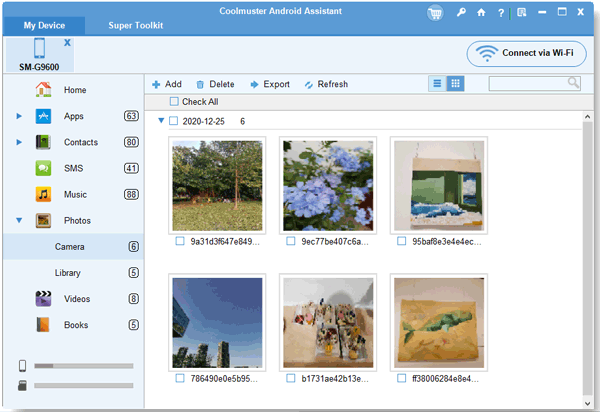 Perhaps you need:
4 Effective Ways to Back Up SD Card on Android [Best Guide]
How to Transfer Photos from iPhone to SD Card Easily [5 Proven Ways]
Method 2. How to Transfer Files from Android to SD Card Directly via File Manager
If you're looking for a simple way to move media to an SD card, File Manager is one of the easiest tools to use. File Manager is an in-built app on Android devices. On some devices, it's the My Files app, but it's the same as File Manager. Even though the transfer process isn't that quick, it's still easy.
Here's how to move files on Android via File Manager:
Step 1: Open the File Manager app from the phone. Tap on the folder for "Internal Storage" to show all folders stored on the device's internal storage.
Step 2: Look for the file to be transferred. Scroll through your device's internal storage as you click on different folders, then find the specific files to move to the SD card. Press the file to move to highlight it. You'll see the toolbar icons on the top part of the screen. Most devices give you the option to select all after highlighting one file.
Step 3: Click on the "More" button at the top-right corner of the screen to open the drop-down menu. Then choose "Move to" from the drop-down menu. Doing that will enable you to transfer the chosen files to a destination location. Choose "SD Card" as the destination.
Step 4: After that, select a folder on your SD card. Then click "OK" or "Done" to move the selected files to the SD card.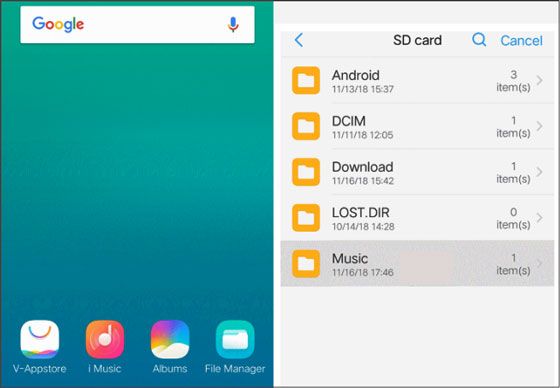 See also: How about transferring files from an SD card to a PC? If you wonder about it, open this link to get a full guide.
Method 3: How to Move Files to SD Card from Android via a Reader
If your Android phone has no slot for SD card, you can access your micro memory card and transfer files to it on a computer using a card reader. This is an easy way to import files to the external storage, but please make sure your card is accessible and readable.
Move files from your phone to an SD card via a reader:
Step 1: Insert your card into the reader, and connect the reader to your computer.
Step 2: Open "This PC" and access your SD card. Then establish the connection between your Android device and computer, and choose the "File transfers" option on the phone.
Step 3: Navigate to your phone folder on your computer, and copy the data you want. Then paste them into the folder of your SD card. Once done, check if the files are intact. If yes, remove the connections safely.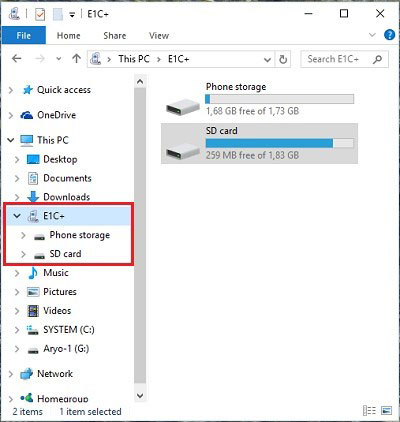 Method 4. How to Move Android Contacts to SD Card Using Contacts App
Moving contacts to an SD card is not the same as transfer media files, but it is also one of the most common problems on Android devices. You don't want to lose all your contacts when your device storage runs out of space. Most Android phones come with an in-built Contacts app that can help move contacts on SD cards.
Step 1: Open the Contacts app on your phone. Tap on the "Menu" button on the top right corner of the screen and then select Settings.
Step 2: Tap the "Import/export contacts" button and click "Export".
Step 3: Click on "Export to SD card", then select all contacts, and click "Export". As simple as that. Your contacts are now on your SD card!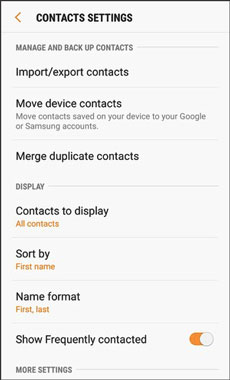 Bonus: How to change photo storage location to SD card on your Android phone?
To save internal storage space on your Android phone, you can set your SD card as the location to store your photos, as long as you can install an SD card on your smartphone. To do this, please open the Camera app, and click "Settings". Then find the "Storage location" option, and select "External storage". Next, your phone will automatically store your photos to your SD card.
Conclusion
To sum up, there are several ways to move files from an Android device to an SD card. If your phone is running low on space, remember to transfer files to an SD card right away! If you want to free up more space on your Android phone, Samsung Messages Backup is your go-to solution. It is compatible with most Android phones, and the transfer process is swift. You can complete the Android to SD card file transfer without a hitch.
Related Articles
Latest Samsung SD Card Data Recovery: Recover Data from Samsung SD Card
Desire the Best SD Card Manager? Here You are
The Best Way of SD Card Recovery for Android (Recommended)
How to Recover Deleted Videos from SD Card [Necesasry Tips]
Clean Junk Files on Android with 5 Hassle-free Methods [Newest Guide]
How to Transfer Files Between Android Devices via Wi-Fi | 4 Easy Ways