Summary
Backing up the data on your Android phone is an essential part of being a responsible smartphone owner. Regularly updating and safeguarding your important information should be one of your top priorities. Phones are susceptible to breaking, loss, and even theft. Replacing a phone is expensive, and the anxiety of not having backups for your important files can worsen the situation. It's essential for Android users back up their phones regularly to ensure the security of all data stored on them. To help you with this task, we have prepared an extensive guide on how to back up Android phones. Then you won't face the data loss nightmares anymore.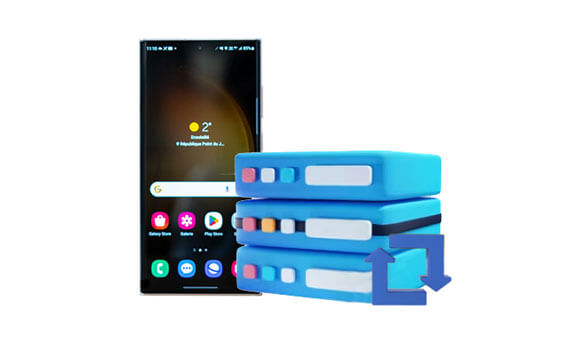 Part 1: Why Backup Android Phone
Backing up your phone is essential for preserving your data in case of any mishap. Having a backup could help you in the event that anything unfortunate were to occur, whether it be your phone was stolen, misplaced or damaged. Additionally, backing up your phone is essential when you are switching devices. Also, it's an excellent way to free up storage space if you have run out of space on Android and wish to keep all your important data on computer or cloud.
Nowadays, anyone can easily keep data in sync and back up Android phone without any technical know-how. The backup work is done automatically in the background, with little of your input when setting up the device. Plus, data restoration is straightforward; no manual data transfer or reinstalling of every application one at a time. You just have to sign into your new phone with Google information and start restoration automatically.
Part 2: How to Back Up Android Phone
"How do I back up my Android phone?" Do you manage to back up everything on Android? If yes, you are so lucky because several Android backup options are available. Whether you want to use Google, a computer or third-party software, you are covered. This way, you will make sure none of your data gets lost. Below are common ways that will ensure you carry out your Android phone backup without a hitch.
2.1 How to Back Up My Phone to Computer (3 Ways)
Way 1. Using Android Backup Software (1 Click)
How can I back up my phone data without trouble? The first and very easy way to back up an Android phone is to a computer with software like Samsung Backup and Restore. It allows you to back up all Android data at once and selectively transfer your files by category. This highly reliable professional program takes less time to transfer all your Android data to the computer, making it a popular choice among users.
Furthermore, it supports various Android data, including contacts, photos, SMS, videos, music, apps, call logs, and more. It won't lose any data during transmission. Besides, it provides you with 2 connections: USB and Wi-Fi. If you choose the USB connection, you can complete the backup without a network. As long as there is sufficient storage space on your computer, you can back up unlimited Android files.
Plus, the innovative program supports most Android phones and tablets running on Android 4.0 or higher, including Samsung, LG, HTC, Sony, Motorola, Huawei, Xiaomi, Oppo, OnePlus, and many more.
Why people choose this Android backup manager:
- Let you back up and restore all files on your Android device in just one click.
- Enable you to select the desired data types before transferring them.
- Store your Android files on your computer, and you can view and access them directly.
- Seamlessly transfer music, videos, contacts, text messages, apps, pictures, documents, call history from Android to a computer.
- Read your data only without leakage.
You can download the backup manager on your PC or Mac to start your backup.
Here's how to back up your phone to your computer in 1 click:
Step 1: Install and launch the software on your computer.
Step 2: Take your USB cable to connect your Android device to the computer, and enable the USB debugging feature on the phone. Then the connection will be done.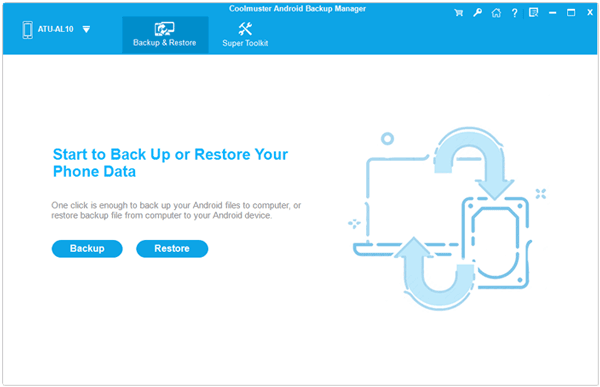 Step 3: Click the "Backup" option, and choose the data types on the interface. At last, tap the "Back Up" icon to begin transferring your selected files from your Android gadget to your computer.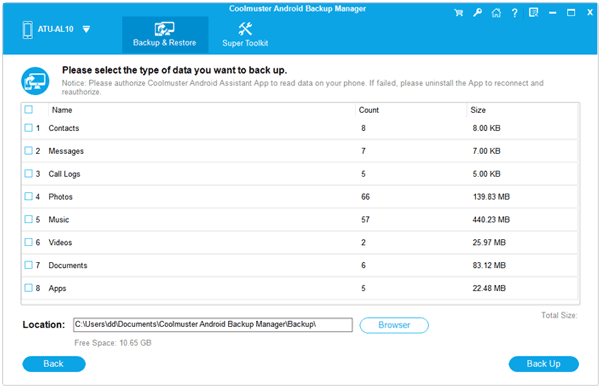 See more: Back Up Text Messages Android Device with 5 Approaches [Safe]
Way 2. Using MTP to Back Up My Phone Manually
As you know, backing up Android to PC is a local backup. Unlike cloud backup, which uploads data on remote servers which can only be accessed through the internet, local backup stores data on physical devices. Both storage methods can be beneficial when you want to protect your data from getting lost. Here are the steps to locally back up Android to PC:
Step 1: Take your USB cord to connect the Android phone to the PC. You should see a notification that the PC has detected the device. Please don't forget to choose the "Transfer files" option on your smartphone.
Step 2: Find "File Explore" on the PC's taskbar. Or you can directly search for the folder storing your files using the "Search" feature. From there, head to the menu bar on the left panel.
Step 3: Navigate to the Android files that you plan to back up, and copy and paste them to your computer by using your mouse. Once done, the backup is finished.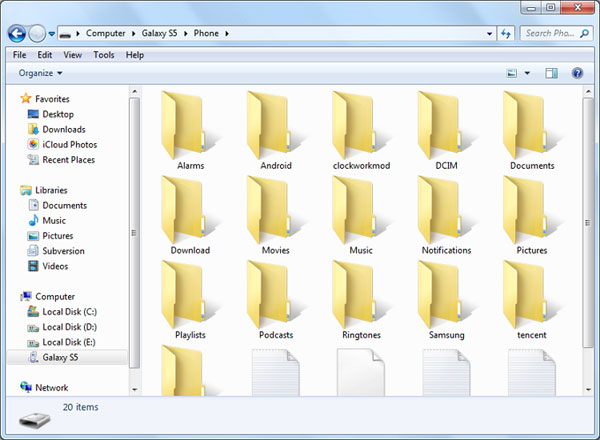 Note: Unfortunately, with the local backup, you can only view and copy images, music, documents, movies, and other downloaded files from your Android phone. If you need to back up any contact, text messages, or applications, you can use the backup software in Way 1.
Way 3. Using Android File Transfer (For Mac)
Are you a Mac user asking yourself? Then how do you back up your phone data to a Mac computer? Don't worry. It is not daunting to transfer Android files to Mac. Even though it's impossible to natively transfer Android files to Mac for backup, the Android File Transfer app is at your hand.
Before using Android File Transfer, you must ensure that your Mac is running macOS 10.7 and above and that your Android device has version 3.0 or above. After installing the program on your Mac, simply plug your phone into the computer, switch on its screen and unlock it. Then change the USB settings.
Tap on the notification and pick "Transfer files" or "File transfer". Android File Transfer should open up instantly on your Mac, granting you full access to browse your phone's storage and move whatever data you'd like.
Read also: So, what about transferring your Android contacts to a MacBook? If you need effective ways to solve this problem, open this guide.
2.2 How to Back Up Phone to Google (3 Ways)
When setting up an Android device for the first time, you've probably signed into Google with your Google account. If so, you are one step ahead of backing up your data to Google. Since you already have a Google account on Android, it will be very easy to back up your data using Google.
Way 1. Using Your Android Settings App and Google Account
Want to back up an Android phone to a Google account? Then you can make it on your phone's Settings application.
Step 1: Go to the Settings app, and click "Accounts" > "Add account" to input your Google account.
Step 2: To back up your phone to the Google account, you need to choose the "System" > "Backup" option.
Step 3: Enable "Back up to Google Drive" and click "Back up now". Then your files will automatically back up to your Google account with Wi-Fi or mobile data.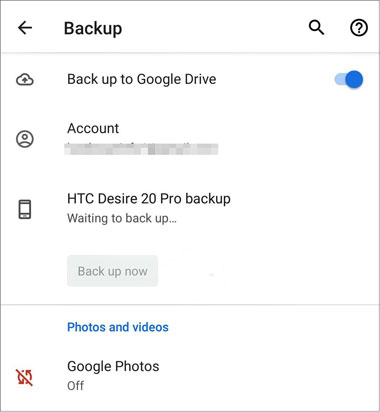 You might need: If you have an SD card, you can move your Android files to the SD card for backup. Let's check it out.
Way 2. Using Google Drive to Back Up Android Data
Google Drive is among the leading cloud storage solution because it's easier to use. With its 15GB free storage, you can easily store photos, videos, contacts, calendars and other data from your phone. You require a strong Wi-Fi or mobile data connection to back up your device to Google Drive successfully. Here is how to backup a phone to Google Drive:
Step 1: Install Google Drive on your Android phone, and open the app.
Step 2: Log in with your Gmail address and password. Then click the "+" > "Upload" icon to sync your files from the mobile device to Google Drive.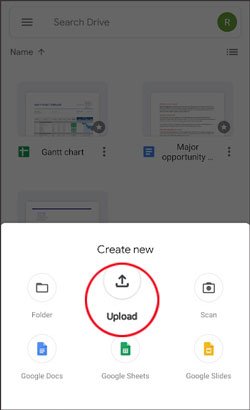 Way 3. Using Google Photos to Back Up Android Phone
Google Photos is a handy Android app developed by Google to keep and organize pictures and videos. If you want to back up your photos and videos without much hassle, you can use Google Photos. Once uploaded, they will remain in the cloud until deleted or moved to another location. This way, you can ensure your precious memories remain safe, secure, and easily accessible whenever needed.
You can access the Google Photos app remotely from a computer and another device by signing in to your Google account. The process is pretty simple. Just follow these steps to back up data on Android using Google Photos:
Step 1: Download the Google Photos application from Google Play Store if it's not on your device.
Step 2: Open the app, sign in to your Google account, and grant the necessary permissions. Navigate to the top-right corner of the screen and click on your account profile image.
Step 3: Activate the "Turn on backup" option to initiate the backup process. Then head to the "Photos Settings" option. Enable "Back up & Sync" to back up data immediately.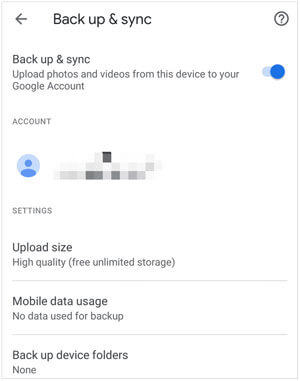 You can now wait as Google Photos automatically backups up your pictures and videos to Google. This is one of the best solutions available.
Though Google Drive and Google Photos allow Android backup, they still fall short in some aspects. There is space and file limitation as well as security issues. The free storage capacity is limited. Moreover, there's an additional limitation to storing only photos and videos on Google Photos. On top of that, if someone gets your login credentials, they can access your backup from anywhere. That could be a major security risk for anyone relying solely on this service.
2.3 How to Back Up Android Data to Dropbox
Dropbox is an awesome choice for backing up an Android for various reasons. You get 2GB of free storage, and the service enables various apps to access it. Backing up the contents of your Android device to Dropbox is simple; no need to even connect it to your computer.
We usually carry our devices with us due to their portability. As such, these devices have a lot of vital data like photos, contacts, etc., which can be kept safe on a mobile application provided by Dropbox.
Before backing up your files to Dropbox, ensure you have a Dropbox account. If not, you can create it by signing up for one on the Dropbox home page. Here's how to back up data from Android to Dropbox:
Step 1: Go to the Play Store on your Android and install the Dropbox app. Then open it and log in using your Dropbox account when asked. Or, you can tap "Sign Up" to get a new account.
Step 2: Tap on the menu icon in the upper left corner and click the "Settings" icon. Choose the "Turn on Camera Upload" option to upload all your pictures to Dropbox.
Step 3: To save additional data, simply press the "New" button, a plus icon, and choose the file you'd like to upload.
Bonus: What's the Best Way to Back Up Android Devices?
It depends on the person's needs. Many users opt for a cloud-based system with automatic backups for the ultimate simplicity and practicality. On the other hand, some people prefer to manually build their own backups and keep them offline as an extra layer of security.
When you explore solutions for backing up your device, the possibilities are seemingly endless. You'll discover many possibilities when you look into backups for your device. There is no right or wrong way of doing things; the choice is yours for your device. Your wishes and needs should ultimately guide you in which option works best for you.
However, Samsung Backup and Restore could be the better way for Android backup everything to your computer. It supports a wide variety of data and is easier to use. With it, you can easily back up personal information such as contacts, messages, photos, videos, and call logs from Android to PC/Mac. It even allows you to restore your phone data to another Android device with just a few mouse clicks.
Conclusion
Android backup is an important part of keeping your files safe and secure. With the proper precautions, you can keep your data protected from accidental loss or malicious attacks. There are multiple ways to back up Android devices, but the best option depends on your needs. We recommend using Samsung Backup and Restore because it can back up almost all files on your Android phone effortlessly.
However, regardless of your choice, remember to always have multiple copies of your data stored in different places as a precautionary measure.
Related Articles
Is WhatsApp Restoring Media Stuck on Android Phone and iPhone? Fast Repair It
How to Transfer Files from Android to PC with Original Quality
Fantastic Android SMS Recovery Apps | Easily Recover Deleted Texts from Android
Restore Android Phone from Backup via Practical Approaches [Easy Guide]
Transfer Video from Android to Android in 7 Fast Ways [Original Quality]
Detailed Guide on Switching from iPhone to Android [Must-read Tricks]