Summary
The earliest announcement of HTC One is in 2013, and part of people still uses it. Anyway, if you don't want to lose your data when the phone is malfunctioning, please back up HTC One in time. Perhaps you wanted to back it up a long time ago but had no good idea. Now you can take it easy.
This post will show you 5 HTC backup solutions with clear usage, so you can follow the guide to back up your HTC One without trouble.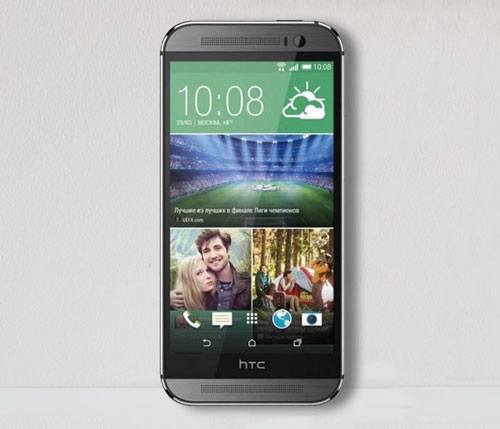 Part 1: Back Up HTC One in 1 Click with Samsung Backup and Restore
If you need quick and reliable HTC backup software, the Samsung Backup and Restore can meet your requirements. Its backup feature can help you back up the HTC One to the PC in 1 click, including contacts, text messages, photos, videos, music, apps and more. Also, you can restore the backup data to the HTC phone.
Key features and highlights of the HTC backup and restore program:
- Swiftly back up HTC data to the PC with multiple data types.
- It's easy to connect the HTC phone to the Windows/Mac computer via USB or Wi-Fi.
- Freely select the desired file types on the interface.
- Support call logs, documents, contacts, applications, music, videos, and more.
- Transfer the previous backup data from the computer to your phone.
Moreover, this program is compatible with Android 4.0 and upper, so it can not only work with HTC One but also other HTC phones and Android phones and tablets, like HTC Wildfire E1 lite/Wildfire R70/Wildfire X/Desire 20+/Desire 10 Pro/U20 5G/U12/U11, Samsung Galaxy S23/S22/S21/S20/S10/S9, Sony Xperia 1 IV/Xperia 5 IV/Xperia 10 IV/Xperia Pro-I/Xperia 1 III/Xperia 5 III, Huawei, Xiaomi, OnePlus, ZTE, and so on.
Download the HTC data backup manager for free below.
Here's how to back up HTC One to PC with the backup software:
Step 1. Install the Backup Program
Please download and install the software on your computer.
Step 2. Connect HTC One to PC
Then launch it and connect the HTC One phone to the PC with a USB cable. Enable the USB debugging feature on the cell phone. It will recognize your device.
Step 3. Back Up HTC
- Once connected, please click the "Backup" option and you can select your HTC files by category.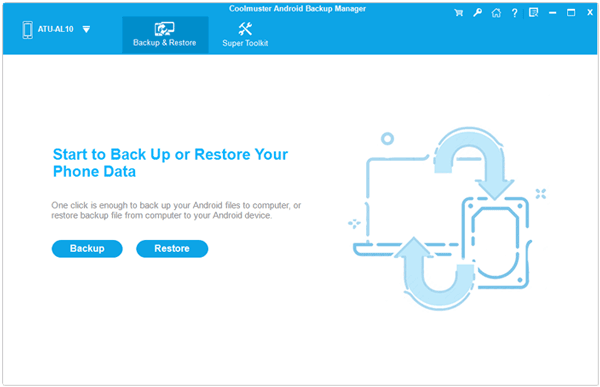 - Finally, tap the "Back Up" icon to initiate the backup process.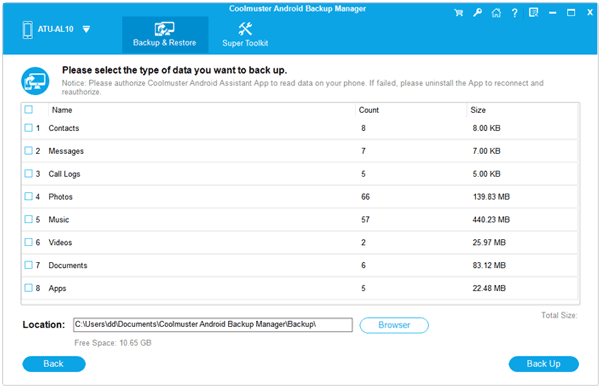 Bonus: Want to get more ways to transfer photos from HTC to the PC? This post will tell you 8 simple tips. Let's check it out.
Part 2: Back Up HTC One with Google Drive
Google Drive can back up HTC One files on the Google cloud storage wirelessly, which is the most attractive feature. Furthermore, you can directly add your Google account on the phone. As the auto backup is enabled, it will sync your data to Google Drive periodically.
Guide on how to back up HTC One with Google Drive:
Step 1. Open the Settings App
Please click the "Apps" folder on the screen and select the Settings app.
Step 2. Sign In with Google Account
Choose the "Backup & reset" > "Backup account" > "Google account" > "Existing" feature to type your Google account here. Then hit on the "OK" and the triangle icon. The "Back up my data" feature is activated.
Step 3. Begin the HTC Backup
Now, it will automatically back up your HTC data to Google Drive. If you have added your account, you can turn on the "Back up my data" icon directly.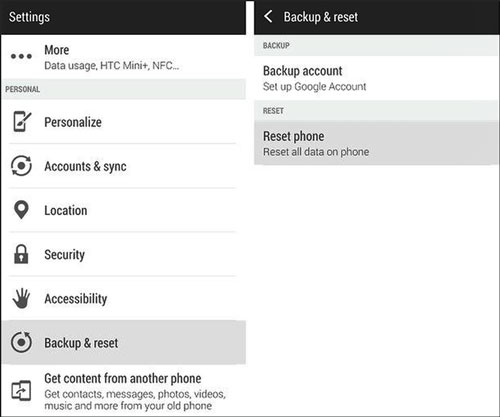 Read also:
How to get back the deleted data on your HTC phone? Don't worry. Please have a look at HTC data recovery that it will show you what you want.
Looking for a way to send your Samsung contacts to a new LG phone? You can follow this guide to send your contacts effortlessly.
Part 3: Back Up HTC One with HTC Sync Manager
HTC Sync Manager is a common multimedia transfer utility. It can back up your gallery, music, bookmarks, and other files from the HTC One to the computer. Besides, you can organize the HTC files on the computer, such as creating new playlists. However, HTC won't update it anymore, and the download will be unsupported on the HTC website soon.
Tutorial on how to back up HTC phone to the computer with HTC Sync Manager:
Step 1. Download the Software
Please download the installation package on the computer and install it on the desktop.
Step 2. Link HTC One to PC
As you link your HTC One to the PC with a data cable successfully, please click the "Home" tab.
Step 3. Transfer HTC Files to Computer for Backup
To back up the HTC One to the PC, please click the "Transfer & Backup" > "Back up now" icon to start the procedure.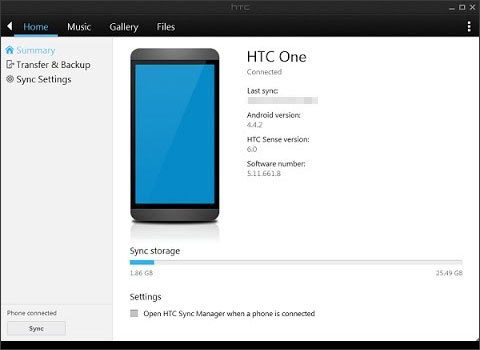 Further reading: Have no idea to transfer HTC to the iPhone? Here are 4 reliable approaches for your inference.
Part 4: Back Up HTC One with HTC Backup
Another helpful HTC backup application is HTC Backup, supporting Android 5.0 and upper. You can use it to save accounts, dictionaries, etc., for backup. If needed, you can restore your backups to your HTC One smartphone. But you can't view and transfer files selectively.
Steps on how to back up HTC One phone with the HTC Backup app:
Step 1: Download and Install HTC Backup App
You can download the app from Google Play without effort. Then install it on your HTC One.
Step 2. Enter the App
After installing, please enter it and click the "Change backup settings" button.
Step 3. Start the Backup
- You can select your HTC account or Google account as the backup location. Then switch on the "Automatic backup" feature. It will back up your HTC data over Wi-Fi.
- Also, you can begin the backup by tapping on the "Back up now" icon.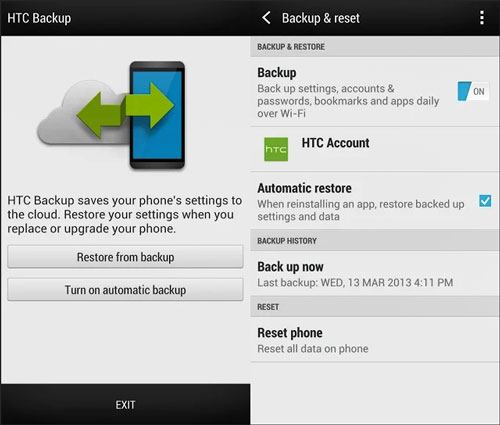 Maybe you need: When switching HTC to Samsung, perhaps you need to transfer data from HTC to Samsung. If so, this article will give you a hand.
Part 5: Back Up HTC One with Memory Card
If you dislike the previous HTC One backup tools, you can choose the last backup way, backing up files with a memory card. The maximum capacity of the HTC One is 128 GB. Therefore, you can insert an SD card on the phone and move files from HTC internal space to the card.
Here's how to back up HTC One with a memory card:
Step 1. Plug Micro SD Card
Please open the card tray with a tip and place the card correctly. Then push the tray into the slot carefully. Your phone will detect your memory card.
Step 2. Go to File Manager
Please click the Apps folder and select the File Manager that you can see your existing files.
Step 3. Move Data to SD Card for Backup
You can select the files you want to back up now. Then move them to your SD card. The backup will be finished after a while.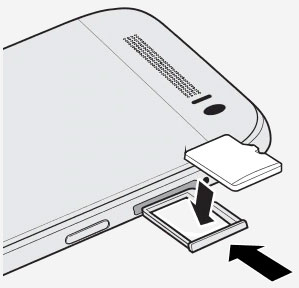 Word in the End
You have known 5 ways to back up HTC One, and the ball is on your court now. Whatever you choose, it can help you achieve the HTC backup task deftly. More conveniently, Samsung Backup and Restore can back up the whole HTC data to the computer in a fast way. It's worth a try.
Related Articles
ZTE Backup and Restore: 4 Fast Backup and Restore Ways You Can Choose
[Essential Guide] Transfer Contacts from HTC to iPhone with 4 Superb Tips
How to Print Out Text Messages from Android Phone? [4 Methods]
6 Ways to Transfer Files from Android to PC via WiFi [Full Guide]
4 Proven Ways on How to Transfer Photos from Computer to Android (Step-by-step)
How to Back Up Moto X: Motorola Backup and Restore (Effortlessly in One Click)