Summary
HTC phones have become a bigger part of our day-to-day lives. We feel attracted by its long battery life, front-facing camera, refined design, and many other high-end features. If you've got a new brand HTC device, obviously, you will want to transfer all data from your old phone to the new one. This is where HTC Transfer Tool comes in handy.
This app allows you to easily transfer your data from an old phone to a new HTC phone. This guide will help you know all the basics about the HTC transfer tool and alternative tools you can use when it fails.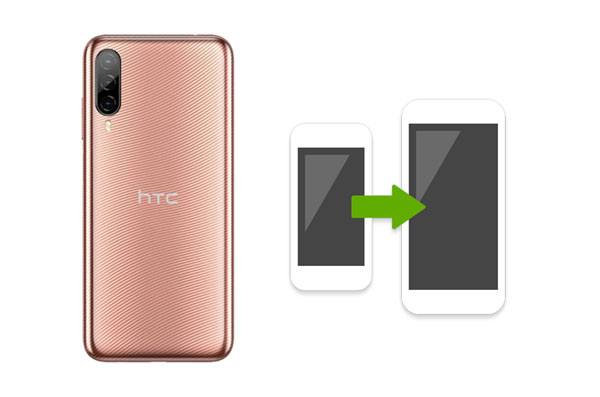 Part 1: How to Use HTC Transfer Tool to Transfer Files to HTC Devices
Transferring data from any Android phone to HTC devices will be painless if you have the correct toolkits. In fact, the process will be very quick, provided you follow the right procedures when using the HTC transfer tool. However, is HTC Transfer Tool not transferring messages? Actually, it can transfer messages. Please don't worry about your messages.
Let us figure out how to use this HTC Transfer Tool app to transfer your files from an Android phone to your new HTC phone:
Step 1: Download HTC Transfer Tool on your Android and HTC phone. Then install and open it. Pair the phones with Bluetooth or any wireless connection. Get the PIN code on both devices, which is supposed to be similar on both devices.
Step 2: Take your new device, head to the "Settings" app, click "Transfer content" and then select your new HTC phone.
Step 3: Choose all data you wish to transfer and click "Start". Wait for some time for the process to finish, which depends on the file size. Once done, click on the "Done" option and close and app. Your files have been successfully moved to your new HTC phone.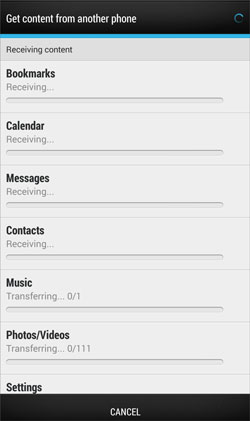 Part 2: Best Alternative Apps to HTC Transfer Tool
HTC transfer tool is an official app designed by HTC to transfer data from an old phone to a new HTC phone. The app is exclusively designed for HTC phones. But what if you want to transfer files from, let's say, an iPhone to your HTC phone or other smartphones? HTC Transfer Tool doesn't support that the destination device is not HTC. Thus, you can only move data to HTC phones via this app.
It does not support iTunes, either, so chances are you cannot use the HTC transfer tool. In that case, using the alternative apps to the HTC transfer tool will be wise. Continue reading to know the best alternative apps to the HTC transfer tool you can use.
2.1 Samsung Data Transfer - The Best Alternative App
Thoughtfully designed and meticulously crafted Samsung Data Transfer would ease off every aspect of transferring data to your new HTC phones. The app would let you send data between two devices that operate on different operating systems.
That's to say that even when you want to transfer files from an iPhone to your new HTC phone and vice versa, you can still achieve that. The app supports Android 4.0 or upper, and iOS 5.0 or later, including iOS 16, which is a plus.
This software can transfer contacts, text messages, photos, videos, and more from your Android or iPhone to HTC devices. Its advanced features and functionalities make it a better option. It's also very safe and secure to use. For instance, you can use the app to transfer messages to your new HTC phone without worrying about data or privacy leaks.
Key features and highlights of this HTC Transfer Tool alternative:
- Transfer data between HTC phones in 1 click.
- Swiftly copy data from other Android or iOS devices to HTC and vice versa.
- Support various data types, such as messages, videos, photos, contacts, music, apps, notes, etc.
- Read your data only without info leakage.
- The transfer process is swift and stable.
Download this transfer software below.
How to use Coolmuster Mobile Transfer to transfer files between phones:
Step 1: Install the program on the computer, launch it, and click on the "Mobile Transfer" option.
Step 2: Connect both phones to the computer using USB cables. The software recognizes the devices. Make sure the devices are in their correct positions. The sending device should be at the "Source" position and the receiving device at the "Destination" Position. Or you can click "Flip" to change their positions.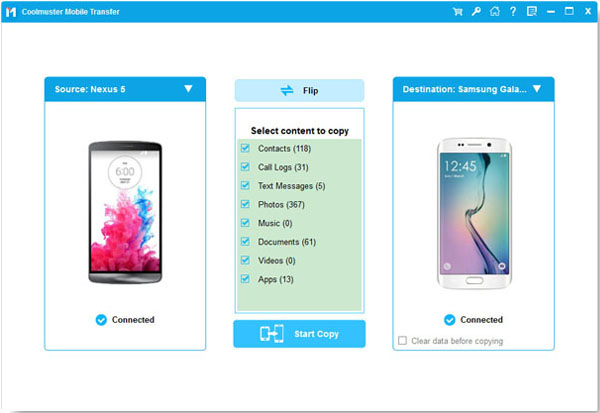 Step 3: Select those files you want to migrate to your other device as you preview them. Click on all the files and the "Start Copy" button to start the transfer process.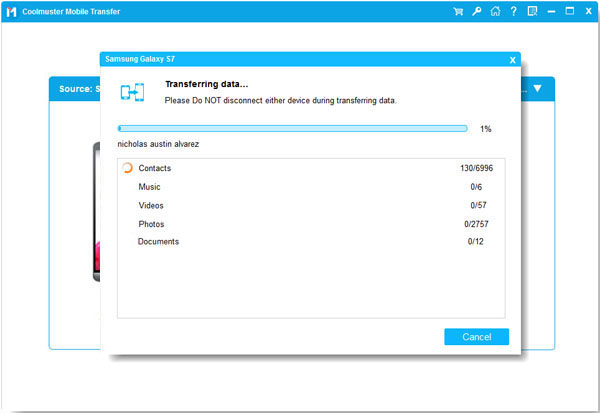 Learn more: [Essential Guide] Transfer Contacts from HTC to iPhone with 4 Superb Tips
2.2 Moborobo
Moborobo is one of the best alternative apps to HTC Transfer Tool. This application helps you transfer data between Android and Windows phones without a hiccup. Moborobo supports devices on Windows XP, Windows Vista, and Windows 7 operating systems. Using Moborobo is pretty simple too. The app is intuitive and easy to use, even for new users.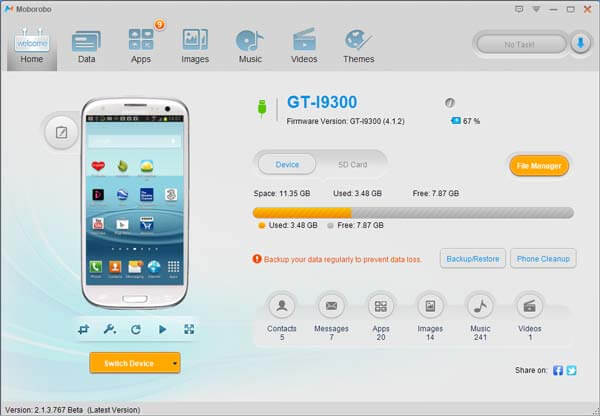 Key features:
- Manage files and applications.
- Transfer files between devices.
- Allow you to preview your files on the interface.
See also: Want to recover data from your HTC phone? Then this guide will provide you with 4 useful methods.
2.3 XShare
XShare is another good alternative app to the HTC data transfer tool. It is available for both iOS and Android users. Using XShare, you can transfer large files from one device to another without wasting time. The transfer speed is very fast. Also, XShare provides an option to watch the ongoing transfer process. The app does not require any third-party application or software to be installed on your computer, making it easy to use.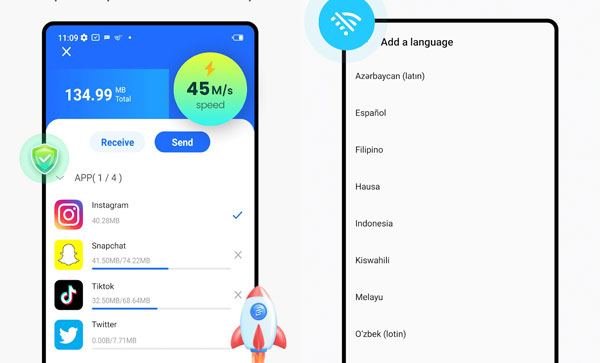 Key features:
- You don't have to scan a QR code to transfer.
- Greater transfer speed of 40Mb/s.
- Secure and safe transfer.
- One tap data view and delete.
- A good UI interface.
Compatible with all Android phones and data types.
2.4 Send Anywhere
Send Anywhere is a free file-sharing application that works exclusively on Android, iOS, and Windows devices. With Send Anywhere, you can transfer files between two devices the fastest way possible. Unlike other apps and software, Send Anywhere transfers files via Wi-Fi.
It has a user-friendly interface and is very easy to use. What's more, using SendAnywhere is entirely free of cost. It's also one of the fastest apps available in the market as it utilizes Wi-Fi connections to send or receive files instead of Bluetooth, which takes much more time.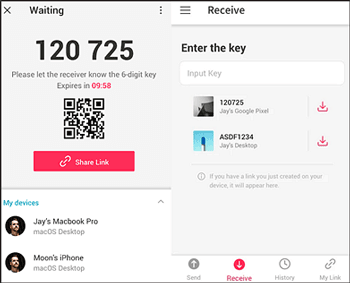 Key features:
- Transfer all data types without changing the original formats or quality.
- Wi-Fi Direct transfer without internet or data.
- You just have to enter a one-digit key of 6 digits to start the transfer.
- Support 256-bit encryption.
- Share data with many people through a link.
You might need: You can also move data from HTC to Samsung without trouble.
2.5 Copy My Data
Copy My Data is a free app available for Android and iOS users. The app is easy to use and compatible with Android and iOS phones. You can use Copy My Data to transfer data from one device to another.
What makes this app different from others is that you don't need any Internet connection for the files to be transferred, giving you complete control over it and protecting your data from intruders or hackers in the process; only a Wi-Fi network is required. Also, you can transfer large and small files within minutes without experiencing any time lag between them.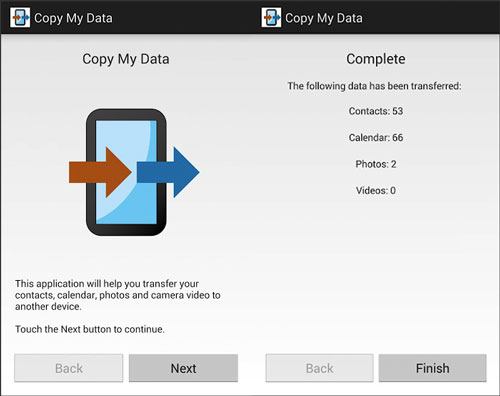 Key features:
- Transfer data over a Wi-Fi network.
- No need for a computer to transfer data.
- QR code scanning is needed to transfer data.
2.6 CLONEit
CLONEit is also a great HTC data transfer app that can allow you to transfer data on Android and iOS devices. The app can transfer 12 types o data between different devices. It's fast and easy to use. It works best with Android devices and iOS devices. CLONEit has a simple user interface and easy-to-use features. Moreover, it transfers data at a faster speed securely.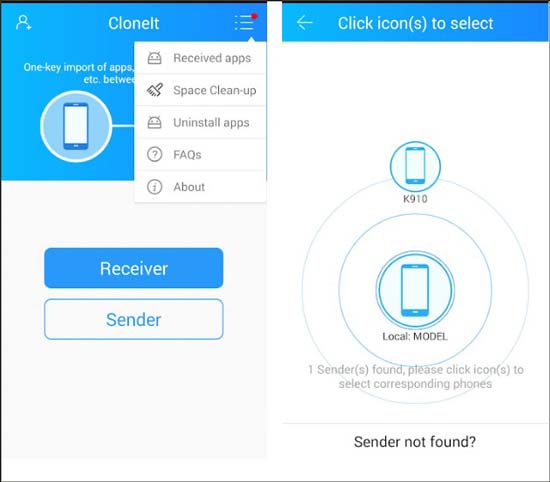 Key features:
- Support the transfer of 12 data types, including contacts, call logs, messages, etc.
- Transfer speed of 20M/s, which is faster than Bluetooth.
- Offline, fast data transfer.
- No privacy leaks.
Bonus Tip: How to Fix HTC Transfer Tool Not Transferring Messages
You may sometimes find the HTC Transfer tool not working for unforeseen reasons. You have tried transferring messages but to no avail. So, what to do in such a case? There is no need to fret. The tips below will help you set this problem straight and continue sharing your messages.
Uninstall the app and install it again on both devices: Maybe the app wasn't installed properly, which is why it's not working as supposed. In such a case, it is wise to uninstall the app and install it again on both devices.
Reboot your device: Sometimes, reboot your device after a long day. You can reboot the device if you don't want to; just wait it out. This will help refresh the memory, and the phone will be ready for use.
Update the app to the latest version: If you find the app is not working, it might be due to an outdated version. So, make sure you install the latest version.
Conclusion
HTC Transfer Tool is a great app for transferring data from an old phone to a new HTC phone. The process is simple, and the tool has a few features you can tinker around with. Still, it has some flaws, and sometimes, it may not work as intended. If that's the case, there is still the Samsung Data Transfer software to make things easier for you. This program will give you a direct and safe data migration. Then you can use your new phone without delay.
Related Articles
5 Practical HTC Sync Manager Alternatives [Worth Getting to Know]
How to Retrieve Deleted Text Messages from HTC Phone with 3 Easy Methods
How to Transfer Data from HTC to Huawei? Reveal 4 Seamless Transfer Ways
5 Ways to Help You Back Up HTC One Effortlessly [Latest Tutorial]
How to Unlock HTC Phone If I Forgot Password? Easily Unlock It Now
HTC to Mac Transfer | Efficiently Transfer Files from HTC to Mac in 5 Ways