An increasing number of people are joining the "Information Age". As a smart tool accesses to explosive information, mobile phones are upgraded very fast. Commonly, you need to transfer data from your old HTC while having a new Samsung phone. Here are 4 useful methods for you to transfer data from HTC to Samsung effectively.
Tip 1. Transfer Data from HTC to Samsung with Phone Transfer - Samsung Data Transfer
Actually, Samsung Data Transfer is not just designed for Samsung. With its all-round functions for Android to Android, Android to iOS, iOS to Android, iOS to iOS, it can transfer lossless files between two mobile phones. Moreover, you can transfer files with click once only.
This HTC to Samsung Transfer - Samsung Data Transfer can export your HTC contents, like contacts, messages, call logs, photos, music, videos and apps, to Samsung easily. The user-friendly interface, listing all the files' catalogue, helps you select data conveniently.
Here are two free trial versions, please download the correct version according to your computer system.
This program supports HTC U12+/ U11 EYEs/ U11+/ U11/ U Ultra/ HTC 10/ 10 lifestyle/ One X9/ One A9/ HTC Desire 10 pro/ Desire 830, Samsung Galaxy S9+/ S9/ S8+/ S8/ Galaxy Note9/ Note8/ Note7 and other Android phones with Android 2.1 to Android 8.0. For iOS, it supports iDevices with iOS 5 to iOS 12.
You can use it by 3 steps:
1. Download, install and run Samsung Data Transfer on Windows/ Mac computer.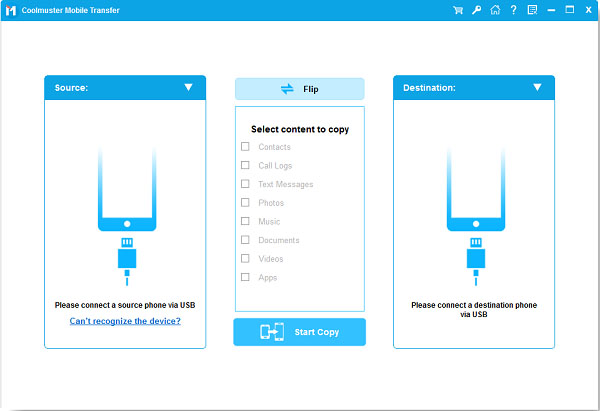 2. Connect your HTC and Samsung to computer at the same time, with USB cables/ wifi. To make a connection via wifi, please make sure your both phones are connecting with the same network, can scan the QR code while click "Connect Via WiFi".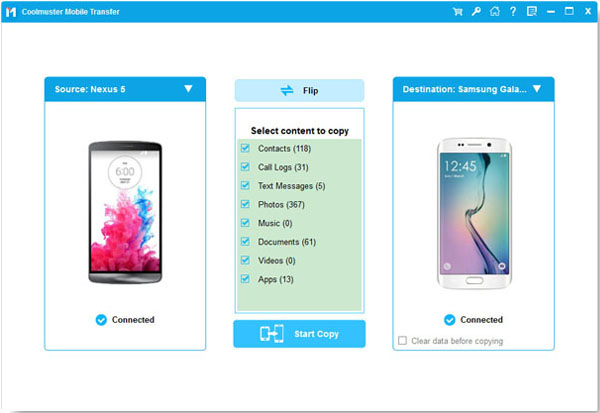 3. If two phones are detected successfully, please select files you want to transfer to Samsung follow the easy interface.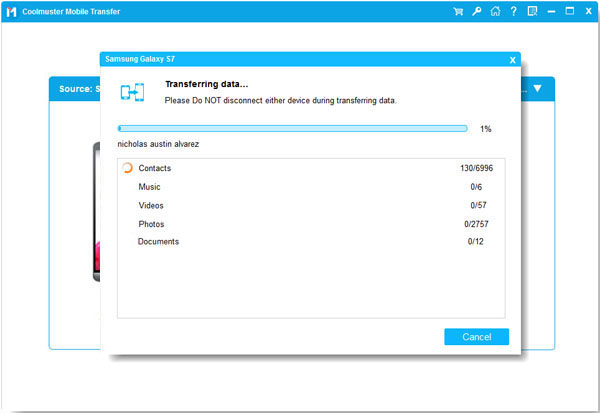 Tip 2. Transfer Data from HTC to Samsung Using Smart Switch
Samsung Smart Switch is a free app used to transfer contacts, photos, videos, music, messages, notes and calendars. With it, you can transfer files from HTC to any but not only Samsung Galaxy device. To use this app, it requires HTC phone running Android Version 4.3 and later while using wired transfer, and Android Version 4.0 and later for wireless transfer.
Start to transfer data by the following steps:
1. Download Samsung Smart Switch Mobile app both on your HTC and Samsung. Please note that the app has been installed on Galaxy S9/ Note9/ S8/ Note8/ S7, you may just download Smart Switch on HTC phone.
2. Connect your Samsung phone by a included USB connector and the cable from HTC device. Launch the app on both your phones, choose "Android Device" on your HTC, and set Samsung as "Receiving device". You may transfer data from HTC to Samsung by wifi or computer. Please visit Samsung Official Website for more help.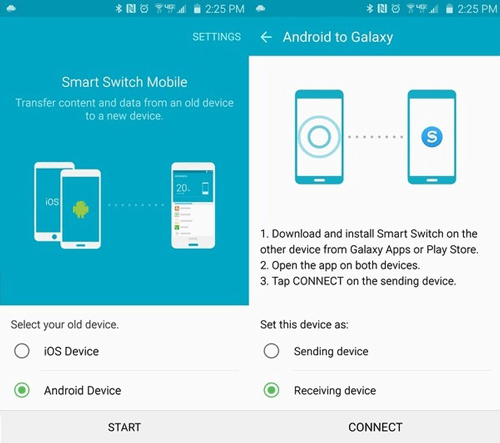 3. Select items you want to transfer to your new Samsung on HTC, click "Send".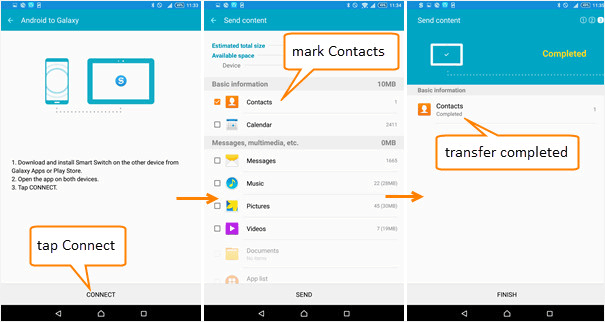 4. Tap "Receive" on Samsung phone, and the files you have chosen would be transferred to your new phone automatically.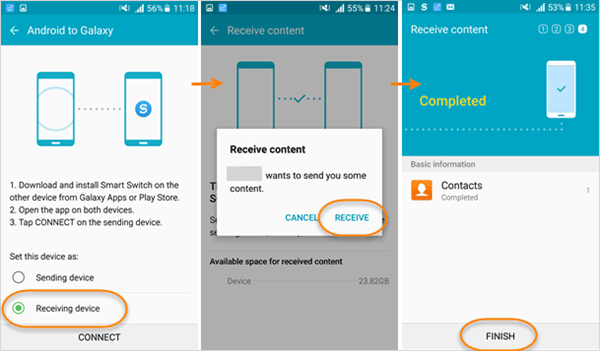 5. It will take a while for data transferring. When the files transfer complete, please tap "Finish" on both devices to end up the process.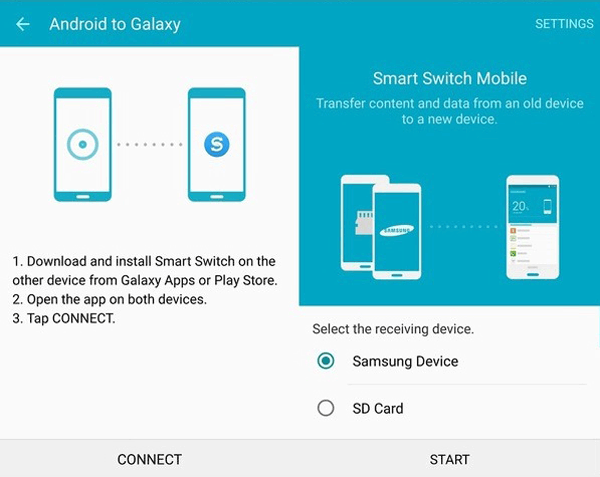 Check if you need:
Full Guide on Best Alternative to Samsung Smart Switch
Tip 3. Transfer Data from HTC to Samsung via Bluetooth
Bluetooth is a basic function for files transfer between Android mobile phones. With it, you can wirelessly transfer files from HTC to Samsung, including videos, pictures, music, contacts and other files. However, it really takes a long time for the media flies transfer. Do as follows:
1. First of all, please turn on "Bluetooth" from the home screen, on both HTC and Samsung, and then make sure that the two phones are paired with each other well.
2. Select the content you want to move to Samsung phone on your HTC.
2. Please tap on "Share" and choose the way to transfer files via "Bluetooth".
3. On the Samsung phone, please allow the files reception. It may take a while for data transfer. After finished, you can check the files on your Samsung.
Here is video about sending media files from HTC Desire.
Tip 4. Transfer Data from HTC to Samsung by NFC
With NFC (Near Field Communication) you can transfer photos, videos, contacts and more from HTC to Samsung by holding them back to back. Of cause, this method is only used for those support NFC.
1. Please make sure that your HTC and Samsung phone are unlocked and have NFC turn on. You may click "More" from "Setting" and tap on the "NFC ON/ OFF" switch to turn it on.
2. Keep the NFC areas of two Android phones close to each other while your are viewing the files that you want to transfer. You may slightly move the phones until the a connection is made.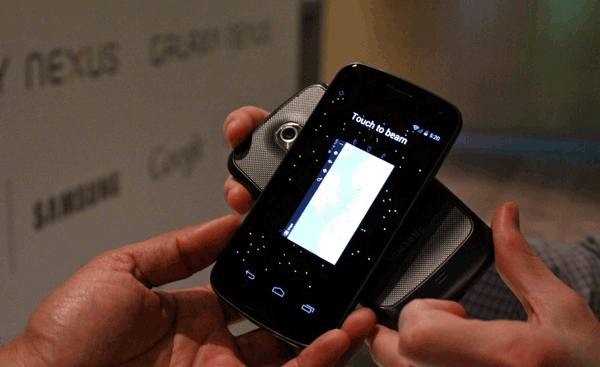 3. When the HTC vibrates, you can tap screen to send content to Samsung easily, and the shared files would appear on the screen on the receiving phone.
Phones with NFC: HTC Butterfly S/ Butterfly 2/ Butterfly, HTC Desire Eye/ Desire C/ Desire 816/ Desire 610, HTC One M9+/ M9/ M8si/ M8s /M8 for Windows /M8, Samsung Galaxy A7/ A5/ A3, Samsung Note Edge/ Note 4/ Note 3, Samsung S6/ S5/ S4/ S3 and so on. Please make sure your phone supports NFC.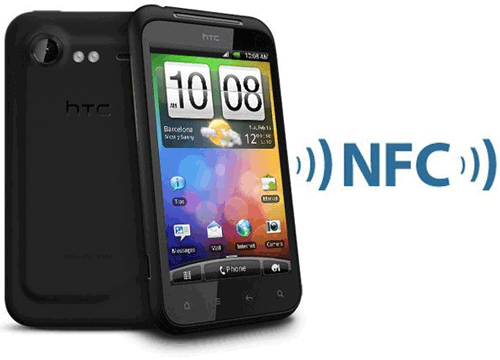 Related Articles:
How to Transfer Files between Samsung and HTC [3 Ways]
Easy Way to Transfer Contacts from HTC to Computer
Guide on How to Transfer iTunes Music to Android