Android users must know the Google Play, which is an online apps store operated by Google company. It allows you to download countless new and interesting APK files to your Android phones and Android tablets. You can't download apps from Google Play unless you sign in a Google account and download the Google Play app on your Android device beforehand. And sometimes you meet the two conditions but still failed to download Google Play apps on your Android phone/tablet because you just lost your network connection in your Android device.
When you face the above situation, what you will do to solve the problem? In fact, it's time for you to try a professional Google play app download program - Samsung Messages Backup, which empowers you with the ability to download and install Android apps from Google Play store without a Google Play account or Android phone's internet connection. The tool will give you much convenience on managing your Android phone data like photos, videos, music, contacts, text messages, apps and more files on PC or Mac computer.
Do you want to have a try with this Google Play App Download tool? Just download the free trial version of it to have a try and follow the steps below. The following guide and screenshots are from Windows version. If you are using a Mac, you can take the similar steps to download Google Play Store apps on Mac.
Two Steps to Download Apps from Google Play Store
Step 1. Launch App download tool and connect Android device
Please download and install the professional Google Play App Download tool - Android Assistant on your computer. Launch it to bring up its starting window. Connect your Android phone or tablet to the computer with a USB cable. Then, you can see your Android device is detected and shown in the program window.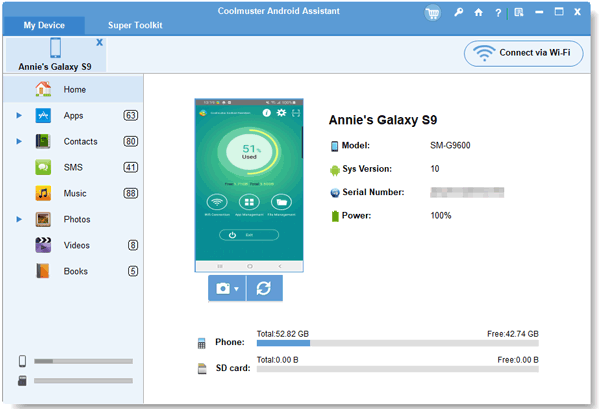 Step 2. Install Apps on Android phone/tablet from Google Play
Navigate to the top menu, click "Apps" to enter the apps installing window and choose "Install" button to bring out the Google Play Store window to you. Here, you can search the apps you want to download and then the apps will be downloaded and installed to your Android device directly.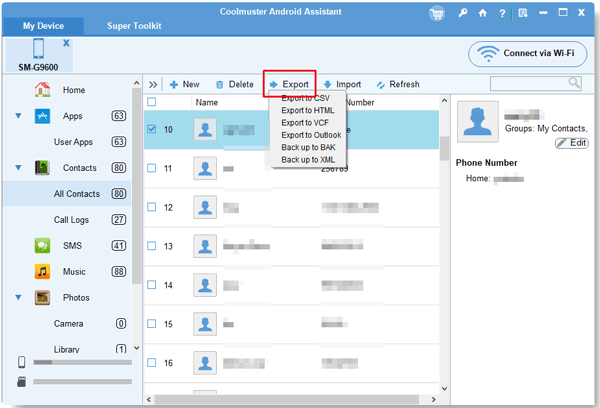 Congratulations that you have the hottest and latest Google Play Store apps downloaded on your Android device successfully. What are you waiting for? Please purchase the Google Play App Download tool now!
Related Article:
Manage LG Phone Contacts, SMS, Photos on Computer
How to Transfer Contacts from Samsung Galaxy to PC
LG Backup & Restore - How to Back Up & Restore My LG Device?
How to Transfer WhatsApp Messages from iPhone to Android?