Summary
Most Motorola users might know the Motorola Migrate application. In the past, it is a nice transfer tool that we can move data from a phone to a Motorola phone. But now, it can't support Android OS 6.0 and the upper, so we need to find a useful Motorola Migrate alternative to work out the problem.
The following contents are our successful experience. If you are facing the same situation, you might get some tips from them.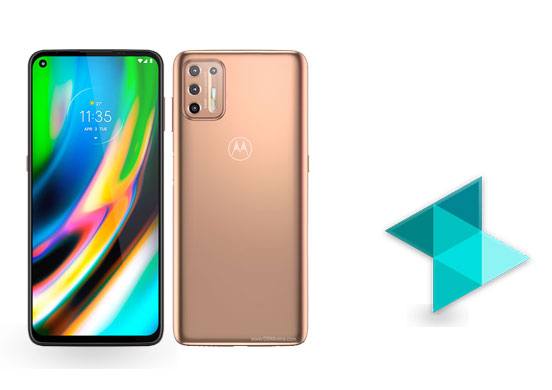 Part 1: What Is Motorola Migrate? Is It Still Available?
Motorola Migrate is an official application created by Motorola, supporting to transfer data from iPhones or other Android phone brands to the Moto phone. Of course, it's still available for part of mobile phones. It can work with Android 2.2 to Android 5.1 only, so you can't see it on many new Moto smartphones.
Besides, it can transfer 2 GB of data in about 10 minutes. Next, let's see how to move data with this utility.
Step 1: Download the Migrate app on both phones and open it.
Step 2: Tap on the "Start", set it up, and select the data types and tap on the "Next" button. Then make the old phone to scan the QR code on the new phone for the connection.
Step 3: Then, the app will transfer your selected files to the new Motorola phone in some minutes.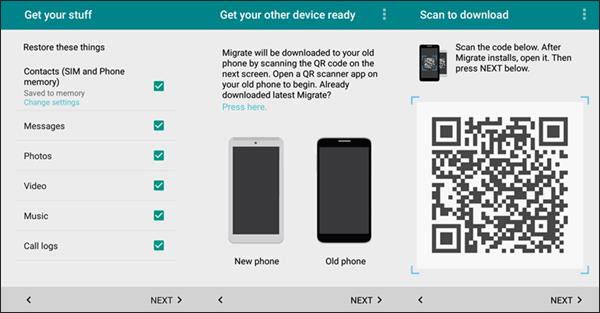 Tips: Contacts are one of the most vital data on the phone, so it is necessary to transfer contacts from the Motorola phone to the computer for backup. See these 4 simple ways here, and you can do it effortlessly.
Part 2: 5 Excellent Motorola Migrate Alternative You Can't Miss
Motorola Migrate doesn't work with Android 6.0 and above, so what can I use instead of Motorola Migrate? I have tried my best to search for a trustworthy Motorola Migrate replacement for a long time. And these 5 alternatives are the best after going through my testing.
2.1 Motorola Transfer Software (Fast & Safe)
This Motorola transfer software - Samsung Data Transfer, is a fast and safe migration tool. With excellent compatibility, it supports most Android devices and iOS devices to transfer files from one phone to the new Motorola phone without trouble.
Highlights and advantages of this replacement of Motorola Migrate:
- Transfer contacts, call logs, photos, text messages, videos, apps, documents, and music from one Android phone to the Moto smartphone.
- Move music, videos, contacts, and more from the iPhone to Motorola.
- Transfer data from iOS to iOS, and from Android to iOS.
- During the Android to Android transfer, USB and Wi-Fi connections are both available.
What's more, it supports Motorola Razr 5G/Moto G9 Plus/Moto G8/Moto E7/Moto E6s/Moto G 5G/Moto G Fast/Moto E/One 5G UW/One 5G, Samsung Galaxy S20/S10/S9/S8, Sony Xperia 5 II/Xperia 5/Xperia 1 II/ Xperia 1, Huawei, OnePlus, Google, Xiaomi, OPPO, ZTE, LG, etc.
Download the Motorola Migrate equivalent for free below.
Guide on how to use this alternative for Motorola Migrate:
Step 1. Download and Install
Please download and install the software on your computer.
Step 2. Connect Phones to Computer
Next, connect two phones to the computer with USB cables, and enable the USB debugging mode on Android.
Step 3. Migrate to the Moto Phone
- Once linked, make sure your Moto phone is on the destination side. If not, click the "Flip" button.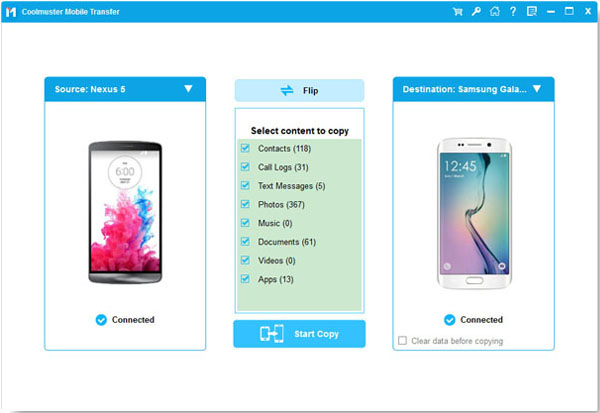 - Then select the data types on the middle panel and tap on the "Start Copy" icon. The program will start transferring files to the Moto cell phone.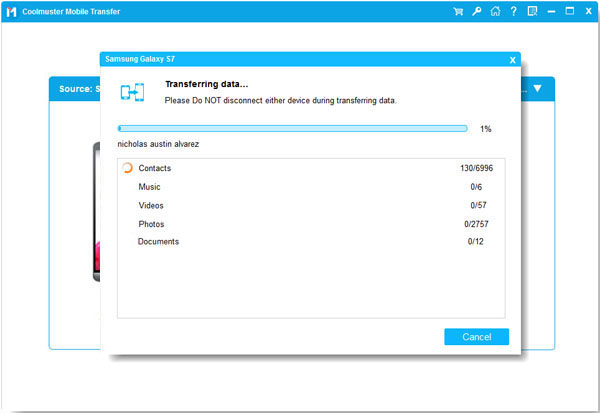 Further reading: Want to recover lost data from the Motorola cell phone? It's easy. Please take these applicable apps away.
2.2 Google Cloud Sync
Most Android phones support the Google cloud sync feature, so does Motorola phones. Making full use of your Google account, you can sync your data to the new Moto phone like the Migrate app. Moreover, you can upload various file types, such as calendars, contacts, settings, and so on.
Main features of Google cloud sync:
- Needn't download apps on your Moto smartphone.
- Sync data via mobile data or Wi-Fi.
- Offer 15 GB of free cloud storage.
How to use this Motorola Migrate replacement:
Step 1. Upload Data to Google Cloud
First of all, enable Google backup on your old phone. You can go to the Settings app, and find the "Backup & reset" to add your Google account to it. It will sync your files to your account.
Step 2. Add the Same Account on Motorola
After the backup, please sync the backup data to your Moto cell phone. Enter the Settings app, and click the "Accounts" > "Add account" option to type the same account here.
Step 3. Sync Data to Motorola
Click the Google account and the "Account sync" feature. Then press the "Menu" icon on the upper-right corner and choose the "Sync now" button. The files will be synchronized on your Moto phone.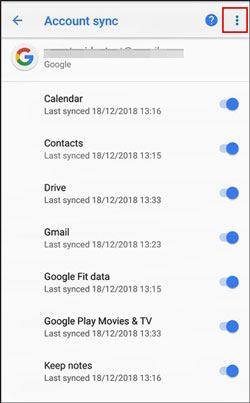 Check if you need: Back up and restore the Moto X in 1 click? Get this post here. You will know how to deal with it.
2.3 SHAREit
SHAREit is another nice data transfer tool that can replace the Migrate application. With a simple connection, you can transmit the data you want immediately. And it is not only a transfer tool now but also an online video player. Thus, you can watch interesting videos conveniently.
Main features of SHAREit:
- Support to transfer multiple types of data.
- The highest speed is up to 20 M/s.
- Provide trending music and the latest videos.
- There are ads on the app.
How to use this Migrate alternative:
Step 1. Download on Both Phones
Please download SHAREit on both mobile phones first.
Step 2. Select Files on Sender
- Please click the "Send" icon on the top and you can freely select the desired files on the screen. Once done, please tap on the "SEND" icon.
- You are required to enable the Bluetooth if you want to go on. After that, please click the "Next" button. It will begin to look for the available device.
Step 3. Receive the Data
Please click the "Receive" option on the old phone and then click the avatar of another phone. The app will start transferring the selected files.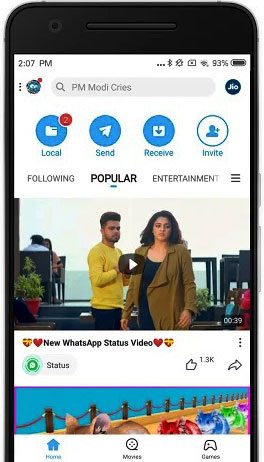 Bonus: Desire a secure and fast tool to transfer data from Motorola to Samsung? Don't miss this article.
2.4 Send Anywhere
Send Anywhere is a practical file transfer utility instead of Motorola Migrate. You can share data with several people in a link. And it will transfer your files with the original format. Even though you send groups of files, it can make it in minutes.
Main features of Send Anywhere:
- Support 3 types of transmission, containing the digit key, QR code, and link.
- Allow you to upload 50 GB files at once.
- Support to set the expiration date you like.
- Read and send data from external storage.
How to use Send Anywhere:
Step 1. Install the App
Please download and install this app on your Moto phone and the other one.
Step 2. Pick What You Want to Transfer
Please choose the "Send" tab on the destination phone and tick off the files you like on the screen. Then tap on the "SEND" icon, and you will see a 6-digit key on the screen.
Step 3. Send Data without Migrate App
On the sending device, please choose the "Receive" tab and enter the key here. This Migrate replacement will send your files to the Moto phone in no time.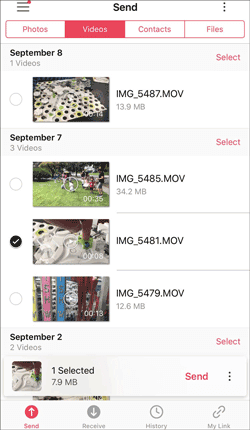 You might like: Searching for the Samsung Smart Switch alternative? Here are 6 useful equivalents for your inference.
2.5 CLONEit
CLONEit is capable of backing up and sending files without a USB cable or the network. Different from the previous app, it can uninstall the preinstalled apps from your device. Simply put, it can help you transfer files with a few steps, so it is a brilliant tool to take the place of the Motorola Migrate.
Main features of CLONEit:
- Work with 12 kinds of mobile data, including browser bookmarks, app data, SMS, etc.
- 200 times faster than Bluetooth.
- Clean up your mobile phone without hassle.
How to use CLONEit:
Step 1. Launch It
When downloading and installing the app on two handsets, please directly launch it.
Step 2. Make a Connection
- To make a connection between your phones, please tap the "Sender" on the new Motorola phone, and the "Receiver" on another. They will search for each other.
- Then click your device on the screen, and choose the "Tap to Scan" to scan the QR code for connection.
Step 3. Select Files to Transfer
After connecting, you can select the data from your old device, and hit on the "Start" and "OK" icons. CLONEit will transfer the marked files to the Moto phone.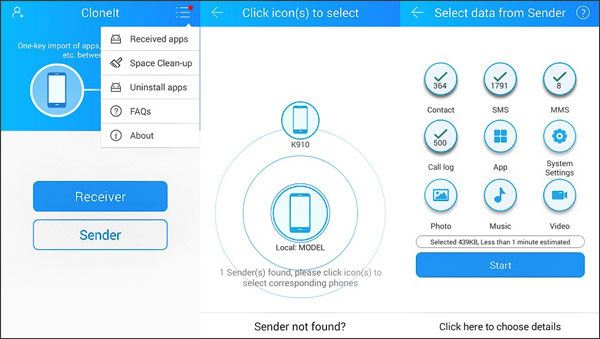 Conclusion
Once the Migrate app is a necessary app for most Moto users, but now, many fantastic Motorola Migrate alternatives can achieve the data transfer on the Moto handsets, like this Moto transfer software - Samsung Data Transfer. It can move your important data to your destination device in a short time. If you want to experience reliable and quick data transfer, please download and try it out.
Related Articles
How Do I Transfer Pictures from My Motorola Phone to My Computer? 3 Simple Ways You May Not Know
3 Ways to Recover Deleted Text Messages on Motorola or Other Android Phones
[Proven] Motorola to Motorola Transfer: Transfer Data from Motorola to Motorola in 6 Simple Ways
[Solved] Transfer Data from Samsung to Motorola with 5 Brilliant Methods
How to Transfer Files from PC to Android Phone without USB [5 Handy Solutions]
Phone Memory Recovery for Android: How to Recover Data from Phone Memory? (Internal & External)