Summary
As Samsung users, Samsung Smart Switch are used to moving data to Samsung phone frequently. But some people find that this popular app cannot achieve the requirements all the time, for it is limited with your devices sometimes. At this moment, maybe to get the best Samsung Smart Switch alternative is your target. If you want, you can get 6 Samsung Smart Switch equivalents in this article. Please head to read it.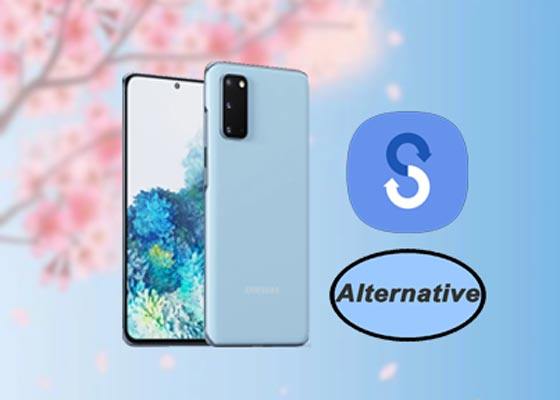 Part 1: Why do you require an alternative of Samsung Smart Switch
Samsung Smart Switch is convenient to transfer data from one phone to the Samsung phone, but it still has some limits that you're not satisfied with. The first one is that the destination device must be a Samsung device. If you want to transfer data from Samsung to another phone which is non-Samsung, it can't make it.
The second one is its compatibility. It is possible that it will not work with your old Samsung phone or other brands of mobile phones. So, you can't migrate your files successfully.
That's why do you require an alternative of Samsung Smart Switch. If you would like to avoid these problems like above, the following tips will be helpful for you.
Part 2: 6 Best Samsung Smart Switch Alternative
# Top 1: Samsung Data Transfer (Transfer Data in 1 Click)
Samsung Data Transfer is a powerful cross-platform for you to transfer data on Samsung. As a great Samsung Smart Switch app, it is recommended by most people. You can transfer sorts of data from phone to phone in 1 click. What's more, it is effective with almost all Android phones and iOS devices.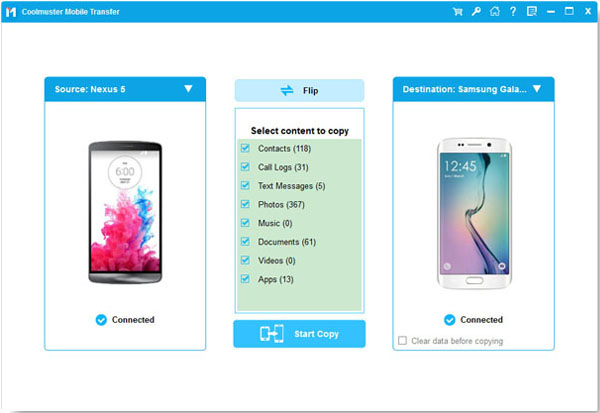 Main features and advantages of Samsung Data Transfer:
- It is an excellent Android to Android file transfer, so you can move contacts, call logs, text messages, photos, videos, music, apps, books, and other documents from Android to Android;
- You can transfer contacts, notes, calendars, bookmarks, and books from iOS to iOS, including iPhone, iPad, and iPod;
- Furthermore, it can transfer data from iPhone to Android and vice versa quickly;
- The Auto-transfer feature can make your data migration quick to finish;
- It will transfer data to the target device with the original quality.
- Widely compatible with Android and iOS OSes, as long as the OS is Android 4.0 or later, and iOS 5 or upper, such as iPhone 14/13/12/11/X/8 Plus/8/7/6, Samsung Galaxy S23/S20/S10/S9/S8/S7, Sony Xperia 10/Xperia 5/Xperia 4, HTC U12 Life/U12+/U11 Life/U11 Eyes/U11/U19e/ U Ultra, LG G9/G8/G7/G6/G5, Xiaomi, Huawei, Motorola, OnePlus, and more.
Download this Samsung Smart Switch alternative below for free.
Pros:
- You can transfer data on Android and iOS devices freely;
- When moving files from Android to Android, you can eliminate data on the target Android phone in advance if you want;
- Data transfer via USB cables is safer and faster;
- Support most data types for transfer;
Cons:
- You can't transfer notes on iOS 11 or later;
- Need to pay for a license for registration.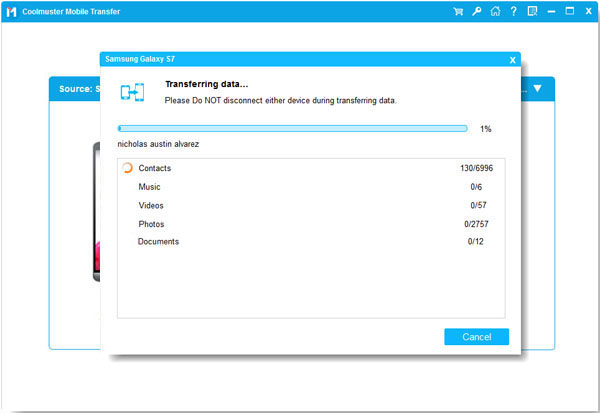 Learn more: Wonder how to fast remove the pattern lock on your Samsung phone if you forget it? Don't worry. This issue is easy to solve.
# Top 2: Samsung Messages Backup
If you are fond of an overall Samsung Smart Switch alternative, Samsung Messages Backup can meet your requirements. This app is a strong data manager to make you control your kinds of data in order. You can backup your data from Samsung and other Android phones to the computer in 1 click, and it can help you restore the backup files to the mobile phone as well. Besides, you can select the data you want for management with different features.
Pros:
- Work with various data types, like applications, contacts, call history, messages, pictures, videos, music, books, and so on;
- With the 1-click feature, you can transfer data between the cell phone to the computer without hassle;
- Take screenshots of Android phone on the computer;
- Scan the files of your smartphone on the computer clearly;
- Support USB and Wi-Fi connection between Android phone and the PC;
- Edit, send, and reply to the SMS on the computer;
- Create new music playlists and delete the unwanted freely;
- Support almost all the Android phone;
- Download and try part of functions for free.
Cons:
- This Smart Switch equivalent is effective with Android devices only;
- When the backup files are deleted, you can't restore them to the Android phone with this app.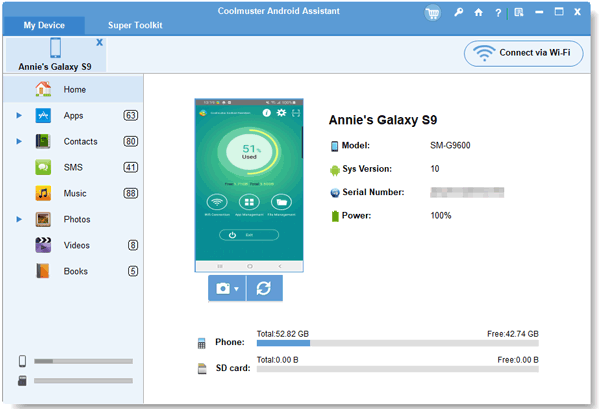 Read also:
Want to make Samsung backup to PC easier? See these 6 helpful ways, and you can find the answer.
Even though the Samsung tablet's screen is frozen, you can repair it with ease.
# Top 3: CLONEit
CLONEit can transfer 12 types of data on the mobile phone, containing contacts, SMS, call logs, calendars, Wi-Fi account passwords, browser bookmarks, apps, app data, etc. You can use it to transfer files from one mobile phone to another extremely fast.
Pros:
- Transfer data from one smartphone to another conveniently;
- Uninstall preinstalled apps on your cell phone;
- Clean up the storage space of your handset;
- It can transfer data without a USB cable or network.
Cons;
- Sometimes you can't transfer your SMS to another device with the latest version;
- Can't back up data from mobile phone to computer.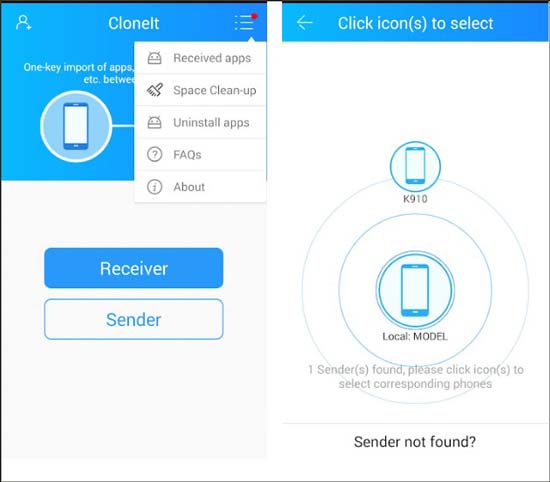 Further reading: Annoying to transfer messages from iPhone to Android? Let's see this post and learn two tips in it to solve the problem.
# Top 4: XShare - File Fast Transfer
By scanning a QR code, you can make two mobile phones connected with XShare app, and it can transfer your files in a short time. Even if it doesn't support many types of data, it is an efficient Samsung Smart Switch alternative.
Pros:
- It is 200 times faster than Bluetooth when you transfer data with this app;
- You can transfer data with it without a network;
- Make one handset match another via a QR code fast.
Cons:
- Support Android 5.O OS and higher;
- Support fewer data types;
- Not effective with iOS devices.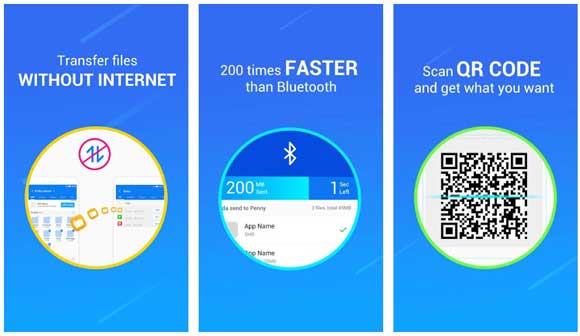 You might like:
Here are 5 ideal ways to transfer contacts from Samsung to iPhone. With them, you can transfer your contacts without trouble.
The Move to iOS app is stuck on preparing on your mobile phone? In this case, you can resolve it with these fixes.
# Top 5: Jihosoft Phone Transfer
Jihosoft Phone Transfer can transfer batches of data from one cell phone to another in no time. You can move your contacts. music, messages, photos, and more between Android and iPhone. The simple operation is another highlight of it, thus, yon can achieve the transfer in 3 steps.
Pros:
- Compatible with Android and iOS OSes;
- Transfer data at an incredible rate and you can save your time;
- Backup Android data to the computer securely;
- No quality loss.
Cons:
- You need to buy the license to use the whole features;
- No wireless transfer options.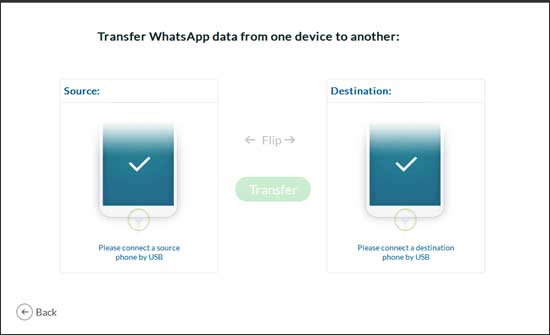 Check if you need:
If you want to recover deleted folder from Samsung, please see these 3 methods. They will help you out.
It is effortless to view the WhatsApp backup data in these ways.
# Top 6: AirDroid
If you like wireless transfer, you can have a try with AirDroid, because it can transfer your photos, videos, and other media files wirelessly. In addition, you can manage your contacts, text messages, and other files on the computer easily. It can let you control your mobile phone remotely. Therefore, it is an ideal Samsung Smart Switch alternative.
Pros:
- You can receive and send SMS via the web AirDroid;
- Reject a call on the PC as long as you click your mouse;
- Backup photos and videos from phone to computer fast;
- Locate your phone when it is lost;
- Mirror your phone on the computer and you can see notifications in time.
Cons:
- There is limited quota for file transfer;
- You cannot transfer contacts, apps, and more to the computer.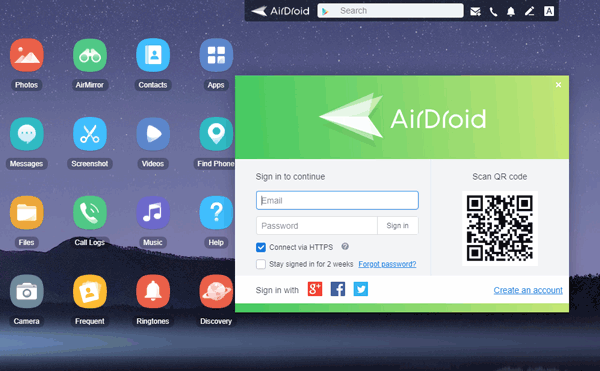 Conclusion
Through reading this post for the Samsung Smart Switch alternative in this post, perhaps you have understood these 6 Smart Switch equivalents mentioned above. Whatever you choose, it can take place Smart Switch to manage your files. But if you want a fast-to-transfer and time-saving app, Samsung Data Transfer is worth a try.
Related Articles
Wi-Fi File Transfer - How to Transfer Samsung with Wi-Fi?
How to Transfer Photos from Samsung to iPhone? - 4 Tips
How to Reset Samsung Phone (4 Ways for You)
Why Samsung Cloud Backup Failed? And How to Fix It without Hassle?
4 Best Samsung Backup Apps and Software in 2023
How to Backup Samsung to PC Easily? - 6 Ways You Can't Miss