For Android users, it is no big deal when you are told that not enough space is enough for new downloads, since you can easily expand its storage capacity by inserting an external SD card. Then you can easily move some files to Android SD card, such as photos, videos, movies, downloaded apps and many more. And this passage tells you how to easily move apps to Android SD card within simple clicks.
To do that, just fully rely on this Android SD Card Manager, which allows you to effortlessly save apps to Android SD card in a batch. Also, with this software, you can move other files to SD card like contacts, messages, photos, music songs, movies and many more. Moreover, this software enables you to freely transfer files between Android and the computer, be it from Android to the computer or from the computer to Android. So you can easily transfer files from Android to the computer as a backup and import files to Android phone from the computer in one click! Now, let's see how to save apps to Android SD card!
Below are the free trial versions of this software! Just get the right version and follow the below tutorial!
User Guide: How to Save Apps to Android SD Card
Step 1. Link Android Phone to Computer
To start with, open the installed software on the computer and then get your Android phone connected to the computer. This software will then detect your device and show you the main interface as pictured in the below.
(Note: Make sure to insert the SD card to the Android device. Or you can put the SD card to a card reader and connect it to the computer.)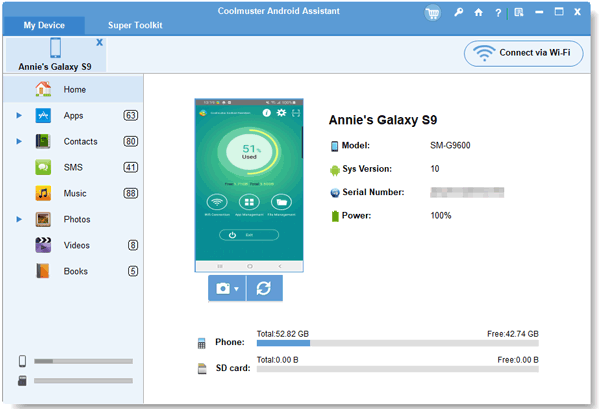 Step 2. Move Apps to Android SD Card
This software will then detect all files and display all the file folders on the left panel. Then, enter the Apps tab to preview more detailed file information. While previewing, select the wanted apps by ticking them out. Then, hit the Export option and navigate to SD card as the output location.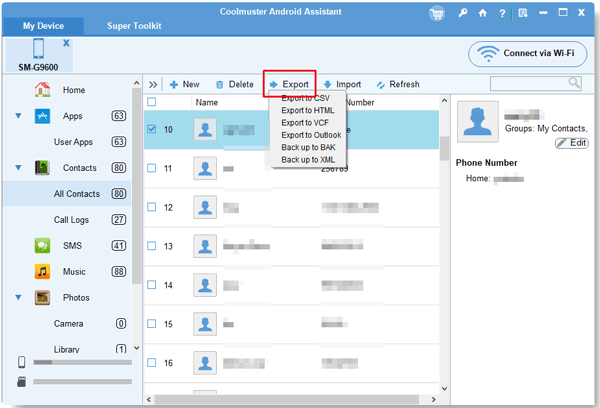 Within a little while, all the wanted apps will be successfully moved to Android SD card! If you also want to move other files to Android SD card, just follow the similar steps! By the way, the tutorial mentioned in the above only takes Windows version as example. If you are a Mac user, just download the Mac version and follow the suit!
Related Article:
How to Manage Files on Android Phone (Windows/Mac)
One Click to Print Out Messages from Android Phone
2 Simple Ways to Transfer Files Between Samsung Phone and Computer
How to Transfer Contacts from iPhone to Android [You'd Better Know]