"Hi everyone! I want to ask how to transfer all data from my LG X Power to Samsung Galaxy J7 Prime... any idea what app I can use on Windows PC? Thank u.

Oh yea, already try Smart Switch by Samsung but no luck." - A question from an Android forum.
Some LG users may encounter the same problem and wanna know how to transfer data from LG to Samsung. After reading this tutorial, you guys will find at least one practical LG to Samsung Transfer as you like.
Switch from Samsung to LG? Jump to the tutorial on how to transfer data from Samsung to LG phone.
Part 1. Transfer Data from LG to Samsung Wholly with One Click
As LG users, if you switch to have a new Samsung Galaxy S10 or Note 9, LG to Samsung Transfer - Samsung Data Transfer offers a one-stop solution for you to transfer data from LG to Samsung wholly. Just by clicking once, you can clone your LG to new Samsung phone, including contacts, messages, call logs, photos, music, videos, and apps.
With four work modes - Android to Android, Android to iOS, iOS to Android, iOS to iOS, this program can not only work for LG to Samsung Transfer but also an all-around Mobile Phone Transfer.
This professional program is friendly to almost all LG and Samsung devices, like LG V40 ThinQ/ V35 ThinQ/ G7 ThinQ/ Tribute Empire/ Stylo 4+/ Stylo 4/ Samsung Galaxy S10/S9+/ S9/ Galaxy Note9/ Note8/ Galaxy A9/ A8 and so on. It also supports other Android brands like Xiaomi, Huawei, HTC, Motorola, Sony and so on.
For iDevices, it supports iPhone, iTouch, iPod, and iPad with iOS 5 to iOS 12, including the newest iPhone XS/ iPhone XS Max/ iPhone XR.
You can start a free trial as below:
Step 1. Download Samsung Data Transfer on your computer, please select the correct version:
Step 2. Install and run the Samsung Data Transfer on Windows/ Mac computer.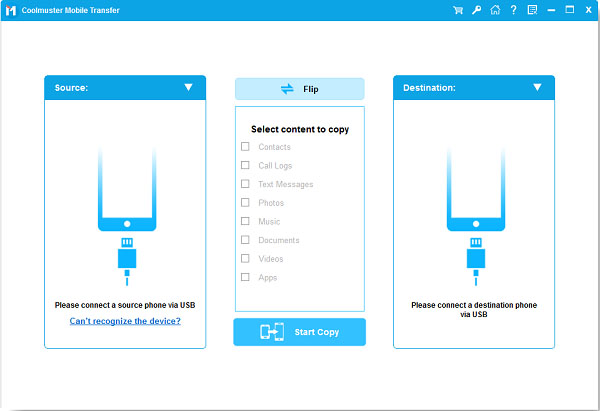 Step 3. Connect your LG and Samsung phones to a computer at the same time with USB cables. Please enable USB debugging on your devices. Then the program will automatically detect two devices. You can enter the interface as below.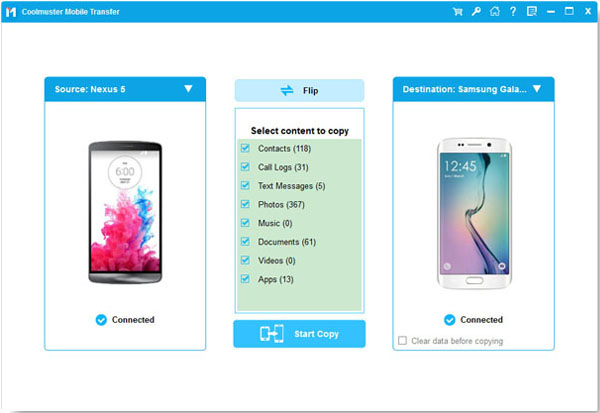 Step 4. Correct the phones' sides. Please make sure that the LG phone (the source device) is on the left, and the new Samsung Galaxy (the target device) is on the right. Otherwise, you can click Flip to exchange their sides.
Notice: You can tick on "Clear data before copying" on your target phone if needed.
Step 5. Please select the files that you like to transfer to your new Samsung phone from the middle panel. Under the mode of Android to Android, the program supports contacts, messages, call logs, photos, music, videos, and apps. Then, simply click Start Copy to transfer data from LG to Samsung.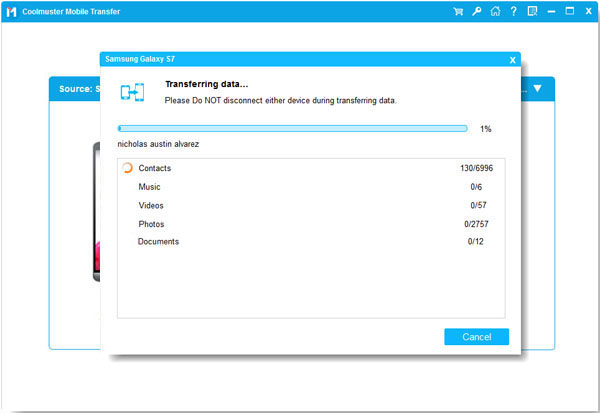 How to transfer data between iOS and Android devices?
Simple Way to Transfer Files from Android to iPhone
Simple Way to Transfer Files from iPhone to Android
Part 2. Copy Files from LG to Samsung with Smart Switch
Samsung developed Smart Switch for Samsung users to transfer data from another device to Samsung easily. You can use this app to transfer data from LG to Samsung, including messages, pictures, videos, and apps.
You can transfer files with a USB cable if your LG phone supports OTG function. Or you can either perform this LG to Samsung Transfer wirelessly, which is more convenient.
In the wireless connection, you can type a code to connect two devices that are not depending on the network, working similarly as Bluetooth does. You can also connect two devices with Wi-Fi.
Wi-Fi connection requires Android 4.0 or higher and wired transfer requires Android 4.3 or higher.
See how it works:
Step 1. Download and install Smart Switch on both your LG phone and Samsung Galaxy.
Notice: If you are the user of Galaxy S9/ S8/ S7/ Note9/ Note8, the app has been installed on your Samsung. You just need to run it.
Step 2. Run the app on both devices. Select Sending device on your LG phone and Receiving device on Samsung Galaxy.
Step 3. Connect two devices. Please press the Connect button on both your devices. The devices will connect to each other automatically. Otherwise, you can type the given code to Samsung Galaxy in order to make a connection manually. Please hold these two devices within 50 cm.
Step 4. Once two devices are connected, you can get a list of data types. Now, you can select files and hit Transfer to start the data copying.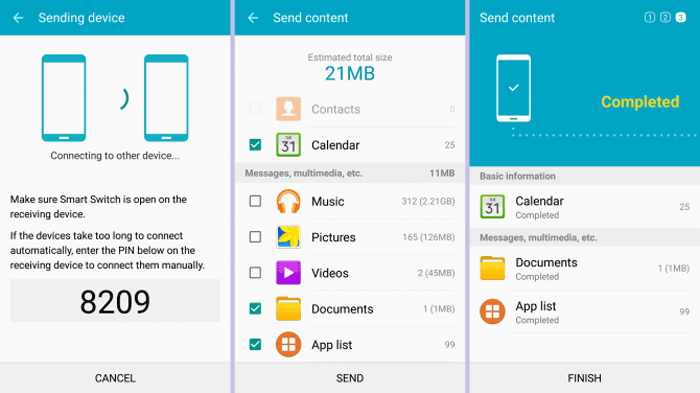 Smart Switch works not so perfectly when the target device is not Samsung. So this app may not be the first choice for data transferring to other devices.
You may need:
Full Guide on Best Alternative to Samsung Smart Switch
Part 3. Transfer Photos/ Videos/ Music from LG to Samsung via Google Drive
If you just need to transfer media files from LG to Samsung, you can use Google Drive to achieve it. In this way, you need to upload the media files you would like to share at first.
Step 1. You need to download the Google Drive app on both LG and Samsung phones.
Step 2. Run the app on LG phone and login Google Drive with an account. Then, enter My Drive, tap on the + icon to upload the media files to the cloud.
Step 3. Log in the same account on your Samsung Galaxy and download the media files.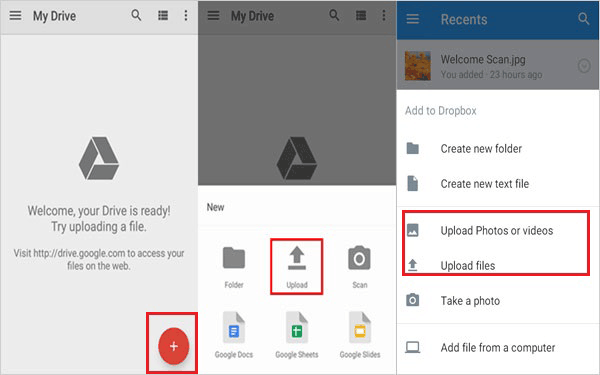 In addition: If you need to transfer data from your LG phone to your friend's Samsung device, you can upload the media files to your Google Drive and share them to your friend's account.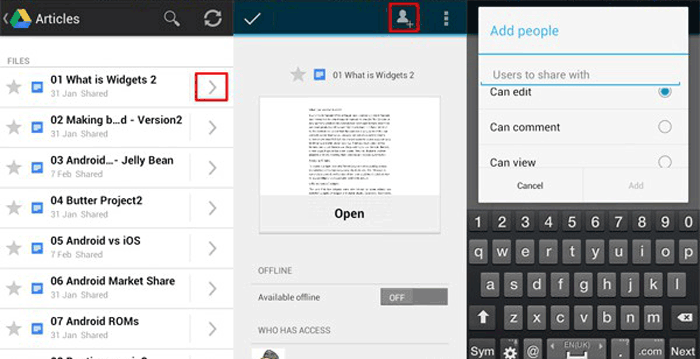 Google Drive can not transfer messages or app data. Besides, it will take a long time to upload and download files, especially when you transfer large size of files.
Part 4. Transfer Contacts from LG to Samsung Using Gmail
Gmail is a good Contacts Transfer for mobile phone users. You can use it to transfer contacts from an old phone to a new one. When you switch from LG to Samsung, you can select this free and simple way to transfer contacts.
Like using Google Drive for media files transfer, you need a Gmail account at first. Then, sync LG contacts to your Gmail account. On Samsung phone, please add this Gmail account, go to Samsung Settings to sync your phone from Google. Now, you can get LG contacts on your new Samsung Galaxy.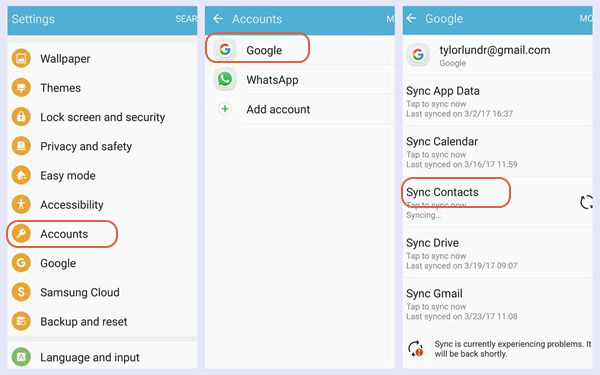 It is really convenient to transfer contacts from LG to Samsung using Gmail.
But if you need to transfer media files by Gmail, you need to download Gmail app on both your devices and upload the media files as an attachment to an Email, then, send this Email from LG phone and receive it and download the attachment files on Samsung Galaxy. The process takes a long time.
Wrapping Up:
When performing data transfer, the security of sensitive personal information is the top importance. Considering the data security and the efficiency during the transferring process, we recommend professional LG to Samsung Transfer - Samsung Data Transfer to copy files from LG to Samsung with one click.
Related Articles:
Transfer Contacts between Samsung Galaxy and LG
Easy Way to Sync Data between HTC and LG
How to Copy Apps between Two LG Phones?
How to Print Out Text Messages from LG Mobile Phones? [2 Ways]
Best LG PC Suite Alternative Software