Summary
If you buy a new Xperia phone, you would first transfer data from the old phone to the new one. But what do you do if the Xperia transfer mobile not working? You can reset the Xperia to restore the mobile transfer settings, try another transfer mode or opt for cloud backup. Read on this post to repair this data sharing app in detail if it is not working.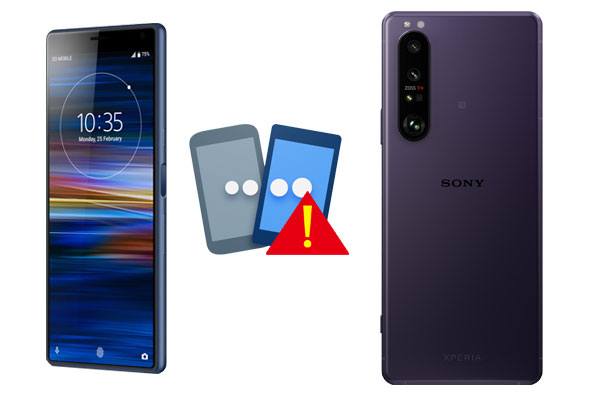 Part 1: What Is Xperia Transfer Mobile?
Xperia Transfer Mobile is a mobile transfer tool that provides a hassle-free data transfer from one Xperia device to another. It is an Android app that uses an internet connection to transfer data from one phone to another. Thus sometimes, it may fail to work if it is not connected to a strong internet source.
Part 2: Xperia Transfer Mobile Not Working? Fix It Now
You might experience a white or black blank space when you open the Xperia transfer mobile app, which might be an issue with the Android operating system. The problem might be temporary, but it might need interventions in some instances. Therefore, you should probe the Xperia transfer issues to find the appropriate solution; here are ways to fix issues with this Sony mobile transfer app.
Fix 1. Keep Your Phone Screen On When Sending
Sometimes the Xperia might fail to transfer data from one device to another when one screen is off. Thus it would be better to keep the screen on when sending to prevent the devices from going into sleep mode. This happens for a transfer app with Android settings. Thus, you should check the settings and ensure the screens are on during the transfer.
To change the screen timeout on your Sony phone, you can go to Settings, click the "Display" > "Screen timeout" feature, and choose a timeout option you want.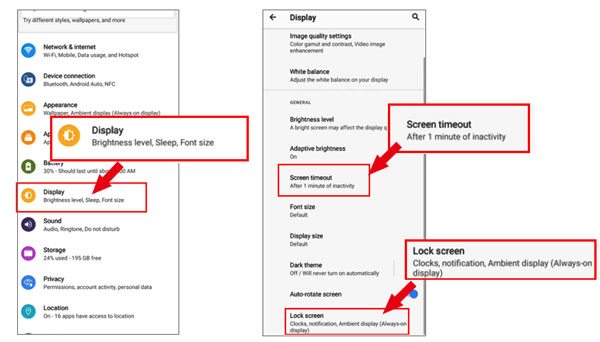 If you want the screen is always on, you can tap the "Display" > "Lock screen" > "Ambient display (Always-on display) > "When to show Ambient display" option, and opt for the "Always on" mode.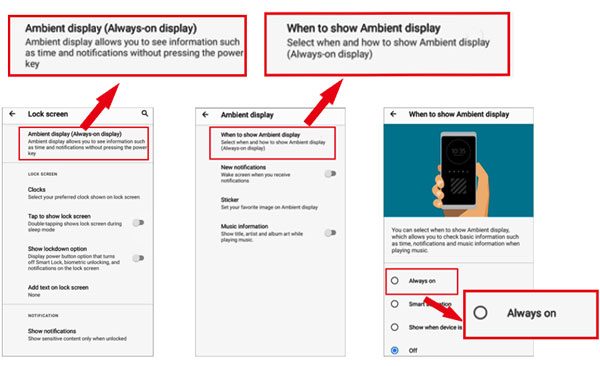 Check if you need: What if Android File Transfer is not working on Mac? Click this link, and you can fix it immediately.
Fix 2. Make Sure Your Wi-Fi/Mobile Data Is Stable
Since the Xperia transfer mobile transfers files over the internet, connecting your devices to a strong internet source would be better. If your home Wi-Fi internet is unstable, you will opt for mobile data plans to facilitate the file transfer.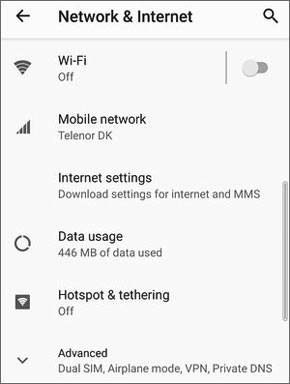 Fix 3. Choose Your Source Device Aright
Sometimes you can choose the incorrect source device, making it difficult to transfer the data from the Xperia phones. Thus you should ensure the new device connects to the old Xperia device. The source device will not send data to the final destination when not connected. You can rename the devices to facilitate the correct mobile transfer.
See also: It is easy to copy your text messages from Sony Xperia to a computer. Let's check it out.
Fix 4. Reset Your Phone Settings
If the Xperia transfer mobile does not work, you can reset the phone settings, which gives it a fresh start. Resetting the settings can fix the bugs with the transferring mobile, and it gets rid of dangerous malware, and unwanted apps and frees the space in the device, making it possible to transfer data.
However, you should have a backup plan, sometimes resetting the device might wipe the phone clean, and you can back up the information before resetting the settings. You can have copies of the information on another device, iCloud, or the disk drive before resetting the settings. Resting will fix any issues with the Xperia transfer mobile.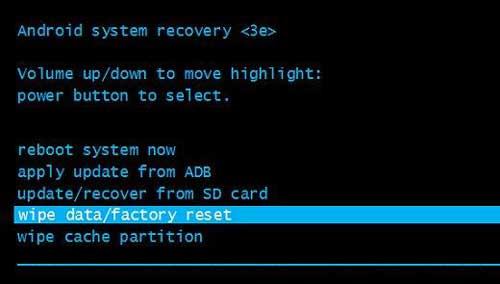 Fix 5. Mark your Source Device Correctly
You can select the platform of the source device and mark it before proceeding. Mark the source as iOS, Windows, or Android, especially if it turns on another platform like Symbian. Tap other options and mark the device correctly to facilitate pairing.
Fix 6. Select a New Cloud Backup
You can link Xperia to iCloud, Google Drive when extracting data. If you had previously backed the Xperia with the cloud backup and are experiencing mobile transfer issues, you can take another backup to resolve any underlying issues.
Fix 7. Use Another Transfer Mode
If you use a specific mode on Xperia, you can switch to another mode, as the app supports different modes to move data. When setting the transfer process, the device will ask the preferred mode; it has the Wi-Fi and mobile data modes.
If the first mode you select does not work, you can switch to another and check if the app works. Some devices might not work on Wi-Fi due to internet instability, and thus you can switch to mobile data transfer to facilitate file transfers. Moreover, you can extract a Google backup to the Xperia to transfer the data between the phones.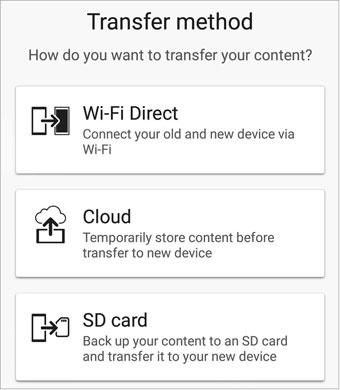 People also need: This article has displayed 4 helpful ways to move data from Samsung to Sony. Want to get it?
Fix 8. Reinstall the App from Google Play Store
Sometimes the Xperia transfer mobile might have issues due to outdated software, and thus, you can reinstall the Xperia data transfer app from the Google play store. Newer Xperia versions are least likely to experience data transfer issues. Sometimes the device might indicate the new updates, and it would be wise to consider the new updates when the app has data transfer issues.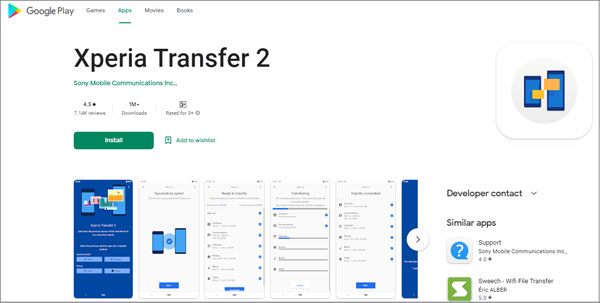 Fix 9. Get a Better Alternative Instead: Samsung Data Transfer
Samsung Data Transfer is one of the best file transfer tools and is an ideal alternative when the Sony Xperia Transfer Mobile does not work. This software allows mobile transfer between two devices flawlessly and works on most Android and iOS devices, such as Sony Xperia Pro-I/Pro /1 III/1 II/1/5 III/5 II/5/10 III/10 II/10, Samsung Galaxy S21 Ultra/S21/S20/S10/S9/S8/S7, OnePlus, Xiaomi, Google, iPhone, iPad, etc.
Furthermore, this data transfer software can copy contacts, photos, videos, apps, music, SMS, call history, and more at once. It will not corrupt your devices as it is read-only. It does not host malware viruses, ads, or user tracking; thus, you can trust it for all mobile data transfers. Regardless of the size of the files transferred between the devices, this software can complete the transfer efficiently.
Download this efficient transfer software for free.
How to transfer data with this Sony data transfer tool:
1. Download and install the software on your laptop. Then launch the desktop app by double-clicking, which loads a primary interface that shows a menu content with the source, destination.
2. Connect the two Xperia devices to the computer via USB ports and cables, and enable the USB debugging on both cellphones. The mobile transfer software will detect and recognize the phone quickly. Thus, the two phones will appear on the interface.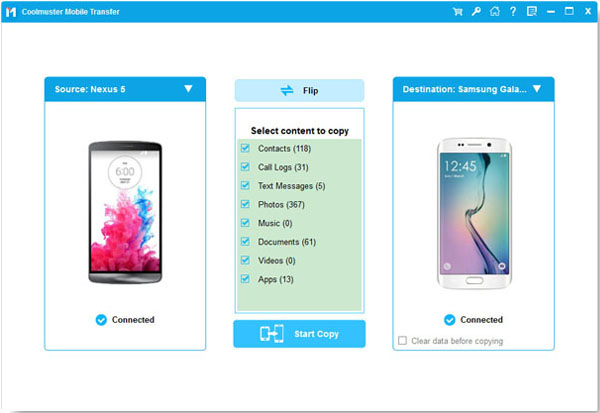 3. Make sure your target Xperia phone is at the "Destination" position. If not, please tap the "Flip" icon to change it. Then select the files you need to send, and click the "Start Copy" icon to transfer your data.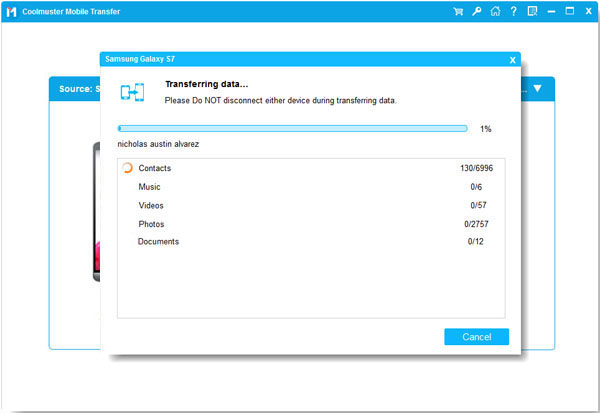 Read more: With these 3 methods, you can back up and restore Sony Xperia without limitation.
Fix 10. Restore Apps from Google Drive with the Setup Guide
Sometimes all you need when Xperia Transfer Mobile is not working is app restoration. However, you should delete the existing Xperia transfer app before restoration to ensure you rid the app of the existing issues.
A newer version is likely to have transfer problems. You should go for the newest versions during restoration as it is likely to find the old Xperia apps in Google drive. Moreover, it is wise to follow the setup guide, making it easy to avoid issues impacting the transfer app.
Conclusion
Xperia Transfer Mobile makes it easy to transfer data from one Sony phone to another, but now it might fail to function properly on new Sony Xperia mobile phones. If so, you can follow the tips mentioned above to fix it, or replace it with this useful alternative - Samsung Data Transfer. It facilitates quick and effortless mobile data transfers without data loss.
Related Articles
How to Reset Sony Xperia? Here Are 4 Ways to Meet Your Needs
How to Transfer Photos from Sony Xperia to Computer? (4 Easy Ways)
How to Transfer Contacts from Xperia to iPhone? 6 Ways Are Waiting for You
5 Practical HTC Sync Manager Alternatives [Worth Getting to Know]
Samsung Smart Switch Alternative: 6 Equivalents Worth Pursuing
How to Back Up Music on Android in 10 Alternative Ways? (Easy & Effective)