Summary
An excellent feature of Sony Xperia series that appeals to people is its super battery which can give you two days of power. Although Sony Xperia is nice, you still have the possibility to lose data. If you tend to get a trustworthy Sony Xperia data recovery program, this post will tell you the answer, because there are 3 helpful tips here for your choice.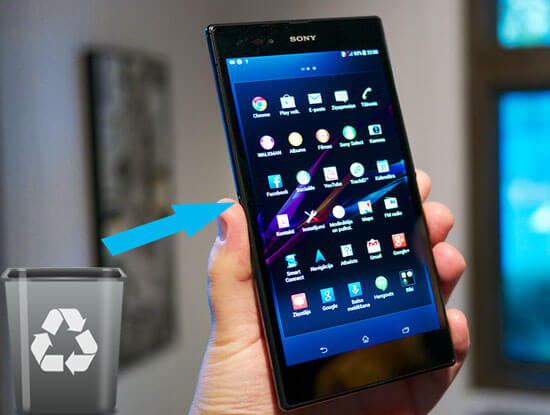 Tips: Where is the recycle bin on my Sony Xperia? If there is a built-in recycle bin on the Sony Xperia, it will be convenient. But unfortunately, there is no recycle bin on the Sony Xperia phone. Thus, it is necessary for you to use a professional Sony Xperia recovery tool.
Part 1: Recover Deleted Files from Sony Xperia with Sony Xperia Data Recovery (Without Backup)
As a professional Sony data recovery tool, Samsung Data Recovery has the priority. It can recover multiple types of data on Sony Xperia, including contacts, call logs, text messages, photos, music, videos and documents. Not only can it work with Sony Xperia internal storage, but also the inserted SD card. That's why it is recommended by many people.
Key features and highlights of this Sony Xperia data recovery software:
- Easily recover deleted files of Xperia internal storage, such as photos, documents, contacts, call history, and text messages.
- It is also an SD card recovery program for Sony Xperia, including music files, videos, pictures and other documents.
- You can preview the deleted on the computer and make a selection on them before recovering.
- Support to preview and transfer existing data from your Sony Xperia to the computer.
- Recover deleted files from Sony Xperia with high quality and the original format.
- Support most Sony mobile phones and other Android phones and tablets whose Android OS is Android 4.0 and upper, like Sony Xperia 10/Xperia 5/Xperia 1/Xperia L4/Xperia L3/Xperia L2/Xperia L1, Samsung Galaxy S20/S10/S9/S8, Samsung Galaxy Tab S/Galaxy Tab 4/Galaxy Tab S5e, Huawei, OnePlus, Xiaomi, OPPO, Vivo, Google, ZTE, HTC, Motorola, and etc.
Download the Sony Xperia recovery software for free below.
1.1 How to Recover Data from Sony Xperia Internal Memory
If you aim at recovering data from Sony Xperia internal memory, please follow this tutorial and you will fluently recover your deleted data on Sony Xperia.
Step 1: Download and Install the Sony Recovery Program
First of all, you need to download and install this Sony recovery program on the computer, and then directly run it on the desktop.
Step 2: Connect and Root
- Then connect your Sony Xperia phone to the computer with a USB cable and enable USB debugging mode on the phone. When the software detects your phone, please click the "Next" icon.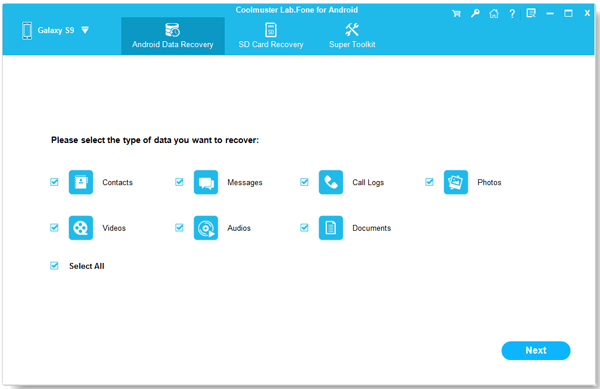 - Next, you can choose one scanning mode on the interface: Quick Scan and Deep Scan. Then tap on the "Continue" icon.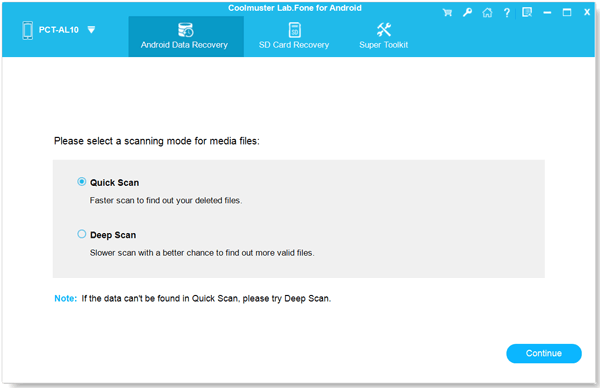 Tips: In this mode, this software can scan the internal storage and the inserted SD card on the Sony phone at the same time. If your lost files were stored on the SD card, you can recover them without root.
Step 3: Recover Deleted Files on Sony Xperia
To recover deleted files on your Sony Xperia, you need to select the data you want on the interface, and then tap on the "Recover" button to start recovering.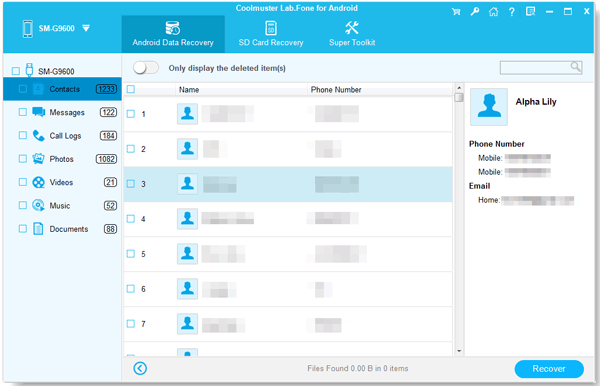 1.2 How to Recover Files from Sony Xperia SD Card without Root
When you would like to recover deleted files from the Sony Xperia SD card, this recovery software can help you as well. No matter how many files on your SD card, it can recover them without hassle. By the way, it can back up the existing files from the SD card to the computer.
Step 1: Link SD Card to Computer
Launching and choosing the "SD Card Recovery" tab on the top menu, you need to insert your SD card to a reader, and then link the reader to the computer.
Step 2: Select Deleted Data
After that, choose your SD card by ticking and click on the "Next" icon. Then you will see your deleted files from the SD card appear on the computer, please select the desired files.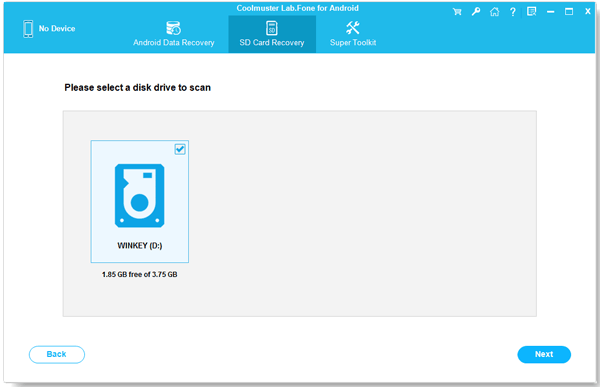 Step 3: Recover Deleted Files from SD Card
Once done, tap on the "Recover" button to retrieve your deleted files on the SD card.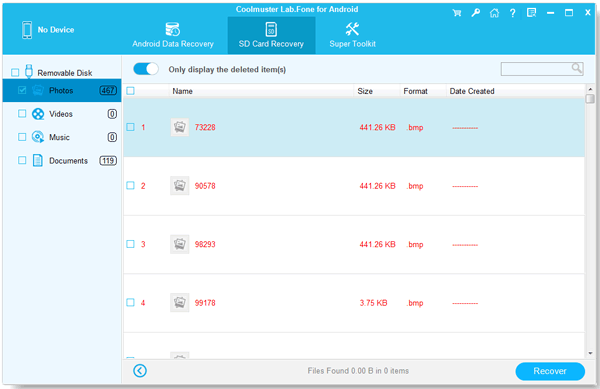 See also: These 4 easy ways that you can make use of are effective to transfer photos from Sony Xperia to computer.
Part 2: Recover Deleted Files on Xperia via Google Drive (With Backup)
Some people have the good habit that they get used to storing their important files from the Sony Xperia to Google Drive, which can avoid losing data in some way, because you can restore your deleted files from the trash folder of Google Drive within 30 days. However, you can get back the files when you deleted from the trash folder. If you wonder how to recover deleted files on Sony Xperia via Google Drive, please check for this part.
Here's how to recover deleted files on Xperia phone using Google Drive:
Step 1: Download Google Drive
Please download Google Drive on your Sony Xperia from Google Play. After installing, enter the app.
Step 2: Sign in with Google Account
You need to set up the app and sign in with your Google account. Then you can see your uploaded files on the screen.
Step 3: Restore Files Using Google Drive
Now, touch the "Settings" icon, and find the "Trash" option. As you enter the trash folder, you can see your deleted files. Click and hold the files you feel like recovering, and choose the "Restore" icon. Your files will be restored to your Sony Xperia soon.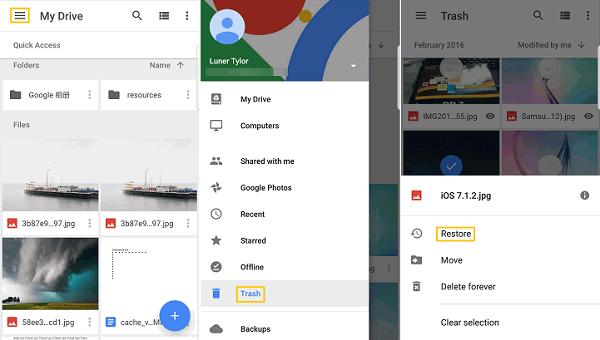 Read also: When you intend to switch Sony to Samsung, you will need to transfer data from Sony to Samsung. Here are 4 solved methods for your choice.
Part 3: How Can I Retrieve Data from a Broken Phone
If your Sony Xperia has been broken unluckily and you are eager to regain your data from the broken phone, please try this broken phone data extraction. It can help you fast extract your data from the phone.
Step 1: Download and Set Up the Program
Download the program on the compute and set it up. And you need to type the name and model of your phone.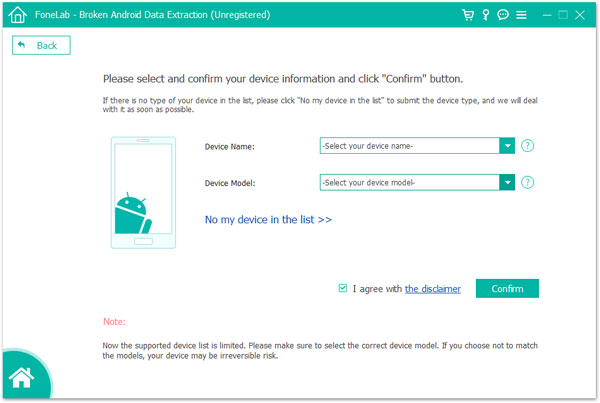 Step 2: Enter the Recovery Mode
Follow the guide on the interface to enter the recovery mode.
Step 3: Recover Data from Broken Phone
Then content will be displayed on the left side, and you need to tap on one category and select the files to recover.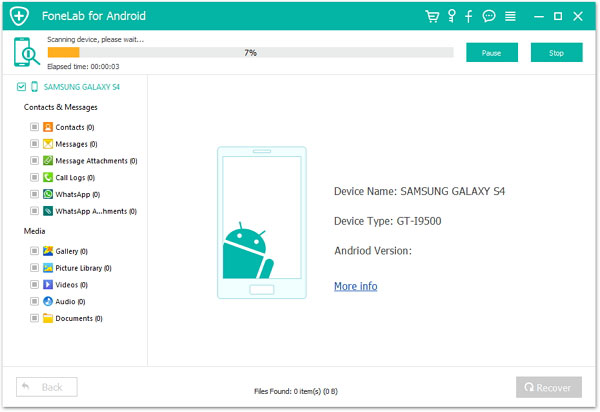 How do I boot my Sony Xperia into recovery mode?
Firstly, you are required to turn off your Sony Xperia phone and press the Volume Down and Power buttons at the same time for a few seconds. Then you will boot your Sony Xperia into recovery mode.
Conclusion
Losing data is hard to avoid completely, so you'd better learn about practical approaches of Sony Xperia data recovery. Once you delete data by accident, you will know how to recover your deleted files correctly, which is the purpose of this article sharing 3 great solutions for Sony Xperia recovery. Moreover, the powerful recovery software for Sony - Samsung Data Recovery, can furthest retrieve your lost data.
Related Articles
4 Effective Ways for Backup SD Card on Android [Best Guide]
How to Reset Sony Xperia? Here Are 4 Ways to Meet Your Needs
Deleted Folder Recovery - How to Recover Deleted Folder on Android?
How to Recover Deleted Photos on Android Internal Storage [3 Proven Methods]
6 Best Android Music Manager For Android and Computer [Recommended]
How to Back Up and Restore Contacts on Android Phone/Tablet [4 Methods]