Summary
Just purchased an Android device? So you might want to transfer data from an old device to your newly purchased smartphone. With many apps on the market these days, it is very common for one to get confused about the application they can use to migrate their data.
For this reason, we bring you the 12 best apps to transfer data from one Android phone to another, so you can get informed and make the right choice. So without wasting any more time, let's get straight to the point.
1. Samsung Data Transfer
Samsung Data Transfer allows you to directly transfer data between two Android phones. With it, you'll be able to selectively transfer all essential files, like text messages, photos, call logs, music, documents, and text messages, from one Android to another. Furthermore, the transferred data will not cover the existing data on the destination device.
Main features of Samsung Data Transfer:
- Transfer all data from one Android to another in just 1 click.
- Support almost all types of data, including apps, messages, videos, music, photos, call logs, contacts, etc.
- Allow real-time data transfer between two devices regardless of the operating system.
- Support USB and Wi-Fi transfer between Android phones/tablets.
- Compatible with most Android devices.
- Work on Windows 11/10/8/7/XP/Vista and Mac OS X 10.9 or later.
Pros:
- Allow you to select files by category before the transfer.
- Quite easy to transfer data.
- Fast detect and recognize your mobile devices.
- Besides Android devices, it supports iOS devices.
- Compatible with the latest Android OS 12 and iOS 15.
Cons:
- Not work for devices running the OSes lower than Android 4.0 or iOS 5.0.
How to use this Android data transfer desktop app:
Step 1: Download and install this phone transfer software on a computer. Then launch it on the desktop.
Step 2: Connect your devices to the computer using a working USB cable. Then enable the USB debugging mode. Ensure your devices are in the right positions, or you can click "Flip" to alter their positions.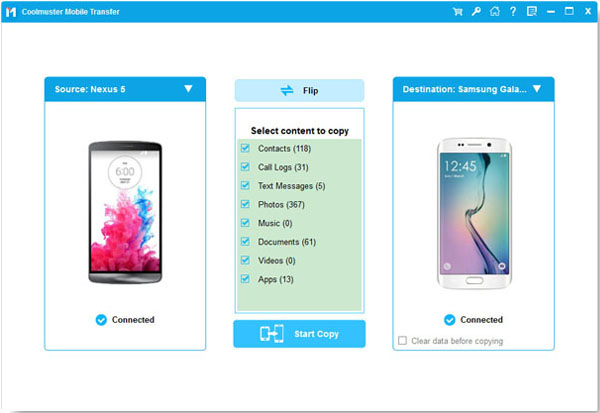 Step 3: Choose the files you need to transfer, and tap the "Start Copy" button to begin the transfer procedure.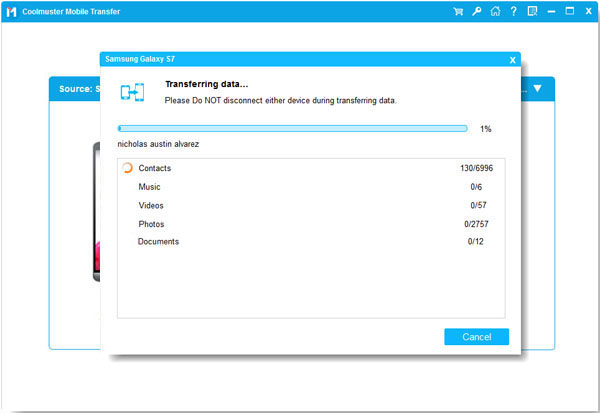 Bonus:
Seeking an app to transfer data from Android to iPhone? You can click this link.
Want to know more information of SHAREit? Then you can read this detailed review of SHAREit.
2. SHAREit
SHAREit is one of the most-used apps to transfer data from Android to Android. This tool has been downloaded more than 500 million times worldwide. It has a higher rating on the Google Play Store and thousands of positive reviews. All you need is to install the software on both devices that will be used for the transfer. The Android phones must be connected through Wi-Fi. Once that's done, you'll see the files you may transfer.
Any type of file, such as videos, music, documents, photos, and more, can be migrated using SHAREit. You can choose the files you want to transfer from one device to another without any hassle.
If you have a SHAREit, then know that the transfer process will be a walk in the park. What's more, with the CLONEit feature, one can easily copy your important files from your device within minutes.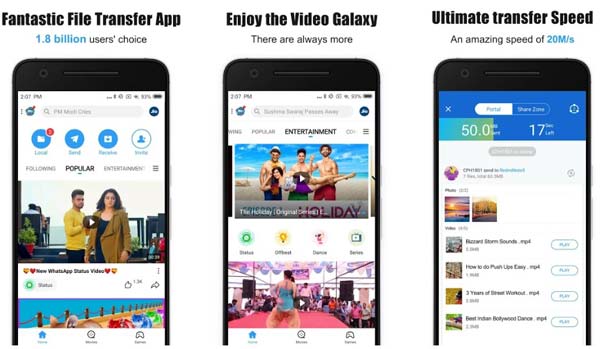 Pros:
- There is a free version on Google Play.
- Transfer data wirelessly between different Android phones.
- Come with entertainment features, like hot videos.
Cons:
- The free version comes with many disruptive ads.
- The procedure for connecting the gadgets can be tricky.
- Only transfers some data types, and many contents would miss.
- You have to pay $9.99 before accessing the premium version.
Read also: It is easy to transfer photos from a Mac computer to an Android device. Let's browse these expeditious methods.
3. Samsung Smart Switch Mobile
This is another free tool that allows data transfer between Android devices is Samsung Smart Switch Mobile. This tool is compatible with all recent Samsung smartphones, and it is installed by default on Samsung S7, 8, 9, Note 8, and Note 9 devices. You may use the app to transfer data from Android to Android like Lenovo, Motorola, HTC and many more. This tool also uses an SD card to transfer data between two Android devices.
You may transfer calendars, contacts, photos, text messages, music, etc. Another great benefit of using the app is that it allows file transfer between iOS, Blackberry, and Windows.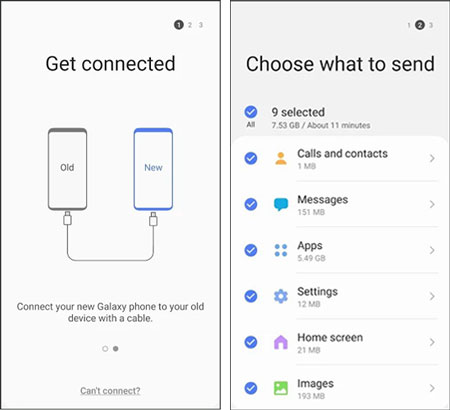 Pros:
- Free to use and no ad.
- Do not limit the data size.
- No network connection is needed.
- Support USB and wireless transmission methods.
Cons:
- Some requirements are technical.
- Supports only Samsung to Samsung transfer.
Further reading:
4. Xender
Xender is another easy-to-use transfer app that lets you send files from one Android to another. It has over 500 million users worldwide. All you have to do is connect the devices through an access point, so you don't need any kind of cable to transfer your files. It allows users to transfer videos, photos, messages, contacts, games, and more.
Apart from that, Xender also enables connecting up to four different phones simultaneously to transfer files between each other. You may even migrate the data between different platforms such as iOS, Windows, or even to PC; no additional installation is required. In addition, Xender shares the files at a speed of about 40 MB per second.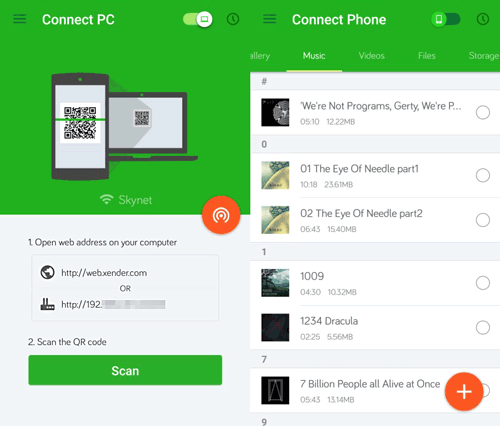 Pros:
- Transfers files without problems.
- Fewer ads than some apps.
- Support media files and different formats of documents.
Cons:
- Sometimes it might be slow.
5. Send Anywhere
Send Anywhere enables secure data transfer using strong 256-bit encryption, so it is a favorite with subject matter experts. The tool comes for free but has ads and paid content. This application is compatible with several different systems and allows the safe sending of files, requiring a six-digit code or scanning a QR code to transfer.
In addition, it is possible to send files without mobile data or an internet connection. Files can still be shared with multiple people using the custom link. The app comes with cloud storage to store your files and data. In addition, transferred files are not saved on a server, ensuring complete protection against data theft. You can also use Send Anywhere Plus to share up to 50GB of data.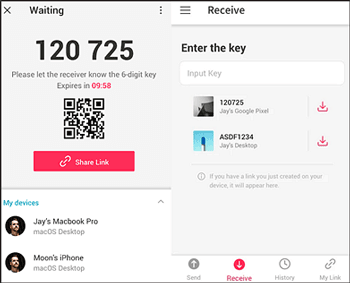 Pros:
- Do not change the original file type.
- Allow you to send files to multiple people via a link.
- Do not need internet or data.
Cons:
- Network is needed if Wi-Fi Direct is not available on your Android phone.
Bonus: You can also move your Android files to your USB flash drive by learning this guide.
6. AirDroid
Recommended by various tech-savvy websites like CNET, PCWorld, Lifehacker, and BGR, AirDroid is among the best data transfer apps available. This app allows the transfer of folders and files from one phone device to another. Besides, it allows its users to get full control of their Android phones remotely through their computers.
It doesn't matter if you have a locked smartphone screen; you may still use your phone normally and even track it. You can also transfer files from an Android to a computer. AirDroid also allows you to create backups of your device on your computer. The only downside of this tool is that it doesn't allow data transfer to many devices.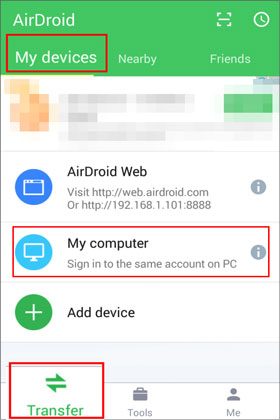 Pros:
- Simple and easy user interface.
- Manage your phone files on your computer.
- Come with a screen recording feature.
Cons:
- Limit files sent to 30MB.
- You have to scan the QR code over the internet to log in.
- Disable simultaneous data transfer to many devices.
- The free account only offers a 200MB/month data limit if you run it under a non-local network.
7. AirMore
This is specifically a data management app for iOS and Android devices that enables data transfer between different platforms. Various data types like photos, messages, videos and documents may be transferred using the AireMore. It is free and enables those using it to move, transfer and store data over a network connection.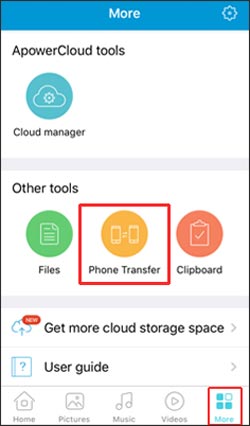 Pros:
- Send your Android files to another device without a cable.
- Stream your Android photos, music, and videos to your Windows PC.
- You can scan a QR code on its web or use the radar feature for connection.
- Android screen reflector is available.
Cons:
- Contain annoying ads.
- No Mac version.
- Fail to establish the connection between Android and PC even though they are under the same network from time to time.
8. Zapya
This is another excellent app for sharing files and data. This cross-platform tool enables iOS and Android data transfer to iOS Phones. With Zapya, you may connect up to 4 gadgets and then transfer all format files with a QR code.
Zapya also has a feature for instant messaging, allowing its users to chat and share content. In addition, you may use Zapya to create a backup and then transfer folders and files from your old device to a new phone. This app is free with no ads or in-application purchases.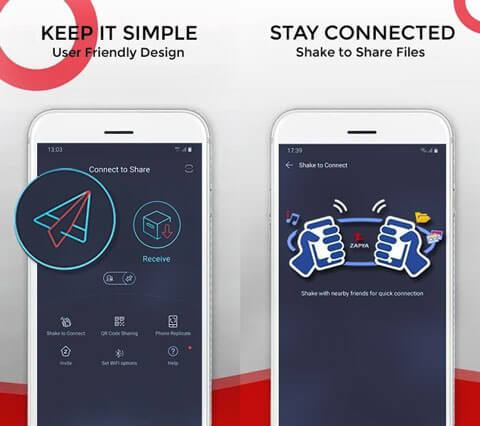 Pros:
- Easier to use without a complicated setup.
- Fast file transfer.
- Support the unlimited transfer of files.
- Can connect various devices.
Cons:
- Contain ads and in-app purchases.
9. Bluetooth File Transfer
This is an underrated data transfer tool today as it has a robust file manager and excellent interface. With it, you may share files using a Bluetooth connection. All data are sent on a secure connection, as any transfer must be authorized in advance. You may also use its manager to move, cut, copy, or delete files as well as zip or unzip folders.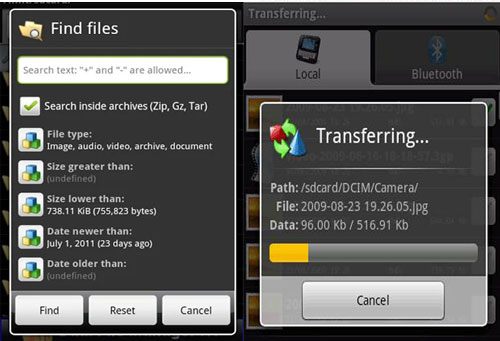 Pros:
- Transfer and manage your Android files via Bluetooth.
- Have a secure connection.
- Allow you to hide or unhide media files on smartphone and SD card memory.
Cons:
- It is difficult to check the selection boxes next to files because the nearby scroll feature will move the page easily.
- Come with unwanted ads.
10. LG Mobile Switch
With LG Mobile Switch, you may transfer data from an Android device or iPhone to your new LG phone. Data may be transferred over a Wi-Fi network or cable. With this app, you may easily transfer call logs, messages, contacts, photos, videos, audio, etc., from your Android device, the LG device. The app is also very easy to use, but its only disadvantage is that it can't transfer data from the cloud, such as Google Drive or iCloud data.
Pros:
- Enable you to switch to a new Android LG phone via a USB cable and an adaptor.
- Also support wireless and SD card transfer.
- User-friendly interface.
Cons:
- You can't transfer data stored in the cloud
- Supports LG devices only.
11. Huawei Backup
This app backs up important data like contacts, photos, videos, call logs, apps, and many more on a cloud or storage device. Your backup will be encrypted and can be saved on memory cards, flash drives, or in the cloud. You can then transfer this backup to anywhere you want, including to a new phone.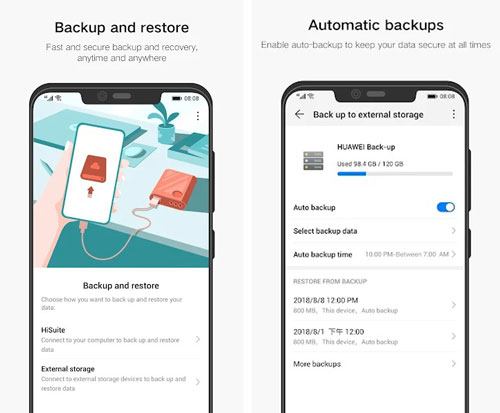 Pros:
- Automatically back up various file types on a Huawei phone.
- Easily restore the backup to another Huawei phone.
- Support 79 languages.
Cons:
- Fail to back up photos and other files to the cloud storage.
- Some errors might occur on your backup data.
12. Dr.Fone - Phone Transfer
Dr.Fone Phone Transfer is an all-in-one solution desktop application that can help transfer data from Android to Android. It can transfer 12 file types, such as contact blacklists, bookmarks, voice memos, and the like.
Pros:
- Support Android and Apple mobile phones.
- Easier to use than Smart Switch.
- Scan your phone data without effort.
- The mobile version can transfer data without a computer.
Cons:
- The mobile version is unavailable to download.
Conclusion
While there are numerous data transfer options, the 12 tools listed above are undoubtedly useful and safe apps on the market. Now just choose the application that will best suit your needs.
Lastly, we'd like to recommend the Samsung Data Transfer software. It can copy most Android data to a target Android device with original quality. Additionally, it is simple to use even if you are new.
Related Articles
How to Transfer Photos from Android to PC Windows 10 [Handy Guide]
Export Text Messages from Android to PDF Handily (Advanced Tutorial)
How to Find Android Recycle Bin and Recover Deleted Files Easily
[Informative Introduction] 8 Top Options of Android Data Eraser Software
How to Clone an iPhone without Effort [Ultimate Guide with 5 Methods]
How to Transfer Data from Android to iPhone 12/12 Pro/11/11 Pro Max (Easiest)