Summary
Get nothing when you search for Android PS Suite on the Internet? In the past, there are few applications about PC Suite for Android phone, but now, you can find the useful Android PS Suite to transfer and manage your files in this post. Read it and you can make a selection by yourself.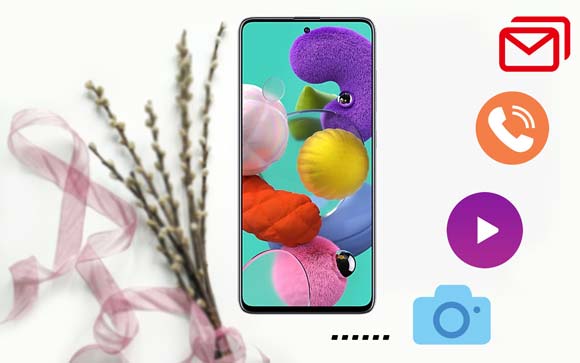 Part 1: Best Android PC Suite – Samsung Messages Backup for Windows and Mac (Free to Try)
Samsung Messages Backup is an integrated Android PC Suite for Mac and Windows. You can use it to transfer and manage your Android files on the Mac and Windows computer, including contacts, text messages, call logs, photos, videos, music, apps, books, and more. Additionally, this app has multiple features for managing Android files. If needed, please head to the following descriptions.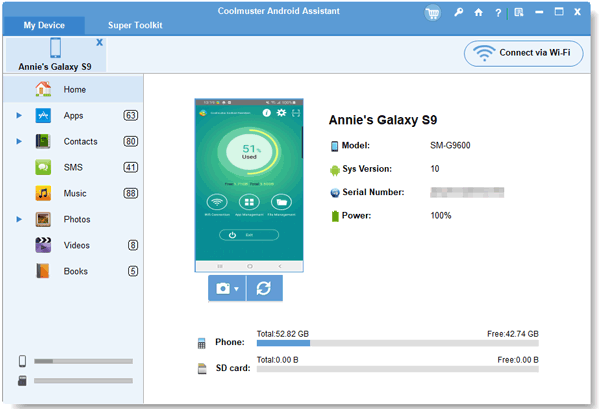 Highlighted features of Samsung Messages Backup:
- Back up Android on computer in 1 click;
- Restore all the files from Android to the computer with 1-click function;
- Preview the files on the computer before you import/export the files selectively;
- Taking screenshots of the Android phone on the PC/Mac easily;
- Connect Android to the computer via a USB cable and Wi-Fi;
- Install and uninstall APK of your Android device on the computer;
- Edit, send, and receive SMS on the computer;
- You can create new playlists of the music and move the songs to it freely;
- Add contacts, and delete the unwanted phone numbers on the computer.
What's more, this Android PC Suite is compatible with Android phones powerfully. It can work with the Android phone whose OS is Android 4.0 and later, like Samsung Galaxy S23/S22/S21/S20/S10/S9/S8/S7/S6, Huawei Mate Xs/Mate 30 Pro/Mate 30/Mate 20 Pro/Mate 20 X/ Mate 20/Mate X, Sony Xperia 1 IV/Xperia 5 IV/Xperia 10 IV/Xperia Pro-I, HTC, Xiaomi, Google, OnePlus, and so on.
Download this Android PC Suite below for free.
Pros and Cons
Pros
- Transfer files from Android to the computer and vice versa quickly;
- No ads and easy to operate;
- Manage Android files on the computer conveniently;
- Download and try part of functions for free;
- Support Windows and Mac OSes.
Cons
- Work with Android device only;
- You need to pay for its license if you want to get the total features.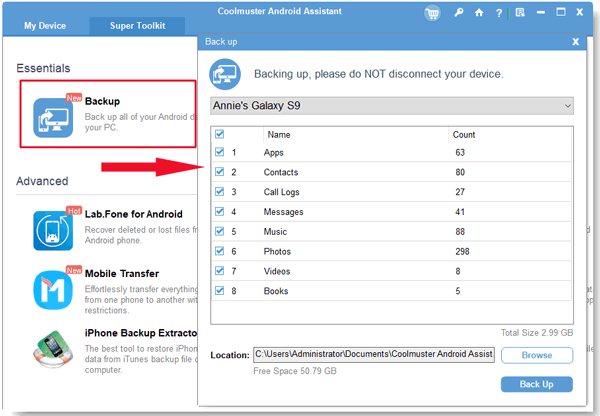 See also:
Want to transfer contacts from Android phone to computer easily? Please get these three tips here.
What if you want to recover Snapchat messages on Android? Is it viable to achieve the recovery?
Part 2: Third-Party Android PC Suite
If you want to know more about Android PC Suite applications, please pay attention to the second part. There are 4 the third-party apps about Android PC Suite here you can pick out according to the detailed statements.
2.1: MOBILedit
MOBILedit is a universal PC Suite for Android, so you can have good management of the Android files with it. It can help you access your Android data on the computer fast with the user-friendly interface. Besides, you can make your special ringtone in less time with the music that you downloaded.
Pros and Cons
Pros
- Modern design and access Android phone fast to modify the content;
- Remove the duplicates from your contacts;
- Back up files on Android phone without hassle;
- Transfer kinds of data from one cell phone to another;
- Send, print, search, and archive your text messages;
Cons
- Purchase an activation key to get the full version;
- Some features don't work well at times.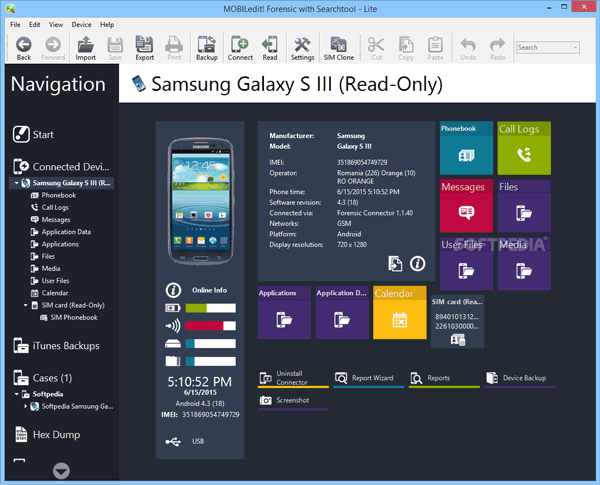 Further reading: If you are a Xiaomi user, you'd better not miss the ways about Mi PC Suite.
2.2: AirDroid
Using AirDroid, you can transfer your Android files to the computer seamlessly. Therefore, this is a wireless Android PC Suite. Calls, messages, and app notifications are allowed, so you can control your Android phone remotely with it.
Pros and Cons
Pros
- Back up photos and videos from the smartphone to the computer;
- Reply the SMS on the computer;
- Remote access and management of your Android phone easily;
- Support Mac and Windows computers;
- Remote camera feature can help you monitor the distant environment.
Cons
- The remote camera feature is only for premium users only;
- To transfer files through the Internet is not 100% secure;
- Get all the functions via making a subscription.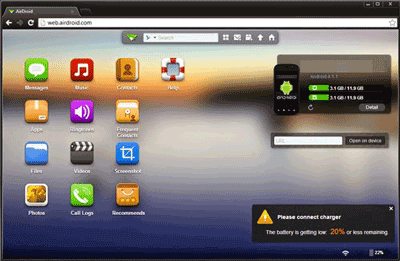 2.3: Moborobo
Moborobo is an Android PC Suite for Windows 10, and it allows you to manage your music, ringtones, wallpapers, and other media files on the computer with adding and deleting features. Furthermore, you can download, install, and run the apps from Google Play with it.
Pros and Cons
Pros
- The brief interfaces let you control the app with ease;
- Synchronize the data from Android to the computer;
- Multiple data types are supported, like videos, images, applications, contacts, messages, and more;
- You would be notified to update your apps, and you can find some apps which is cannot found on Google Play.
Cons
- Sometimes you cannot transfer apps of the Android phone;
- The update information is not accurate for you can't receive the update news;
- When running different OSes on your Android devices, it cannot transfer data.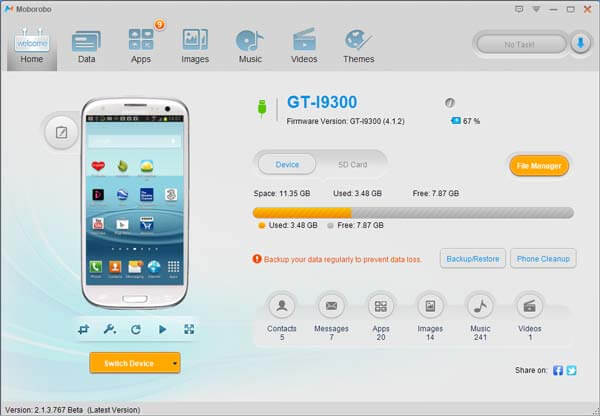 2.4: Droid Explorer
Droid Explorer is an Android PC Suite tool for Windows 10. You can manage your Android phone on the computer in a simple way. The features of viewing, copying, and deleting files are supported in this app. Thus, you can access your Android device on the computer breezily with it.
Pros and Cons
Pros
- You can restart your Android phone on the PC directly;
- Wireless transfer for files between Android and computer;
- Capable of taking screen grabs from your Android smartphone;
- Make a safe backup of your Android files;
- Transfer data from your SD card to the PC;
- Scan the files on the computer clearly.
Cons
- Lack of the key features for Android as an Android PC Suite;
- Some functions are not effective.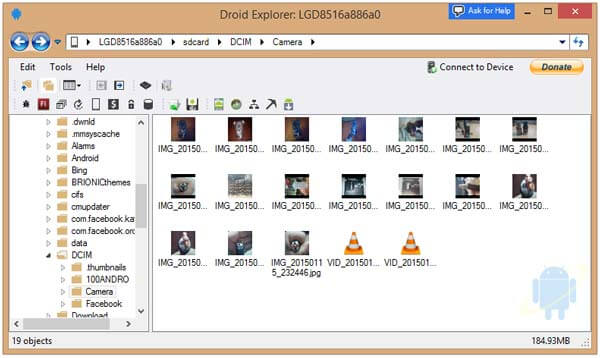 Conclusion
The apps mentioned above are the Android PC Suite that the post wants to display to you. You can download one of them or more to have a try for free. But it is necessary to remind you that you'd better make a choice according to your authentic requirements. If you would like to get an overall PC Suite for Android, it is recommended to try Samsung Messages Backup because it is a cross-platform to manage the Android files. At an end, welcome to leave your suggestions on the reviews part.
Related Articles
Wonder How to Backup Android to Mac? Here Are 5 Ideal Answers!
How to Effectively Recover Deleted Text Messages on Android in 2023?
How to Print Out Text Messages from Android Phone? [4 Methods]
How to Transfer Files from Android to Android in 2023?
4 Best Samsung Backup Apps and Software
How to Transfer Contacts from Android to iPhone?