Summary
Many communication apps are surfacing, and Snapchat is among the best apps. It's a universal video-sharing platform worldwide, with millions of daily users. Besides sharing videos and images, Snapchat also conveniently allows people to communicate with friends and family.
Nonetheless, your Snapchat messages might get lost or deleted for unknown reasons. This could be pretty irritating, especially if the chats were valuable to you. Luckily, the methods highlighted in this article can help you know how to recover Snapchat messages on Android devices.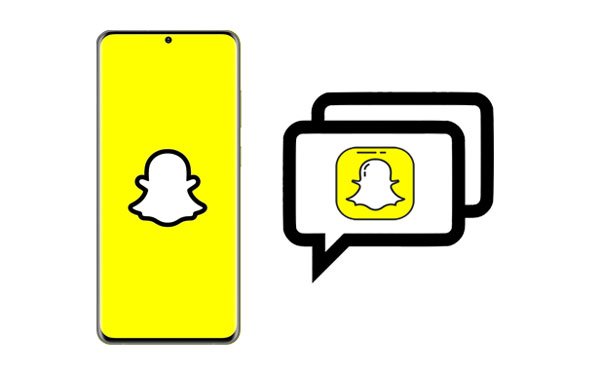 Part 1: Is it Feasible to Restore Snapchat Chats on Android?
Yes, it is possible to recover Snapchat chats from the application. However, some messages might disappear from the application. There is no need to panic because these messages are saved on Android. They can get lost forever if you do not keep the particular chats. To restore Snapchat messages, you either retrieve the data from the cache or use a Snapchat messages recovery tool.
Part 2: How to Retrieve Deleted Snapchat Messages on Android Using a PC
Deleted messages from Snapchat are saved in the device's internal storage under the cache folder. To get your lost Snapchat messages back, you can access this folder on your PC, and find your chat history.
Follow the process below to recover these particular messages:
Step 1: Connect your Android phone to a PC via a data cable, and tap the "MTP" option to make the computer recognize your device.
Step 2: Access your Android device by going to This PC, and find the "Android" > "Data" > "com.snapchat.android" > "cache" folder.
Step 3: Select the Snapchat messages you want to restore, and paste the message data to the "Recover" folder on your computer. Now, open Snapchat and check whether the messages are restored.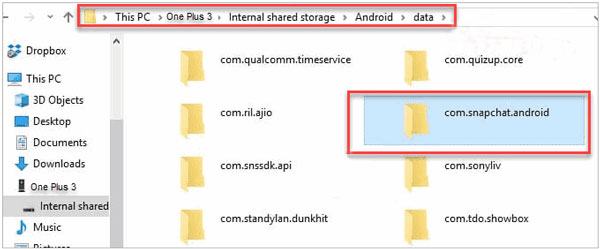 Read also: Click here to see how to recover Snapchat photos on an Android phone in 4 ways.
Part 3: How to Restore Lost Snapchat Messages from Snapchat Cache on Android
While removing unwanted Snapchat messages, you might mistakenly remove valuable ones. Snapchat usually deletes messages and pictures after being viewed by the recipient. Even though the messages might disappear from your Snapchat application, they are still available on your Android device.
They may not be visible, but they are available in the Android device's internal storage. Note that the Snapchat files will be permanently deleted when you decide to erase the temporary file cache. That is why it抯 still possible to recover lost or deleted Snapchat chats from your Android device.
To recover Snapchat messages, you must find the specific location on your Android device where the chats are stored automatically. You will find them in the phone's media storage.
The following steps will simplify the process:
Step 1: Please open the built-in File Manager on your Android phone. If it is inaccessible, you can install one from the app store.
Step 2: Go to Android/data/ and open the "com.snapchat.android" folder. Then look for the file with a .nomedia extension. You will also find the files with the invisible data.
Step 3: To restore deleted Snapchat messages, remove the nomedia extension and rename every individual file. Then the respective file thumbnails will be visible. Do some digging to retrieve and recover the deleted Snapchat messages.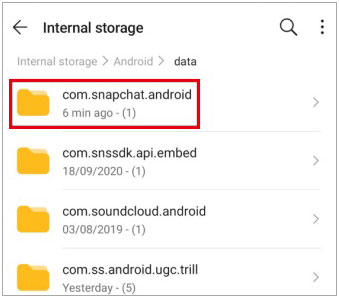 Further reading: Can you change your GPS location on Snapchat? You can follow this guide to change the virtual location if you want it.
Part 4: How to Recover Deleted Snapchat Messages on Android via My Data Feature
My Data Feature lets you send a personalized request to the owner to help you retrieve Snapchat messages on an Android device. This feature enables users to request and download the deleted data in a zip file.
The steps to get a zip file include:
Step 1: Use your email id and password to sign in to your Snapchat account. In the "Manage My Account" part, click on the "My Data" option.
Step 2: A list of data available for download will appear. Click on the "SUBMIT REQUEST" icon. Wait for the Snapchat support team to mail you the separate zip file incorporating the deleted messages and other backed-up data.
Step 3: Check your different mail folders for the verified email from Snapchat. When you receive the mail, tap on the provided link to access the data. Download the "mydata.zip" file, which will automatically store on your device.
Step 4: Locate the folder path where your file is caved and click on it. Click the "Extract" button and select your preferred location to save the extracted files. You will find a new folder indicating "My Data".
Step 5: Open this folder and tap on the "index.html" file. You can preview your lost Snapchat data on your Android smartphone and tablet.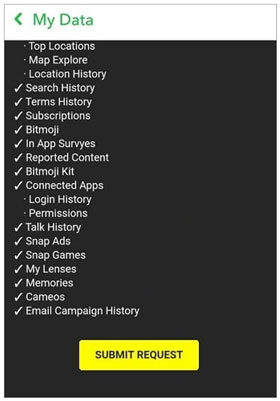 Guess you need:
Easily Recover Deleted WhatsApp Images on Samsung | 5 Functional Approaches
Effectively Recover Deleted Text Messages on Android
Bonus Tip: Save Your Snapchat Chats to Snapchat Server
Snapchat often allows users to save their chats on the server. This can be useful for saving memories, but you should check out the steps below before taking this route to ensure that your chats are protected.
Step 1: Open the Snapchat application on your iOS or Android device where you prefer to recover the messages, and sign in to your ID.
Step 2: Right-swipe on your screen to display your chat records, locate the "Chat" button in the upper-left corner and search for a contact to chat with.
Step 3: Type your message and tap on the "Send" icon. The message will be visible on the chat interface. Then click on the message you sent and observe it turning grey and bold.
This denotes that a particular message will be stored on the Snapchat server and will not be deleted. The same case applies to all messages you receive.
That's it! To ensure your messages will be secure, ensure you save them on the Snapchat server, and when you need them in the future, you can still recover them easily.
Conclusion
The methods articulated above simplify recovering Snapchat text messages on an Android. The plans include simple steps that are easy to comprehend and are ideal and effective for all Snapchat users. Thus, if you want to recover your valuable Snapchat data, you can select the most appropriate and convenient method according to your preferences.
Related Articles
How to Transfer Text Messages from Samsung to Samsung Easily? [4 Methods]
How to Transfer Messages from Android to Mac Easily? 4 Helpful Tips Here
How to Retrieve Contacts from SIM Card with 3 Useful Methods
How to Restore WhatsApp Backup from Google Drive to iPhone with Ease
Effortlessly Transfer SIM Card Data to Computer without Data Loss
Android Music Sync Approaches: Sync Music Between PC and Android with Ease