Nowadays, one single mobile device can perfectly suit all your needs, ranging from connecting with your friends or families to entertaining yourself with beautiful lyrical songs or to playing games conducive to your brain development and etc, since more and more advanced and comprehensive functions are integrated in one. So now when you are taking a bus, undertaking a subway, or simply queuing in lines for payment, you can easily kill off the boring times with these media files. Most importantly, you can use your mobile device to take photos or videos to memorize some special moments or beautiful older times.
But have you ever worried that what if unexpected accidents such as mistaken deletion or virus infection lead to the whole data loss? What if the increasing number of media files (photos, videos, music) gradually erode the storage space of your Android device, until to none? Are you willing to delete the old memories to save new or directly give up saving new files? And that's why you need to transfer media files from Android phones to computer and save them as a backup. Then you absolutely can't miss this Samsung Messages Backup, which allows you to easily and quickly back up media files from Android phones to computer, regardless of the file quantity. More importantly, this software offers you more than this. You can also use it to backup other files like contacts, messages which can't be easily accessed without a professional third-party tool. So below is the free trial version of this software. Want to give it a try?
Tutorial to Back up Media Files from Android Phones to Computer
Step 1. Get Android Phone Connected to Computer
First of all, open the installed software on the computer and then get your Android phone connected to the computer via the USB cord. If you then see the below interface, follow the steps to enable USB debugging on your Android device. If not, just skip to the next step.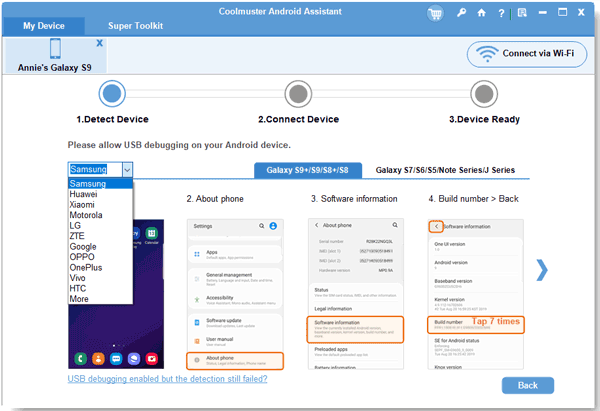 Step 2. Preview Files on the Computer
Now, you can see that different file folders are arranged on the left panel. You can enter different file folders to preview more detailed file information as wanted. Also, while previewing, you can select the files you want to transfer from Android phones to the computer as a backup.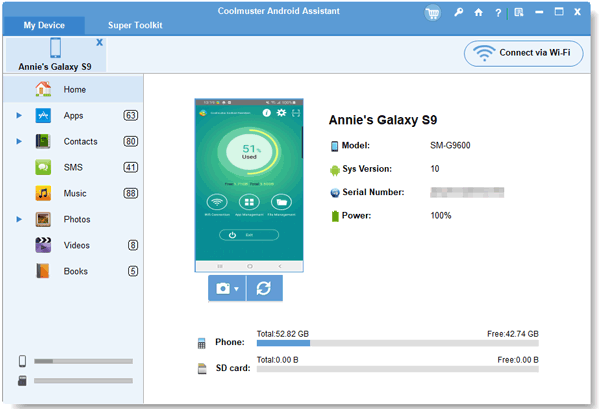 Step 3. Backup Android Media Files to Computer
After selecting the media files, i.e. photos, videos, music songs you want to transfer from Android phones to the computer, you can click on the Export option to transfer media files from Android phones to the computer and save them as a backup.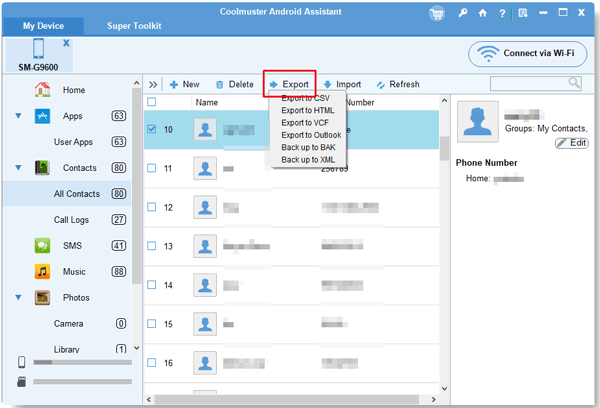 Now, you won't need to worry that you may lose your important files all of a sudden or have no more space to save new files! So what are you waiting for? Just give it a try!
Related Article:
One Click to Install Apps on HTC Phones
Tips to Print out Contacts from Android
How to Transfer Files from Samsung Tablet to PC | 5 Seamless Ways
How to Effectively Recover Deleted Text Messages on Android?