Summary
Stored too many files on your Samsung tablet? As we all know, a mobile device will be stuck if its internal storage is depleted. If you don't want to delete your files on your tablet, you'd better know how to transfer files from the Samsung tablet to the PC, as the PC has larger storage space.
Check 5 approaches below to transfer files from a tablet to a computer, then you can move your pictures, videos, etc., like a pro.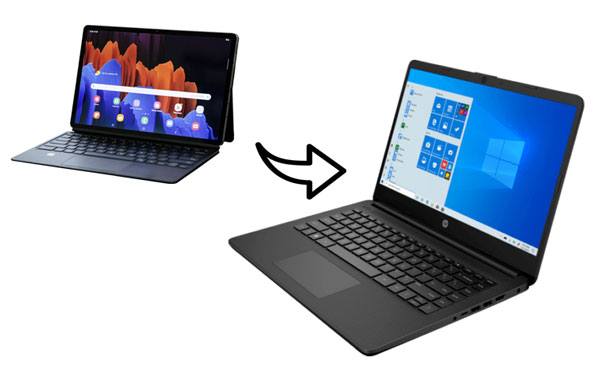 Part 1: How to Transfer Files from Samsung Tablet to PC via Samsung Messages Backup (Handily)
How can you transfer data from a tablet to a PC without effort? You can use this Samsung Messages Backup, a secure and user-friendly transfer program. First, it can transfer almost all kinds of files from a Samsung tablet, including contacts, photos, videos, apps, SMS, songs, call history, and more. Second, there is a Super Toolkit feature to move all files to the PC in 1 click.
Highlights of this Samsung data backup software:
- Fast scan the data out from your Samsung tablet, and display the detailed files on the interface.
- Allow you to preview and select the files you want before transferring files.
- Enable you to restore your backup data from the computer to your tablet at once.
- Help you one-click to complete the Android file transfer between Android and PC.
- Support you to import files from the PC to the Samsung tablet selectively.
- Offer multiple features to manage your data, such as editing, deleting, copying, moving, etc.
- Take screenshots of your Samsung device and save them to your computer.
- USB and Wi-Fi connections both are available.
Besides, this software is widely suitable for most Samsung tablets, phones, and other Android devices. It lends itself to Samsung Galaxy Tab A7 Lite/Tab A7/Tab S7 FE/Tab S7/Tab S6/Tab A 8.0, Samsung Galaxy S21/S20/S10/S9/A72/A71/A70/A52, HTC U20/U12 Life/U12+/U11/U19e, Google, OnePlus, Xiaomi, OPPO, Vivo, Meizu, Sony, LG, etc.
Download this Samsung to computer transfer software for free below.
Guide on how to transfer pictures from a Samsung tablet to a computer via this program:
Step 1. Launch the Software
After the download, please install and launch it on your computer. Then click the "Android Assistant" module.
Step 2. Connect Samsung Galaxy Tab to Computer
Connect your tablet to the PC via a USB cable, and enable the USB debugging mode on the tablet. Once connected, you can choose the "Photos" category.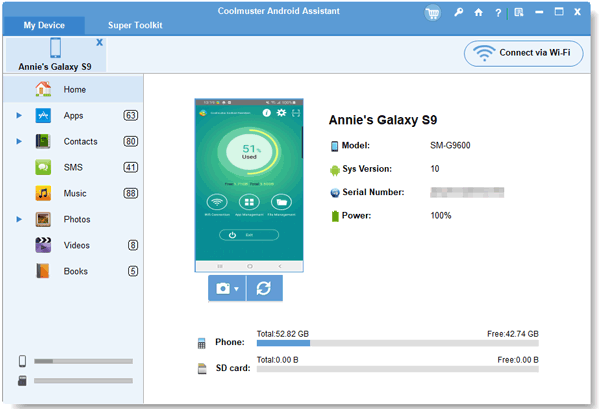 Step 3. Transfer Photos from Samsung Tablet to PC
You can directly preview your photos on the right side. Check the pictures you want, and tap the "Export" icon to save them on your PC.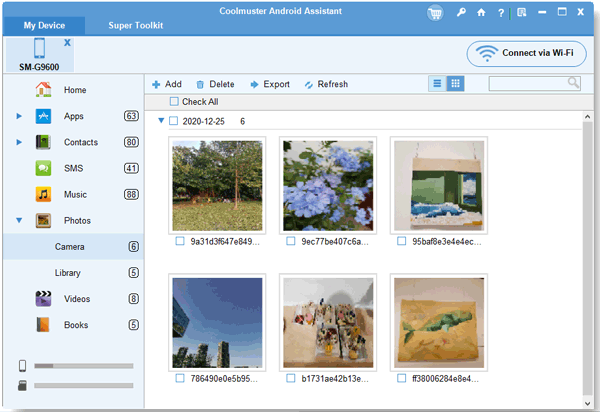 People also like: Besides, you can check how to transfer files from PC to Samsung tablet here.
Part 2: How to Transfer Files from Tablet to Computer via USB Flash Drive
If you have a UBS flash drive, you can also use it to get files off the Samsung Galaxy tablet. But please make sure the stick is appropriate to the port of your tablet. Otherwise, you will need a USB adaptor.
Here's how to get pictures off the Samsung Galaxy tablet to the computer via a USB flash drive:
Step 1. Move Pictures to the Flash Drive
- Plug the portable thumb drive into your tablet, and open My Files. Then navigate to the files you plan to move, select and move them to a folder on the drive.
- After the transfer is over, please safely remove the flash stick from your Samsung device.
Step 2. Transfer the Files to Computer
Connect the USB flash drive to your computer, then access the drive, and copy the folder storing your Samsung files to the computer. Once done, you will successfully get the data onto your computer.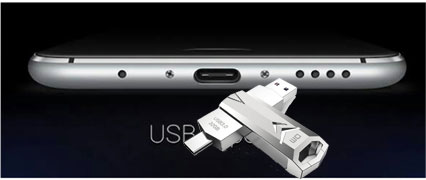 Read also: Searching for a Titanium Backup alternative? Here are 10 options for your reference.
Part 3: How to Transfer Data from Tablet to PC via Data Cable (Slowly)
Many Samsung users would like to transfer data from a tablet to a PC using a cable. Yeah, it is very easy to connect your Samsung Galaxy Tab to the PC, but it is slow when you move lots of files at a time. Additionally, in this way, you cannot directly transfer some basic data, like contacts, text messages, call logs, etc. By the way, Android File Transfer is needed if you move photos and other data from Samsung to Mac.
Here's how to move files from a Samsung tablet to a PC via a data cable:
Step 1. Link the Tablet to the PC
Please use the data cable to link your tablet to the PC, and choose the "MTP" option on the Samsung Tab. Then you can access your tablet on the PC.
Step 2. Open the Samsung Folder
Open This PC, and you double-click your tablet drive to open the folder you want. Next, copy and paste the desired content from the Samsung Tab to your PC.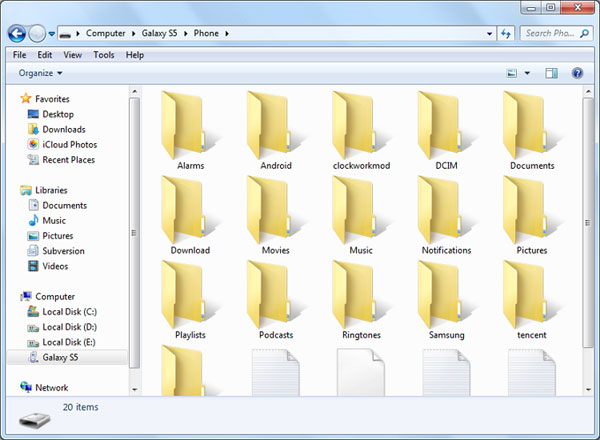 Further reading: This post will tell you how to smoothly move data from Huawei to Samsung.
Part 4: How to Transfer Pictures from Samsung Tablet to Computer via Samsung Smart Switch
Samsung Smart Switch can back up and restore data from a Samsung device to a computer. You can utilize this software if you want to transfer all pictures or other file types from your Galaxy Tab S7 to the computer. By the way, it doesn't allow you to preview files in detail or transfer them selectively.
Tutorial on how to copy files from a Samsung Galaxy Tab to a PC using Smart Switch:
Step 1. Install Smart Switch
First of all, please download and install Smart Switch on your PC. Then run it, and establish a USB connection between your tablet and the PC.
Step 2. Choose Data Types
To pick the data types you want to transfer, you need to tap the "MORE" > "Preferences" option, and click the "Backup items" tab. After the selection, please tap the "OK" icon.
Step 3. Transmit the Selected File Types to PC
Hit on the "Backup" icon to begin the transfer procedure. The software will send your files from the tablet to your PC.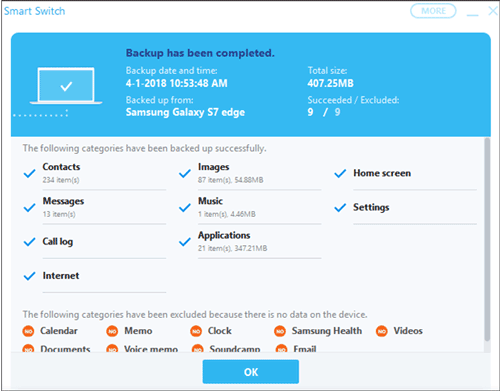 Maybe you need: Are you interested in try a better alternative to Samsung Smart Switch? If so, please don't miss this article.
Part 5: How to Transfer Photos from Samsung Tablet to PC via AirMore
Want to transfer photos from a Samsung tablet to a PC wirelessly? Don't worry. AirMore is another wireless option for sending files to your computer. With it, you can connect your tablet and PC by scanning a temporary QR code or using the radar. But it requires a table network for the transfer.
Here's how to download photos from the Samsung tablet to the computer via AirMore:
Step 1. Launch AirMore Web
Please install AirMore on your Samsung tablet. Then open the AirMore website, and tap the "Launch AirMore Web to Connect" button.
Step 2. Scan QR Code for Connection
Open the app, and tap the "Scan to connect" icon to scan the QR code for connection.
Step 3. Send Photos from Tablet to PC
Choose the "Pictures" category, and select the images from your Samsung tablet. Finally, click the "Download" icon to save your selected pictures to your PC.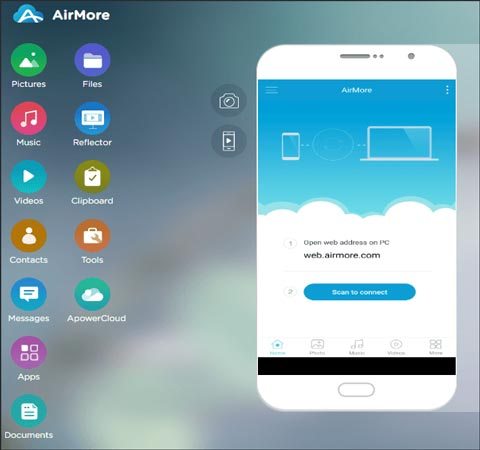 You might like: How to transfer files from Android to a PC over Wi-Fi? Click the link, and you will know 6 transfer ways via Wi-Fi.
Wrapping Up
As mentioned above, if you have a useful tool for Samsung to PC transfer, you will effortlessly transfer files from your Samsung tablet to PC. Samsung Messages Backup is an ideal option because it can make the data transfer faster, and you can also manage your Samsung files on your computer. You can even send SMS on your computer. Just download it if you want to try this amazing software to have a handy data transmission.
Related Articles
How to Retrieve Deleted Texts on Samsung? - 4 Easy Ways
[Updated] How to Transfer Contacts from Samsung to Samsung?
Samsung File Manager - How to Manage Samsung Files Effectively?
[Fast Transfer] How to Transfer Your Photos from iPhone to Android Effectively?
How to Transfer Music from iPhone to Samsung | Freely Select 5 Smart Methods
3 Ways to Quickly Transfer Messages from iPhone to Samsung (Latest)