Since all newest operating systems are generally equipped with more practical features and professional functions, most people will choose to update to the latest version once it is available. And, now for Android users, the biggest shot is surely the release of Android 6.0 Marshmallow. While you are planning to update your Android device to the latest version or you have updated to the newest Android 6.0 Marshmallow, you will need a professional backup assistant, so as to backup important files in case of data losses during or after the upgrading process.
Speaking of that, you can't miss this Samsung Messages Backup, which allows you to easily back up files of your Android 6.0 Marshmallow devices directly on the computer in an easy and efficient way. This software enables you to transfer anything from your Android device to the computer as needed and wanted, including files saved in the internal memory like contacts, messages and files saved in the external memory like music songs, videos, apps and more. You can save these important files on the computer as a backup, so as to avoid data losses due to various reasons, so next time when you want to update your Android system, there is no need to worry about the data issue at all, since you can easily export these files to the computer within simple clicks. And even after you have finished the updating process, it can still be your best backup assistant once and for all for any Android device, be it mobile phone or tablet!
Below is the free trial version of this software! You can download the right version to give it a try by yourself!
Full Guide on Backup Assistant for Android 6.0 Marshmallow
Step 1. To start with, open the installed software on the computer and then get your Android device connected to the computer via the USB cord. You will then see the below interface where all file folders are arranged on the left panel. You can enter the tab to preview more detailed files.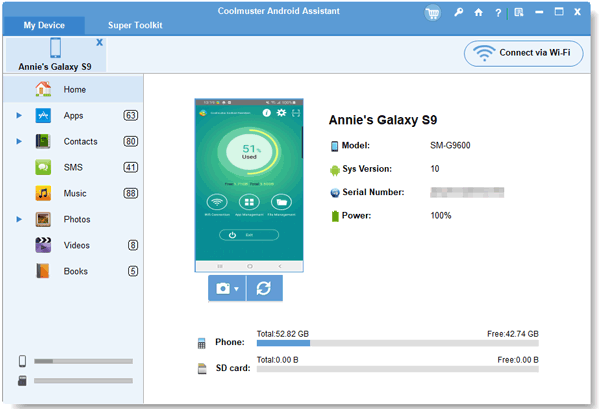 Step 2. Then after you tick out the files you wish to make a phone backup of, you can click on the Export option on the top panel to transfer these files to the computer as a backup. Finally, you just need to wait for the process to get completed within a little while.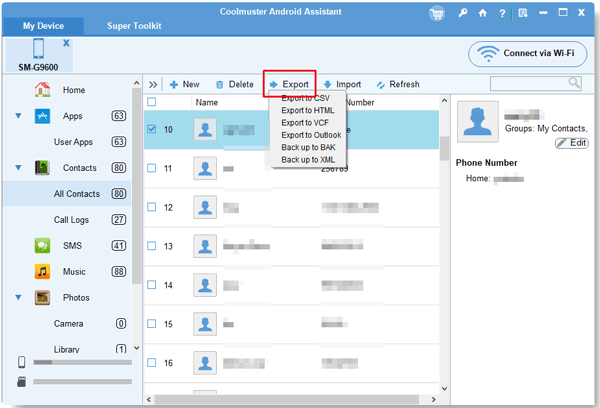 By the way, the tutorial mentioned in the above takes Windows version as example. For Mac users, you can download the right version and then follow the same steps!
Related Article:
How to Back up Android Apps on Computer
Best Alternative to Carbon Backup for Android
How to Back Up Samsung to PC Easily? - 7 Ways You Can't Miss
How to Unlock Samsung Tablet without Losing Data [Updated & Solved]