Summary
Have you locked your Samsung tablet, and you can't remember the password and unlock it again? Are you worried about losing your tablet's data and unwilling to part? Most users get through tricky things, especially electronic gadgets. Many people can't identify the critical strategies to unlock Samsung Tablets and not lose any data.
The desperation of unlocking the device mostly overshadows the willingness to keep your data safe. Most people end up on factory resetting, which erases all your data without leaving any of it. So, more and more Samsung tablet users wonder how to unlock a Samsung tablet without losing data.
In this case, we have summarized 4 trustworthy ways to unlock your Samsung Tablet without necessarily losing data. Now, we'll take you through these proven methods.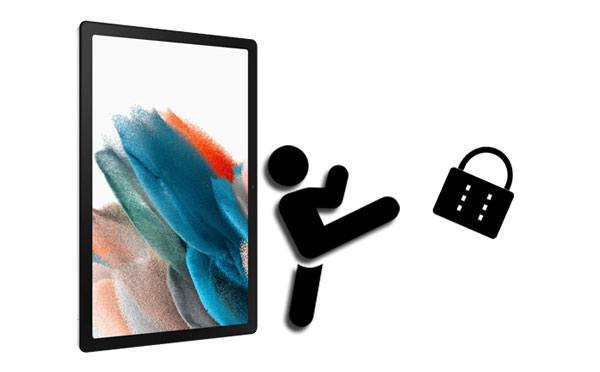 Part 1: Is It Possible to Unlock a Samsung Tablet without Losing Data?
Yes, it is. One possibility is that you have backed up your Samsung tablet before forgetting the password. If so, you can restore data easily even though you factory reset your device. Another is to use a professional unlocking tool, which can remove the lock from your tablet without erasing data. Also, if you attach your Samsung account to the tablet, you can use your account to unlock it.
Part 2: How to Unlock a Samsung Tablet When You Forgot the Password without Losing Data
Are you wondering how to achieve the process of unlocking a forgotten password on your Samsung Tablet? Then no more worrying as the Android Screen Unlock software solves all of your password unlock issues. This is a professional tool that works well on unlocking any screen lock type on Samsung tablets and phones, like passcode, password, PIN, pattern, and fingerprint.
It also effectively remove lock from LG, Xiaomi, OnePlus, ZTE, Sony, and more Android devices. But except for some Samsung and LG mobile devices, it will eliminate data from other Android devices.
It bypasses the password lock on your Samsung tablet without any difficulties. The best thing is that you won't lose any of your data. Even if you haven't used this tool, you will still find it easy to use for the first time.
Download and install this unlocking software for free.

So, how to use this software to unlock a forgotten password on your Samsung tablet? Below is how to achieve that:
Step 1: Launch the Android Unlock Software
First of all, please download, install and launch the software on the computer. Then choose the Screen Unlock icon, and connect your Samsung Tablet using a USB cable.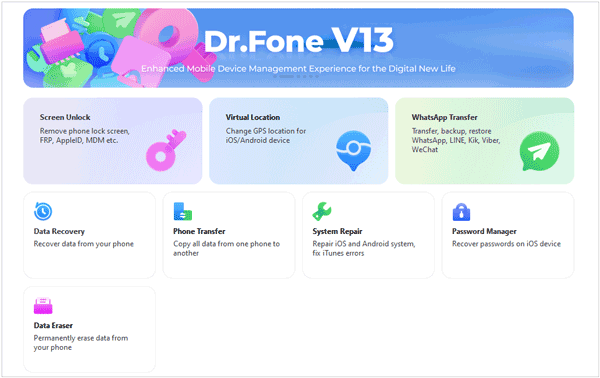 Step 2: Choose the Information of Your Device
Tap the Unlock Android Screen feature, choose the correct model of your tablet, and click Next to go on.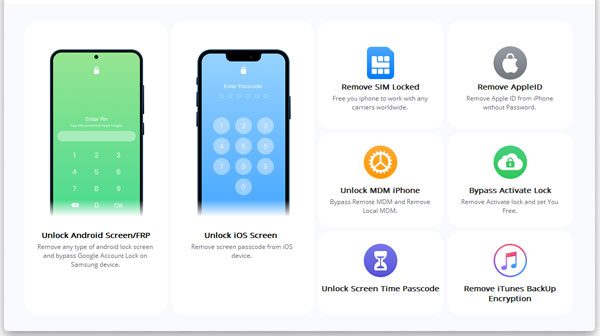 Step 3: Enter Download Mode to Unlock the Samsung Tablet
- Follow the popup to enter the Download mode on your device, and wait for the process of downloading the recovery package to complete.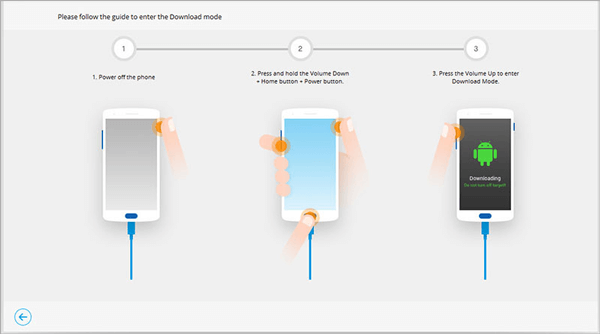 - After that, click the Remove Now icon to begin to bypass the passcode on your Samsung tablet.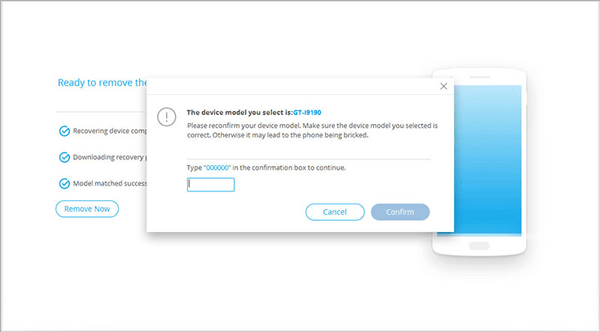 That is it. It's as easy as that. If you do not want to lose any of your phone's data during screen unlock, this software is your choice. It is highly recommended, and you can surely see that it is a great tool. But please make sure your tablet's model is supported on the list first.
Read also: Backup is vital to keep your Samsung data safe, so that you can transfer files from a Samsung tablet to a PC for backup. Let's do it.
Part 3: How to Bypass Lock Screen on Samsung Tablet via Android Device Manager
Do you know that your Google Android Device Manager can control your device effectively and at the same time remove your phone's lock screen? It makes your work easier since you will be able to bypass your tablet's lock screen quickly. Besides, it is also called Find My Device. Remember, it will erase all of your data.
To use it to bypass the lock screen on your Samsung Tablet, do the following?
Step 1. Go to Google Find My Device on the computer and log in to your account with the same account you used in your locked Samsung gadget.
Step 2. After signing in, please select the device you wish to unlock and tap ERASE DEVICE.
Step 3. Tap the ERASE DEVICE icon and type your Google account and password again. To remove your Samsung tablet's PIN, please hit the Erase icon to begin the procedure.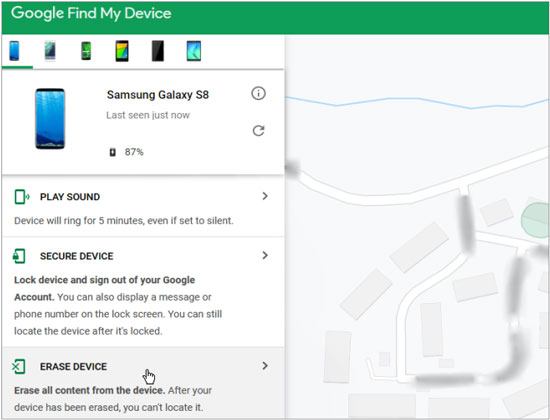 Further reading: This guide can help you recover deleted data on Samsung tablets without difficulty. If you want to get your deleted files back, you can check it out.
Part 4: How to Reset Samsung Tablet without Password via Google Find My Mobile
To use Samsung Find My Mobile properly, your locked tablet should be connected to the internet, and it can either be Wi-Fi or cellular data. This will help Find My Mobile to detect it. If your device happens to be offline, you can't perform this technique. Plus, suppose you don't sign in to your Samsung account to the locked tablet, this way is invalid.
To reset Samsung tablet via Samsung Find My Mobile, do the following:
Step 1: Open your browser and navigate to the Samsung Find My Mobile web.
Step 2: Enter the Samsung account used on the locked Samsung tablet on the interface.
Step 3: Click Unlock twice and input the account again for confirmation. Then tap the Next icon to unlock the Samsung tablet without the password. After that, you can reset the password on your tablet.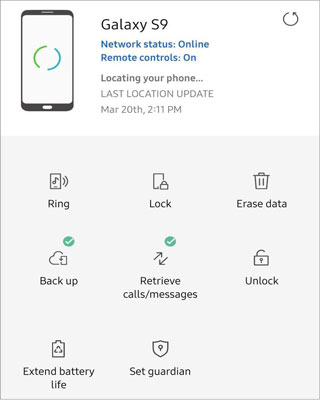 See more: How can you seamlessly back up and restore Android contacts? You can try these 4 useful approaches.
Part 5: Try to Hard Reset Samsung Tablet If You Forgot Password/Pin/Patten
This technique is very useful. If you have forgotten your pin, code, password, or pattern, then trying hard reset isn't a bad choice. However, it will delete all data from your tablet. If you don't have a backup, you will lose your data forever.
Here's how to bypass the passcode on a Samsung tablet via hard reset:
Step 1: Switch off your Samsung tablet and wait for like 10 seconds for the device to completely power it off.
Step 2: Long press the Volume Up, Power, and Home buttons simultaneously as you wait for a recovery screen to show.
Step 3: Use the volume keys to move it to the Wipe data/factory reset option and press the Power button to choose it. Then go to the Yes button and click the Power icon to confirm.
Step 4: Wait for the process to complete. Then choose the Reboot system now option.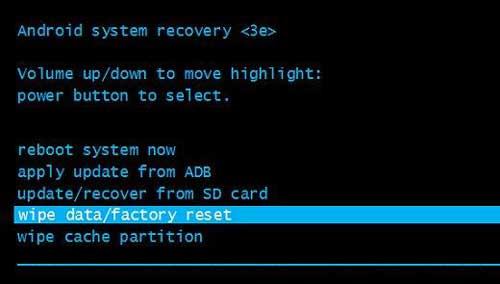 Conclusion
Of course, the first step many people think of when they have forgotten their phone's password is to factory reset. But, if you have important files on the phone, you may lose them. So, it is ideal that you use a reliable tool to remove the lock without losing data. The Android Screen Unlock software is an accessible option. It can unlock most Samsung devices without erasing data, so you can try it.
Related Articles
How to Unlock OPPO Phone without Password Effortlessly (5 Flexible Ways)
Easily Unlock Tablet without Password Using 5 Proven Solutions
[Solved] How to Unlock Samsung Galaxy S5 with 5 Effective Solutions
How to Reset Android Phone When Locked? Achieve It with 5 Effortless Solutions
How to Transfer Photos from Samsung Phone to Tablet in 2022? - 3 Easy Ways
How to Transfer Files from PC to Samsung Tablet in 4 Nimble Ways [Modern]