Summary
Cast is mainly a feature that allows users to view or mirror one gadget on another. Most people use it to see videos on the big screen. The big screen here, we mean a TV. Many of you are aware of casting devices like computers or mobile onto the Chromecast, Roku TV, Chromebook, etc. But what about casting an Android device to Windows 10? This guide will show you various ways how to cast Android to Windows 10. So, follow as we take you through.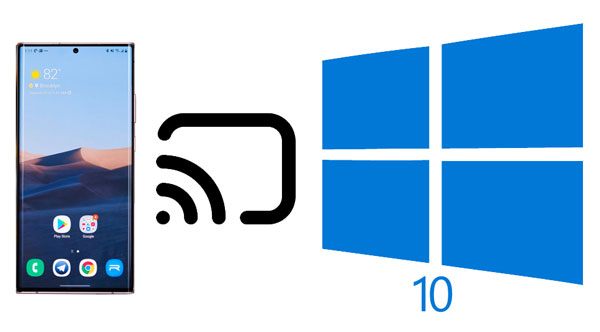 Part 1: Cast Android to Windows 10 via Screen Mirror
Nothing is more thrilling than watching your favorite shows and videos on a larger screen. With this Android screen mirroring software, you'll be able to cast your Android device to Windows without any hassle, and enjoy watching and playing your games.
Besides, you will also freely control the device effortlessly. Surely, this is the software to opt for if you want to mirror an Android screen to your computer.
Download the Android Screen Mirror program below.
How to use this screen casting software on Windows 10:
Step 1. Launch the Program
Install and launch the mirroring program on your Windows 10 PC. Then connect your Android device to the PC via a USB cable, choose your device on the interface, and tap the "MTP" option on your Android device.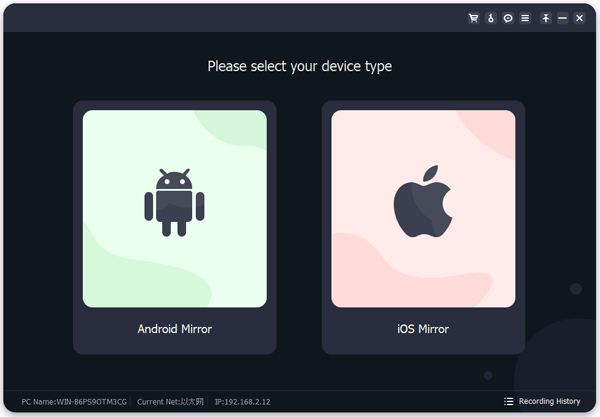 Step 2. Enable USB Debugging
It will prompt you to enable the USB debugging mode on your Android phone. To do this, go to Settings > "About phone" > "Software information". From there, tap 7 times the Build number, click "Developer option", and turn on the "USB Debugging" option.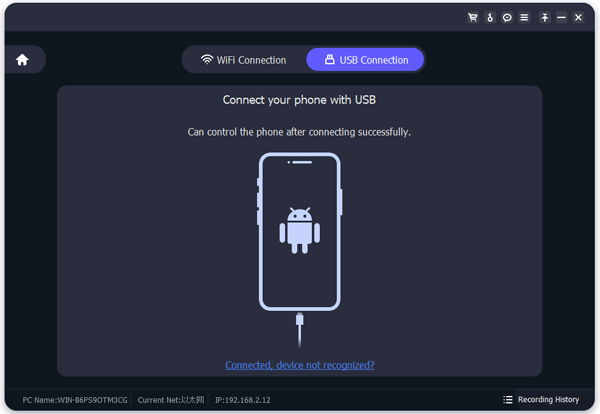 Step 3. Mirror Android to Windows 10
- Once done, click the "Turn on" icon on the "Permission application" popup. Then the software will automatically download an APK file on your phone for mirroring.
- After installing the app, it will cast your Android screen to the Windows 10 PC. Now, you can control your Android phone on the computer.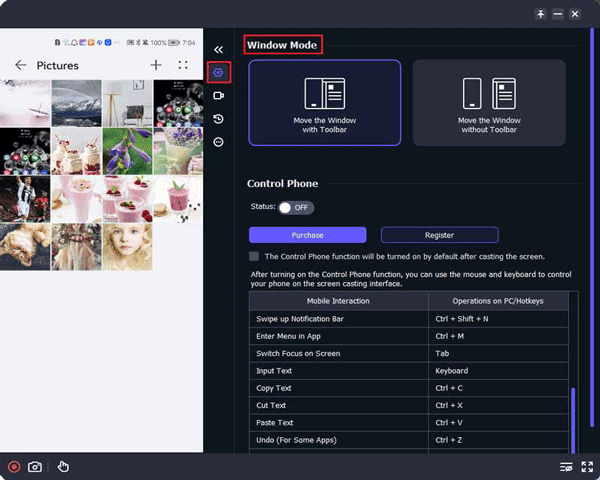 Bonus: These 5 ways focus on mirroring Xiaomi phone screens to PCs. If you are a Xiaomi user, you can check it out.
Part 2: Mirror Android to Windows 10 via Built-in Casting Technique
This is one of the best methods to cast Android to Windows 10. Many modern Android phones feature an in-built casting, and this applies to those computers running on Windows 8.1 and above.
Here is how to cast Android to Windows 10 laptop via the Android casting feature:
Step 1: Go to the Settings app on the Android gadget, find and click the "Cast" option.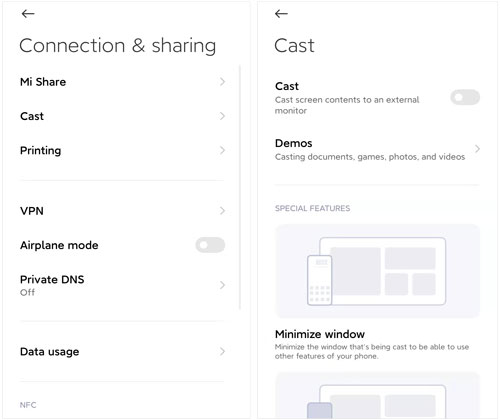 Step 2: Click on the "three-dot" menu button found at the topmost part of the screen's right corner. Then check that box named "Enable Wireless Display".
Step 3: Go to the computer, tap the "Start" > "Settings" > "System" > "Projecting to this PC" option. Then choose "Available everywhere" and turn on the switch. Your PC will be discovered by other devices for projection. Go back to the Android phone and swipe the screen down from the top to get the notification window. Click the quick settings tab for "Cast".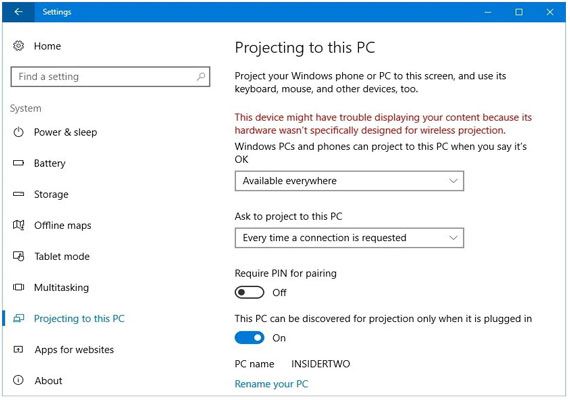 After doing all those steps, your Android gadget will begin looking for any nearby devices and once the computer shows the list, click on it. Once done, the screen will be projected to the computer.
Remember to exit the Settings app on your phone screen on the computer. Some sensitive apps such as Settings are hidden as your device is projecting to a new display.
Read also: How can you control your Android phone from a PC without effort? Let's see this full guide.
Part 3: Share Android Screen to Windows 10 via TeamViewer
Apart from the traditional casting techniques, you may also opt for third-party apps to cast Android to Windows 10. TeamViewer may also offer one more control, and in other cases, you'll have the opportunity to launch the app from the computer. It also enables you to remotely access your Android device via a secure cloud platform.
We will show you how to cast an Android phone to Windows 10 via TeamViewer:
Step 1: Download and install TeamViewer on an Android device and a Windows 10 PC. Then launch the TeamViewer on the computer and follow the steps till you get to the home screen.
Step 2: Open Teamviewer QuickSupport on the Android phone and wait for some time until you see your ID at the bottom part of the screen. Next, enter your ID from an Android phone in the "Control Remote Computer" section under the "Partner ID" icon.
Step 3: Choose "Remote Control", and tap on the "Connect" > "Allow" on the Android phone to give permissions to remote connections. Then, click "Start Now" when prompted to begin a broadcast.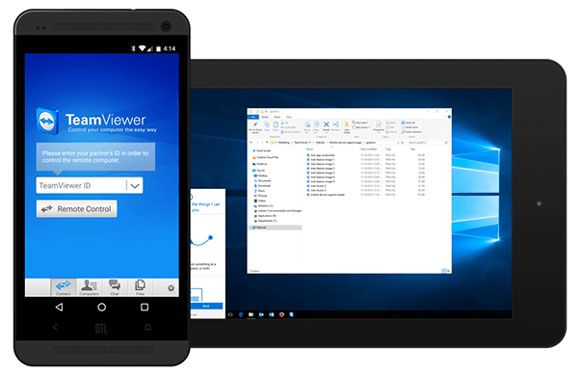 Now you are good to go! Your remote connection will be established with the Android phone, and you will be able to see its screen on the computer.
Further reading: Want an effective and secure Android data eraser? Here are 8 suggestions for your reference.
Part 4: Cast Android Phone to Windows 10 via Vysor
Network connections are easier to use; however, they still come with some lag, audio problems, and latency when you're trying to play a game or open media content. You can solve these problems by using wired connections. These connections come in handy for a greater experience on the crowded networks where the bandwidth is shared on many devices.
Vysor is a nifty utility that may assist you in easily getting the Android screen to your Windows computer via a wired connection.
How to cast an Android phone to Windows 10 via Vysor:
Step 1: Download then install the Vysor app on your Android phone and Windows 10 computer.
Step 2: Connect the Android gadget to the computer using a data cable, and launch Vysor on the phone and computer.
Step 3: Then enable the USB debugging mode on Android, and tap "Yes" on the popup. The app will automatically detect the device and display it at the top of the screen. Then tap the "View" icon to display your Android phone on the Windows 10 PC.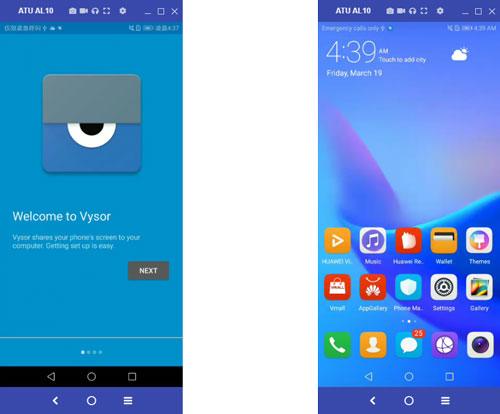 Learn more: It is easy to transfer files between Android phones. You can follow this guide to move data to your new Android phone.
Part 5: Display Android Screen on Windows 10 via HDMI Cable
You can also use an OTG HDMI adapter on your Android device to be able to cast its screen to the computer. Many devices these days come with an already built-in OTG and the ability to bring high-resolution output HDMI video.
You may find a cheaper HDMI OTG for your phone on many shopping sites. This will enable you to connect the Android phone to the monitor with one cable without more workarounds.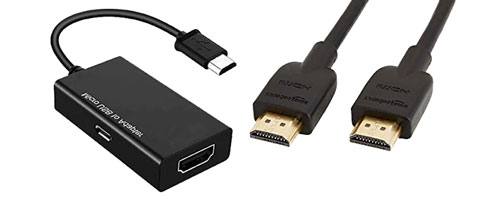 Wrap Up
That is it! You'll now be able to automatically mirror an Android device to a Windows 10 computer with the above ways. Casting an Android device to Windows 10 is very simple, and you can attest to that as the ways discussed above are very easy to follow. If you're confused about which one to use, then we recommend using the Screen Mirror software which guarantees great results without latency or lag.
Related Articles
How to Delete Contacts on Android Phone? 5 Smart Methods
[5 Best Ways] How to Transfer Music from iPhone to Android in Ease
6 Methods on How to Transfer Contacts from iPhone to Android [You'd Better Know]
How to Transfer Text Messages from Android to Android? [4 Easy Ways]
How to Transfer Photos from Android Phone to External Hard Drive [4 Simple Ways]
How to Print Out Contact List from Android Phone [4 Solved Ways]