Summary
Are you an Android game enthusiast and wondering how you can play Android games on a PC? It feels good to play Android games on your big PC's screen compared to playing them on your phone's small screen.
Playing Android games on your Personal Computer gives you a realistic gaming experience and reasonable control of the game because keyboard and mouse controls are available. For those who wish to play Android games on their PC, read on to know how to play Android games on PC seamlessly.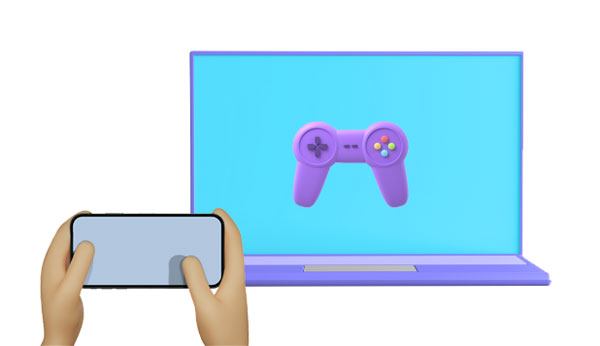 Part 1: How to Play Android Games on PC Using Screen Mirror Software
Screen Mirror is a mirroring program that allows you to experience mobile games on your personal computer. It is an easy-to-use way of playing your favorite Android games on your personal computer. After mirroring the screen to a computer, you can now start playing Android games the way you want. Besides, it gives you control over the game using your keyboard and mouse controls.
Highlights of this mobile screen mirroring software:
- Cast your Android screen to a PC with ease.
- Control your Android phone and play mobile games on a Windows computer with a mouse and keyboard.
- Mirror an iPhone screen to a Windows computer without effort.
- Fluently manages social and mobile games without delay on your PC.
- Stream your in-application displays and audio to the conferencing application.
Download this mirroring program on your PC.

Steps to play an Android game on PC using this software:
Step 1. Launch the Mirror Software
The first thing that you need to do is to launch this desktop application after completing the installation. Then choose the "Android" option.
Step 2. Connect the Devices
- Connect your Android phone to your computer using a USB cable, choose your device, then choose your device, and click on the blue "OK" button. After that, select the "Transfer files" option and continue.
- Enable USB debugging on your Android device according to the guide on the interface. Then grant the app permission and allow it to show some things on the top of the screen.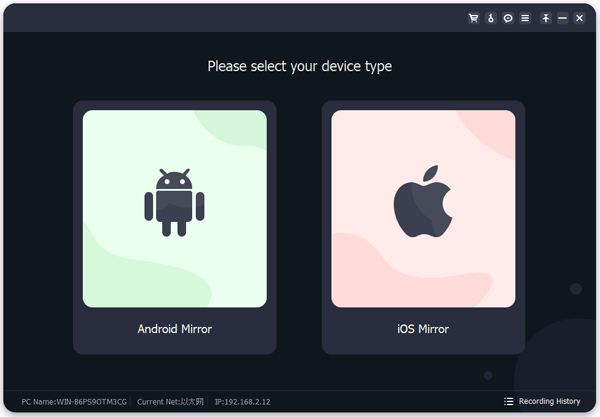 Step 3. Directly Play Your Android Game on the PC
- Click on the "Turn on" option, and the screen mirroring app will be automatically downloaded into your Android phone.
- You have now mirrored your Android phone into your computer successfully. Now you can play the Android games you wish on your PC.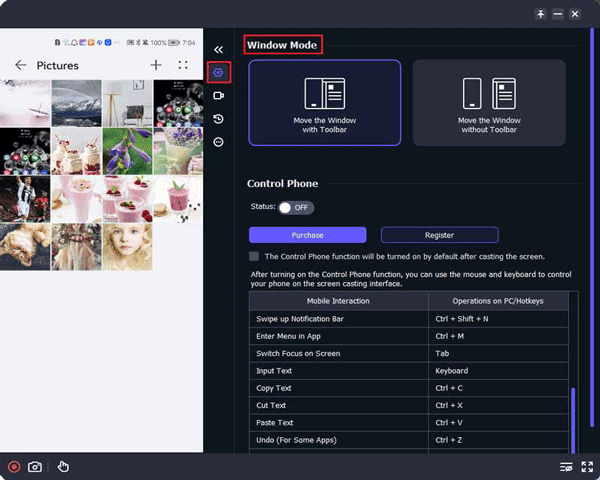 Bonus: How can you mirror your iPhone screen to an iPad? These are useful details you need to know.
Part 2: How to Download Android Games on PC Using Android Emulators
Emulators are used in managing Android applications and games on your computer. Emulators are the most common way of playing Android games on your PC. The emulators help you to play the game smoothly and come with features you will require while playing the game. Many Android emulators are easy to download and use. Here are 2 emulators that you can refer to.
1. BlueStacks
BlueStacks is one of the most used Android emulators today. It is easy to use and is available for free download on the internet. Blue stacks give an excellent gaming experience, and its compatibility with almost all types of applications makes it a perfect option.
BlueStacks also has an app store where you can download apps and games easily and smoothly. You can also download other software from this app store, such as Facebook, Angry birds, Instagram, etc.
Use this emulator by following the below step-by-step guide:
Step 1. Download BlueStacks on your PC
- You need to download the BlueStacks on your computer. Then run the program you have just downloaded and install it on your PC successfully. Then click the "Next" button and choose "Yes" if a security warning prompt appears on your computer.
- The installation process should take only up to 10mins before the emulator gets installed successfully onto your pc.
Step 2. Launch BlueStacks
Launch the emulator and sign in to your Gmail account using on your Android phone. This will sync all of your Android phone applications onto the BlueStacks emulator.
Step 3. Open the Game and Start Enjoying the Big Computer Screen
The final step is to open the games and start playing them. It is suggested that you keep all of your games and applications in the BlueStacks app store for smooth playing with the emulator.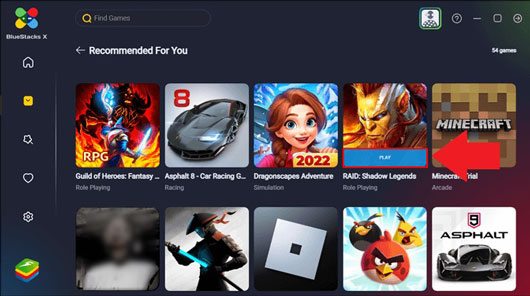 See more: 5 Effective Methods on Screen Mirroring Xiaomi to PC | Works for Most Mi Phones
2. Nox App Player
Nox App Player has a robust feature set and is easily installable on your PC. It works like an app store, where you can download all the applications and games you wish onto your PC without hassle. Nox App player also has a program that will enable you to queue up several of your favorite Android games, which will be launched in order without delay.
Here's how to play Android mobile games on a PC via NoxPlayer:
Step 1. Download and Install NoxPlayer
Download and install the NoxPlayer application into your computer. Subsequently, launch it on your PC. Sign into your Google account and test if the emulator has been installed successfully. If all your Android applications are loading correctly, the emulator has been set up successfully.
Step 2. Install Your Favorite Games
You can also install your favorite games and other applications from the emulator. You can also download other apps and games from the internet and even download movies to enjoy unlimited entertainment on your computer.
Step 3. Play Android Games on Your Computer
You are now ready to play Android games on the desktop. All you need to do is select any game application and start playing it.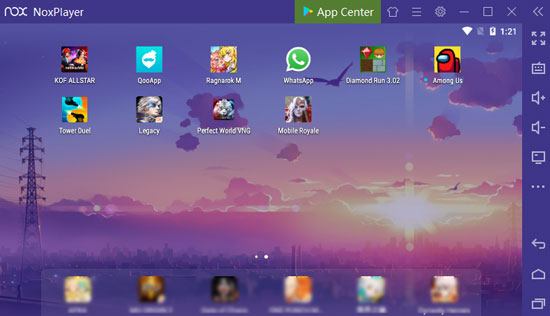 You might like: With this guide, you can bypass Android lock screen smoothly. Let's check it out if you forget your password.
Part 3: How to Play Android Games on PC via Android-x86
Android-x86 is different from a screen-mirror app or an emulator. It is a tool that help you run Android on a PC. With it, you can get the Android interface on your PC, so you can view phone screens on your PC without casting.
Use Android-x86 to play your phone games on a PC:
Step 1. Download Android-x86
- Please visit its webpage on your computer, and click the "Download" icon. Then select a download option. Meanwhile, go to the Refus page to download the flashing software. Once done, open the Refus tool, and insert a flash drive to the PC. Refus will detect the drive.
- Select Android x86 ISO file by tapping the "Select" icon. Then click "Start" > "Yes" > "OK" to flash the drive. After the flashing process is over, click "Close".
Step 2: Set from Bootable Flash Drive
- Press a designated key, including F10, F12, F2, Del, Esc, and F9, to get into the BIOS. Then look for the booting device settings and choose "USB Drive" as the Booting Device. Next, save the settings, and exit the setup. The system will restart automatically.
- Press F9, F10, F12, F2, Del, and Esc to display "Boot Menu". Then opt for "USB Drive" as Boot Device, and tap the "Enter" key.
Step 3. Install Android-x86 on Your PC
Choose "Installation – Install Android-x86 to harddisk" and click "Enter". Then choose a windows partition, press the "Enter" key, and select "ext4" to go on.
- Next, choose "Yes", then choose "No" on the next page. The installation will begin. When it is finished, please remove the flash drive safely, and click "Reboot".
Step 4. Open Android-x86 to Run Android OS and Play Games
After rebooting the system, you can now view the Android screen on the computer. Please download a mobile game and start it.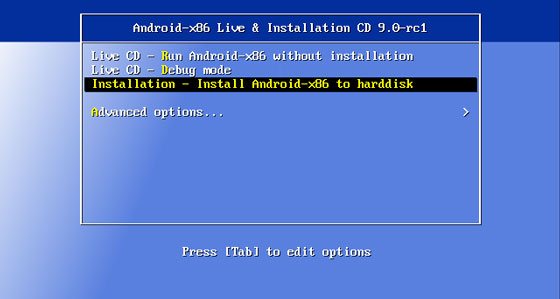 Conclusion
In conclusion, the simplest way to play Android games on your PC is by using the Screen Mirroring Software. You can control your Android screen and play games on your PC without complicated steps. You can also use an Android emulator to play Android games on your computer if your PC's RAM is sufficient. Besides, if you are tech-savvy, you can choose Android-x86 to install an Android system on your computer and play Android mobile games.
Related Articles
How to Find Android Recycle Bin and Recover Deleted Files Easily
12 Great Apps to Transfer Data from Android to Android [One-stop Transfer]
How to Remove Duplicate Songs from Android Phone [Tips and Methods]
Android Flashing Software for PC or Mac: Flash Android Phone in Minutes
8 Fabulous Moborobo Alternatives to Transfer and Manager Android Files
9 Best Android Phone Cleaner Apps: Optimize Android Phone without Effort