Summary
We often get tired of using smaller screens on our iPhone devices. A small display will make you miss out a lot on many things. We are not just talking about some apps here but most social media platforms we use daily, like Facebook, Instagram, Snapchat, and even games. Besides, for presentation purposes, a large screen will be useful.
So why don't we use an iPad instead of an iPhone? Well, the answer is simple; you may be using different apps on both devices. But nothing is impossible when technology has gone so far. What if we could mirror an iPhone to an iPad and work with them as if they were a computer? Well, apparently, we can. You are about to learn how you can mirror iPhone to iPad.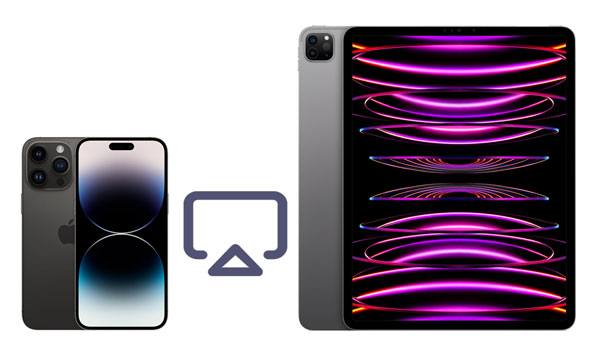 Part 1: Is It Possible to Screen Mirror iPhone to iPad?
Apple introduced an in-built feature known as Airplay that enables its gadgets to mirror screens with various devices. However, you can only use this feature to mirror your iPhone screen with the TV.
Besides, You can use third-party apps to perform screen mirroring from iPhone to iPad, which can cast your iPhone to iPad with simple steps, and you'll see how they work in this guide.
Part 2: How to Mirror iPhone to iPad in Different Ways?
The good thing about mirroring the iPhone screen with an iPad is that you can do everything on a bigger screen of an iPad. If you want to read a book or a document, you may feel the iPhone's screen size is too small for that, giving you a hard time. Or, if you just want to play a game, you may feel that the iPhone screen is too small to display the graphics properly.
How about a bigger iPad screen, which means you can cast your iPhone screen to your iPad with a larger screen? Below are ways to mirror an iPhone to an iPad and enjoy everything on a bigger display.
2.1 How to Mirror iPhone to iPad with TeamViewer
TeamViewer is among the best screen mirroring applications that can mirror iPhone screen to iPad. This is the app to use if your device has any technical problems. Apart from that, it's also a wonderful screen mirroring app that works fine with iOS 11 devices. The app provides amazing real-time screen sharing, making it one of the best for screen mirroring. Here is how to mirror iPhone to iPad using TeamViewer:
Step 1: Install the TeamViewer application on both iPad and iPhone, and sign up for an account on one device. Then sign in with the same info on another. After the registration, you will get the devices' IDs on the interface.
Step 2: Tap the "Send your ID" on your iPhone. Next, enter your iPhone ID into your iPad, and click the "Remote Control" icon to establish the connection.
Step 3: When it prompts, please tap "Allow". Then go to long-press "Control Center" and choose "TeamViewer". Next, click the "Start Broadcast" icon. Now, you can view your iPhone screen on your iPad.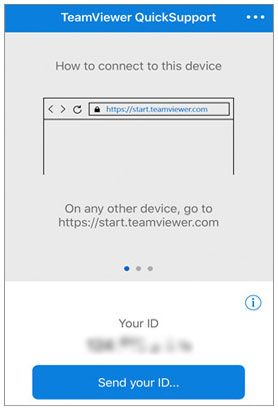 You might need:
5 Effective Methods on Screen Mirroring Xiaomi to PC | Works for Most Mi Phones
Transfer Data from iPhone to Android in 6 Ways [Original Qulity]
2.2 Mirror iPhone to iPad with ApowerMirror
ApowerMirror is yet a good app for screen mirroring iPhone to iPad. The app is highly compatible with iPhone and Android devices. However, you can't control an iOS device efficiently the way you could with an Android. But, you can record screens as well as take screenshots as you cast across devices. Do this to screen mirror your iPhone device to your iPad:
Step 1: Install the Apowermirror application on the iPhone and iPad and ensure both devices are connected via a Wi-Fi network.
Step 2: Launch the application on your iPhone and click the "M" icon to search for an iPad device to pair with.
Step 3: Open the Control Center on your iPhone by swiping up from the bottom part of the screen. Click the "Screen Recording" icon.
Step 4: Choose the app's name (ApowerMirror). Click "Start Broadcast" to begin mirroring iPhone to iPad.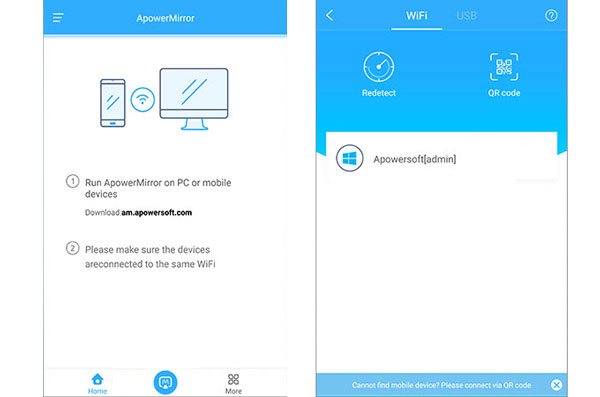 See also: What if you plan to import photos from an iPhone to an HP laptop? Please follow this guide.
2.3 Perform Screen Mirror from iPhone to iPad via AirPlay
Apple introduced an in-built feature called AirPlay that can help screen mirror iOS devices. It's a super useful wireless feature that allows iOS users to mirror their screen devices. You can mirror the iPad to the iPhone and vice versa.
Step 1: Connect both iPhone and iPad to the same Wi-Fi network.
Step 2: Go to the "Control Center" on your iPhone by swiping up from the screen's bottom part.
Step 3: Select "AirPlay/Screen Mirroring" and choose the name of your iPad from the list.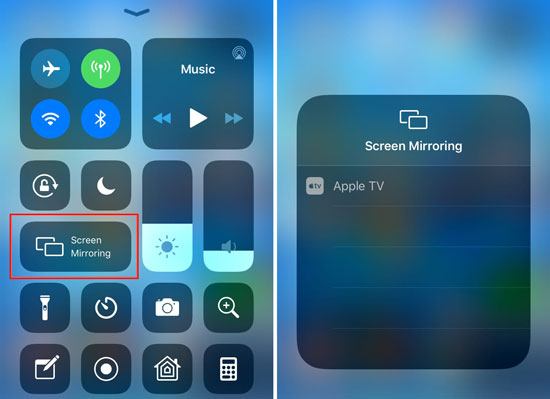 Read also: You can use these effortless methods to move files from your iPad to your iPhone.
Extra Tip: How to Mirror iPhone to Computer Easily
With the advancement of technology in recent years, there are various ways to do things. One of the best ways is by connecting your iPhone to the computer and then enjoying working with both screens as a bigger one.
Are you looking for an easier way to mirror your iPhone to your computer and control your device the way you want? All you need is this Screen Mirroring software to share your iPhone's screen to the computer.
What this software can do:
- Give you an easier time screen sharing your iPhone to a computer.
- After screen sharing, you can stream all in apps conveniently.
- You can play games and manage social applications directly on the computer
- Also support you in casting Android screen to a computer.
Download this mirroring program.

After installing this program on your computer, you can start the screen mirroring trip with the help of the following guide. Then you can enjoy a bigger screen on your desktop:
Step 1: Run the mirroring software on your PC, and choose the "iOS" option.
Step 2: Select "Wi-Fi" to connect your iPhone to the PC. Of course, you can also choose the USB connection.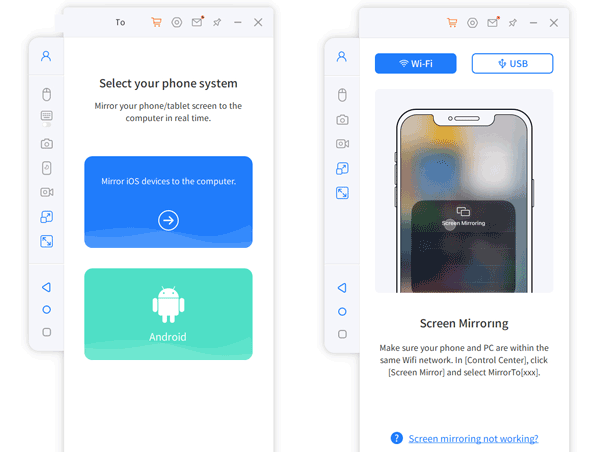 Step 3: Open "Control Center" and navigate to "Screen Mirroring". Then opt for this screencasting tool, and enable Bluetooth on iPhone. Once done, you can view and manage your iPhone screen on your PC.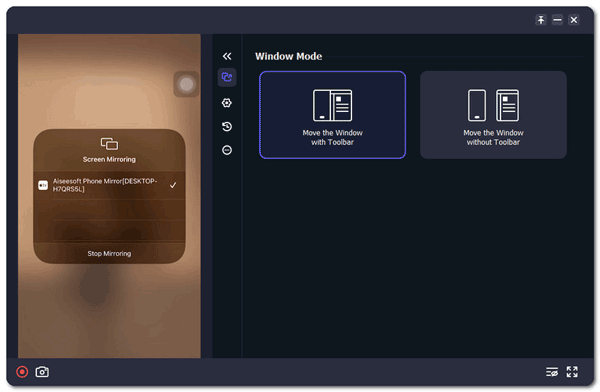 Bonus: Why is my iPhone not mirroring my iPad?
It may be because of using an incorrect screen mirroring app. Ensure you're using the right application and ensure your device's software is up to date and connected to the same Wi-Fi.
Conclusion
Screen sharing is a useful feature that enables you to mirror the contents of your iPhone screen to the bigger iPad screen. This means you can get a better view of the documents, and more than that, you can read any book on a bigger display.
The above-mentioned are ways to screen mirror iPhone to iPad. By the way, the mobile screen mirroring software is a reliable program to mirror an iPhone to a computer via Wi-Fi and USB. If you like this software, download it and start mirroring your device.
Related Articles
[Fast Transfer] How to Transfer Your Photos from iPhone to Android Effectively?
[5 Best Ways] How to Transfer Music from iPhone to Android in Ease
How to Back Up and Restore Android Phone/Tablet on Computer?
Handily Transfer iBook from iPad to Another iPad | 6 Fantastic Methods
How to Transfer Music from iPad to iPod with/without Computer? (iOS 16 Supported)
How to Transfer Files from iPad to Android Phone [7 Hassle-free Methods]