Summary
It is easy to steal data from the old Android phone now. We have to protect our data privacy from the cybercriminals who can retrieve the deleted data from the Android storage space. Once the Android device falls into wrong hands, it is possible to steal your bank accounts, passwords, and so on.
View this post of 8 practical tips about Android data eraser software here, and you can fully use them to wipe your Android phone.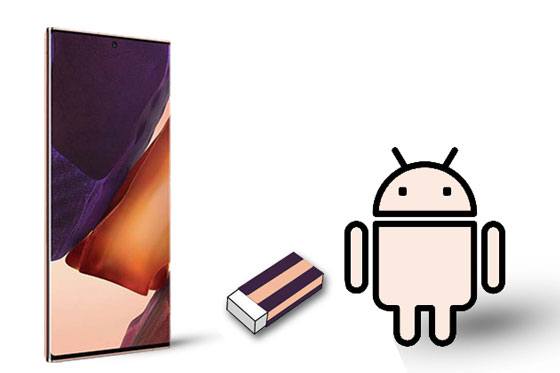 Part 1: Samsung Eraser
The first Android eraser - Samsung Eraser, is highly recommended by many users, which is good at wiping all Android data out without recovery possibility. What's more, it can erase not only the existing data but also the deleted files hidden on your Android devices. You can clean up contacts, settings, account information, passwords, photos, app data, and more with a few clicks.
Key features of this Andriod data eraser:
- Permanently erase all kinds of Android data without effort.
- There is no possibility to recover data after using it.
- 3 progressive security levels for you to choose from.
- It can also erase Android SIM contacts and text messages at the same time.
- Compatible with most Android devices, like Samsung Galaxy S23/S22/S21/S20/S10/S9/S8, Mi 11/10/9, OPPO Find X2 Pro/Find X2/Find X, Sony, OnePlus, Google, OPPO, Vivo, and the like.
Download the Android Messages Manager for free below.
Pros:
- Easy to use and fast to erase all Android data.
- Erase Android phones and tablets completely.
- Work with Android 4.0 and upper (Android 11 included)
Cons:
- It is not a free eraser program.
Here's how to use this Android file eraser software:
Step 1. Download and install it on the computer, and connect your Android phone to the computer via USB.
Step 2. Enable the USB debugging mode on your phone. Then it will recognize the device quickly, and you can tap the "Erase" icon.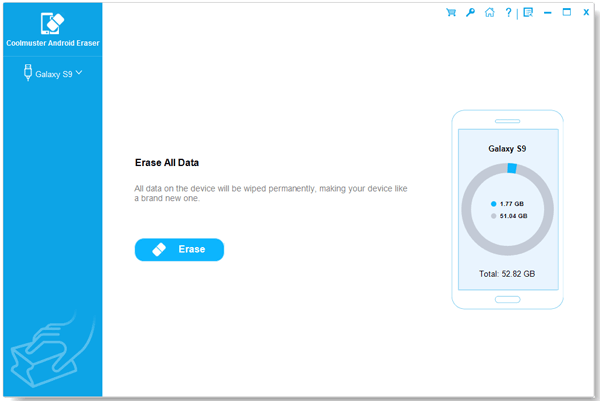 Step 3. To select a security level, please tap the "Medium" feature. Next, type "delete" into the blank and hit on the "Erase" button. If prompted, please confirm the action by selecting the "Yes" option on your phone. Then it will start erasing Android data.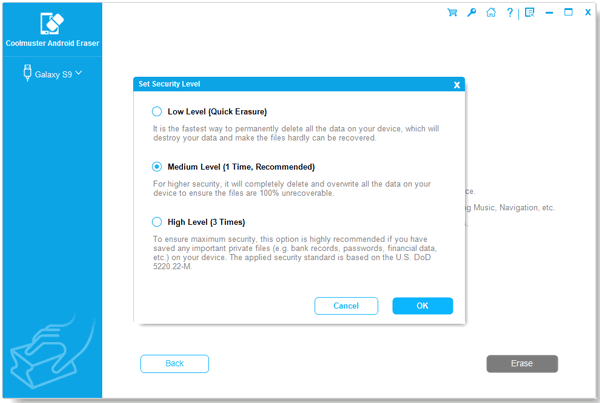 Tips: If you don't want to lose your data forever, please use the Android backup software for PC to back up your Android files before erasing them.
Part 2: SafeWiper for Android
SafeWiper for Android is the second phone eraser introduced here. It is also a cell phone data eraser software so that you can install it on the computer. It supports you to view and select detailed files on the interface before wiping, including messages, videos, audios, call history, etc.
Key features:
- Contains 3 wiping modes: erase all data, erase private data, erase app data.
- Wipe Android internal memory and SD card storage.
- Support almost all kinds of data types.
- Destroy data with a military-grade wiping algorithm.
Pros:
- Allow you to select detailed files before performing.
- Offer 3 wiping levels to you.
Cons:
- Only support Android 7.0 and lower according to its website.
- Sometimes cannot detect the Android device.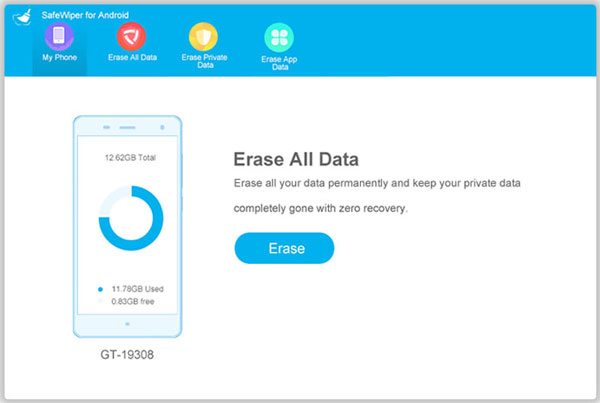 Read also:
You can wipe your Samsung phone without trouble with this excellent guide.
How to read your SIM card data on a PC? Here are 5 effective ways for your reference.
Part 3: Jihosoft Mobile Privacy Eraser
Jihosoft Mobile Privacy Eraser is also reliable software to wipe Android, working with all sensitive data, such as SMS, call history, contacts, and more. It can clean up Android phones and tablets with 5 erasing algorithms.
Key features:
- Allow you to choose to erase the deleted or existing data.
- Easily select data types on it.
- Support to preview existing data before erasing them.
- Offer 5 different erasing levels to you.
Pros:
- Compatible with many Android device brands.
- Remove all files in a short time with zero recovery possibility.
Cons:
- There are no instructions about the 5 erasing algorithms.
Further reading: When the internal storage of Android is full, your phone will be slow and even stuck. Thus, please free up your device with these 5 helpful tips.
Part 4: iSkysoft dr.fone - Data Eraser (Android)
Want to wipe out your banking information, logins, and other private data? iSkysoft dr.fone - Data Eraser can help you achieve the task. It can write random data to your phone for overwriting your privacy. Then no one can recover the data.
Key features:
- Erasing steps are simple so that you can obliterate your data completely in several taps.
- After erasing data, it will guide you to perform a factory reset on your Android device.
- Thoroughly clean the chat history in different social apps.
Pros:
- The interface is simple to operate.
Cons:
- Support Android 6.0 and former.
- There is no wiping level on the interface.
- There is no Mac version.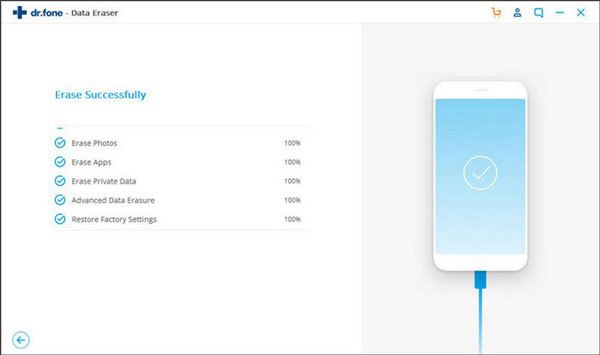 Learn more:
This article will tell you 9 tips about WhatsApp transfer software.
With this tutorial, you can breezily factory reset a Huawei mobile phone.
Part 5: TunesBro DroidWiper
TunesBro DroidWiper is capable of deleting files from Android devices permanently. It can wipe more than 10 types of data on Android, containing Internet history, WhatsApp chats, calendars, and the like. Besides, you can view 6 kinds of files before removing them.
Key features:
- Support Windows and Mac computers.
- Eliminate all content with no chance to recover.
- It is more reliable than factory reset.
Pros:
- Support you to preview the Android content on the computer.
Cons:
- Work with Android 4.0 to Android 7.0 only.
- Support fewer data types than other eraser software.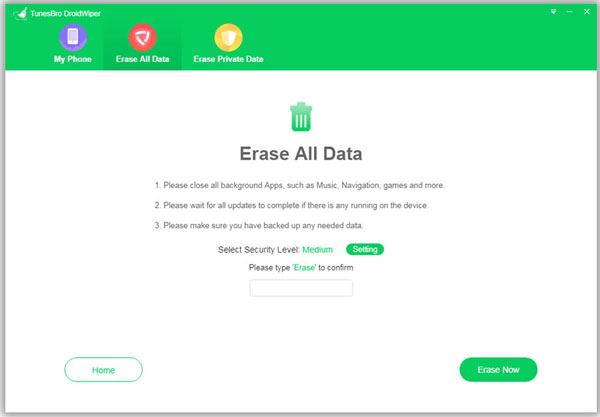 Perhps you need: When an Android phone shut down constantly, you can repair it in multiple helpful fixes.
Part 6: Shreddit - Data Eraser
Now let's talk about the phone eraser app, Shreddit - Data Eraser, which can delete Android files securely. Its shredding algorithm can shred giant data volumes quickly. It also has its own file explorer that you can access your gallery and other data without hassle.
Key features:
- Provide the preview feature for you to browse the media files directly.
- Allow you to erase the SD card on Android after rooted.
- Implement the strict standards of data sanitization technique.
Pros:
- Access your built-in file manager without hassle.
- Support sharing files from your file explorer to it.
Cons:
- Root needed.
- There are image thumbnails in the gallery app after erasing photos.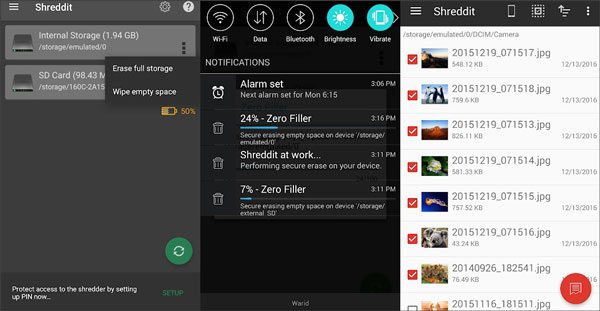 See also: Want a fast way to delete contacts on Android? Please check these 5 smart methods out.
Part 7: Data Eraser cb
Desire an app to format the Android phone? Lots of people recommend Data Eraser cb, which is an ad-free application made in Germany. It comes with 4 secure erasing methods and allows you to make a selection on the screen. Moreover, it can wipe your data from the file explorer and external SD card, not missing every corner of your Android device.
Key features:
- Safely erase empty folders and other free space on Android.
- Overwrite the existing and deleted files with high data protection standards.
- Offer in-app purchase feature that you can get more services with payment.
Pros:
- The design of the interface is modern.
- Release space without limitation.
Cons:
- The free version allows you to delete 10 MB of data per day.
- Some users report that it cannot access SD cards.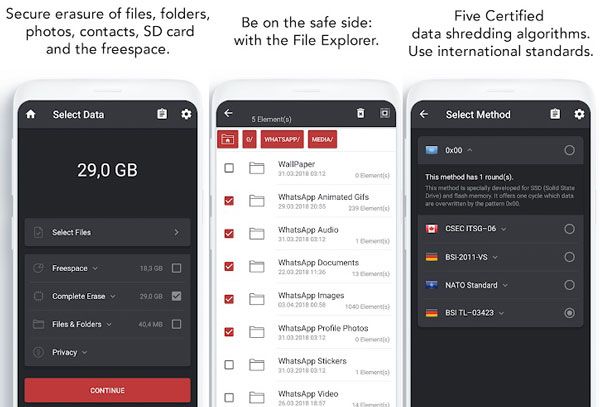 Maybe you need: How to delete photos on Android permanently? Get 4 ways here, and you can make it easy.
Part 8: B-Folders 5
Have you heard of B-Folders 5? It can manage your Android data in a secure way. You can delete the unwanted files and encrypt the vital data with it. It will keep your Android data like a security guard. Additionally, it can sync the data stored in it on multiple computers and mobile handsets.
Key features:
- Fully encrypt data with a powerful government-grade 256-bit AES chipper.
- There are Windows, Mac, Linux, and Android editions.
- It will lock your database with the password that you created.
Pros:
- No web or cloud services are needed.
- Always encrypt the sync sessions.
- Support you to edit, create, and move files.
- Search for files by typing in the blank.
Cons:
- No central server on the software.
Conclusion
So, which one satisfies you the most among these 8 Android data eraser software? Perhaps you haven't decided yet, but whichever you choose, it will erase your Android files without recovery possibility. If you want to know more about them, you can visit their respective website and get the detailed Android data eraser review. You will know that Samsung Eraser is the most efficient and dependable Android phone format tool. It's now or never, so make up your mind.
Related Articles
How to Free Up Space on Samsung Tablet: Make it Faster Than Ever Before
Wonder How to Back Up Android to Mac? Here Are 6 Ideal Answers!
How to Transfer Files from PC to Android Phone without USB [5 Handy Solutions]
Phone Memory Recovery for Android: How to Recover Data from Phone Memory? (Internal & External)
How to Recover Deleted Photos from SD Card on Android Phone with or without Backup?
6 Ways on How to Send Video from iPhone to Android Phone in Minutes