Summary
There are more and more Xiaomi users around the world, and some of them have asked a question - screen mirroring Xiaomi to PC. Screen mirroring has already been a popular way to connect mobile phones to computers, since people can use a larger screen on their PCs to control smartphones. Plus, it will be handy to check notifications when working with computers.
Then how can Mi users mirror screens to PC easily? Luckily, today you can get 5 practical mirroring approaches in this article. More conveniently, these ways support most generations of MIUI, including the latest MIUI 13.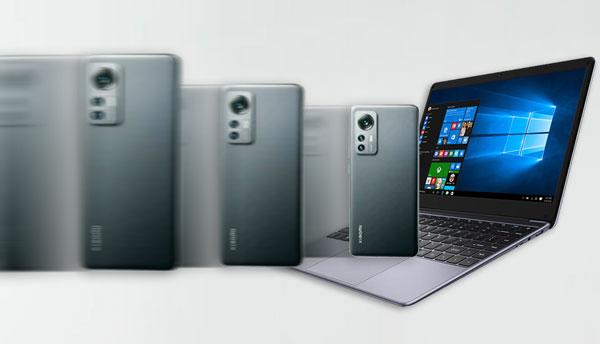 Part 1: What is Screen Mirror? Does Your Xiaomi Phone Support Screen Mirror on PC?
Screen mirror is to cast your phone's screen to another device, like your computer, and you can view the real-time screen on the computer. You can view what's displayed on your phone on your computer via a USB or wireless connection. Furthermore, you can play mobile games and access social apps on the computer after mirroring the screen. In a nutshell, you can view and access your Android screen on the PC via the screen mirror.
Of course, almost all Xiaomi phones running MIUI 10 and upper support screen mirroring on PC. There is a casting feature built-in on Xiaomi phones, and you can find it in the Settings app.
But is it impossible to mirror a screen from an old Xiaomi phone to a PC? Don't fret. Actually, many professional screen mirroring apps can make it feasible. These apps can work for more old Android devices, including Xiaomi.
Part 2: Screen Mirroring Xiaomi to PC via Screen Mirror (Fast)
This Screen Mirror software is good at screen mirroring Xiaomi to PC via USB. Thus, you can quickly share your Xiaomi screen to a computer without a network. With a stable USB connection, you can control your Xiaomi phone with a large screen on your PC. What's more, this software supports Android 6.0 and upper, so you can use it for MIUI 7 and higher.
Main characteristics of this screen mirroring program:
- Fast mirror a Xiaomi phone to a PC via a USB cable.
- Handily stream your mobile apps on the computer to watch videos.
- Play games and answer messages at any time.
- Start a meeting on your computer with a big screen.
Download this screen mirror software below.

How to connect Xiaomi to PC to mirror Xiaomi phone screen via this program:
Step 1. Install the Screen Mirror Software on Your PC
From the beginning, please download and install the program on your PC, and connect your Xiaomi phone to the PC via a data cable.
Step 2. Allow the Software to Access the Mi Phone
Enable USB debugging on your Mi phone, and give the software permission to access your mobile phone. If prompted, tap the "Turn on" icon on the computer. It will download an app on your Mi phone for mirroring.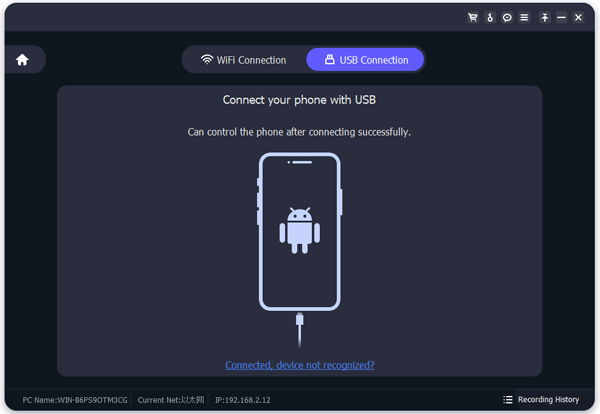 Step 3. Mirror Xiao to PC
After installing the app on Xiaomi, the software will mirror your Mi phone to the PC seamlessly. Then you can see your Mi phone's screen on the PC, and enjoy different features to control your Xiaomi phone.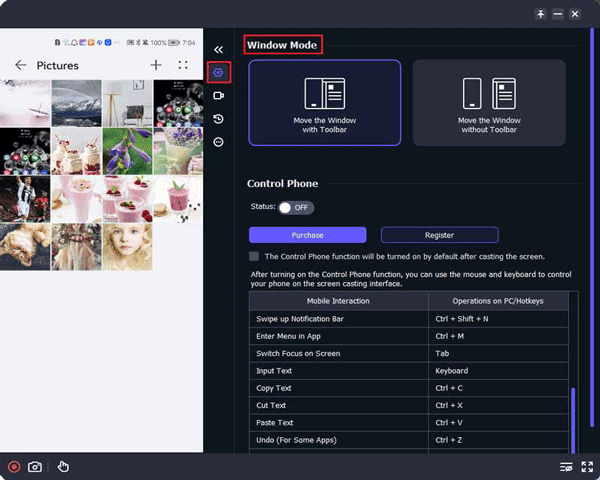 Read also: Which is the best screen app for Android to PC? Maybe you will need this list.
Part 3: Mirror Mi Screen to PC via Casting Feature
As mentioned above, Mi mobile phones have a casting feature, and this function can help users cast/mirror Xiaomi phone screen to PC. However, in general, it requires MIUI 10 and upper. If you cannot find the casting feature on your Mi phone, you can update your OS in advance.
Here's how to screen mirror Mi phone to laptop via the casting feature:
Step 1: Open the Settings app, and choose the "Connection & sharing" > "Cast" option. Then turn on the "Cast" switch.
Step 2: Enable WLAN and Bluetooth, and make sure your phone and the PC are connected to the same network. Then your Mi phone will automatically detect available devices.
Step 3: Choose your PC's name on the list. Then you will see your Mi phone screen on the PC.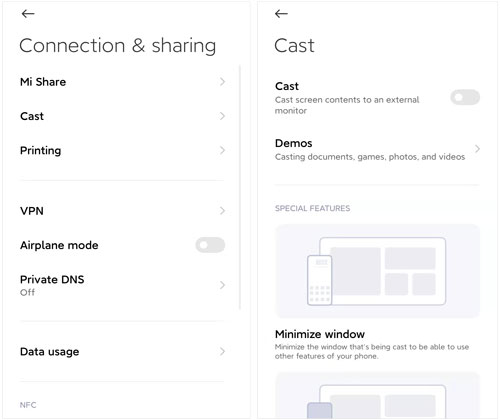 Further reading: Want a powerful Xiaomi file transfer tool? You can select one from this article.
Part 4: Connect Xiaomi to PC for Screen Mirroring via Mi PC Suite
Mi PC Suite is a desktop application to connect your Mi phone to a PC via USB. Its Screen Cast feature can help you mirror Xiaomi to PC effortlessly. Also, you can manage your Xiaomi data on the PC at the same time.
Guide on how to link Xiaomi to PC via Mi PC Suite:
Step 1: Install Mi PC Suite on your PC, and run it on the desktop.
Step 2: Link your Mi phone to the PC with a data cable. Then the software will detect your mobile device.
Step 3: Tap the "Screencast" feature under your Mi phone icon on the interface.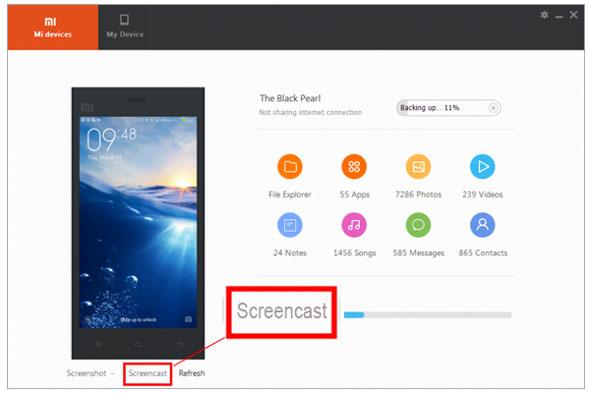 Learn more: How can you recover deleted photos if you delete them accidentally from your Mi phone?
Part 5: Cast Xiaomi Phone Screen to PC via Vysor
Vysor is another practical tool to put your Xiaomi phone screen on your PC, and you can control your Xiaomi phone with simple clicks and points. There is no doubt that you can use your keyboard to control your phone without an emulator. However, if you want to use the full-screen mode and transfer files, you need to buy the pro version of Vysor.
Steps on how to cast your Xiaomi screen to the PC via Vysor:
Step 1: Download and install Vysor on your computer and Mi phone, and connect your Mi phone to the PC via a data cable.
Step 2: Allow the USB debugging mode on your phone. Then you will find the name of your Mi phone on Vysor on the PC.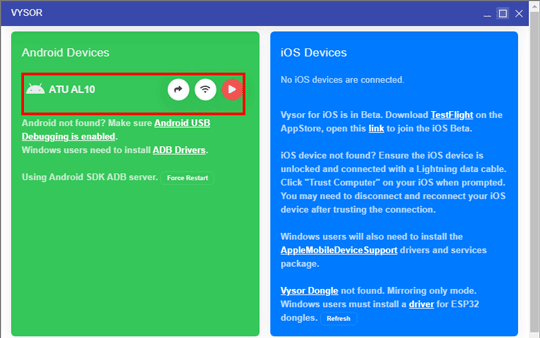 Step 3: Click the "View" icon, and you can see your Mi phone screen on the computer.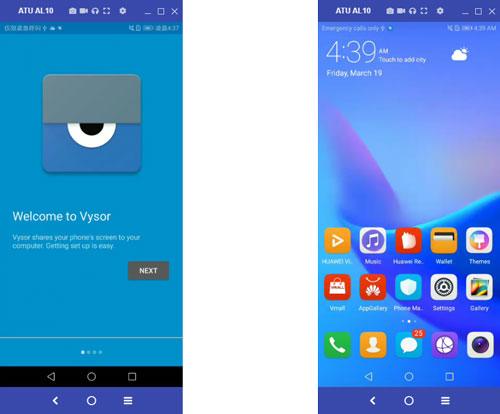 Tips: Here are 6 handy ways to help you readily transfer data from Huawei to Xiaomi. If needed, you can check it out.
Part 6: Mirror Xiaomi Screen to PC without USB via LetsView
Have you heard of LetsView? It is a cross-platform for mirroring Android and iOS devices to PC or Mac. Thus, with it, you can remotely share your Mi phone screen to your PC. If you are a TV addict, you can use this program to watch TV shows on a big screen.
Here's how to mirror Mi screen to a PC without USB using LetsView:
Step 1: Download and run LetsView on your PC. Then install and launch this app on your Mi phone.
Step 2: Click your PC device on the connection list on your smartphone, and it will automatically connect your phone to the computer via a network.
Step 3: Once connected, you can view your Mi screen on the PC without delay.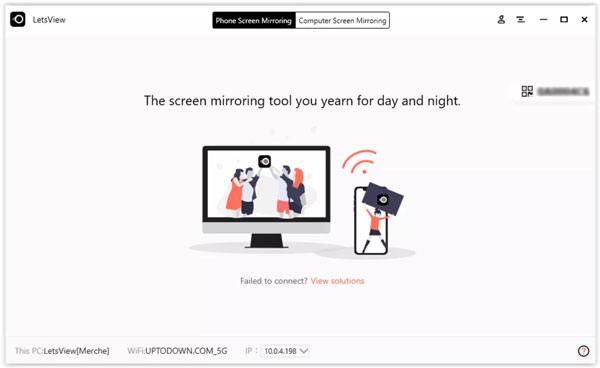 Conclusion
That's all about screen mirroring a Mi phone to PC or laptop. So, which way do you like best? If you want the most stable mirroring program, you can download the Screen Mirror software in Part 1. It will give you a reliable and smooth mirroring experience via a USB connection.
Related Articles
Mi Backup and Restore: 5 Popular Ways to Back Up and Restore Mi Phone Seamlessly
How to Transfer Data from Samsung to Xiaomi Phone? 4 Efficient Ways Here
How to Fast Restore Photos from Mi Cloud? [Advanced Guide]
How to Find Android Recycle Bin and Recover Deleted Files Easily
Effortlessly Transfer SIM Card Data to Computer without Data Loss
How to Transfer Data from Android to iPhone 12/12 Pro/11/11 Pro Max (Easiest)