Summary
HTC Sync Manager software is a free app to help people transfer files from HTC to the computer, but now it fills with flaws and can't encounter the user's requirements. At this moment, HTC Sync Manager alternatives are our best choice. If you are reading this article, you can check the 5 trustworthy replacements below, and you can manage your smartphone effortlessly.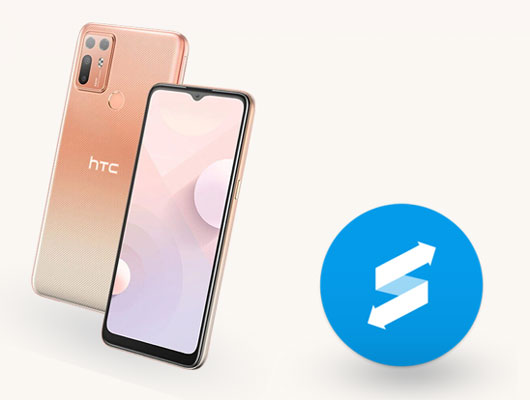 Maybe you have questions about the HTC Sync Manager. Please get help from these FAQs.
Tips: FQAs about HTC Sync Manager
1. What's the HTC Sync Manager?
It's a management tool for HTC users that can transfer contacts, photos, music, and more files from the HTC phone to the computer and manage them on the computer at the same time.
2. What are the loopholes of the HTC Sync Manager?
Nowadays, it is compatible with the latest HTC devices and the computer. The errors will happen during the installation and it can't detect the phone from time to time. Even it can't scan your phone content out.
3. How do I get rid of the HTC Sync Manager?
You can uninstall it from your Windows 10 computer in this way: open the Control Panel and choose the "Uninstall a program" > HTC Sync Manager. Then right-click to select the "Uninstall" icon and tap the "Yes" option. You will successfully get rid of it completely.
# 1. Samsung Messages Backup (Excellent HTC Sync Manager Alternative)
Many people recommend Samsung Messages Backup as the excellent HTC Sync Manager. It can back up and restore almost all kinds of data on Android, and support you to preview the detailed files on the computer. You can manage them with the top menu, including exporting, importing, deleting, refreshing, copying, etc.
Its high compatibility is the promise to work with diverse Android devices, such as HTC Wildfire E1 lite/Wildfire R70/Wildfire X/Desire 20+/Desire 10 ProU20 5G, Samsung Galaxy S20/S10/S9/S8/S7, Sony Xperia 5 II/Xperia 5/Xperia 1 II/ Xperia 1/Xperia 10 II, ZTE, OPPO, LG, Huawei, Google, and more.
Key features and highlights of Samsung Messages Backup:
- Transfer contacts, photos, text messages, videos, music, documents, and call logs from Android to the computer in 1 click.
- Restore the backups from the computer to the mobile phone without the hassle.
- Install and uninstall apps on the computer.
- Manage contacts by editing, deleting, adding, grouping, and more.
- Directly receive and respond to messages on the computer.
- Easily create your special playlists.
- It's available whether you choose the USB or Wi-Fi connection.
Download this fabulous HTC Sync Manager alternative for free below.
How to use:
Please download and install this software on the computer. Then connect Android to the PC via a USB cable.
Enable the USB debugging mode on Android and you will get the Homepage as follow.
To back up data in 1 click, please tap the "Super Toolkit" > "Backup" option. Then tick all checkboxes of file types and hit the "Back Up" button. It will swiftly transfer all data to your computer for backup.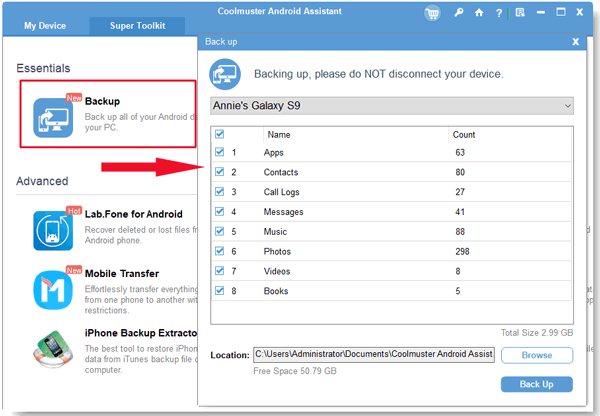 Pros:
- Help you manage main Android files on the computer.
- Connect the Android device to the computer with 2 connections.
- The super backup and restoration features are time-saving.
- Windows and Mac versions are available.
- Smoothly transfer files between Android devices and computers.
Cons:
- The Restore feature can't restore files that aren't backed up previously, like most data management tools.
See also: You can get the helpful Samsung Smart Switch alternative from this post. Let's check it out.
# 2. AirMore
The second replacement to HTC Sync Manager is AirMore. It can transfer files online without downloading the program on the computer. It also transfers multiple data types, like contacts, media files, and more.
Key benefits of AirMore, which is unavailable on the HTC Sync Manager app:
- Transfer media files from Android to PC and vice versa without a cable.
- Reflect your phone screen to the computer with a large screen.
- Scan the QR code on the web to make a connection between your phone and computer.
How to use:
Visit the AirMore webpage to click the "Launch AirMore Web to Connect" icon. Then you will see a temporary QR code.
Download and install the mobile version on the phone. Next, tap the "Scan to connect" feature to scan the QR code for connection.
You can transfer and manage your files after connecting.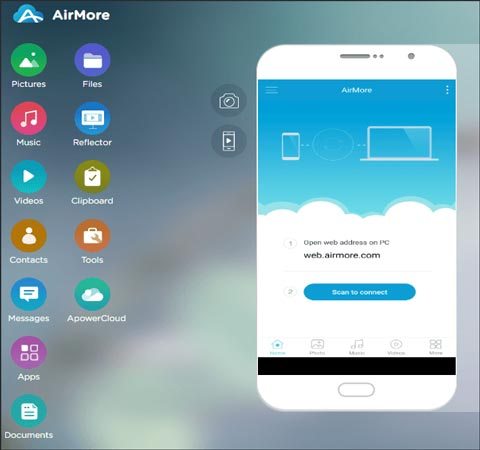 Pros:
- Stream songs, videos, and pictures from Android to the computer without transferring.
- Easy to connect and operate.
Cons:
- Connect both devices to the same network.
- It's slow to transfer files when the network is not stable.
Check if you need: There are 5 alternatives to Android File Transfer for Mac for your inference. They will provide you with more functional features.
# 3. doubleTwist
doubleTwist Sync is a utility to sync music, videos and pictures over USB or Wi-Fi. So you can enjoy your Android movies on the computer with ease. Maybe the simple interface is a bit out-of-date, but it's effective to transfer files. Simply put, it can adequately replace HTC Sync Manager on Windows 10.
Key benefits of doubleTwist Sync:
- Easily import iTunes playlists to your computer.
- Set it to sync files automatically when your device is connected.
- Transfer media files from Android internal and external storage.
How to use:
Download and install doubleTwist Sync software on the computer.
Run it and link the phone and the computer using a USB cable.
Choose file types and select what you want from Android. Finally, tap the "Sync now" icon to initiate the transfer.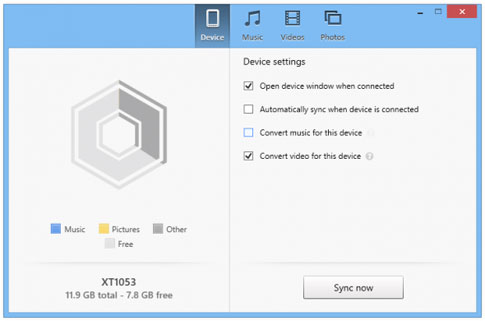 Pros:
- You can get help with detailed guides on its official website.
- Display your phone storage usage of music, pictures and videos on the interface.
Cons:
- Can't sync the movies and TV shows purchased and downloaded from iTunes Store.
- It's unsupported to play music and other media files with it.
- There is a Windows edition only.
Further reading: Want to back up Android music easily? Here are 10 easy and effective solutions you can choose. Please don't miss the chance.
# 4. Moborobo
Is HTC Sync Manager not working? Actually, Moborobo is another useful program that you can transfer ringtones, wallpapers and other multimedia on the computer. It supports to add or remove files on the computer. Besides, it can assist you in downloading and installing applications from Google Play.
Key benefits of Moborobo:
- Copy contacts, messages, images and other file types from Android to the computer.
- Install and uninstall user apps on the computer.
- Support Android 5,0 and upper.
How to use:
Please download and install Moborobo on your Windows computer or laptop.
Connect Android to PC via USB and enable USB debugging on the phone. It will recognize your device soon.
Then you can handle your data with different features on the homepage.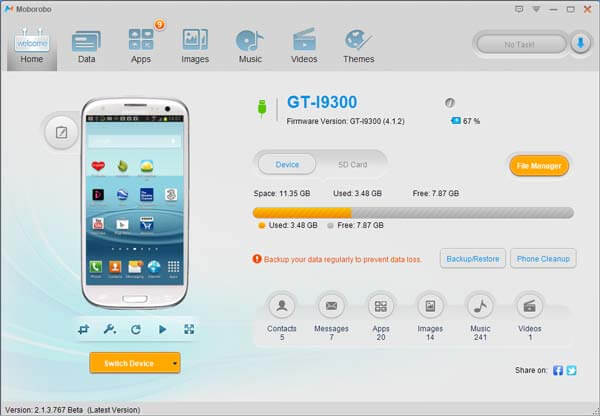 Pros:
- It can scan files of the SD card inserted on the phone as well.
Cons:
- Sometimes, you fail to install apps on the interface with errors.
Maybe you need: This post is the best tutorial about Mi PC Suite, including its highlights, operating usage, and powerful alternatives. If needed, click it.
# 5 Google Drive
Google Drive allows you to sync Android data via Google cloud space and view your uploaded files on any device, as long as you sign in with the same account. Using Google Drive, you needn't download HTC Sync Manager anymore.
Key benefits of Google Drive:
- Upload files from Android via Wi-Fi or mobile data.
- There is 15 GB of free cloud storage after signing up for an account.
- Back up Android data to your personal account for releasing space from your phone.
- Keep your files in order.
How to use:
Download and install Google Drive on the Android device.
To upload files, please sign in with your Google account.
Tap the "Plus" icon to upload desired data from Android. Then you can log in to Drive on the computer webpage and check the Android files. If needed, you can download them on the computer.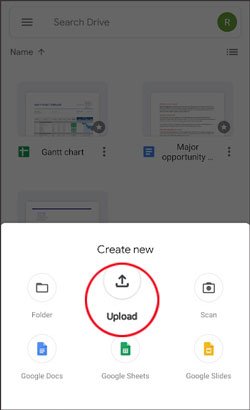 Pros:
- Save your backup files on the cloud space without taking up the local storage.
- Upload different formats of files without limits.
- Retain the deleted files in the Trash folder for 30 days.
Cons:
- The free storage is finite and easy to run out of.
Conclusion
The introduction of these 5 HTC Sync Manager alternatives has been completed. You can know their main characteristics, advantages, disadvantages, and usage guides from the previous parts. The most comprehensive manager for Android is the Samsung Messages Backup. It offers the most practical transfer and management functions. Try it, and it would be your ideal partner.
Related Articles
5 Powerful Motorola Migrate Alternatives to Move Data Efficiently
Manage Android with 5 Best iTunes Alternative for Android [Updated]
Top 8 iCloud for Android Alternatives: What Can I Use instead of iCloud on Android Device? (Updated)
[Best Guide]How to Delete Photos from Android Phone Permanently in 4 Ways
6 Methods on How to Transfer Contacts from iPhone to Android [You'd Better Know]
How to Transfer Text Messages from Android to Android? [4 Easy Ways]